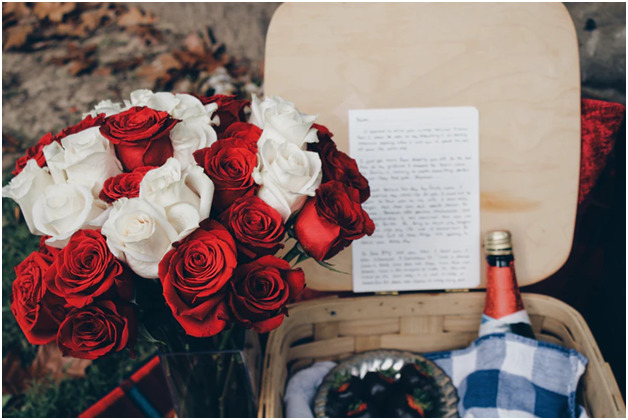 It always seems a good idea to give someone a bunch of flowers on a special occasion or even on an ordinary day. Flowers might be one of the most cliché gifts, yet they never fail to make someone feel loved and special.
There is something about flowers that can bring joy to anyone, and it can be traced back to the history of our hunter-gatherer ancestors. Flowers signified the coming of an abundant season after a hungry winter that triggered their dopamine, one of the body's happy hormones. Up until now, flowers enkindle the same sense that something special is approaching.
Although flowers can be the perfect gift for any occasion, giving the same bouquet now and then might not be that surprising anymore. If that's one of your dilemmas, fret no more because we have a range of creative flower gift ideas for you through a company offering flower delivery calgary
Real Flower Necklace
Many people would agree that the best things come in small packages, that's why a simple necklace could be a beautiful gift for your loved ones. You can choose to give an expensive one. But no matter what your budget is, you can find something that they would surely love.
A necklace alone can be a memorable gift on any special occasion, but more so if made with a real flower. Wouldn't it be a thoughtful gesture to give your loved ones something they can wear every day that reminds them of a happy memory?
If that's what you want, then a real flower necklace would be a great choice. By embedding dried flowers and colors to a resin, you can already have a handcrafted flower pendant for your preferred necklace chain. You can put extra effort into doing it yourself or having it done professionally.
Flower Scented Candles
Another creative flower gift idea you can do for your loved ones is to give them flower scented candles. You can choose the scent of their favorite flowers, and it would feel like having the same real ones that are blooming around them anytime they want. By just lighting the candles, they can relive good memories associated with the scent of blossom.
Scented candles have mood-boosting properties and relaxing qualities. Because of their aromatherapy links, scented candles would be a perfect stress reliever after a long day at work. If you want your loved ones to experience that, they would be a useful gift.
You can find many options in the market, but you can also do it by yourself.
Succulent Flower Arrangements
Succulents are one of the most flexible gifts you can give to your loved ones. Aside from always being in season, they can be used for making incredible flower arrangements. Whether it's a bouquet, a candlestick arrangement, or a single potted plant, succulents would make a perfect gift for your loved ones.
Compared to a usual floral arrangement, succulents don't cost much more, and they last longer. A flower bouquet will die within a few days, but a succulent arrangement can last months without being cared for. Your loved ones can even extend the life of the arrangement with minimal care.
Once the succulent arrangement expires, your loved ones can pull out the succulents and replant them to keep them growing. Succulents would be an exciting present that is undoubtedly hard to forget.
Personalized Flower Pot
Engraving your loved one's unique name or adding a few heartwarming lines can make any gift a little more special. By personalizing your gift, you share a special connection with the recipient, and it would make them feel like you've put a lot of thought into it.
If you want you to show your loved ones that you have been thinking about them, a personalized flower pot would be the ultimate present. You can plant their favorite flowers with your message on the customized pot.
It's a gift that would inspire them to appreciate the little moments in their lives every day while remembering you simultaneously.
Framed Pressed Flowers
Fresh flowers from the garden that are cut or placed in a vase are indeed gorgeous. However, they are impermanent. Though potted flowers would make up for that one as a gift, you might have loved ones who are not into growing flowers. In this case, framed pressed flowers would be a better option.
Pressing your loved one's favorite blossoms and displaying them in a beautiful frame would be a fantastic gift idea. It's also a lovely way to preserve flowers that have a special meaning for them. Framed pressed flowers would be a reminder of the beautiful memories you have with your loved ones.
Letterbox Flowers
Letterbox Flowers are a beautiful alternative for a traditional bouquet. With beautiful blooms that are hand-picked and packed into specially designed boxes that fit through a letterbox, you can have the perfect present for your loved ones.
They are sent in bud form, which means that the recipient will get to watch them bloom. Letterbox flowers last longer compared to the conventional bouquet. With their colors and fragrance, they would make a great surprise as your loved ones arrive home.
You don't have to be stressed out anymore in looking for a creative flower gift for your loved ones. Because letterbox flowers are available online, you can show your love and gratitude to anyone with an exquisite present at the click of a button.
Gift Flowers to Your Father to Make Him Feel Special
Good fathers deserve the best present on Father's Day. Kids are molded into well-rounded society members because of the discipline that each dad gives to his children. So, every year, we remember their special role in our lives. Inviting him in his favorite al fresco is sweet. Then giving him a beef jerky bouquet will complete the day. Not only because it's a very unique present, but it's packed with proteins which are crucial for your father's body-building needs. He'll enjoy these delish, flavorsome beef jerky flower bouquets and visit the website to place an order.
Takeaway
Flowers are a language of love, and you can never go wrong by giving it as a gift to someone. Although it's the thought that counts, it wouldn't hurt to put in the extra effort and creativity when sending flowers to your loved ones. A traditional bouquet may still work but try these flower gift ideas to bring more excitement in surprising anyone you cherish.