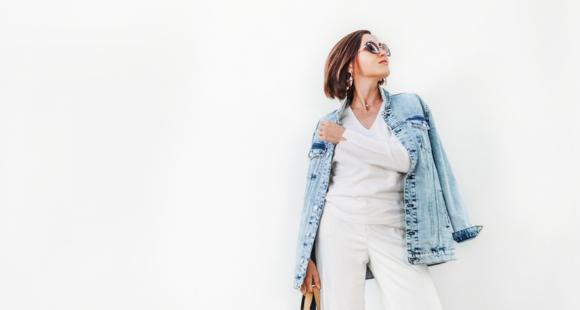 Many folks on a budget end up shopping for fast-fashion brands to save money and stay on top of quickly evolving trends. However, an increasingly high percentage of manufactured clothing is tossed into harmful landfills, leaving a significant stamp on the environment.
As a result, people are putting their creativity and fashion sense to the test as the popularity of thrift stores and DIY clothing continues to rise. The marriage between DIY clothing and thrift shopping, also known as thrift-flipping, has recently taken off among influencers and fashion lovers. It's ideal for folks looking to express themselves with a limited budget.
Additionally, thrift-flipping leaves a positive impact on the environment and helps reduce the excessive number of resources spent on fast-fashion clothing. Fewer garments land in dumping grounds instead of being repurposed for further use. Furthermore, you're helping stimulate local economies when you shop at local consignment stores.
Besides the environmental benefits, DIY clothing allows you to stand out in the crowd and put your unique and personal stamp on the apparel you sport. Step up your DIY thrift game by utilizing these six fashion hacks to set you apart from fast-fashion clothing.
Create a unique t-shirt design
If you're looking for a sure-fire way to flex your creative muscles, designs utilizing various mediums for different looks depending on your mood. Designing your t-shirts is also ideal if you need something specific for a party, event, or costume but cannot find the perfect fit at the store.
Pick up cool patches
If you are looking to add vintage flair to bags, jackets, or denim, take a trip to your local antique or thrift shop to purchase patches. Breathe new life into previously dull pieces by sewing or ironing on patchwork for an easy, unique upgrade. Plus, you'll be more inclined to wear a garment with personal touches than a boring mass-produced article of clothing.
Repurpose old skirts and dresses
There is likely an old maxi-skirt or formerly favorite dress shoved to the back of your closet.If you are looking to spice up your styles, try repurposing the top of your dresses or jumpsuits by sewing it to the bottom of another for an inexpensive way to create an entirely new garment, You can also research embroidery digitizing, which will give you a ton more unique style designs. You can also cut up outdated skirts for a comfortable, no-sew slip dress perfect for a beach day or lounging at home.
Dye your clothing
People have been dyeing clothing various colors for eons to repurpose and amp-up their look. Tie-dye has experienced a massive increase in popularity during COVID-19 quarantines as people sit at home looking for fun, inexpensive activities. Re-dying is a fun way to revive an old t-shirt or sweatshirt while being environmentally conscious. If you're looking to avoid chemical dyes, many companies supply plant-based, natural dyes that are just as effective as their human-made counterparts.
DIY infinity scarves
With the winter months well underway, many are looking for ways to create warmer DIY clothing to help with the cold. Try flipping an old t-shirt into a cozy infinity scarf by cutting it off at the bottom for an effortless, no-sew winter accessory.
Learn how to sew
If you want to modify your wardrobe or alter thrifted pieces, learning to sew will be critical. By honing in your craft, you'll be able to make small alterations and repairs when needed, which can extend the life of your clothing by many years. Reimagining already owned pieces instead of buying something new and mass-produced is a fun way to avoid fast fashion companies and save money.
Wrap up
Although it's tempting to hit the sales and purchase mass-produced, trendy clothing from fast-fashion companies, consider taking your hard-earned money to a thrift store or forking out funds for an easy DIY project to flip the pieces you already own. Not only will you be helping the environment, but you'll also create a one-of-a-kind fashion statement to show up the competition.