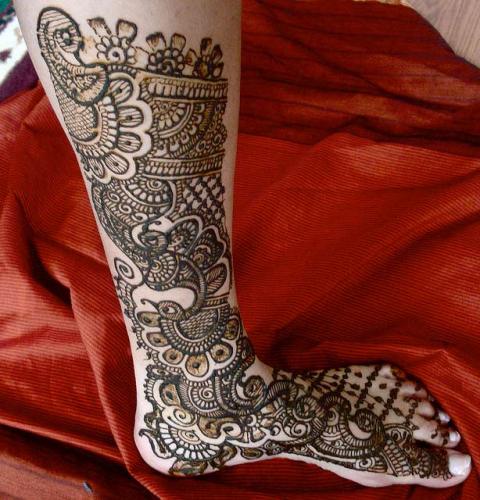 Henna is another term that is used for mehandi. The concept of applying mehandi to hands and legs involves of many religious beliefs and traditions that vary from one place to another. The common part is that the festivals and weddings are considered common for this art. Like other embellishments, mehandi has also become the most important part of a women's life. Now, it has become more of a fashion and style statement. Earlier it was only used as a way to decorate skin. It was more likely to be limited till the demand of the traditions and the customs. With every changing day, there has been a tremendous change seen in the concept of mehandi designs and patterns and why not, when the change is for something one should always go for it. Beginning the journey with the traditional mehandi form, now we have endless styles in which mehandi can be applied. The latest trend of tattoo is also one of its forms which have gained huge popularity among the youth generation. Every pattern of mehandi can be differentiated on the basis of its detailing and the way of applying. Big thanks to the daily soaps and Bollywood movies that have brought the culture of mehandi into limelight.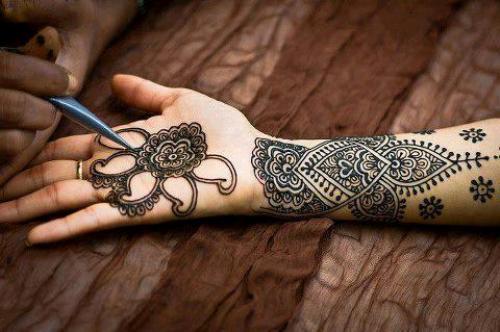 Now days with the increasing modernization, there has been a great amendment in the way of applying mehandi. There are already prepared mehandi cones available in the market which saves a lot of your time and energy. Also, now there are mehandi artists available who are highly skilled in drawing variety of mehandi designs as per your choice. They charge you according to the complexity of the designs but in return give you your desired style and design. Occassions like big festivals, inaugurations and weddings seems to be incomplete without this tradition. In Arab and gulf countires, mehandi night is also known as henna night where henna is applied to the bride, her close friends and all the female relatives whoever wishes so.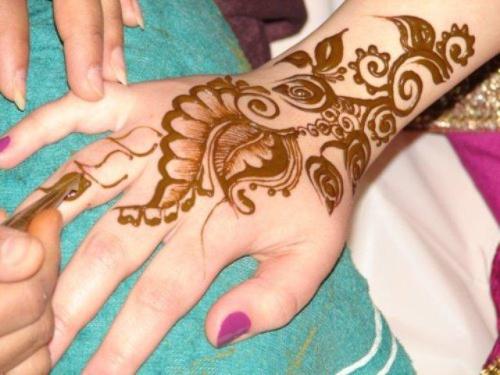 If we go through all the mehandi designs, Arabic mehandi designs is one of them that accompanies you in the best way irrespective of what you are wearing. They can go well even if you are strict follower of traditions and also if you love to carry ultra modern and chic look everywhere. From Jeans to Skirts, Shararas to Anarkalis, Patiyalas to Churidars and Sarees to Lehangas, Arabic mehandi design complements each one of them thereby adding to your grace and beauty. All in all, it lets you free from the worries of setting up co ordination between the mehandi designs and occasions and outfits. Arabic Mehandi designs when applied on festivals like Eid, The Month of Ramazan, Diwali, Karva chauth, Teej etc adds more and more colors to your day and life. So, here we bring you 30 alluring Arabic mehandi designs that you can use to flaunt on any simple or special day of yours.
Arabic Flower Mehndi Designs: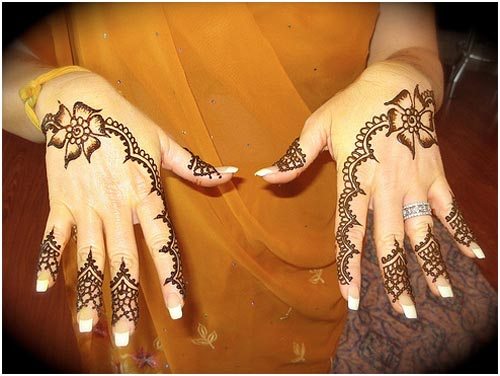 The Arabic flower mehandi design exhibits such a design in which the leafy motifs and floral theme is well arrange in a peculiar manner. This arrangement is done keeping the future vision in the mind as to how will the pattern look once it is drawn and mehandi leaves its color. With an objective to make it a remarkable work the borders of the flowers and leafs are darkened so well that a person standing little far is also able to recognize the beauty of this Arabic flower mehandi design easily. If drawn artistically without any sort of fuss this mehandi pattern is sure to be an epitome of brilliant skill. We can call this as a perfect combo of modern and classy look.
Simple Arabic Mehandi Design: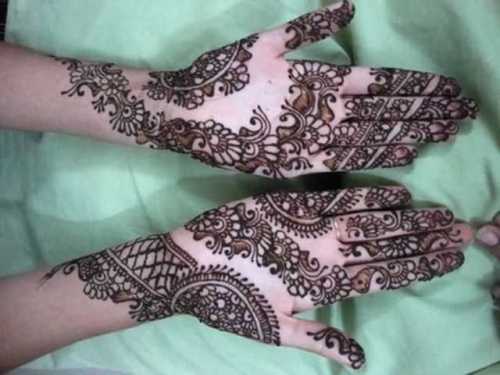 One who is subtle by nature is sure to fall in love with design! It is not only an intricate design that appeals the crowd but also the simple Arabic mehandi design can leave the same effect if there is perfect blend of creativity and clarity. In spite of making the design complex by many curls and twists, it is better to go for a bunch of flower motifs to embellish your palm. This is something that you can even try. To begin with, take the hold of index finger first most by drawing some partial flowers in angular shape and as you move on forth the size of flowers can be gradually increased or adjusted in accordance with shape. This simple Arabic mehandi design can offer you a brilliant look in a delicate style.
Arabic Mehandi Designs for Occassions: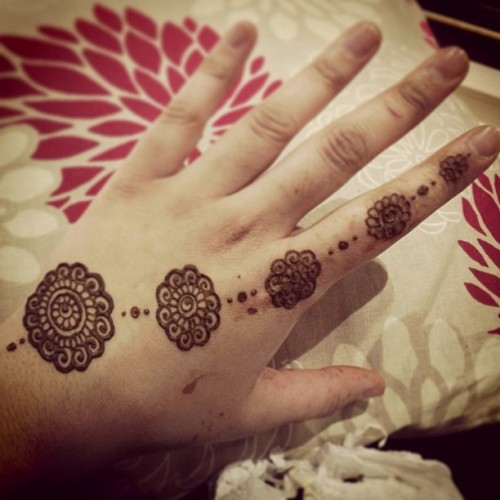 A wait is must for any special occasion because it keeps us excited till the day is right there. So, when you are planning for any occasion right from head to toe, that is hair style, make up, jewelry, attires, footwear etc, mehandi also carries an equal importance. You might look really incomplete without it and extra ordinary with it. Such Arabic mehandi designs are perfect for all the occasions. Though they appear to be simple but impart you with a rich look. As given in the image, this mehandi design is not only very easy to be applied but also take less of time. Least of hard work is required. Even if your kid is insisting to apply mehandi on her hands too, you can go for it without giving a single extra thought to it as it is so sober and subtle and just the perfect one any age group. The girls who are the new learners of this mehandi art, this is something that they can begin from and try on their own. You are sure to love your own art more than anyone else's.
Heart and Round Shape Arabic Mehandi: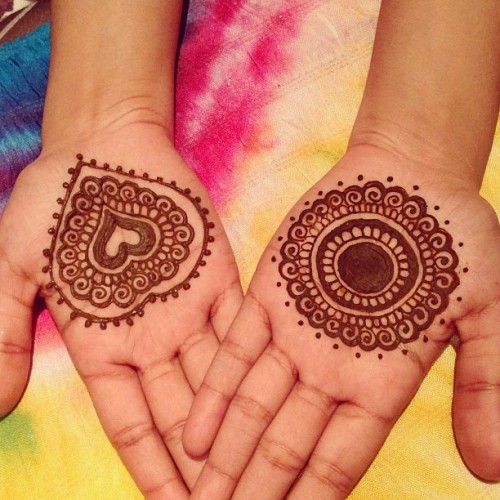 There is a proverb… Old is gold and the above given image of heart and round shaped Arabic mehandi truly justifies it. This design is one of the most vintage of all the designs as this is the concept that is being used since years. On one hand flower can be drawn and on the other the heart and the filling can be done using the motifs or strokes as per your choice. Both of them can also be filled by little intricate detailing to give it a refined look. The rest portion of palm and fingers can be kept blank to make flower and heart as the centre of attraction.
For the simplest looks, nothing can be a better choice apart from this particular mehandi design. Moreover, if you do not have much time or are not good at patience level, but still want to apply mehandi as you love to do so then this mehandi design will definitely serve your purpose.
Small Stars Arabic Mehandi Design: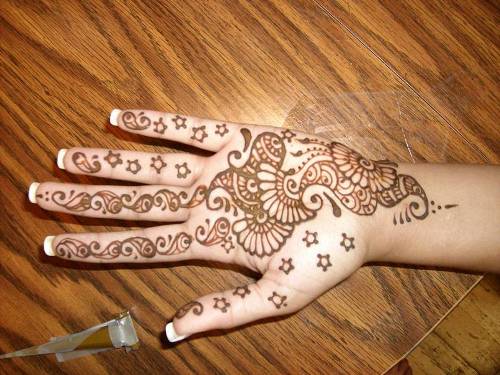 If you want to apply the Arabic style mehandi which is done in an angular form but you neither want the rest of the palm to be filled completely nor to leave it blank than this particular small stars Arabic mehandi design will serve your purpose at its best. The angular design running in the mid of the palm to fingers comprises of many mango shaped figures filled gently with beautiful design and also accompanied with semi flowers in the between. To add on extra grace, the space left on both the sides of the Arabic mehandi design can embellished by drawing small stars with the darkened borders. If you see carefully, two fingers are highlighted with small mango shaped figures and rest three including thumb highlights the stars to give your hand an appealing look.
Glitter and Stones Arabic Mehendi design: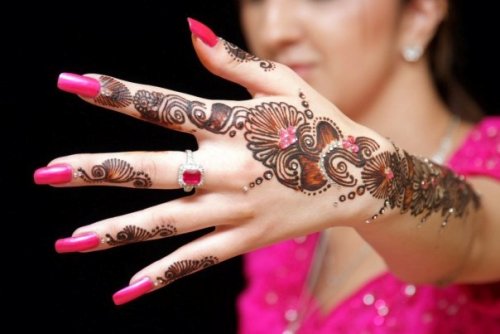 Mehandi itself makes you look complete in every way and what to say when glitters, sparkles or colorful stones are added to it! Now this is something that you can choose for either your simple Arabic mehandi designed hands or for the intricate Arabic mehandi designed hands. The accession of glistening glitter, scintilating sparkles and cativating colorful stones or beads will make your heavy Arabic mehandi design look more intense and simple Arabic mehandi design look more glossy and attractive. You can even add all this matching to the outfit of your occasion and the similar nail print will bestow you with a look like never before. Such mehandi designs are perfect for the girls who love to be the centre of attraction wherever they go. Applying mehandi not only reveals your traditional side but adding glitters and sparkles also reveals your modern side too.
See More : Rajasthani Mehandi Designs
Elegant Arabic Mehendi Design for backside of the Hand: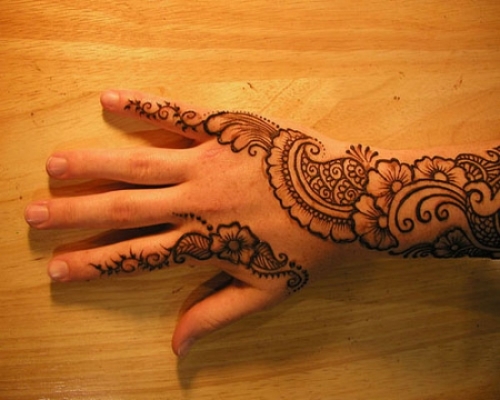 This elegant Arabic mehandi design drawn on the back portion of the hand is a superb example of a refined beauty presenting the effortless grace and simplicity which comes on its own when applied to your hands. In the image given above, the smallest finger and the index finger are kept almost identical with similar type of design whereas the rest of the two fingers and thumb are kept clean. This is done to lend the design clarity and neatness, thereby avoiding any sort of mess. Do not prefer to cover them as it might make your elegant Arabic mehandi design look dirty. The art work that ends on the little fingers comes right from the mid of the wrist portion. Captivating floral design along with the petals and mango shaped figures in the angular form covers the backside of the hand in a brainy way.
Traditional Arabic Mehndi Design: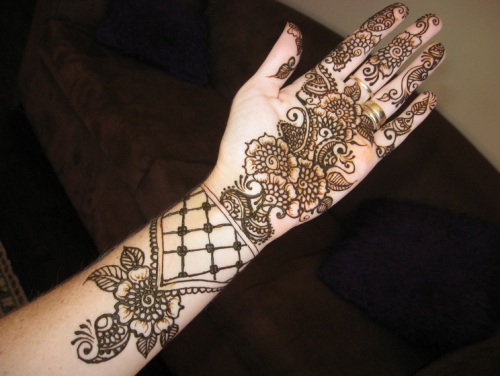 Every mehandi pattern owes a history of tradition, customs, religion and rituals. Here, when we talk about traditional Arabic mehandi design, it is self explanatory that this mehandi design has been originated from the Arab region of the world and carries its own significance and speciality. How creative and aesthetic they are can be defined from their art of mehandi designing. Within a short span of time Arabic mehandi design has earned a huge importance.
The traditional Arabic mehandi designs showcase the style in any anugular form but with very peculiar details like: criss cross, linings, strokes, floral themes and leafy motifs etc. They are so well arranged in the form of a mehandi design that it makes it look out of the world. Such mehandi design looks fabulous on legs and hands both depending upon the occasion. The trend of using black mehandi was also brought into the culture by the Arabians. They use it for both, filling up the entire hand and darkening the outlines.
Arabic Peacock Mehandi Design: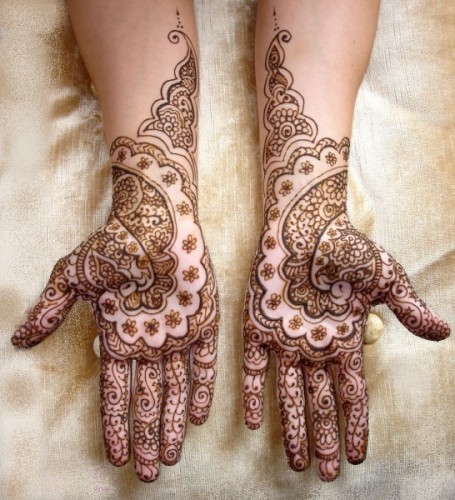 Peacock, the national bird of India not only mesmerizes the Indians with its flawless beauty but one and all over the world. Especially from head till the feathers, peacock has been used very creatively in many forms of mehandi design. No style of mehandi design has been left untouched with its beauty, whether it is the rajasthani mehandi style or the arabic mehandi style.
This Arabic peacock mehandi design resembles a lot to that of our Indian traditional mehandi design. The peacock flaunting its stupefying feathers in the centre of the palm and surrounded with huge bunch of flowers gives it a magnificent look. The finger tips are also decorated artistically. This versatile Arabic peacock design is not as difficult as it looks to be made by own especially if you are really good at drawing. So, give it a try at least!
Arabic Mehndi for Floral Patterns: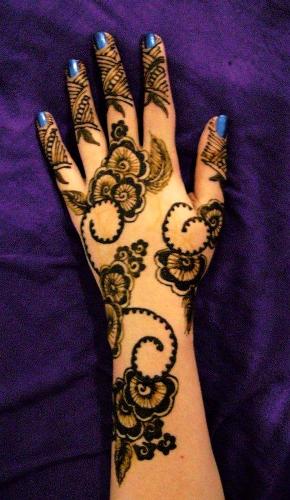 The floral theme has been an evergreen pattern when it comes to apply mehandi. No particular day or occasion can mark its importance as it goes the best with all of them. Just like the above image, one can see how flowers have created a splendid effect when accompanied with the petals like structures. On one hand where the floral theme is created with similar thickness and uniformity on the other hand to give it a polished look the petals are enhanced with thin linings so that the centre of the flowers which are completely filled with mehandi can pull out the desired look. You can also add your own creativity and be a star!
Bridal Arabic Hand Mehendi Design: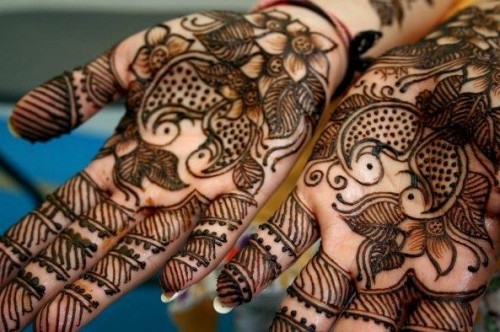 The bridal Arabic hand mehandi designs are the most famous one in Arab and gulf countries. When the bride to be is all set to begin a beautiful journey of life dipped in the colors love, romance, trust and togetherness this bridal Arabic mehandi design adds abundance of happiness in her life. If we describe this mehandi design, the finger tips are fully covered with the lining pattern and they could be horizontal or vertical depending upon the design of the rest of the hand. Then further this is followed by floral theme and leafy motifs imbibing some of them in different geometrical shapes along with the perfect peacock pattern in the mid. The main emphasis is laid on the face and feather of the peacock as it not only looks mesmerizing in real life but also when drawn as a mehandi design too.
Moreover, the various geometrical shapes that covers the palm on the rest portion is later on highlighted with strokes and other artistic motifs. This design justifies the demand of a modern and traditional bride both. All this when assembled in a design will surely bestow the bride with the most enchanting look. There is every reason for this bridal Arabic mehandi design to be a part of any grand wedding.
Mehendi Designs for the College Functions: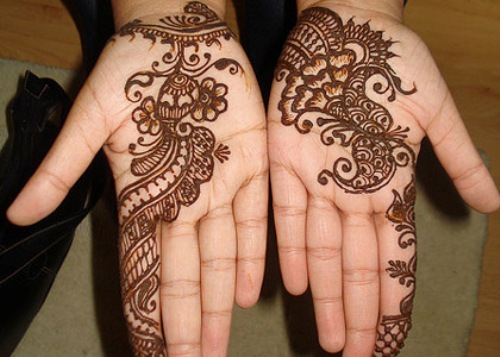 The word college takes you through the entire fun filled journey that you have been a part of and you can actually understand as what importance college function holds in one's life. Each girl wants to look different from the crowd and be the centre of attraction. After all who does not want to be the talk of the town!!
Just like other girls, if you are done with the selection of the best outfit, footwear, purse, nail print etc. which can add five stars to your persona in that peculiar college function then why not to go for something which every girl might not go for. Here we are talking about applying such a subtle and delicate mehandi that goes perfect with the function theme of your college. Now the question arises, what mehandi design to apply? The design given in the picture above is the perfect example of the taste that you are looking for. It exhibits simple sober flower and leaf combination with no intense design at all. This is an idea which will not pop up in everyone's mind quickly and then you will be the only one to be the show stopper of this function. To bestow your mehandi design with a sophisticated look, all the fingers are kept neat and clean except the index finger. In case, if you are good at drawing, you can a try yourself and draw this pattern on your hand. You can also choose this design for small casual functions or family gatherings. Be a star all the time!
Colourful Arabic Mehndi Designs for College Girls: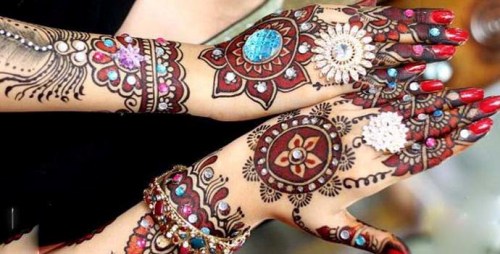 Since years, the natural form and color of mehandi is being used but with the increasing modernization, there have been changes in the color of mehandi as well. The Arabian countries are the first one to follow this trend. They use black color mehandi to create special effect like: highlighting the contrast theme, darkening the borders, etc. All this when implemented on hands and legs in the form of mehandi really gives a superb look. When you are planning for any special wedding or event, do not forget to go for it as any of these colors: maroon, black, blue colored mehandi will truly complement your jewelry and attire at its best. You can even go for multi colored mehandi design on the wrist if you are not in the mood to wear any jewelry and they can be enhanced with pretty patterns like flowers, criss cross or check boxes. Such designs themselves work as an alternative accessory. Also, you can add colored stones, glitters or sparkles for earning endless words of appreciation. To add on, fingers are designed as a whole so that your complete hand can look highly spectacular.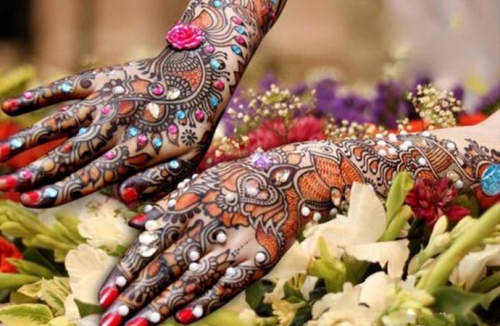 If you are a working woman or a college studying girl, then such mehandi designs which have colorful theme are the best one for you. It gives you a trendy and classy look together. Red and black make a swish combination always, so these designs are bound to look captivating. The filling is done with the red color mehandi cone and the borders are made with the black color mehandi cone so that the skin can look fairer.
Hand Arabic Mehandi Design: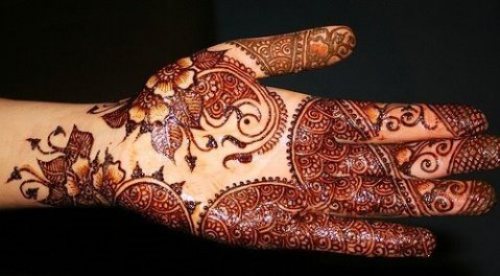 If you always vote and support simplicity, then this pleasant Arabic mehandi design for hands will surely capture your heart. Nothing intricate or complex but very subtle, delicate and sober is the right definition for this mehandi design. On the front portion of the hand, right there from the wrist, this elegant design covers the fingers completely, featuring thick outlined floral theme which has always been an evergreen pattern to draw in mehandi. You can also see peacock categorized as the traditional motif encircled with different shaped figures, leafs and flowers. Further, these flowers and leafs are decorated with many twists and curls. This peacock is highlighted with intense designs involving of minute particularization that are arranged so well that they do not create a fuss rather pulls out an extra ordinary look from this mehandi design. Every small and big detailing mark this master piece to be highly exuberant. You will not be able to resist yourself from applying such a mehandi design whenever you get an opportunity to.
Beautiful Arabic Mehandi Design: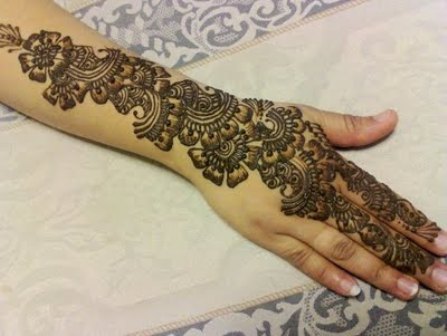 Flowers are running one after another and are also accompanied by some mango structures. You can see a superb work of artistry in the above given beautiful Arabic mehandi design. One can imagine the deep dedication and sincerity of the mehandi artist through this marabic mehandi design. Two fingers, the index and the middle one are covered with the continuation of the design drawn on the back side of the palm leaving rest of the fingers and thumb neat and clean for an extravagant look. Such a style lends the complete hand with a fashion statement dipped in the rich imbue of royal tradition. The flowers are so beautifully made that they leave one and all spellbound whoever looks at it. The minute detailing is somewhere done with the help of shading and at some places with dots in the bubble shape and even different strokes in different flowers.
Arabic Mehndi Design for Religious Festivals: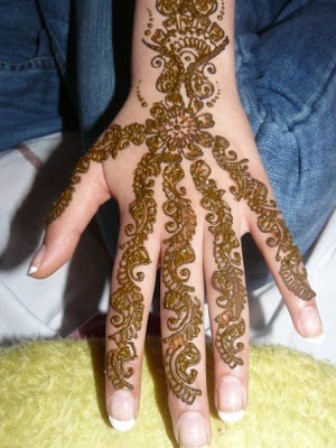 Festivals are almost like everyday's affair. We are lucky enough to be born in a nation where the first month of the calendar begins with a festival and the last one also ends with the festive mood. All in all, we have so many reasons to decorate our hands with exclusive Arabic mehandi design that are designed for the festive occasions. The above given design is a perfect example of it. Keeping in mind, how the festival days turn out to be very busy for the ladies, this design is framed by the skilled artist. From rituals to traditions, food to fun, dress to jewelry all needs a prior preparation especially when it is a festival and due to which ladies are hardly able to pull out enough time to apply mehandi. So, considering all this, such a beautiful Arabic mehandi is designed where it does not enclose much of complexity rather looks intricate but is simple and sober and can be made in less time. Even fingers are brilliantly decorated thereby making it look as a master piece as a whole. A tempting traditional look can be achieved by applying this design. So, are you all set to be an attraction on the famous festive day!!
Shaded Arabic Mehandi: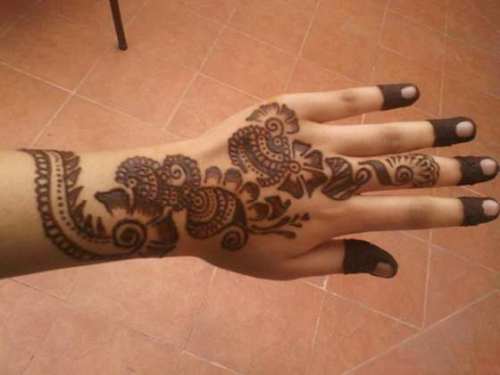 The Arabic design when enhanced with the shading theme gives an ultimate look. Something that you have always dreamt of! The shaded Arabic design exhibits beautiful flowers and few proportionate shapes like that of mango, semi circles etc which are drawn with the mehandi cone and shading is then done inside them for a stupefying effect. The fingers tips are decorated with thick mehandi tops for a unique look. These shaded Arabic mehandi design will accompany you perfectly wherever you go and will also leave an everlasting impact. Events like engagements ceremonies, festivals, office parties etc are just right for it.
Professional Hand Arabic Mehandi Design: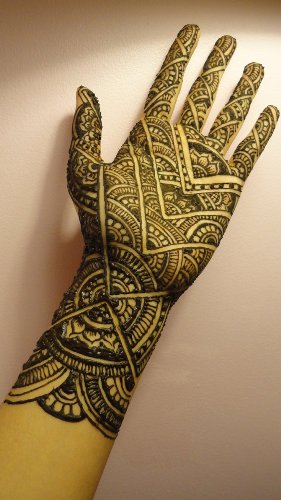 As the name justifies itself… Professional hand Arabic mehandi design is the one given in the picture above and it states that it is master work that can only be designed by utmost professional attitude, sincerity and passion towards this work. This Arabic mehandi design exhibits a tribal look that emphasizes on precise pattern of different shapes place in a well mannered way. Though it does not include flowers or leafs but you can definitely make an addition from your end if you really love floral theme so much. Else keeping the design the way it is will also bestow you with a distinct look altogether.
Glamorous Arabic Mehndi Design for Brides: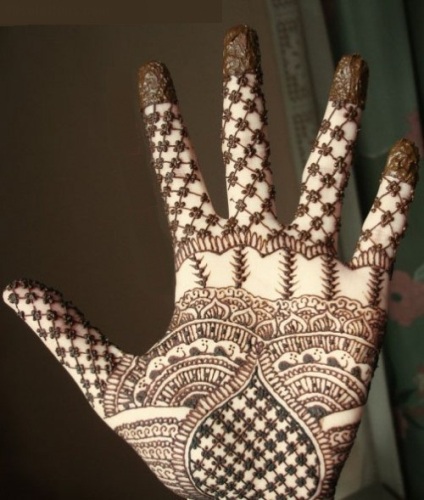 Here comes a glamorous arabic mehandi design for a glamorous bride. Every girl dreams of her 'big day' and has a lot of things stored in her mind when it comes to planning. Every little thing is given the prime attention. The preparations like food, decoration, gifts can be handled by her closed ones but the choice regarding her attire, accessories, footwear, mehandi all are taken by her in peculiar. After all it is the most awaited day of her life which will add endless happy memories for her. This glamorous Arabic mehandi design is exclusively the one for the bride to be. Describing the details, the mehandi is beginning from the wrist part and is then covering the whole palm and fingers till the tips. Subtle motifs and leaves highlighted with thick and unique linings are creating a special effect in this Arabic mehandi design. In addition, the fingers are fanstastically flaunted by criss cross designing pattern thereby making it perfect for the beautiful brides.
Perfect Arabic Mehndi Design to suits for wedding Occasions: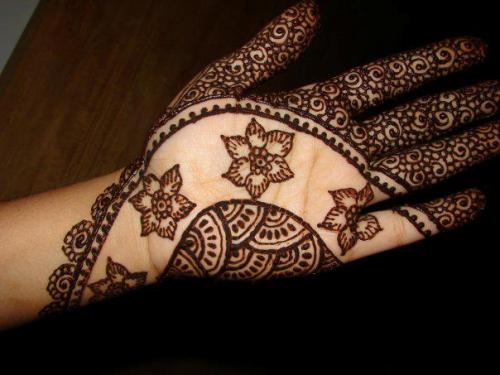 The Arabic mehandi design given at the top looks so chic and candy that it can be sported right from casual occasions to grand wedding events. Bold floral design is used to fill the hands which are quite quick and easy to be applied. Fingers have been embellished by the miniature style thereby keeping the complete look sober yet modern. The mehandi artist needs to be very conscious and concentrated while drawing this mehandi design because the thin curled linings that resembles like the border should not get mingled with the filling else it will turn the whole design messy. It is a superb combination of heavily decorated flowers, motifs with sufficient spacing and leaves with intricate look. All this makes this Arabic mehandi design look perfect and suite the best on any wedding occasions of yours.
Back Hand Arabic Mehandi Design: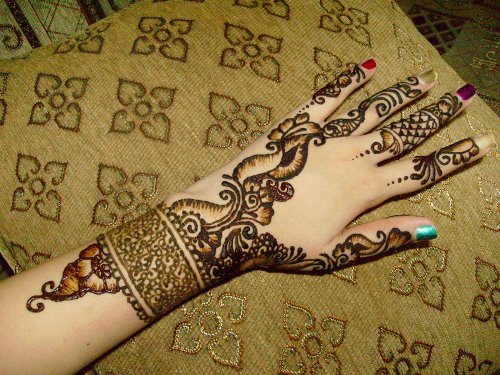 A hand when decorated with mehandi should look beautiful as a whole, meaning thereby whether it is the front side or the back side. Both sides are easily visible to everyone and carry an equal show off. Even the tradition speaks of the same. If compared the back hand Arabic mehandi design are comparatively bigger and less intense to that of the palm. This is to lend the design with a prominent visibility. The image that is set as an example of back hand Arabic mehandi design smartly exhibits how henna can be used as an alternative for accessories too.
A bride who only prefers everything simple and subtle and do not go for much of complexity then this design is the most appropriate one for her. This design consists of floral theme, leafy pattern and creepers style where wrist is given a heavy look followed by delicate design coming right from the finger. You can also add shades or darken the border for twisty modern look. This mehandi design is seen to be very popular among the teens rather than elderly aged ladies.
Arabic Henna Designs for Full Hands:
At times, the mixture of some simple and complex pattern with the variety of sizes can result as a true piece of art. Ladies and girls of any age group can go for this design irrespective of whatever the occasion is. This Arabic henna design for full hands displays spectacular shapes and mesmerizing motifs that are further embellished with leafy theme and floral style. Whether it is festive time or any event like wedding you can beautify yourself with such captivating Arabic designs that are marvelously created for your hands. You are sure to earn endless words of appreciation from everyone. A blend of conventional and modern look!
Indo Arabic Mehndi Designs: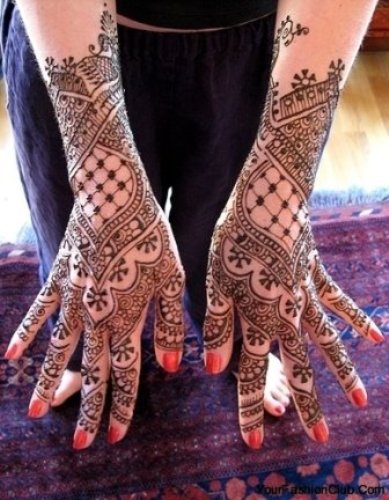 Floral theme is the most common but an evergreen theme used while designing a mehandi pattern. If you are bored of it and want to try out something new and vivid, then the best option could be to go for Indo Arabic mehandi design. In this, the outlining is prepared in bold Arabic style with sophisticated and traditional figure and patterns. As the name describes itself, Indo Arabic mehandi is the designs and patterns that are designed by the combination of the two: Indian and Arabic style mehandi designs. It bestows you with a western touch dressed up in an Indian style. A rare combination indeed!
Such design is sure to glamour you up to your expectations. These mehandi designs interpret in such a way as if you're wearing bangles and other hand accessories. Thin linings and bubbles filled with mehandi are used to fill large shaped leaves by making your hands look phenomenal.
Arabic Mehendi Designs for Legs: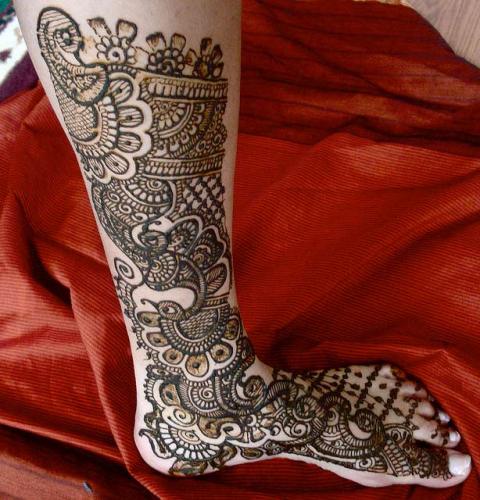 Just like hands, Arabic mehandi designs can also be applied on legs especially if you do not like much of complex design and therefore loves simplicity in every form. Depending upon the occasion you need to select a mehandi design that you wish to decorate your legs with and then think of something that can add to your grace and beauty in a subtle way. The first idea is that even for legs, mirror reflecting pattern can be opted for a highly refined taste. Secondly, you can go ahead with the shaded floral theme and leafs covering the entire boundary of the feet along with the fingers. For darkening the border of flowers and leafs black color mehandi can also be used.
Simple Arabic Leg Mehndi Designs for Beginners: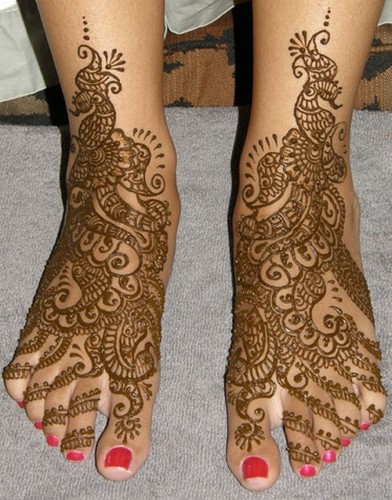 It is never too late to begin anything that you are fond of and want to add in the speciality list of your life. For all the ones who are just the learners or the beginners this simple Arabic leg mehandi design will give you a nice start. Simple and delicate motifs are first prepared and then little bit of intense detailing is done within it so that it makes the one look complete. These are designed it such a way that they reflect like one is wearing accessories such as anklet or finger rings. For practice, in the beginning figure can first be drawn on paper through pen or even mehandi cone and then applied on the legs. This will automatically bring clarity and neatness in your work with little more perfection. To add on more grace you can also paint your nails with the nail polish matching to your outfit.
Unique Mehandi Design for Both Hands: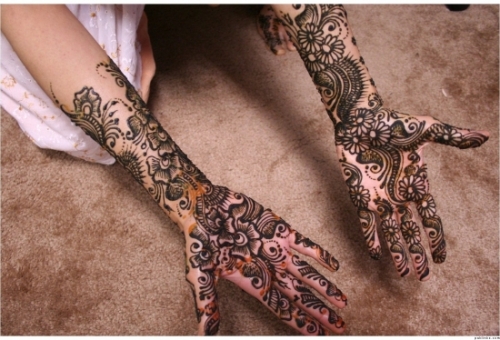 While applying mehandi it is really important that either both the hands should be identical to each other or completely different, but they should complement each other in the best way they can. This image of mehandi design showcased on the top features one of the unique mehandi design which is designed for both hands as they are vary from each other but still look exuberant when the applier shows her both the hands together. Both the designs comprise of floral themes but in a different way. Looking at the design, one might assume it to be tough but in actual it is not.
New Arabic Mehndi Designs for Brides: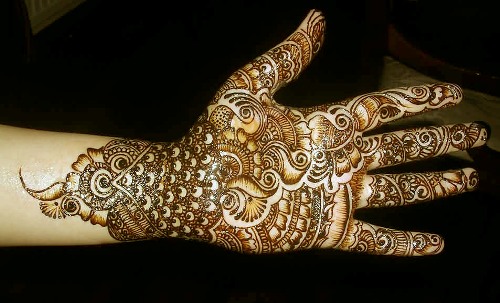 With the changing trends and the demand for something new each day, there has been a demand for some novel Arabic mehandi designs that are only designed for the brides to be. Either it is your own wedding or of someone very close to you, where you prefer to apply highly elaborated mehandi designs. The picture given at the top is an exemplar of the new Arabic mehandi design for brides. This design displays very distinctive features like very complex curls and twists, typical shapes with various sizes, intricate filling etc. which marks it as the most unique one in the market. Each and every small bit of your hand is covered superbly to impart you with an intemperately ornamented look which is just the one that you have been willing for your special day.
Different Arabic Mehandi Design for Back Hands: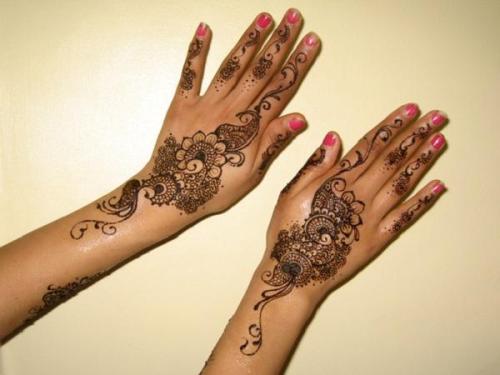 If you have ever noticed, you will agree to the point that the back portions of the hands are instantly visible to anyone than in comparison to the front that is palm portion of the hand. The point here is that you should always select a discrete mehandi design for the back hands so that the effort that has been put in can easily be seen and it earns endless complements for you. A trenchant design that is clearly and sharply defined to the mind should only be drawn at the back side of the hands in order to avoid any sort of mess because that will make it look untidy. This above given different Arabic mehandi design features a graphic touch which makes it look stylish and modern in an absolute unconventional way. Small detailing are done at some places and variety of styles are adopted to give this mehandi design a stupendous finishing.
Beautiful and Easy Mehendi Design: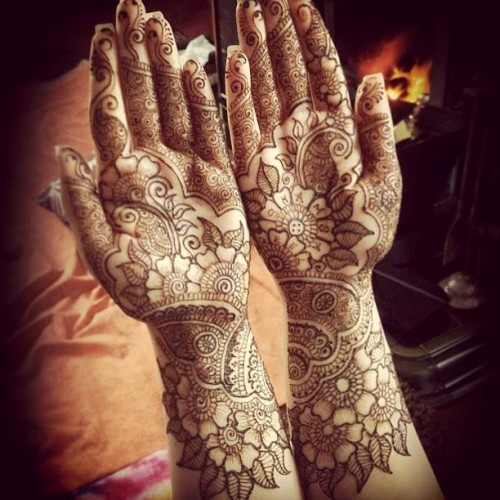 The beautiful and easy Arabic mehandi design made using the floral motifs and leafy patterns can give an extreme artistic appearance to your persona if some amount of extra patience and concentration is also added to it. Though this mehandi design imbibes of some very intense detailing but is simple to draw when the mehandi cone is in the hands of a perfect mehandi artist. However, if you too are brilliant at drawing, there is no harm at giving a try yourself. If the bride does not prefer much of heavy looking designs, then she can choose it for her wedding day. The floral motifs can also be used to hide the name or initials of the groom very smartly.
Simple Shaded and Glitter Mehandi: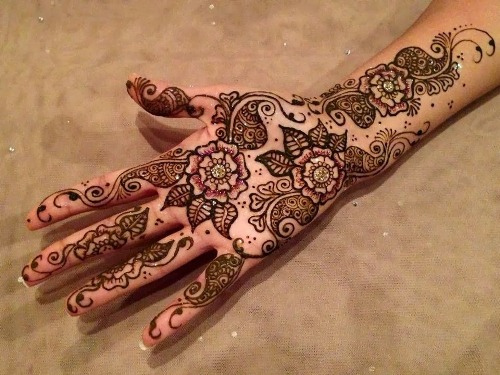 The simple Arabic mehandi can be made exotic with the shading idea and scintillating with the sparkle and glitter idea. When a design of shaded flowers covers the complete passage of the hand till the arm in an angular form where one flower follows the next one, just by adding little of sparkles and glitter to them will bestow the whole mehandi design with a captivating look. It gives a vibrant and vivid look to your personality too. Such designs can be made conveniently without grasping much of time. So, if the event is grand and you want to look completely out of the crowd, you can mark it as your choice too.

Last but not the least, all of these mehandi designs are properly classified as per your occasion and can be applied by any age group girls or ladies keeping in view the type of occasion and the theme of your attires. In addition, any mehandi design – simple or complex can be made glossy just by adding some glitter, colorful stones and sparkles to it. This is something which even you can do if you are really good at it inspite of paying extra to the mehandi artist. These things are easily available in the market. Though mehandi adds to your grace but your outfit, jewelry, sandals and other accessories too, play a significant role in giving you a prefect look that you desire for.

Now, as per the latest trends mehandi is also applied in the form of tattoos which is definitely a superb idea. You need to go through any needle pain to get a tattoo look on your body. Such tattoo design can be applied anywhere as per your choice apart from hands and legs. The best place to apply mehandi tattoo can be the backside of your neck, arm portion, stomach or as per your choice.

Images Source: 1, 2, 3, 4, 5, 6, 7, 8, 9, 10, 11, 12, 13, 14, 15, 16, 17, 18, 19, 20, 21, 22, 23, 24, 25, 26, 27, 28, 29, 30, 31, 32 & 33.

<!-comments-button-->