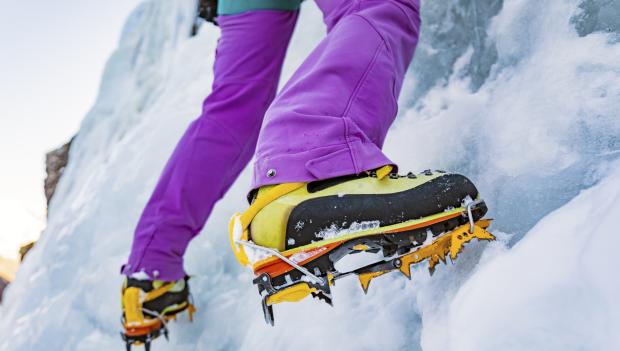 If you are planning for an amazing outdoor activity. Then you can go on a trek for some challenging activities to enjoy the fresh air. Outdoor activities are a source of pleasure. Among all the outdoor activities hiking, trekking, climbing, and biking are some of the best choices. However, these activities include a lot of risks, to minimize them you can use various equipment, gears, and products that are specially designed for safety. In this article, we are going to discuss Microspikes vs Crampons as many people think that these both are the same but they are not the same and have differences in design and usage of products.
Before discussing what are the differences between microspikes and crampons, first, let's discuss why you need crampons or microspikes for outdoor activity.
Read more- What To Remember On Your First Hike
Why are microspikes and crampons required?
Ice and snow treks have a high risk in comparison to the other flat or grassy surfaces. On these surfaces, it becomes very challenging to navigate. By improving the grip, the risk of slipping or falling can be minimized.
For wintry hikes crampons and microspikes are the most essential things because of the following reasons:
Increase traction: microspikes and crampons are the ideal solutions as these devices increase safety by giving a great grip on slippery surfaces.
Increases the area of surface: microspikes and crampons increase the area of surface for the shoe. As this protects you from sinking in the snow.
What are Crampons?
Crampons are just like spikes, however, the spikes of these shoes are more than a normal spike shoe. Most hikers, backpackers, and climbers use these products. Traditionally, crampons are suitable for ice-climbing as they have good grip. Usually, crampons are made up of two materials:
Aluminum made hiking crampons are light in weight and best for climbing. And it is also good for rocky terrain. Aluminum crampons are a better choice if weight is of more concern. As aluminum crampons are lighter than steel ones they made a good choice for climbing high altitudes.
If you are planning to go mountaineering in an icy area then steel-made crampons are the best choice for you. Steel made crampons are more durable as compared to aluminum made crampons. So if you are a frequent traveler then steel crampons are the best choice for you as they do not wear off easily.
What are microspikes?
Microspikes are also hiking traction devices just like the crampons. They contain small spikes are made for trekking footwear. Microspikes provide better traction to the boots to protect them from falling. Generally, microspikes contain:
The microspikes made of these materials are durable, and resistant to corrosion, and protect from falling on the ice. As they dig deep into the ice to make a grip, these are perfect for mountaineering.
The microspikes made up of this material offer extra traction in snow areas. The best thing about these microspikes is that they are very flexible and portable.
What do you mean by snowshoes?
Snowshoes are used for climbing in the snow and give better traction and also provide better foot surface area. These snowshoes are used for deep snow and also they come with great design and comfortable feet. Snowshoes are outdoor specialized gear for walking on the snowy surface.
What to choose between microspikes and crampons?
As we have mentioned that both of these are used for climbing on slippery surfaces but they are different from each other. Still, confused about what to choose for your next trip?
For a more clear picture, we have prepared a comparison chart between microspikes and crampons.
Microspikes vs Crampons:
Differences
Microspikes
Crampons
Design
Small spikes
¼" or ½ " in length
Includes chains
Have lightweight spikes
Have large spikes
1" length
Do not include any chains
These have heavy spikes
Usage
Can be used for trekking
Very comfortable
Easy to use
Not very safe for everything
Can not be used for trekking
Not very comfortable
Requires training to use
Safe for everything
Price
Less expensive
More expensive
The best Microspikes:
After knowing microspikes vs crampons here we have listed some of the best microspikes that you can buy for snow trekking:
Kahatoola microspikes footwear traction:
These stainless-steel made microspikes are great for uphill and downhill trekking. Its design is ergonomic which makes it more comfortable and unique. Apart from this these microspikes are very light in weight and easy to use.
Yaktrax pro traction cleats:
Yaktrax pro traction is one of the best microspikes for ice and snow surfaces and is made up of steel coil which fits around the shoes. It is very easy to put on and take off, provides a good balance, and offers the best value for the money.
Hillsound trail crampons steel spikes:
These are the most durable microspikes made up of carbon steel. It provides smooth traction to provide safety from falling. Its buckle system is very easy to put and take off. However, these steel microspikes are very expensive.
Ice trekkers diamond grip traction cleats:
These microspikes are made up of steel and help in providing the grip and traction. It is very easy to use these microspikes and the main thing about them is that it is very easy to clean and maintain as they provide multi-direction stability.
STABILicers Walk Traction Cleat for Snow and ice:
It is a 360-degree traction cleat made for snow and ice climbing. These microspikes are very flexible and offer an amazing adaptation for all-sized shoes. They are stable and provide 100% safety.
The best Crampons:
As we are discussing about microspikes vs crampons so why not discuss some of the best crampons available in the market:
BLACK DIAMOND Sabretooth Clip Crampon:
Black diamond clip crampons are the best choice for snow trekking. They are very light in weight and are made up of stainless steel. Its recently launched model is more durable and comes with a dual-density and rear anti-lock braking system.
Grivel G12 Cramp-O-Matic Crampon:
If you are looking for a high-quality crampon with amazing moderate icy climbs approaches then this crampon is the easy choice for you. This crampon is very light in weight and very durable, which makes it a perfect choice for general mountaineering. 
OUTAD Traction Cleats/Crampon for Snow and ice:
This crampon is amazing for high-altitude climbing, and also is the most recommended crampon; many hikers have given positive reviews for these crampons. However, because of the thermoplastic, they are very heavy in weight but work great with rocky surfaces. So, if you are looking for multi-purpose crampons then OUTAD Traction Cleats/Crampon for Snow and ice is the best choice for you.
Camp Stalker Universal:
Camp stalker universal is the most perfect crampon for high-altitude hiking. The main advantage of buying these crampons is that they have sturdy ice cleats and aluminum alloy spikes to provide great safety to the adventurers trekking.
Petzl Vasal Crampon:
These crampons are best for navigating in glaciers as they help to steep in the icy slopes, pitches, and hard snow. Other than this, it has a flex lock binding which helps to fit in any type of boots. The spikes have great grip and dig deep in the snow. Its lightweight factor makes it more comfortable and durable.
Conclusion:
Outdoor activities give positive vibes and remove the stress away from the mind. To make the activity more memorable it is important to use the right products while going for an outdoor activity like hiking, traveling, or climbing.
Many people think that crampons and microspikes are the same which is not true, as in the above article we have mentioned about microspikes vs crampons so you can identify that both of these are different from each other.
So, if you are going for snow climbing then try one of the above-mentioned crampons or microspikes for a better experience also do not forget to hit the like buttons and share your hiking experiences with us.
Read More- How To Choose Right Travel Shoes For Your Adventure Trips