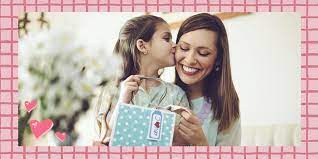 Spring is here! Flowers are in bloom and sunshiny days have returned. What a beautiful time of year to honor all the mom's in our lives. Yup, it's that time of year again and Mother's day is fast approaching the second Sunday of May. Now more than ever is the moment to show mom how much she means to you. From grammies to aunties, we all have special women in our lives who have touched our hearts and nurtured us. Here are some thoughtful, distinctive gift ideas to show every mom in your life just how much you care this Mother's day.
Gifts Every Mom Loves
Every mom is different, but when it comes to expressing your love for that special woman in your life there are a few common denominators to consider. Everybody appreciates personalized gifts, so think about your mom's interests and cater to what she loves. For example, flower bouquets might seem so cliche, but if mom loves 'em, you can't argue with that! If she's a wine lover think about getting her a subscription to a wine-of-the-month club. Or maybe your mamma is into gardening, think about unique tools she can use that will raise her gardening game. You get the picture. Taking into account mom's favorite things will give you a grand gift-giving advantage.
Another big hit for mom is something handmade personally by you because it expresses thought and time invested on her behalf. Some handmade gifts from the heart can be as simple as baking her favorite treats, making a thoughtful card, or as lavish as making a wooden plant box or knitting her a sweater. Consider getting the grandkids involved with your handicrafts. Gifts made from the heart by you and the littles will surely bring a smile to mom's face.
Lastly, the gift of your time is perhaps the most cherished of all. Make mom feel special on her day by spending quality time with her. It can be as simple as taking her on a picnic or as extravagant as a night at the opera. Having said that, here are a few gift ideas for specific women we love and adore on Mother's day and every day!
Grandmas: Every grammy is different, but they almost always love to reminisce and share memories revolving around family. That's why giving her a personalized scrapbook with tons of family pictures, cute quotes, and snapshots of timeless memories might be the perfect gift for her on Mother's day. If your gram is up to the 21st century, think about creating a digital photo collection and uploading the images onto a LED programmable picture frame that can automatically scroll through the pics so grandma can enjoy memories at her leisure.
Aunties: Many of us can relate to having that special aunt (or that crazy auntie) who is kinda like a mom, a sister, and a BFF all rolled into one. Aunts are unique and deserve equally uncommon gifts. Think about giving her a personalized jewelry piece like a minimalist necklace with a flowy cursive-written "aunt" pendant. Or maybe get her a classic wall print that has a clever saying like "Aunt: Like a mom, but cooler." These prints are trending now and befitting that unique auntie vibe.
New Moms: Anybody who has been a new mom knows that having a newborn leaves precious little time for self-care. That's why personal care products are perfect gifts for new moms on Mother's Day. Think about giving her a deluxe gift set replete with soothing aromatherapy oils, AHA skincare treatments, fizzy bath bombs, luxurious body butter…you get the idea. Add a few of her favorite scented candles in your gift box too. You can even go above and beyond by treating her to a night of babysitting her newborn so she can enjoy your gift of self-indulgence.
Moms-in-law: Sometimes, MILs make a more powerful impact upon our lives than our own bio-moms. If this is true for you, then you're probably thinking about theMeaning, think about treating your MIL by taking her out to a spa day for full-on pampering. Then follow that up by taking her to a classy, elegant brunch complete with mimosas and maybe even caviar. Does that sound extravagant? Yeah! That's the point!
Long-Distance Moms: If your mom lives out of town, and you just can't manage a visit, that's a major drag but there a few gifts for her that can bring you both closer. Think about interlocking jewelry that allows you to give her half while you wear the other so you both know you're always connected over the miles. Also, consider a bloom of the month subscription so every month mom is reminded how much you love her via the language of flowers.
No matter who that special matriarch in your life is, hopefully, these gift ideas inspire you to get creative when showing your mom she's the best on her day of honor. Have a safe and happy time celebrating your cherished moms this Mother's day!