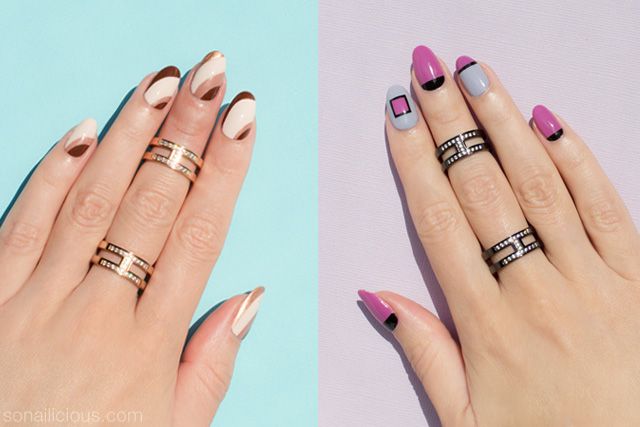 The fashion world is getting huge day by day and so is changing the trend and style of lifestyle with every passing day. From head to toe, one can embellish in beautiful ways and enhance the look. All thanks to the fashion world that gifted with all such creativity. When it comes to hands, nails are truly an important part of our body and can add a lot of grace if beautifully decorated. Every small addition regarding beauty and style adds compliments to our personality. Though the trend of polka dot nail art designs has been into fashion since long, the nail art design is the talk of the town nowadays. For this, Nail Acrylic is used which beautifully lends the hand with a captivating and distinct look. This nail acrylic imbibes of lovely colours in abundance that can be used in as much creative form as you wish to. Depending on the occasions or the event, you can make the nail paint designs with your creativity and execute the designs accordingly. Matching to your outfit or contrast or as per the theme of the party different colours of polka dot nail art can be used to draw the designs.
Let's take an example: If the evening is all about your romantic date with your beloved, then the colour of love that is red with white can appear to be the most appealing one. In case, if you are going out to the pool party, you can opt for aqua colour along with some green and yellow to it. The more imaginative you are, the more artistic your nail art design will turn to be. The appreciation earned by your loved ones will surely add five stars to your hard work. Also, if you are in a hurry at times, then you can also take the help of this article which will instantly lend you with the best of ideas. All in all, nail paint designs reveals, the loveable and aesthetic nature of the woman.
Also Read: RECOMMENDED HAIR CARE PRODUCTS… TAKE CARE!!
The most ongoing trend is the Polka Dot Nail Paint design. From attires to accessories, jewellery to Mehandi designs and now nail art designs, nothing has been left untouched by the polka dot patterns. An array of similar sized circles placed between each other with similar gapping is said to be polka dot design. But with the changing trend, this guideline has been completely changed. When this polka dot pattern is used as nail art design, though there is an array of circles numerous experiments are done like: they could be of any size placed at different gapping depending upon the design that you have framed in your mind thereby marking a unique style as a whole. Different nail acrylic colours can be used for this. No one had ever imagined that polka dot designs will ever mark its entry into the nail art world too apart from the others. As a piece of advice, do prefer manicure on a timely basis to enjoy the maximum look of this new art. It is rightly said when change is for good it is better to colour your life with such changes and enjoy every bit of it.
So, now painting your nail with just one colour is not interesting. For you, we have brought top nine polka nail art designs which you will certainly love and can be made with lots of ease.
The Bubbly pink: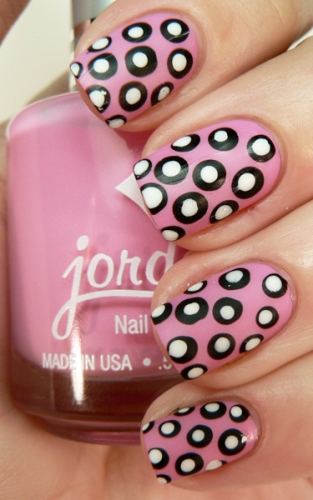 Pink, the most preferred and loveable colour by the girls and ladies of any age! Its soothing colour and mesmerizing effect leave no one untouched with its magical effect. When combined with the contrasting combination black and white colours in the form of polka dots, it is sure to go perfectly with any of your special or casual evenings.
Black and White dots: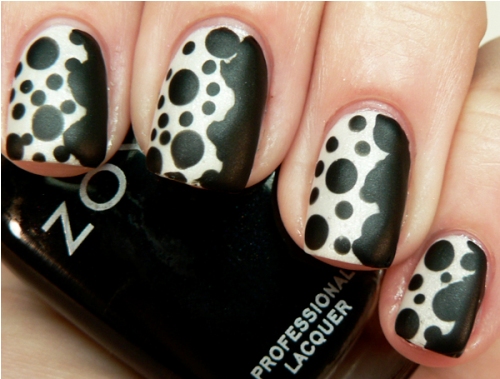 This polka dot nail paint design is the best model of a trendy version exhibiting the mixture of modernisation and style together in one. If you are not good at drawing perfect circles then by this design you can easily hide your mistakes as there are uneven circles and semi-circles bordering the nails which display modern art. A chic outfit will be the right one to accompany it.
Holiday Mood Design: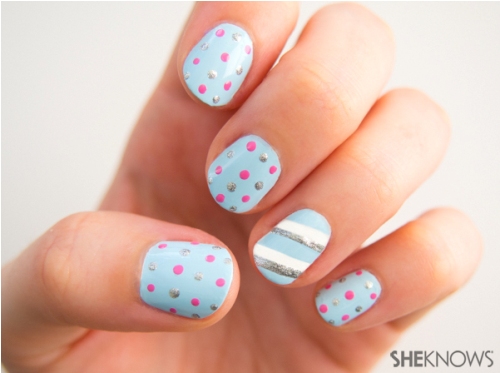 What's your plan?? A simple day out walking on the beach or two days night out… whatever you have planned, this nail paint polka design will accompany you like the best companion when you are all set for a holiday mood. The light acrylic nail colour used in it is soothing and eye-pleasing, and when dramatized with polka dots in pink and silver colour, it reveals the best of it.
Love is everywhere, in the air: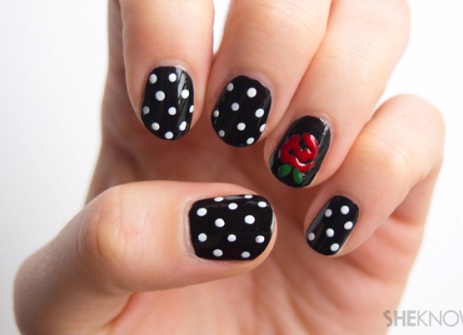 If you are unmarried and also love to be an eye catcher wherever you walk then this polka dot design will be a great help to you. A design bold and beautiful to express the unveiled thoughts of your heart! The ring finger whose nerve is said to straight connected to the heart symbolizes the mark of love… red rose painted on it, and the rest of the fingers are painted deep black as the base colour with polka dot in white colour. If you have a clue to be proposed or is all set for engagement, then this nail paint design will surely be a striking one for your beloved. This design speaks of the romantic phrase… love is in the air everywhere.
A Combo of dots and flowers:
One can easily guess your hidden romantic feeling by this lovely nail paint polka dot design. The index finger, thumb and the little one is painted with red nail acrylic colour and highlighted with polka dots in white colour. While the base of the rest of the fingers, the middle one and the ring finger are painted with white colour and 'U' shaped floral designs where flowers are coloured red and leaves in green are drawn. For the one who loves bright combination, this polka dot nail paint design is made just for you. However, the colours can be amended as per one's choice or depending on the colour of the attire.
Easy with no time: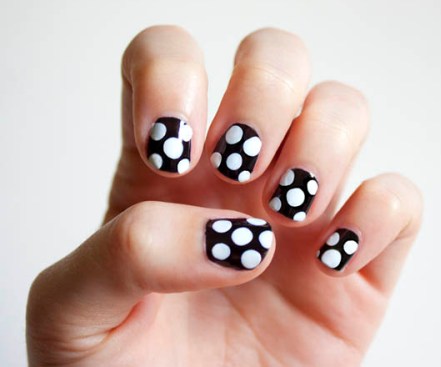 Running lack of time and want to hurry up to win the punctuality award for your kitty? Then, what you are waiting for, rush and get two colours white and black nail acrylic colours. Make a quick start, paint your nail black and make polka dot design with the white one and relish the look. Make the dots little thick so that the real look of contrast colour combination can be pulled out to the maximum. The dark shades reveal their original form when you have done a manicure. The cleaner the hands are, the more appealing your hand will look.
Christmas festive time: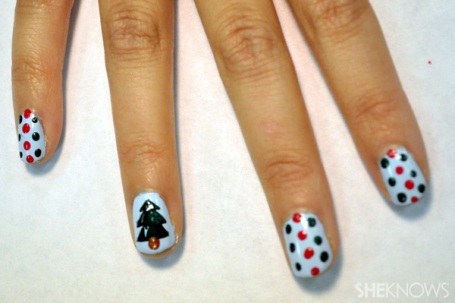 Jingle bell, jingle bell, and jingle all the way… so are you ready to welcome the Santa and enjoy the festive season? Then, here comes the most suitable polka dot nail paint design which will make your Christmas a memorable one when you will earn endless words of appreciation for this. This design exhibits a combination of three colours: white, black and red. Apart from the ringer finger, all others are painted in the same theme where white is the background, and polka dots are made by using black and red colour. As a centre of attraction, the ring finger is highlighted by making a small Christmas tree painted with dark green colour and tinge of golden for the stem. This adds a festive flavour to your persona. The colour combinations are superbly complementing each other.
Gorgeous and girly: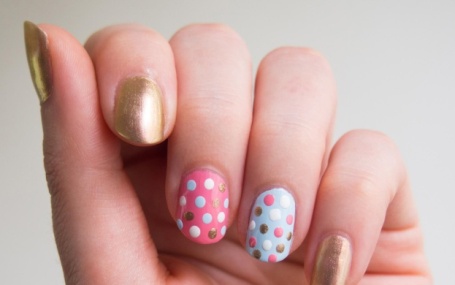 This polka nail paint design can be termed as gorgeous and girlish. On the one hand, where the golden nail polish simply implied to the thumb, index finger and little finger gives the gorgeous golden look similarly, on the other hand, the rest two fingers middle one and the ring one is beautifully painted with different nail acrylic colours enhancing the polka dot design. The polka dots are made using the contrast colours of both the nails and along with the golden one. From teen to thirties, anyone can go for this without giving a second thought.
Polka and pearls: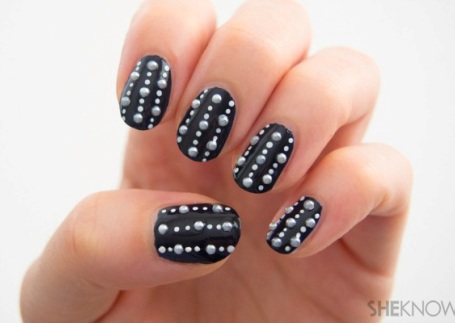 No words can define the beauty of this polka dot nail paint design. In fact, you will fall short of words even if you try to do so. This piece of art is a perfect combination of beauty with brain. Pearl has always been admired as the symbol of royalty and elegance. Here in this design, the addition of pearls to the zee black coloured nailed gives a stupefying look to your hands. The big and small pearls are placed in three vertical lines. This one is to go the best with gowns like attires or any evening occasion where you are sure to become the centre of attraction. Artistic design with the tinge of elegance!
Read More: Tips To Easily Dispatch Acrylic Nails