Be it grueling meetings, critical deadlines or painful heart breaks; a perfect drink is a perfect antidote to all your stress. Ummm…. Come to think of it, why just stress? Aren't glasses of wine or mugs of beer our loyal pals at any get together or outing? No wonder bars are favourite hangout zones of many.
When it comes to the capital, the city has a thriving night life. But out of heaps of pubs and bars in Delhi, if you have to choose one, we bet it might turn out to be your life's toughest decision. Worry not! We have the right solution for this dilemma of yours. Here are some of the best bars in Delhi where you can unwind, shout bottoms up with your buddies and call for another! Don't forget to book a table with Clicktable at these best bars of Delhi to avoid last minute hiccups.
Route 04 – Connaught Place
This American diner is a perfect place to relax and unwind with friends. Besides the long happy hours and great cocktails served here, the place is an ideal and trendy hangout for beer lovers. With retro music and Karaoke night every Friday, the restaurant could easily resemble a diner of a busy motorway in the Mid-West, USA. Popular amongst youngsters we suggest you book your table in advance with Clicktable, especially if you are planning to visit on the weekend.
Ambiance: Casual
Cost for two: ₹ 1500
Must try drink: The reasonably priced beer & Mojito (amongst other cocktails)
Accompaniments: Multi cuisine eats, along with exotic Shisha for hookah lovers.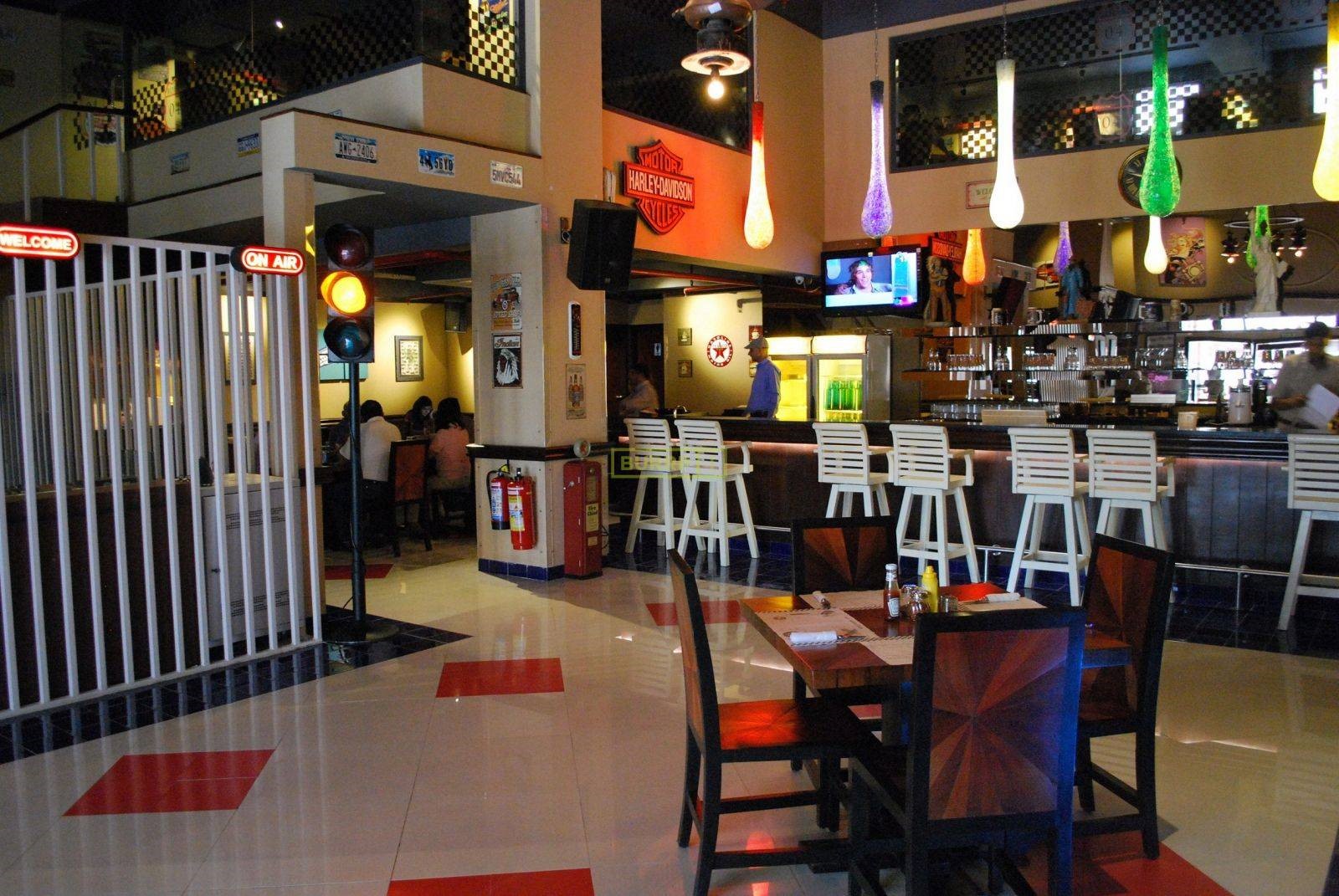 Image Credit: DelhiPedia
Garage Inc – Hauz Khas Village
Located at the famous Hauz Khas Village, this contemporary American Diner offers excellent food and a great ambiance to match. The rustic wooden interiors and brick walls that give a look of a garage complement its name well. The gastronomic spread offers a wide array of scrumptious American and Tex-Mex delights. With a cozy and inviting ambiance, courteous staff, and comforting food, this bar is surely one not to be missed.
Ambiance: Trendy
Cost for two: ₹ 2000
Must try drink: Frozen Strawberry Margarita (amongst other cocktails)
Accompaniments: Crispy chicken bucket, Raggae Nachos.
Image Credit: Clicktable
Reminiscent of the once famous Teddy Boy culture in the UK during the 1950s, you are greeted with great music and a positive vibe as soon as you step into the bar. The deer heads on vintage walls, leather couches, funky artwork and vibrant interiors are what you can expect while visiting the place. It is the ideal bar to chill out with friends or family over fantastic drinks and good food.
Ambiance: Resembles a funky British Pub
Cost for two: ₹ 1600
Must try drink: The reasonably priced beer & cocktails
Accompaniments: Lip smacking fusion food & hookahs.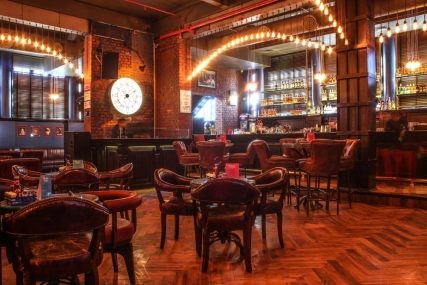 Image Credit: Clicktable
Londoners Bistro & Pub- (GK) 1
Visit the pub to get a real feel of Great Britain. Sporting French windows and a double decker red bus, the bar has both indoor as well as outdoor seating options. The live music and trendy ambiance attract a lot of youngsters to the bar. Serving delicious dishes from British, Chinese and Italian cuisine and an extensive variety of drinks; it is the perfect location to spend a lively evening with friends. Providing great liquor deals, if booked via Clicktable, it is an ideal place for bar lovers.
Ambiance: Chic & Trendy
Cost for two: ₹ 2000
Must try drink: The reasonably priced beer & cocktails
Accompaniments: Butter chicken pie, pizzas.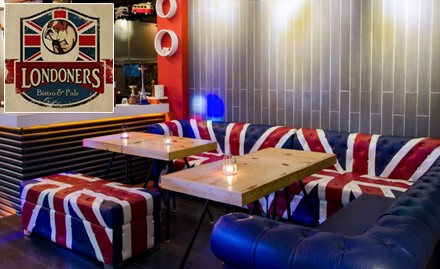 Image Credit: travreviews.com
Now that you too are updated with so many fantastic options of bars in Delhi, which one do you plan to visit this weekend?