Hickeys can be commonly seen nowadays. A hickey is something that is not for a gender in peculiar; it can happen or be given to both men and women from their beloved partners as the sign of their love making. For few, who wanted it willingly; it is a matter of proud as they do not shy on getting this love mark from their partners rather they love showing it off. But for few others who got it unwillingly, hickey becomes a matter of disgrace. They want to get it removed as soon as possible or they keep hiding it. So, opinion differs. It is true that hickeys are mostly seen in women in comparison to men but then this does not signify that men do not have them. The only difference is that some hickeys are hidden while some can be well interpreted.   Generally, hickeys are neither painful nor dreadful but then situation varies from person to person. Here we bring an article to acknowledge you regarding every little and big thing about hickeys.
WHAT IS A HICKEY?
A love bite or a kiss mark is generally termed as Hickey. It is a sort of contusion caused due to aggressive sucking, kissing or biting. This aggressiveness ensues in cracking of the small and soft blood vessels, known as capillaries. As a result of which the blood oozes out into the environing tissues making a red colored mark over your skin.
 
 FOR HOW LONG DOES HICKEY LASTS?
If you are the one who has got hickey unwillingly, then the first question that pops up to your mind is "for how long will it lasts?" Well, do not worry at all because a hickey is not everlasting at all. It withers away with the passing time; leaving no proof behind as if it ever existed. On a general note, hickey usually endures for a week or two and there are two reasons behind why it takes so much time. They are:
Severeness: Some of the hickeys last for such long time and also takes a good time to cure. The length of time taken to heal entirely depends on the amount of destruction caused to the blood capillaries within the skin. The severe the hickeys are, the more time it will demand to mend.
Your own health: Your own health also defines the time period a hickey will take to fleet. The healthier and stronger you are internally, the quicker the hickey will vanish. So, live a life; healthy life!

HOW TO GET RID OF A HICKEY?
For the ones who do not feel fine to flaunt their hickey and are looking for the ways to get rid of their hickey, here we bring some of the most amazing home remedies to get rid of hickeys quickly. Check these out:
1. Magic of Massage
This is an awesome home remedy to get rid of hickey is massaging. You can take any essential oil that suits your skin to massage. But yes, you need to do in a proper manner. For this, put two fingers over the affected part and firmly rub it in a round gesture. This massaging should be always done in one direction for first two minutes and then the direction can be changed. Do it for at least 15 minutes and then you can repeat the procedure at any time of the day. Moreover, don't be surprised if you observe some outlines after the massage. Though it is rare, but nothing to worry about.   Basically, massaging disperses the clogged blood thereby abridging its color. It is believed that the potency of massaging completely counts on the severeness of hickey. So make sure that you do it in the best and right manner for effective results.
2. Rubbing Alcohol
Well, this method of getting rid of hickey will only work if it has been just some hours around after you have got a hickey. The chilling, bactericidal and soothing elements of rubbing alcohol will make you attain your goal speedily. Take a cotton ball to apply alcohol. If not painful, you can a gentle massage through the same. When done, do not forget to put on a moisturizing cream or lotion over it. This is because of the dryness caused by the alcohol. Rubbing alcohol is experienced to be the quickest method to get rid of hickey. But just do it for a day or two and that too twice to thrice in a day. Don't forget to apply a lotion every time after you are done with it. Isn't it the simplest home remedy to get rid of hickey?
3. Cocoa Butter
Another effective home remedy indeed! Cocoa butter is an excellent gift of nature to not only cure hickey but also other injuries. It serves to be a fantabulous beauty product by being a natural moisturizer thereby enhancing the development of skin tissues. In order to cure hickey, you will need to massage the affected place with cocoa butter for some duration and leave it for a while. To add on, if you are looking for more effective result, apply cocoa butter after the procedure of warm compress. The results are sure to leave you amazed.
4. Arnica Salve
Arnica Salve is a clinically tested and proven curative emollient or balm. It is also considered as an efficacious home remedy to get rid of hickey. This ointment not only helps in repairing the collapsed blood capillaries but also trims down the irritation and puffiness caused due to hickey. Simply, apply Arnica Salve over the hickey and impacted area nearby to it. You are sure to feel much better.
5. Peppermint
Peppermint ameliorates the circulation of blood due to the stimulant impact it leaves. It also assists in the mending of capillary blood vessels. When applied over the affected area, one might feel the prickling sensation but it dilutes within few minutes. For the ones who want to get rid of hickey, you can either apply a toothpaste containing peppermint or even use peppermint oil. As an alternate to peppermint oil, the use of olive or almond oil is also advisable.   All you need to do is to gently rub either of them (peppermint containing toothpaste or oil) and let it rest over it for some time. Once you stop feeling the prickling sensation, remove it through a warm washrag. Remember few things: if you apply peppermint ointment immediately after getting hickey, then it will disappear in no time. Secondly, the application of peppermint should be done only once in a day. If exceeded then it might result into skin irritation.
6. Peel of Banana
Now this is something that will give you instant comfort right in your home! You will need not to go anywhere for this remedy of hickey removal. But what is it? Well, it is a fruit that is always available in our homes. Banana peel is the way to get rid of hickey this time. The peel of banana is bestowed with many natural curative properties to impart comfort in many conditions.   You will just need a ripe banana for this remedy. Cut a new and clean piece of banana peel from it; somewhat as the size of your hickey. Now put that piece over the hickey and let it rest over it for 20 to 30 minutes. The cooling and soothing effect of banana peel will lend you great relief from the discomfort. You can repeat the process thrice or even more times in a day to get speedy results. Just make sure that you throw away the used piece and use a fresh one every time.
7. Vitamin K
Vitamin K is also used to get rid of hickeys and discomforts caused due to it. Its decoagulant qualities are capable enough to dispel clogged blood in your body thereby hastening the therapeutic and curative process of your hickey. Wondering, what you need to do?   Well, without a delay, begin the intake of those food supplements that are plentiful in Vitamin K. These will instantly alleviate the curing process. Also, there are various medicated creams and lotions available on the medical stores which work effectively on hickey removal. Just pick one of them that is rich in Vitamin K and apply it twice or thrice in a day to get the healing results quickly.
8. Vitamin C – Lemon or Orange
Vitamin C has plenteous bleaching properties which also makes it an incredible element for curing and clearing the marks of any sort of bruises. Thus it also helps in getting rid of hickeys. Lemons and oranges have the highest amount of Vitamin C in them. So, you are advised to drink freshly squeezed lemon or orange juice as soon as you discover a hickey. It will add on many other health benefits too. You can even make the orange pack and apply it over the hickey as a substitute. If any of these forms of vitamin C are followed, then hickey is sure to get vanished as if it was never there. So, a little extra effort can help you gain quick results. A home remedy that also serves as the fastest way to get rid of hickey removal!
9. Use a Toothbrush
To your surprise; yes, using a toothbrush is also an amazing home remedy to get rid of hickey. But you will need a new toothbrush with strong and firm bristles for this remedy. Comb can also be used as a substitute. What you need to do is to gently brush the hickey and area around it with the comb or a toothbrush. Then give a break for 15 minutes to observe the outcome. You will notice that after brushing, redness and puffing has also scattered. Don't, don't worry! It will become a lot okay after 15 minutes.   As a word of caution; 'Do not press it too severely while brushing, else the results might be worst.' Only if required, replicate the procedure else do not. If you are thinking, how effective is this remedy? Well, this entirely depends on the harshness of your hickey. But yes if you are lucky enough then this method can turn out to be a savior for you within no time.
10. Cold Compress
Cold compress is one of the fastest ways to get rid of hickey. Now the question is what to do. All you need to do is to take a towel and roll four to five ice cubes in it. Then just press that wrap and roll over the hickey for about 8 to 10 minutes. Ice plays an important role in curing the pain and swelling stimulated by hickeys. Never place the ice cubes directly onto the skin as it may result into destruction of internal tissues by freezing or even ice burn.   The other way of using cold compress method is by placing a frost metallic spoon inspite of ice cubes. For this, you will need to put a metallic spoon in deep freezer for about ten to fifteen minutes. Then take it out and enfold it with a towel type of cloth. Press it over the impacted skin or gently rub over the hickeys. You can make use of these cold compress methods as many times as you are comfortable. The more time you invest in taking care of it, the sooner it will cure. The primary role of this hickey removal method compresses the collapsed blood capillaries and minimizes bleeding.
11. Hot Compress
Here comes a question for you… what do you do for the stubborn type of hickeys? Are you fed up of trying everything? Well, we have a magical solution to your problem. Hot compress is the way to get rid of obstinate sort of hickeys. Where all the efforts go in vain, this method kicks off the problem with root. Check out on what you need to do. Dip a washcloth in hot water for few minutes. Then take out the washcloth and twist and squeeze the excess water from it. Put this washcloth over hickey and impacted area for some time. Dip it again if required and follow the same process. Inspite of a washcloth you can even use a recyclable a heat patch. Heat patches are easy to execute with least investment required and stay hot for longer duration. You can get them from a nearby medical shop.   Now how does it work? The warmth exerted from the washcloth aids in distending the blood capillaries. This further allows the fresh blood to enter to the hickey thereby removing the clog of blood. Even the hair dryer can be an option for hot compress to treat hickey. Turn on the hair dryer at normal speed and massage the place with two fingers.
Aloe Vera
Here comes another endowment of nature! Aloe Vera, known for its countless qualities, also serves as an effective remedy to get rid of hickeys. This is also used as a medicine to reduce inflammation by providing relief for various causes. Cut a piece of fresh aloe vera and massage its gel over the impacted area. Do it at least three times in a day. Aloe vera accelerates the healing process of the cracked blood capillaries thereby minimizing the skin sensitivity too. It is also said to be a natural moisturizer hence you can also apply the Aloe Vera grounded cream, gel or lotion as a replacement if you do not have an Aloe Vera plant nearby. Thus, Aloe Vera serves to be an incredible hickey home remedy.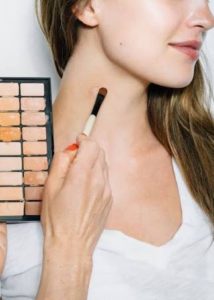 HOW TO HIDE A HICKEY?
Well, there is no magic that will make hickey vanish instantly within few seconds so let's be practical and learn on the methods to hide it. There are times when hickey pops up on the place where its visibility becomes an issue. The reason to hide can be either: you have to go to a party or there are guests coming at your home or any reason which is valid enough for you to hide your hickey. It could be anything.   Now the question is 'how to hide a hickey?' One way is to hide it through the art of makeup. Apply concealer and other make up tricks that will surely help you to hide hickey smartly. The other way could be to wear such clothing which hides it automatically. When it will not be visible, your mind will be automatically relaxed. Such are the ways to hide a hickey.   Hope all the above home remedies prove a great help to you. Do comment and let us know which home remedy proved to be a savior to you and also share other remedies if you have any.
You May Also Like:- https://www.abestfashion.com/how-to-natural-ways-remove-whiteheads-nose-face-treatment/