Married ladies in India are expected to wear an eye-catching Mangal Sutra or a kind of a chain with gold and black beads and a cute pendant. Most people wear a Mangal Sutra because tradition and customs demand it while there are some women who prefer to consider the scientific benefits of wearing a Mangal Sutra. Did you know that by sporting a Mangal Sutra, there could be an improvement in the overall health and fitness of a married lady?
What Is a Mangal Sutra?
Mangal Sutra means the sacred thread. It is used extensively by married Indian women all across the country. It is an integral part of a bride's jewelry and is a significant part of Indian tradition and Hindu culture. Indian people pay a lot of importance to Mangal Sutras and most married women are expected to wear a Mangal Sutra to demonstrate the fact that they are married and no one should look at them with any evil intentions.
Whatever the reasons, Mangal Sutra is regarded even today as the greatest symbol of the love and bonding of marriage. It is simply a set of beautiful black beads that are strung together with the help of a gold chain or a yellow thread along with a cute pendant. This piece of jewelry would never go out of fashion as designers are coming up with sleeker and more attractive versions including the handmade Mangal Sutra that is becoming increasingly popular among the modern and the fashion-conscious Indian women. For every Hindu married woman, Mangal Sutra has some special importance that simply cannot be undermined. This beautiful ornament is known to symbolize the union of a woman and man. This is regarded as the most important and precious jewelry item that a married woman needs to wear all through her lifetime.
Mangal Sutra Promotes Health
Our Indian culture and tradition are really scientific and advanced. In the field of Ayurveda, it is believed that metal gold offers multiple benefits. Mangal Sutra is made from pure gold mostly effective in improving heart and also keeping the chest clear and healthy. Right at the center you would see two cups that are mostly round and sans any designs. This is great for generating a super-cool and harmonious relationship between the wife and her hubby.
Gold is effective in stimulating the sun channel found in a woman. Remember that the sacred black beads comprising a Mangal Sutra are effective in protecting a married lady from evil eyes because black is supposed to effectively absorb all negative energy.  Moreover, the three distinctive knots of the Mangal Sutra beads would be signifying diverse aspects of marital life. The first knot would be signifying obedience towards your life partner. The second knot would be symbolic of obedience and respect to your parents. Finally, the third knot would be representing your respect for God Almighty.
Choosing a Handmade Designer Mangal Sutra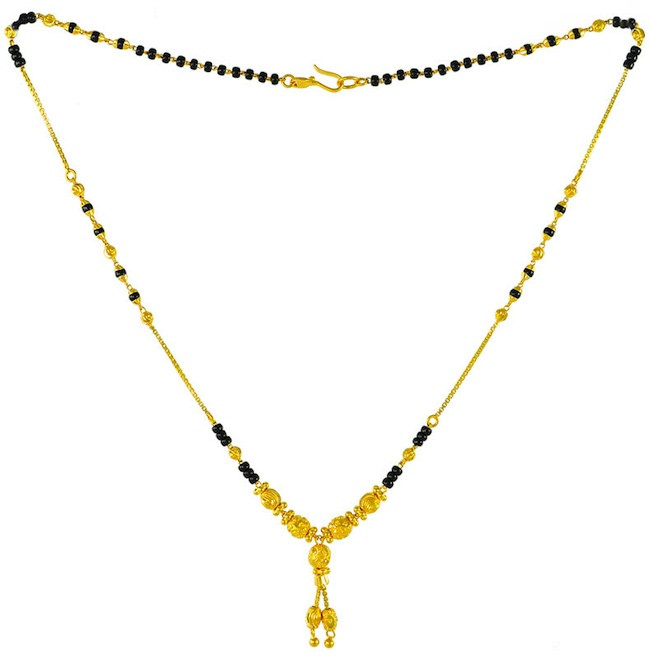 Today, the jewelry designers are coming up with absolutely amazing handmade versions of the traditional Mangal Sutras. A Mangal Sutra is indeed a beautiful and a precious piece of jewelry for an Indian married woman. The modern Mangal Sutras come in a variety of designs to complement your personality and cater to the diverse needs, tastes, and preferences. Often it becomes pretty challenging to make the right choice. Here are some of the simple factors to keep in mind while buying the best Mangal Sutra for your wedding.
Budget: Budget plays a pivotal role in determining what Mangal Sutra type to buy. You must chalk out a budget. Thanks to a great variety of metals, cuts, and designs, the price range is sure to vary quite a lot. Determine a precise budget and always stick to it. Try not to exceed the budget.
Metal: Decide which metal to opt for while buying the Mangal Sutra. Previously gold Mangal Sutras were in great demand but today, you could get Mangal Sutras in amazing designs in not only gold but platinum, silver, and even white gold. Choose as per your budgetary constraints. If your budget permits, buy a stunning Mangal Sutra with diamonds for that amazing glittering effect.
Need-Based Buying: Your Mangal Sutra should cater to your precise requirements. No need to get swayed by someone else's choice and designs. If you wish to buy a Mangal Sutra for simply daily use, opt for a lightweight one with the chic design so that it is quite comfortable to wear and easy to carry. Special occasion Mangal Sutras should, however, be relatively heavyweight with a large or minimum a medium-sized pendant with eye-catching and an intricate design matching your precise requirements.
Choose the Right Pendant: Designers today are coming up with a broad spectrum of pendant designs such as hanging pendants, heavy design pendants, lightweight pendants, small pendants and much more. Buy what really looks best on you and suits your personality. Remember to consider the comfort factor. Think about the occasion when you wish to wear the Mangal Sutra and choose a lovely design accordingly.
Examine the Authenticity
Always remember to examine the five most important marks of authenticity, 1) Purity Grade, 2) BIS Standard Mark, 3) Hallmarking Center, 4) Jeweler's Identification Mark, and 5) The Manufacturing Year. This thorough scrutiny would make sure that you do not get cheated and you end up buying an authentic jewelry piece.
Conclusion
Mangal Sutra is the expression of the deep love, bond, dedication, and commitment between marital partners in India. The Mangal Sutra is essentially a graceful jewelry piece that every Indian married woman would love to flaunt.
Article by:  Mandy Bular is an artist and jewelry designer working with an independent boutique jewelry creator. She loves art, photography, and blogging and shares a number of her unique designs and pointers to great stores and resources online like www.perigems.com.