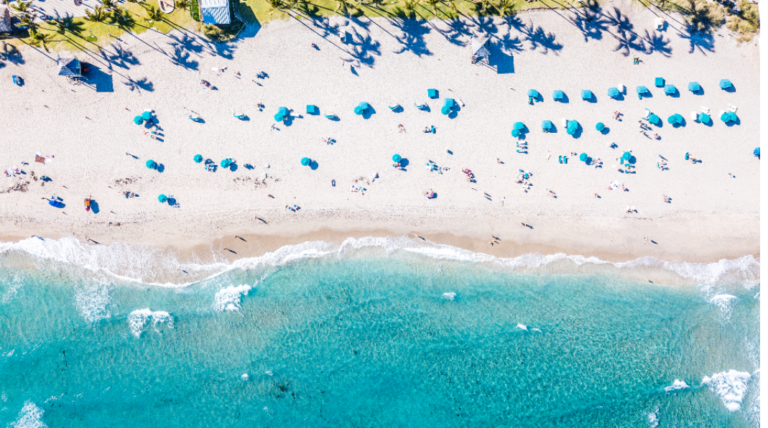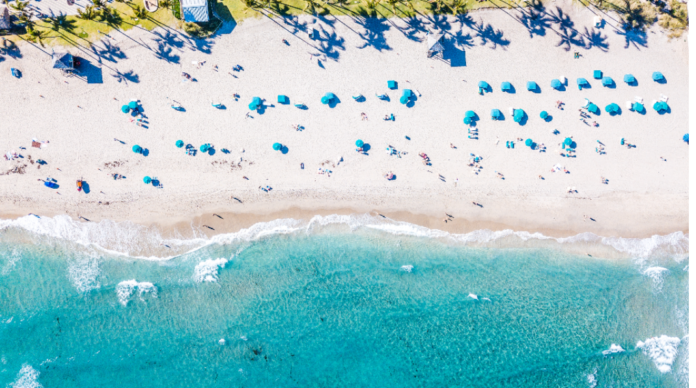 Going to the beach as often as you like is one of the biggest perks of living in California. The majority of the state's residents live within an hour two's drive of at least one beach, and that's just as well. Most of the time, Californian weather seems like it's designed to drive you to the beach. It's the sort of thing we fantasise about when we're stuck inside an office on a hot, stuffy day. It might not be possible to escape the heat during the warmest weeks of the summer, but it's a lot easier to tolerate it when you're on a sun lounger with an ice cream in your hand.
When people talk about "California dreaming," it's often the beach they're dreaming of. The idea of spending a few hours or even a few days basking in the sun is a powerful motivator – so much so that it's been turned into online slots like "Sunny Money" and "Sunny Shores." They're big draws for online slots websites, even though playing them doesn't expose you to real sunlight or bring you any of the benefits of being on a beach. Under normal circumstances, we'd have no issue with anybody indulging in a little California dreaming. If you wanted to head to the beach, we'd tell you to go for it. We might have to temper that advice a little bit for the next few days, though. Going to the beach might currently involve a bigger gamble with your health than any online slots website can offer you.
As much as it pains us to confirm the news, there is a bacteria issue with many of the beaches in the LA County area. Tests have been performed on many popular beaches by state officials, and levels of bacteria have exceeded safety levels on several of them. The problem has been blamed on a nightmare trident of infected creeks, gushing rivers, and discharging storm drains. The full list of beaches affected is Avalon Beach, Ballona Creek, Dockweiler State Beach, El Segundo Beach, and the World Way extension. There are also issues on beaches close to Culver Boulevard storm drain, Grand Avenue storm drain, Hyperion Plant, Imperial Highway storm drain, and Westchester storm drain. Concerns were raised at Santa Monica Beach and Topanga Canyon Beach, but health advice warnings about those beaches were lifted several days ago. The situation is constantly being re-assessed, so double-check before making travel plans for any beach in LA County.
The level of bacteria in the water at the affected beaches has been deemed a threat to anyone who swims, surfs, or otherwise bathes in the water. There's no sewage in any of the water – which is a good thing – but state officials were still so concerned about the bacteria levels that they went door-to-door in the community to advise people of the situation and ask them not to visit the beaches unless strictly necessary until the situation is resolved. The beaches have remained busy for the past several days, which implies that the warnings aren't particularly effective as deterrents, but the warnings remain in place regardless. Until the official line changes, officials suggest that you avoid coming into contact with the beaches at all.
Having to cancel your weekend plans is always a disappointment, so you have our sympathy if you were hoping to visit any of the beaches in the next few days. It might be some consolation to know that you might not have enjoyed it even if you could go. Californians like it not, but generally not as hot as it's about to come in the week ahead. That leads us to our second reason to give the beach a wide berth for the time being. The whole of southern California is currently bracing itself for a heatwave. Excessive heat warnings and a statewide flex alert have been issued, so this definitely would not be the best week for your aircon to break down.
According to the latest figures from the National Weather Service, temperatures in the worst-affected areas will reach 120 degrees or more, with the hot weather lasting beyond the weekend and into the beginning of next week. The Antelope and Coachella Valleys are expected to be especially hot, along with San Diego County, Cuyama Valley, and San Luis Obispo County. Both the Lucerne and Apple Valleys are forecast to experiences their hottest days of the year so far. If, as is expected, Death Valley reaches 130 degrees, it will officially achieve the hottest temperature recorded on Earth this year. Things aren't expected to get quite that hot in LA County, but it could still reach 105 degrees along with Santa Clarita Valley, Ventura County, and Santa Barbara. 115 degrees is possible in LA County's inland areas.
To make matters worse, the high temperatures will come with low humidity and high winds. That's the perfect combination for storms and significantly increases the likelihood of large-scale fires both happening and spreading out of control. Residents are advised to avoid taking exercise outside or even going outside at all unless necessary, wear lightweight clothing at all times, and stay hydrated. Increased demand for aircon systems could cause power issues, and a rush on people taking cold showers might also cause water issues. It's going to be a stressful few days for anybody who works in either industry – and a very hot few and uncomfortable few days even for those who don't.
The beaches in southern California are beautiful, but they can also be deadly in the wrong circumstances. Due to the combination of the intense heat and the bacteria issues, those "wrong circumstances" are with us right now. The beaches aren't going anywhere. They'll still be there for you when the bacteria issue is dealt with, and temperatures have cooled a little. Think twice before you head out to use them for the next week. You might be fine if they're clean and the temperature dips a little, but right now, a day on the beach is unlikely to resemble anybody's idea of a good time.