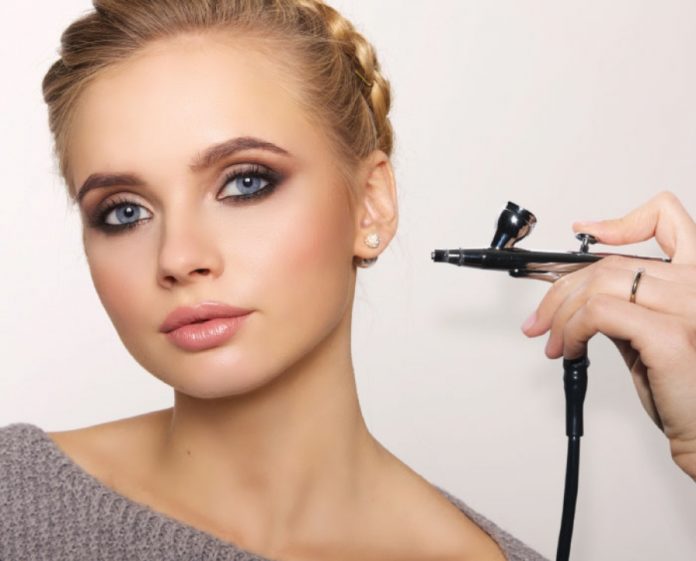 Airbrush makeup sounds like super expensive and next-level professional equipment suitable only for makeup artists. To be honest, this was true when airbrush makeup kits used to be clunky, big, and confusing. Thanks to the constant innovation of easy-to-use kits, airbrush makeup is now a common makeup tool.
Airbrush makeup is known for being long-lasting, durable, and great to offer complete converge. It has now become a popular DIY option for people. Still, the concept of airbrushing can feel confusing and intense.
If you are looking for the best airbrush makeup kit for your wedding, then check out the below-mentioned list. We have shortlisted the best airbrush machine from a myriad of options available in the market.
Temptu 2.0 Premier Airbrush Makeup Kit
This is one of the most highly-priced airbrush makeup kits but is worth every penny. This kit comes with a wide variety of foundation shades to choose from(12).
Temptu airbrush makeup kit comes with an airbrush cleaning solution kit to boot. These are good silicone-based makeup foundations for long-lasting effects. You will be in full control of the foundation coverage. This kit is durable and will last you a long time.
Even if you are hiring the best makeup artist for your wedding, you can include this in your makeup kit as a must-have wedding trousseau.
Kett Cosmetics Airbrush Starter Kit
This airbrush makeup kit has prices higher than other options. However, if you are a regular airbrusher and are well-practiced with your techniques, then this airbrush kit is worth the investment.
This is a favorite professional brand that contains foundation, blush as well as a highlighter. This is a vegan and cruelty-free silicone-based foundation and free of any added fragrance.
Luminess Air Basic Airbrush System
We love multitasking makeup with added skincare benefits. This airbrush makeup acts as a foundation, primer, corrector, and concealer.
The kit is infused with skin-loving ingredients like cucumber, blue algae, and calendula. It also contains hydrolyzed silk to refract light and make your skin smooth and radiant.
Dior Airflash Spray Foundation
Generally, airbrush foundations do not come in tons of shades but some basics with common undertones. These can be easily mixed to make a suitable foundation shade.
This is what we love about the Dior airbrush foundation kit. It comes in 25 different hues to match all skin tones and undertones. The foundations have a water-resistant or waterproof sealant formula that stays intact for 12 or more hours.
It feels super lightweight on the skin and can be built up for extra coverage.
Mineral Air Complexion Starter Kit
If you love using mineral foundations but don't like the way powders look on your skin, this is a great airbrush option. The foundation comes out as a micro-fine mist which works as a concealer, primer, moisturizer, and foundation, all in one.
One bonus point is that the airbrush machine is portable, cordless, and rechargeable.
Dinair Airbrush Makeup Starter Kit
If you like having a full face of makeup, then Dianir Airbrush foundation is right for you. Airbrushing is not limited only to the foundation. You can even add colors to your eyes, lips, and cheeks.
This comprehensive airbrush makeup kit comes with a range of shades that can be used as a highlighter, brows, blush, and various eyeshadow colors.
This kit is all you need to do your full face of makeup.
Sally Hansen Airbrush Legs Makeup
If you need to do foundation on your legs, hands, or other body parts, then the Sally Hansen airbrush makeup kit is all you need. This kit will give you the perfect flawless look to your legs and arms, just like your face.
This spray foundation is very beginner-friendly and even has a light coating to cover freckles, veins, and other marks that you would like to hide and get a sun-kissed glow.
It is transfer and water-resistant and will easily come off in the shower, unlike a self-tanner.
Photo Finish Professional Airbrush Cosmetic Makeup System Kit
If you are running on a tight budget, then you should check out the Photo Finish airbrush makeup kit. This makeup kit is great for personal and professional use. It includes a shade for all skin tones and comes with both luminous and matte finish, which are waterproof and long-lasting.
The makeup set contains one concealer, six foundations, one blush, one finishing powder, one highlighter, and one anti-aging hydrating primer.
You will also get a deluxe bag to store everything in place. It is the most affordable option among all the best airbrush makeup kits.
Aeroblend Airbrush Makeup Personal Starter Kit
The USP of this airbrush kit is that it is free of mineral oil, parabens, silicones and provides great coverage ranging from sheer to heavy. This kit comes with five foundations, two blush, one bronzer, and one highlighter apart from the compressor, gun, and a user manual.
The foundation has a very fine mist which can easily cover blemishes, dark circles, and acne marks, leaving behind an HD base.
Belloccio Professional Beauty Airbrush Cosmetic Makeup
Belloccio airbrush compressor comes with three airflow settings that let you modify the kind of coverage you want.
The content of the foundation includes foundation, primer, bronzer, blush, shimmer, and the required equipment, along with a makeup sponge, concealer, and setting spray.
You also get a carry bag and a user guide which eases the process for beginners. The best is that the price is considerably less as compared to many other airbrush makeup machine prices.
Air Perfect Canvas Starter Kit
It is comparatively much easier to use than many other best airbrush makeup kits. This cordless foundation pod and air compressor offer natural-looking, semi-matte and buildable coverage.
The formula of these foundations is packed with amazing skin-friendly ingredients like Antioxidant-rich goji berry extracts and peptides for flawless skin and flawless complexion. No wonder this is used by makeup artist of all around the world.
Luminess Air Basic Airbrush System
The Luminess kit comes with one primer and four bottles of ultra foundation along with a blush and brightening glow making it a comprehensive kit.
This foundation offers wide coverage to suit every skin tone and gives a photo-quality HD finish. The added advantage is that this is super lightweight and portable.
Pros of Airbrush Makeup
The airbrush makeup system comes silicone-based which will stick on throughout the day.
Airbrush foundation is more transfer and waterproof than traditional makeup.
The finish n of airbrush makeup kits is flawless and is applied evenly.
Airbrush makeup products come with more coverage in fewer products. As it is sprayed it gets easy to layer it on.
Applying airbrush makeup gives a minimal kind of look and is best suited for people who do not like heavy makeup.
If you are going to be under HD cameras that tend to capture even the tiniest of pixels, it is best to go with airbrush cosmetic makeup system.
Airbrush makeup gives a very seamless and blended effect.
If you have oily skin, then it will suit you best than traditional makeup as it can stay on for a longer duration.
Cons of Airbrush Makeup
Airbrush makeup systems are expensive and the difference between the two can be around 7000. However, it depends on different professional makeup artists.
Airbrush makeup kits are not best suited for dry skin. The silicon-based products lack creaminess and make you feel drier.
The base needs to be well preppers, hydrated and primed to get a flawless look.
R-blending the airbrush foundation is not possible. If any makeup cracks or streaks are caused, they cannot be touched up like regular makeup.
If you have scars, pimples, or active breakouts, Airbrush makeup cannot cover them. With acne-prone and sensitive skin, it is best to go with HD makeup.
Airbrush Makeup vs. Regular Makeup
Best Airbrush makeup is not just a technique of spraying the makeup products on the face using an airbrush gun but is a formula in itself.
Airbrush makeups are very lightweight and thin which allows them to pass easily through guns and are sprayed as ultra-fine mist. Even though airbrush makeup is runny, it is concentrated in coverage and color.
Not just the application but it is also good in terms of longevity. As airbrush makeup is not applied using makeup brush or spong, the product spreads evenly on the face and stays put throughout the day.
What to Look For in an Airbrush Makeup Kit?
Silicone-Based
A silicone-based foundation formula is best when it comes to using long-lasting power. These are also water-resistant and can easily withstand sweat, humidity, and tears.
Foundation Shades
You must always look into the foundation shades that come with an airbrush makeup kit. Although you may not find a lot of options in traditional airbrush kits, there are some good options but priced a little higher.
Final Verdict
Airbrush makeup is not meant to be reserved only for special purposes. The Temptu Air Perfect Canvas kit is suitable for beginners and is a machine-free spray option.