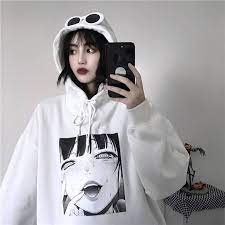 Anime is taking over the world with consistently increasing fan following. It is a cult-favorite and no more limited to the entertainment industry. The anime genre has also become remarkably popular in the fashion world with anime hoodies, t-shirts, and much more.
So, if you are a hard-core fan of anime and seeking advice to style your brand new anime hoodie, then you are at the right place. We are here with tips to wear anime hoodies in different ways to pay homage to your favorite anime characters fashionably. 
Fashionable Ways Style Anime Hoodie
People think that hoodies are not fashion-forward items. However, anime hoodies have proved it wrong. Anime hoodies are not only comfortable and practical but also one of the most fashionable picks. Here are some anime hoodie styling tips for you to raise your fashion game.
Style Anime Hoodie with Skinny Jeans
An anime hoodie and skinny jeans are the ultimate laidback combination. Wear the anime hoodie of your favorite character with dark blue and black jeans and trust me, your style will be the talk of the town for a good reason. Complete your look with your favorite sneakers to add an extra element to your outfit. If you are going to some party, then opt for boots to create a party-perfect look.
Try Anime Jacket with Sweatsuit
Fashionable sweatsuits are the rage right now. They are comfortable, stylish, as well as practical, which makes them the right pick. Pair your anime hoodie with the right sweatpant to create an in-vogue two-piece. Pair your two-piece with sporty sneakers or basketball shoes and some cool kicks to create a perfect look.  
Dress Down Anime Hoodie with Bold Pants
Create a casual and party look at the same time by pairing your anime hoodie with bold pants. Pair a simple white or gray anime hoodie with a loud pair of pants. Trust me, this piece will give an effortless feel to your outfit while making you look profoundly fashionable. If you are going outdoors, make sure to complete the look with a pair of sunglasses.
Anime Hoodie with Bomber Jacket
Want to create a contemporary urban outfit look? If yes, then pair your anime hoodie with a bomber jacket. The combination can work really well and all thanks to the popularity of anime hoodies and bomber jackets. Remember not to zip up the jacket. Keep it open to make your hoodie properly visible. Add some dark blue or black jeans to complete your casual look.
Denim Jacket with Anime Hoodie
Denim jackets are never out of trend. Pairing your anime hoodie with a denim jacket is the perfect way to attain a casual as well as cool look. Though you can pick different types of denim jackets, a basic blue denim jacket works extremely well. It can suit a wide range of styles. For a stylish casual look, pair your pink or gray-colored anime hoodie with the denim jacket. Complete your look with skinny jeans and fashionable sneakers.
Final Words
Anime hoodies are the best way to look stylish while showing your love for your favorite anime characters. Styling anime hoodies in the right way will not only raise your fashion game but will also make you stand out in the crowd. Now, what are you waiting for? Get your favorite anime hoodie and style it in different ways to create stylish outfits.