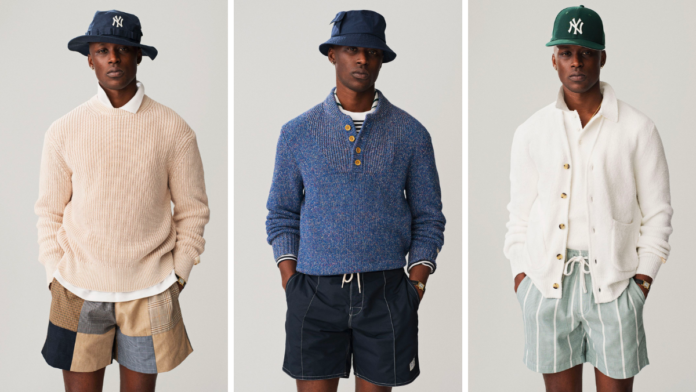 shorts outfit ideas – When it comes to shorts, guys often find it intimidating to style them effortlessly. I am sure every guy must have at least one pair of shorts they have always wanted to wear on holidays but could not think of the right way to style them.
Panic no more! Styling the right pair of shorts is not as tricky as it may seem. With the help of a few fashion rules, you can master the look. But what is the right style of shorts for you? What goes best with shorts? We will answer all your questions in this article. Here are some of the best shorts outfit ideas you can try on your next holiday.
How to Wear Shorts This Summer?
Finding the right style and fit for you is the key to creating good shorts outfit ideas. Too short can make you look awkward, and too long can make you look shorter.
Here are some tips on n shorts outfit ideas for men:
At Least 1-3 inches of skin should be showing above the knee. This helps balance the leg and does not make you look disproportionate.
If you are short, skip wearing baggy cargo shorts instead; go for tapered shorts.
If the shorts are too long, you can cuff them 1-3 times to achieve the desired length. You can also sew them to ensure they do not unroll. Cuffed shorts look stylish too.
You can get your shorts tailored to get the best fit.
If you plan to wear colorful or printed shorts, remember to keep the rest of the outfit subtle.
Types Of Basic Shorts:
White shorts are the right fit for the summer season. These pair well with a range of fits like printed or colored t-shirts or crisp button-up shirts. You can match these with boat shoes or loafers. However, avoid wearing white sneakers as you might look like a tennis player.
Cargo shorts are a popular pick among guys. These pair well with t-shirts and polo shirts. You can create great shorts outfit ideas with sandals, loafers, or trainers with cargo shorts. Cargo shorts are not only stylish but practical as well, with their extra pockets. However, don't make the mistake of pairing them with a boxy fit tee instead, opt for fitted tees to avoid a stocky build.
Denim shorts are on a stylish edge giving a city or street-style vibe. These are baggier and are highly popular among skaters. You can match denim shorts with band tees to create a casual look. If you plan to wear it in summer, opt for thinner denim fabric.
Summers call for linen outfits; hence linen shorts are always a great pick. You can find them in multiple colors and match nicely with any look. You can create beachy attire by pairing them with flip-flops, a white button-down shirt.
Rules For Creating Perfect Shorts Outfit Ideas: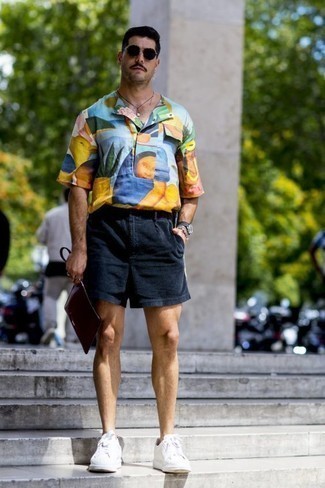 Corduroy Shorts For Hiking
Are you searching for a stylish and casual outfit for hiking? We have curated the best shorts outfit ideas for you. You only need a good pair of corduroy shorts with a button-down shirt or tee. Wear it with running shoes, and you are set to look stylish on your hike.
Matching Shorts and Tee For Gym
Not feeling inspired enough to go to the gym or lacking proper attire? It's time to take out your comfy shorts and wear them with a matching t-shirt. Complete the outfit with sneakers and socks, and enjoy your workout.
Pattern For City Vibes
If you are one of those guys who always like to stay on top of your fashion game, then a good pair of shorts with patterns will be a good pick. If you want to reuse your shorts time and again in the future, then pick shorts with patterns like dots, stripes, or checks. These patterns never go out of fashion.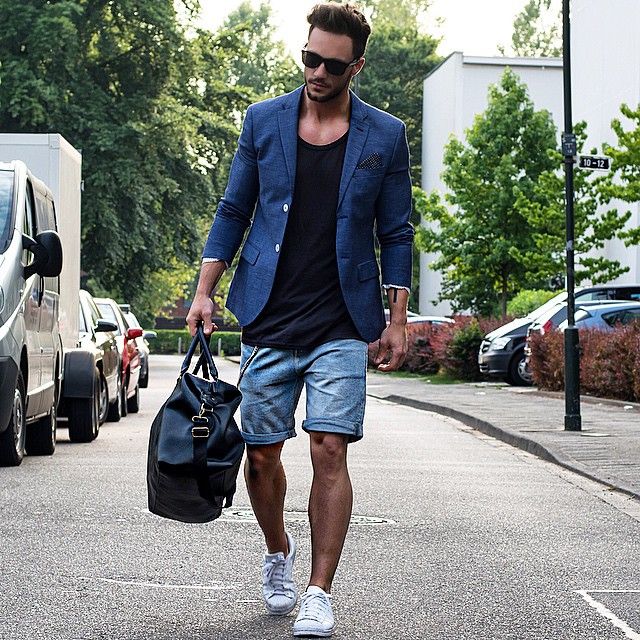 Light on Light
If you like wearing light-colored mens shorts, remember to wear light-colored undergarments. You can create amazing shorts outfit ideas by pairing light-colored shorts with a complementing light-colored shirt.
Blazer and Shorts For a Contemporary Look
The blazer and shorts combination became a hit after it was fashioned in music videos. However, you must be careful while styling the duo, as it can easily go wrong. If you get it right, be sure to look like a dapper. There is no harm in experimenting with different looks; it may become your style.
Office Outfit With Shorts
Wearing shorts is never a bad idea, given your office allows casual wear and is not too rigid about wearing formal. If yes, then there is nothing better than styling comfy shorts to your office, giving a chilled-out vibe.
How to wear shorts? – A quick guide!
A shirt with shorts screams sophistication.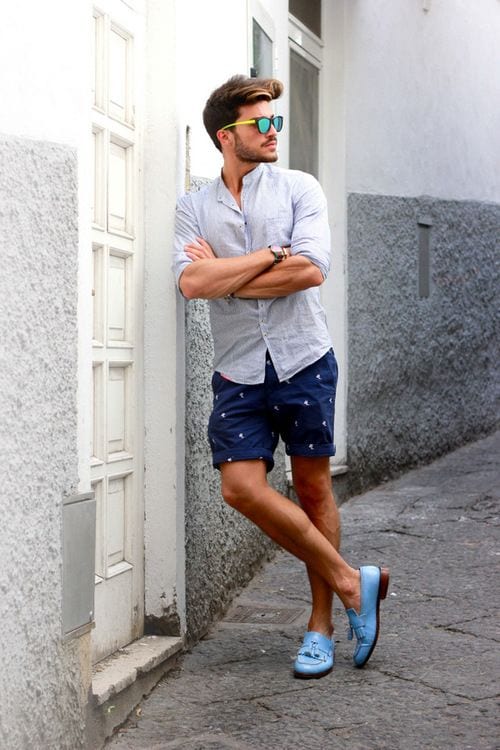 If anyone says shirts and shorts don't go well together, show them how it's done because this combination looks ultra cool. You can create so many amazing shorts outfit ideas with shirts and shorts.
You can wear a shirt nicely tucked in with a belt or open it over a tee to create a street-style look. To finish, wear your favorite pair of shoes to give a complete street look or keep it semi-casual. Shoes with shirts are a hit in the fashion industry.
T-shirt and shorts Keep it casual.
Go for the traditional way by pairing shorts with a t-shirt in case you are confused about what tops to wear. You can opt for v neck or round or even a polo t-shirt with shorts to create varied looks in a rounded form.
Slip Ons and sneakers both are a great choice and suit all occasions. Whether you are going to a mall to shop or on a day out with your friends. Shorts and t-shirts also make a perfect beach outfit for men, making them look best styled with comfort in hot summer weather.
Shoes with shorts – the ultimate combination
As mentioned, the occasion and outfit decide the right pair of shoes. You can style sneakers, loafers, slip on, and even floaters, depending on whether you want to dress it up to look fancy or dress down for a daytime casual event.
Read More-6 Tips for Improving Fashion Sense for Men
Conclusion:
Wooh! These were a lot of shorts outfit ideas. We hope you are now confident to rock the shorts this summer. You can dress them up or dress them down as per your preferences. If you have any doubts or suggestions, you can drop them below in the comments section
FAQS:
What pants should short guys wear?
For short guys, slim or athletic-fit jeans make the legs look longer. For stocky guys, slim jeans go well. Avoid wearing relaxed-fit jeans, as it makes a short guy look even shorter.
Are 7 Inch Shorts Too Short?
If you need staple shorts that go well with everything and every occasion, then 7-inch shorts is the perfect length. A 7-inch short is not too short or too long.
Read More- Best Sling Bags For Men To Look Fashionable