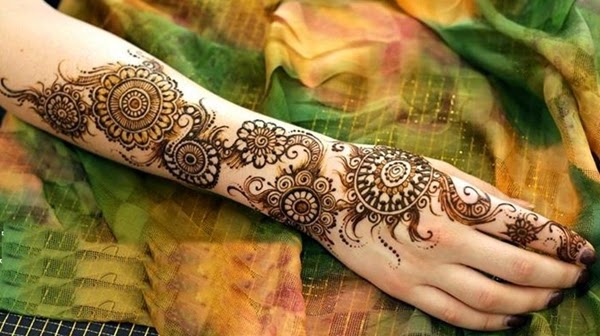 Indian culture is just incomplete without Rjasthani Mandi Desain. The pure fragrance and its magical color add richness to any tradition or culture. Mehandi plays a substantial role right from a small function to a grand one, whether it is the inauguration of a shop or home or a high profile wedding.
If we talk about the earlier times, not only Mehandi but also haldi played a vital role especially whenever it was a wedding event, and the same is followed today even. Hindu Vedic ritual book imbibes of detailed description on all this. If we go through the glimpse of the ancient time, Mehandi was only applied on hands that too on the palms till wrists, but with the progress of time, the tradition has changed a lot and has added many beautiful things. Now, Mehandi is not only applied long till elbows and arms but also on legs till knee depending on one's choice and preference.
In addition to the advancement, even men are not left untouched by the touch of henna. Just like brides, grooms also apply Mehandi as the aroma of Mehandi is believed to bring happiness and love in the life of newly wedded. The name or initials of the groom are also veiled under such patterns easily but is difficult when it comes to search the same. Even spotting someone with the stains of Mandi desain is still a part of our religious rituals which reflects a symbolic meaning – Awakening the internal light.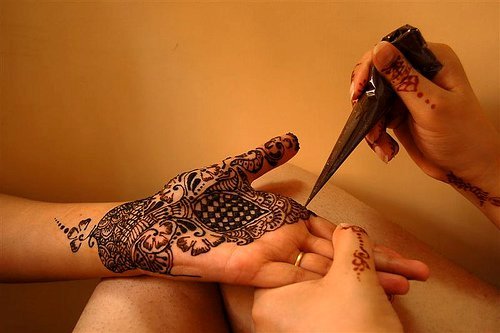 If we begin to count the Hindu rituals and festivals where applying Mehandi is a tradition, the list will be too long. Rituals like: wedding, the birth of a child, innaugration, engagement, etc. and festivals like gangaur, karva Chauth, Teej, Diwali and many others, all are followed by the tradition of applying mehandi on hands or feet or even both.
Irrespective of the age, girls, and women both apply Mehandi on such occasions. Generally, people have started hiring Mehandi artists for such occasion and one who is an artist herself can go for it as well. It is always good to be as versatile and talented as you can be. This also adds five stars to your personality. The Mehandi artists are so professional and well trained that they have complete knowledge of a variety of Mehandi designs. They apply it artistically beautiful and take very less time because of super speed. Moreover, it looks very beautiful and is completely hassling free.
Among the variety of Mehandi patterns and styles in India, one of the most renowned ones is Rajasthani Mandi Desain. The Rajasthani Mehndi designs are quite privileged as the Rajasthani culture as they exhibit a royal grace and style.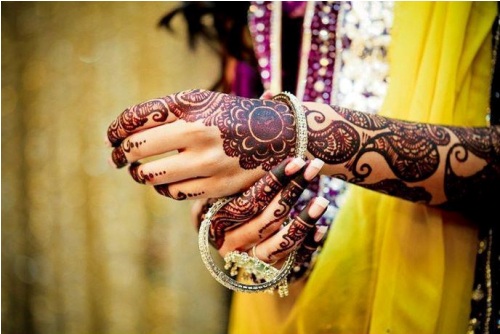 Mehandi designing has been a major component of Indian culture for ages, and progressively this trend is becoming more and more popular among the foreign nations too. The tradition of Rajasthan state is superbly reflected in this art. Folk dances, peacocks, elephants, twists and curls, flower and leafy patterns all are merged into the Rajasthani Mandi desain. The best way to show how royal the heritage of Rajasthan is!
Nowadays, when the life is running at the fast pace, and people hardly have much time for all these activities, the best option is to go for a readymade Mehandi cone that is available in the market and guarantees for a dark color. But if we talk of rural places, women residing there still believe in doing all the hard work by themselves.
The entire process that begins from plucking the henna leaves and then grinding those leaves with the stone, mixing the oil in it and to get the powder form and den making it a paste by adding water to it, all this is done by them manually.
Undoubtedly, this henna when you apply has no comparison to that of the readymade Mehandi cone regarding odor, long-lasting color and the royal look of course. It also stays on hands and feet for a much longer duration. The Rajasthani Mehndi designs are really difficult to make and the amount of hard work it demands is worth it.
Read More: Reasons for hair loss with some remedies
Rajasthani Mandi desain images for Brides: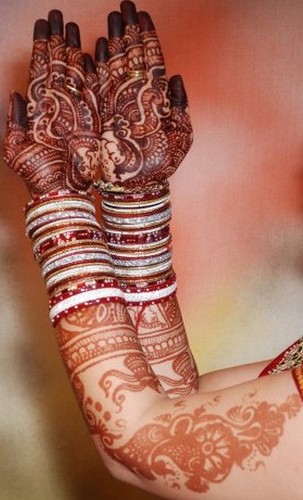 When we talk about attending any Rajasthani wedding, the first glimpse that our eyes wait to see is the Rajasthani bride. From head to toe, she is dipped in the rich hue to tradition and culture. Rajasthani wedding ceremonies involve a huge list of rituals and ceremonies, and the best part is that all of them are unique and worth enjoying.
A Rajasthani bride is incomplete without applying exclusive Rajasthani Mehandi design because it truly showcases her beauty. Both hands and feet are embellished with a heavy style Rajasthani Mehandi pattern which is just designed for the Rajasthani brides. Such designs showcase the picture of a bride in one hand and groom in the other.
To add on, there are leafy motifs, shaded flowers, checks design, peacock pattern and mango shaped patterns, etc. Similarly, in Rajasthani applying Mehandi to the groom is given equal importance. It is as intricate as that of the bride to be.
When the bride is fully dressed up in heavy lehenga, with vintage looking jewelry, Mehandi on whole hands and feet, the addition of bangles to hands and anklet to legs will make her look outstanding.
Rajasthani Feet Mehndi Design images: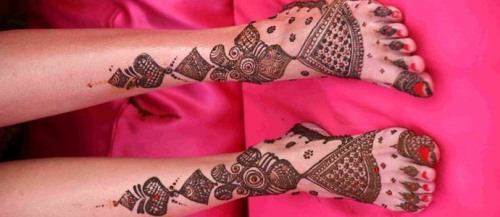 The selection of Rajasthani feet Mehandi design is as important as to that of the hand design because when the bride take a new step into her married life, it should be fragranced with the pure aroma of Mehandi and the love of the couple should as deep as the color of her Mehandi. Whichever design we choose as the Mehandi design whether, for hands or feet, the point to be on board is that it should exhibit typical 'mirror reflecting' type pattern.
In such a pattern, Rajasthani Mehandi designs on both the hands are kept almost identical, and same goes with the feet too.
So, Rajasthani Mehandi patterns are considered to one of the most appealing and eye-catching ones as they demand a lot of hard work when you are an artist.
Rajasthani Feet Mandi Desain images for Brides: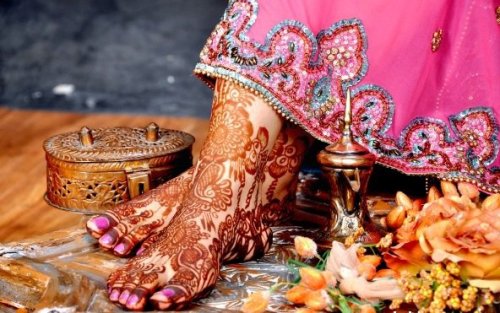 During a Rajasthani wedding, decorating the feet with Rajasthani Mehandi design carries equal importance to that of hands. The reason behind this is that among so many ceremonies there are some peculiar ones which emphasize on the feet of the bride like applying haldi, making her wear anklet during engagement ceremony by her in-laws, etc.
There the Rajasthani feet Mehandi design which is just made for the pretty bride speaks the story of her beauty itself. It is up to you to choose either the flower shading designs, peacock pattern designs with a mirror reflecting a theme or in the form of a tattoo if the bride is a little ultra modern. To add more grace, you can also nail print matching to the color of your special attire.
Also Read: Treatment To Get Rid Of Fleas In Human Hair
Easy Rajasthani Mehandi Design Images: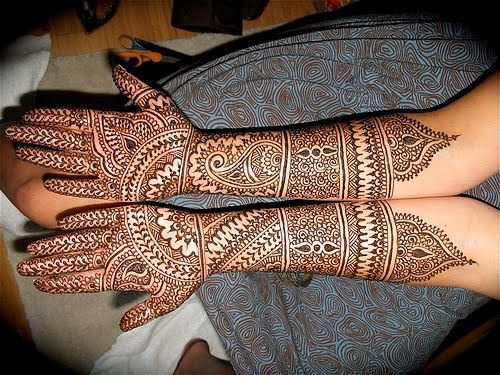 If you are a bride, who does not want a mirror reflecting theme based Mehandi design on your hand, then you can prefer this easy Rajasthani Mehandi pattern. It is less intricate and can be drawn with much of ease. As given in the image, your fingers are decorated with the leafy patterns highlighted with another sleek boundary.
The traditional looking mango shaped motifs filled with very small squares turn this pattern to be an easy Rajasthani Mehandi design. If you have Rajasthani wedding in the family, you can easily go for this because this Mehandi design will bestow you with the soberest and refined look.
Depending on your choice you can keep the length of this design. And if you a bride who prefer simple, then extending this design till the elbow will give you the desired look.
Modern Indian Bridal Mehndi Design Image: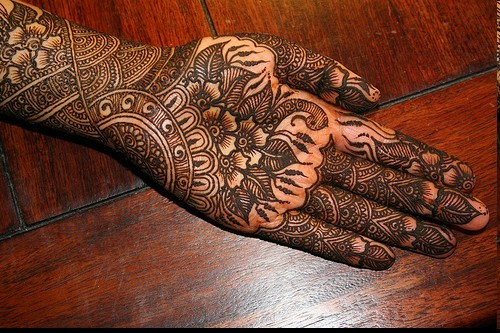 By all the means, this design justifies being a true example of the Modern Indian bridal Mehandi design. Grand looking and attractively made these big floral motifs are so neat that they leave everyone spellbound. You can witness yourself how clearly and neatly the shading and lining is done inside the flowers and leaves, and the beautiful bands pull out the maximum grace for this design.
The peacock pattern in the mid of the palm and the fingertips highlighted with the stylish leaves marks its supremacy. As and when moved forth, the design gets more and more intricate, especially on the wrist and elbow part. So, if you want to be a bride with a modern look, then this modern Indian bridal Mehandi is just made for you.
See More: Bridal Mehandi Designs.
Traditional Rajasthani Mehndi Design: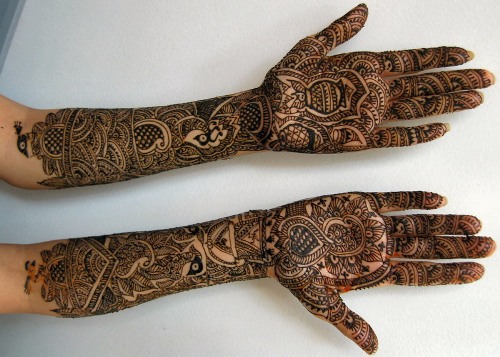 A traditional Rajasthani Mandi desain is a true manifestation of the vintage Rajasthani culture dipped in the rich imbue of enchanting customs and traditions of every corner of Rajasthan. The history of high-class centricity speaks the story itself.
The above-given picture which boasts all these in one single design like the mango pattern, Kalash image, peacock theme, leafy motifs, etc. can be none other than a perfect example of traditional Rajasthani Mehandi design. All these are beautifully embellished in the form a superb Mehandi design right from the tip of the fingers till the elbow.
Circular Rajasthani Mehndi Design Images: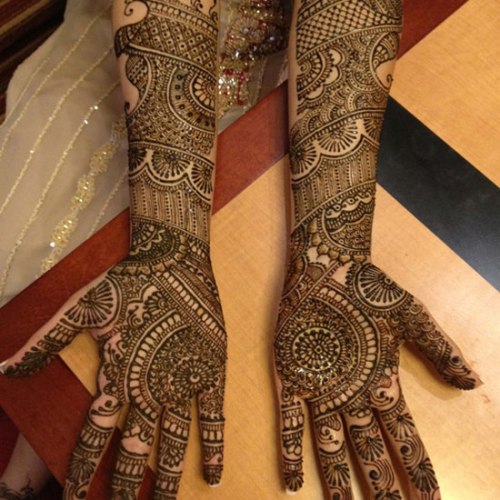 The above given circular Rajasthani Mehandi pattern image imbibes of theme based on circles and semi-circles further enhanced with mango shaped figures. So, if you are little bored of the peacock pattern design, shading pattern then this one is the best for you. At times, such intense Mehandi designs are difficult to create because due to a lot of detail.
This circular Rajasthani Mandi desain consumes much of time and due to which at some places Mehandi starts drying and reflecting its colors and there is enough time to reapply it. As a result at some places of the hand, the Mehand is too dark and at some very light and many places just the medium shade. Mirror reflection pattern goes the most appropriate with this pattern. An artist needs to be very accurate in designing such a pattern.
Feet and Fingers covered Rajasthani Mehndi Design Images: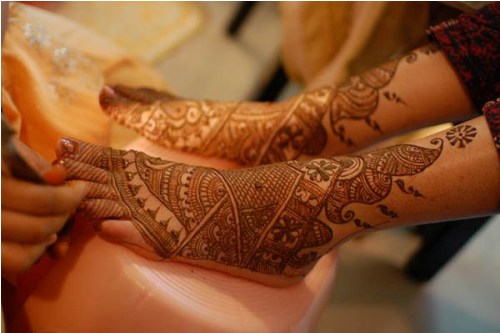 When we talk of Mehandi, our main concentration is on the palm portion of the hand and feet portion of the legs and due to this, we at times ignore the fingers. Whichever form of Mehandi you apply, it will seem incomplete if the fingers are not covered with any Mehandi design or left vacant. All in all, if you want the desired look, you will have to pay equal attention to the fingers as well while applying the Rajasthani Mehandi design.
Hand fingers can be covered by the identical or completely contrast design to that of the palm depending on your choice, and same is the case with the leg fingers too. The fingers of hands and feet when covered with the traditional Rajasthani Mehndi design will give a stupefying appearance to your Mehandi else it will mark it as an incomplete look. You can fancify your fingers with simple linings, dots, check patterns, etc. and rest you can leave on the artist to decide.
Beautiful Rajasthani Mandi Desain Images: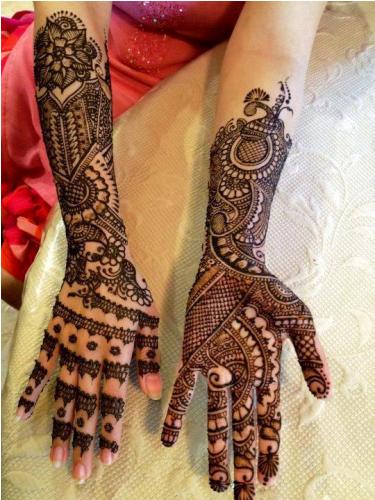 If you wish to be the one to apply the most beautiful Rajasthani Mehandi design, then all you need to take care of is, the peculiarity of the every detailing that is required for a Rajasthani Mehndi design. With the help of lining pattern you can complete the motifs and by darkening the borders can bring a lot of visibility to the fillings done inside the shapes.
Shading the flowers and the petals will also enhance its look. By all the means, this piece of beautiful Rajasthani Mehndi design imparts a trendy look.
Flower Rajasthani Mehndi Design Images: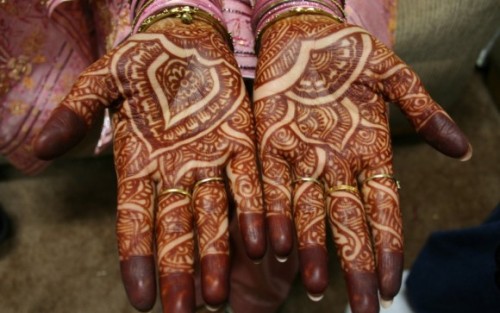 If you wish to try something unique and distinct than before when the story is about applying Mehandi, this time you can try the Floral Rajasthani Mehandi Design. Do you think that it is all about the flower pattern and nothing else? The answer is no because this Mehandi design portrays not many but only a single flower on both the hands surrounded by unlimited leaf patterns.
To add on, Mehandi is applied on the whole fingers tips so that it gives a perfect Rajasthani look. So, are you all set to be a head turner wherever you go?
Rajasthani Bridal Mehndi Design for Full Hands: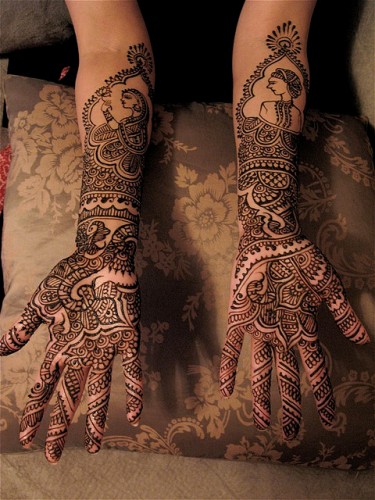 Bridal Mehandi is believed to strengthen the bond of love and trust between two people. It is said to bring good luck and happiness to lives of the two. There are two major styles of bridal Mehandi: one is Rajasthani with full hands, and another one is Arabic design.
One one side where the traditional and typical Rajasthani bridal Mehandi design is very intricate representing detailed themes and complex patterns, on the other side Arabic style Mehandi pattern is so delicate and subtle that it only covers a part of hands and feet. If you are a bride who is a die hearted lover of tradition and culture, then this Rajasthani bridal Mehandi for full hands is the best for you.
The full hand Bridal Mehandi design for a bride is extended till the elbow, and in case you love Mehandi like anything the extension might go till arms. The images of bride and groom are the major signs of bridal Mehandi along with other things like; drawing Kalash, shehnai, Doli, etc.
As a part of the tradition, the Mehandi artist even hides the name or the first letters of the name of the groom in this intricate design, so it becomes more difficult to find out. The hand is completed using such a design that it gives a heavy look with the heavy attire of the bride.
Bridal Rajasthani Mehndi Design Images For Girls: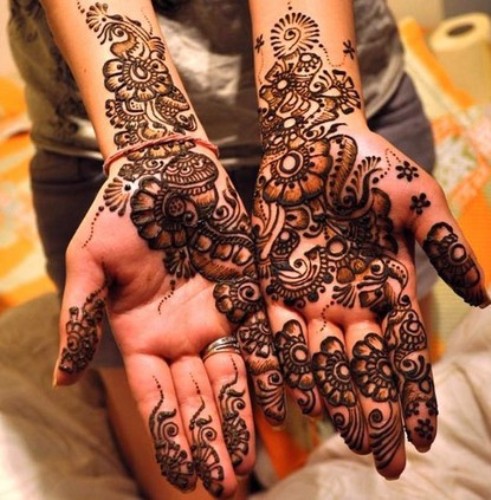 Who says that it has to be your wedding day to apply Mehandi with complex designs? There is no hard and fast rule which says so. It is completely your wish as to which Mehandi design you need to select for yourself.
If you're the bride's friend or groom's sister or carry any special relationship with them, you have all the right to go for this particular bridal Mehandi design which is specially designed for beautiful girls like you. This Mehandi design will itself speak of your close relationship with the special person of the day.
This is an Arabic styled Mehandi design which is perfect for girls as it does not involve much of complexity but yet look mind-blowing. Some shaded flowers along with leaves, bubbles like dots can work wonderfully as shown in this Mehandi design.
You need not sit for a long time to apply Mehandi and can easily enjoy every bit of the most awaited wedding. This design looks awesome when you dance in the sangeet, and your hands can easily be visible from any corner showcasing this design.
Rajasthani Hand Mehandi Design for Any Occasion: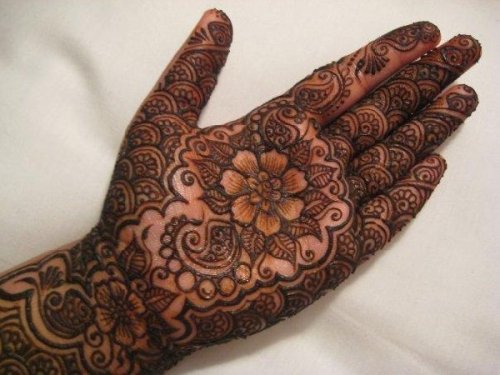 Here comes such a Rajasthani hand mehndi design which imparts your hand a heavy look thereby filling the whole palm with the floral and mango shaped pattern. In the rest of the space, the veil sheet theme can be opted to make a perfect combination.
The finger tips should be designed in such a way that it appears to be a slightly different but still goes with the entire theme. It is important that the design as a whole should artistically complement each other.
As a piece of advice, one should not even try to go for a mirror reflection pattern in such type of Rajasthani hand mandi desain because the minute details need a lot of time, patience, and hard work. Irrespective of whatever the occasion is, you can go for this Mehandi design without giving a second thought.
See More: Stylish Mehndi Designs.
Simple Rajasthani Shaded Flowers Bridal Mehndi Design Images: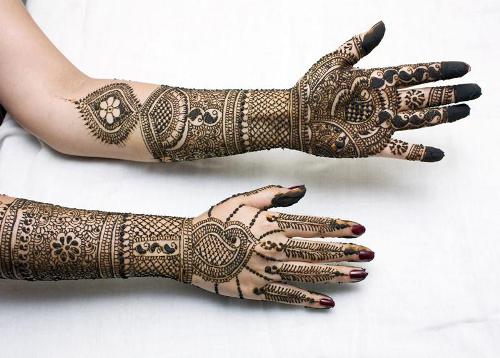 This is a simple Rajasthani style Mehandi design with intense floral patterns and fine linings. If you are a little impatient and wish to apply Mehandi design with good speed, then you can go for boxes or checks patterns and criss-cross lines. In this, you can fill one check/box and keep the second one empty to lend it a dramatic look. The flowers can be highlighted by applying shaded design and further the design can be connected to fingers with chain type pattern.
Entire Feet Covered Rajasthani Bridal Mehndi Design Images: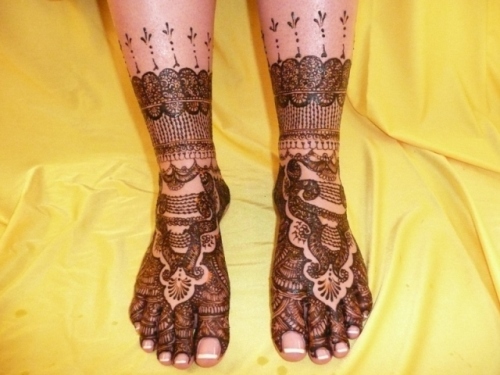 Typically, if you are a strict follower of the traditions and rituals, the feet Mehandi can be extended till knee. The design should be very neat and clean so that the legs appear to be extraordinarily beautiful. Though minute is detailing should be taken care of especially in the entire feet covering Rajasthani Mehandi, but there should not be any fuss else all the hard work will turn to be a waste.
The main theme of this Bridal Mehandi design covering the entire feet of the bride is based on peacock pattern accompanied by straight linings till the end. On the rest portion of the feet and complete fingers, the veil sheet pattern is followed to give it the most desired look that you have wished for. With a view, to make this Mehandi design look more clear and attractive enough space is kept amidst the designs. It gives a perfect bridal look with all the means.
Angular Shaded Rajasthani Mehndi Design Images:
This Angular shaded Rajasthani Mehandi pattern is a superb work of art, and one will be surely short of words when it comes to complementing it. This Mehandi design itself speaks of the immense hard work and patience that is put in while designing it.
Hats off to the artist! If you see the peculiarity of this angular shaded design, the palm is decorated with the intense pattern highlighting the angular theme, and the fingers are kept simple and decent.
If you are the bride to be and wish to add some glossiness to this Rajasthani Mehandi design, then the best way will be to add some colored stones and a little glitter and then see the magic. Your groom is sure to compliment you every second.
Also read Thrilling 30 Bridal Mehandi design