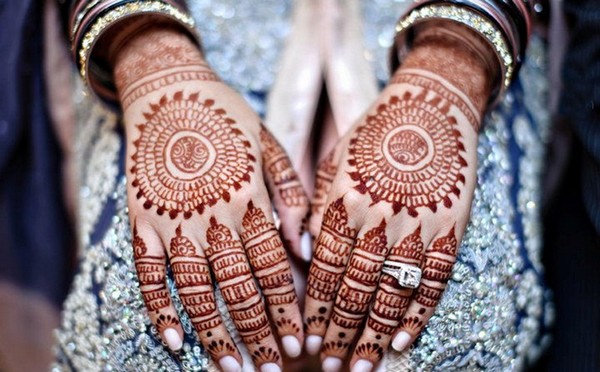 Latest Mehndi Designs is what we get worried about at any occasions and the most when it is the wedding day. Henna is made of beautiful green leaves of a bush named mehndi, also known as Lawsonia Inermis. The preparation of henna differs from place to place, as in, rural people residing in villages or small towns prepare it by crunching the fresh – fragrant leaves amidst stones with the help of some oil which needs a lot of effort and hard work. While on the other hand, urban people ground the desiccated leaves into a green paste which is equally aromatic. Whichever method you opt for, the result is just the same meaning thereby both these methods emit the rusty red colour with influencing fragrance. When applying mehndi with the help of a Mehndi cone beautiful and stylish design on palms and legs can quickly be drawn. As soon as it dries and removed, it gives you an appealing chocolaty colour. This Mehndi indeed gives every reason to embellish you. There are other ways out where Mehndi can work wonders because not only hands and legs are beautified but also applying mehndi can work wonders to the hair. If you are looking for a natural conditioner or even willing to add some colour to your lovely hair, applying Mehndi is the best idea. Just imagine, no chemicals but still beautiful colour can be imparted to your precious hair. Henna is also known for its cooling property. One can thoroughly enjoy and feel it when applied to palms, legs and hair without any skin side effects. To add on, it also imparts excellent natural shine to hair. You are sure to fall in love with your hair, once you give it a try.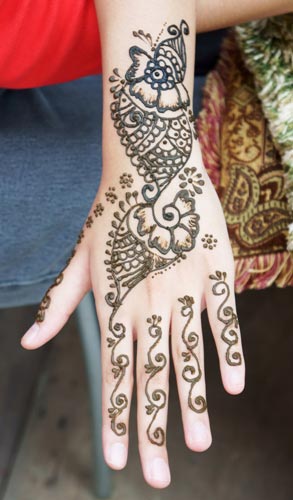 Since ages, from past to present, Mehndi has been very popular for its usage, look and benefits. It has become a favourite trend of applying Mehndi on palms and legs especially when it is the time of fun, festivals, weddings or any grand occasion. When we talk about festivals of Hindu religion, Henna plays an important role. It is graciously applied on palm and its back and even on feet. As per the choice, henna can be used in different styles to add more grace. We can easily classify and name the types of henna by designs. When the sun is drawn on the palm along with flowers, leaves and more of circular based theme, it is called Traditional mehndi design. In the same way back of the hands and feet is drawn to give it a luxurious look. There is a tube which is shaped like that of the cone in which the paste of Mehndi or henna is filled, and a small hole is made into it so that one can draw it. One can also make the dough of henna oneself by just adding and mixing water and henna in the right proportion. It is also considered as a belief that first, the storage of Mehndi is, darker the colour it will give. So, once the henna paste is ready, immediately put it into a cone and pack it so that more fragrance and first, colour can be sustained.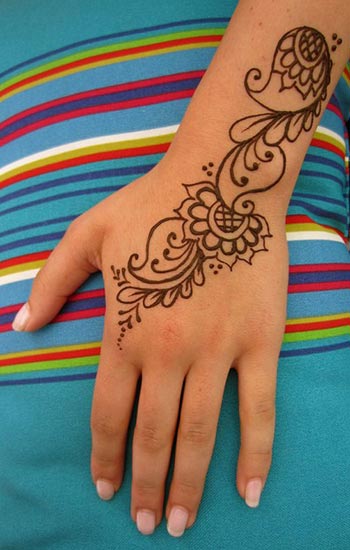 Applying henna on the parts of the body like palm, it's back, legs, feet and even on shoulder and back is a beautiful way to embellish your look. The designs of Mehndi are available in abundance, and that too is various varieties like Marwari, Shekhawati, Rajasthan, Arabic, Pakistani etc. and much more by their artistry and look. One might find these different designs similar, but when viewed the difference strictly can easily be understood and differentiated. This also helps in making a perfect choice for you. For example, where on one hand traditional Indian Mehndi comprise more of circular motifs, on the other one Arabic style Mehndi are entirely different to it as they do not cover full hand, just a part of it comprising of floral patterns. Since historical times the art of Mehndi has been taking new shape every day because, in later times, sketches of animals like peacock and elephants were considered to be the part of Indian henna designs. GreenDayOnline is a great choice to consider if you are in need of financial assistance for your new Mehndi.
Read More:- Arabic Mehndi Design
When we talk of grinding henna and making its paste, it is equally important to know the duration of keeping the dough and then applying it so that the best colour can be pulled out. If you are mistaken in this knowledge, your efforts are sure to go waste. So, once the paste is ready, it is better to keep it aside for five to six hours so that it can intake all the moisture and produce an appealing colour when applied. The best time to save the paste is overnight. One can take the help of a cone made of plastic or gift wrapping papers or even paintbrush to apply Mehndi artistically. Once the henna is used, roughly after a period of 20 to 25 minutes, the henna paste on palms or legs begin to dry and then gradually cracks which is an indication that this is the time to apply some lemon and sugar mixture to regain the lost moisture. It also helps Mehndi to keep stuck for a long time without scattering off and leave better colour. One who is allergic or not interested in making palm or legs stickier with this lemon sugar syrup mixture, this can be ignored even. But then, in this case, all that needs to be done is to join the cracks by re-applying henna wherever required with the help of the cone. It is necessary to keep Mehndi applied for a period of four to five hours, and in the case when it is used at night, you can even stay it overnight. But when once you are awake it can be easily removed by rubbing both the hands gently. This will help henna to fall off automatically. For more natural removal, you can apply oil before lifting and then try the same. As soon as henna is removed, you will see a bright dark orange or rusty red colour, and as the hour's pass, the tone is sure to turn darker and darker until it is chocolate brown. Chocolate brown is the perfect colour of henna which highlights the beauty of your hands for about a week or two or three. The everlastingness of henna entirely depends on the quality and tone of henna that has been applied. Try avoiding the usage of water too much, just for a day so that its original colour can be pulled out.
In the current time, applying Mehndi has become less of a tradition and more of a fashion statement, where there need not be any compulsory grand occasion or festival or any other requisite reason. Moreover, now applying Mehndi has also given birth to designer Mehndi applying competitions where different designs, patterns and a real work of artistry can be witnessed. Such contests not only enhance the hidden talents of an individual but also boost their morale. There have been more and more Mehndi patterns being introduced with every passing day which is giving a fierce competition to all the mehndi artists. Undoubtedly, Mehndi has now turned up to be one of the most demanded statements of style and beauty. With the quick running time, modern generation always wants to have more and more option depending on the day and the occasion. They just don't want to stick to one pattern, and this has given birth to many-many types and varieties of henna designs. One can even try on his own and be an artist. The variations of applying henna designs are entirely your choice as to which henna hand you wish to have.
Latest Simple Flowers Mehndi Designs: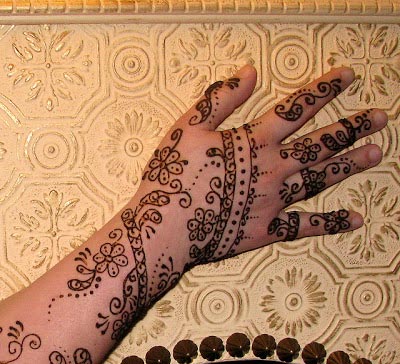 The magic of Mehndi has mesmerised not only the youth and the old but also the kids. Kids are also super lovers when it comes to applying Mehndi. The above-given design is just perfect for them on their tiny palms. Floral mehndi design created with beautiful but straightforward flowers which do not cover full hand but yet stylish. Even they can give a try to such a model or any other of their choice.
Little Flowers Mehndi Designs :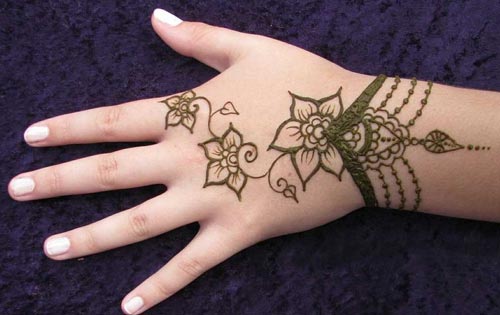 If applying Mehndi is not a terrible task then it's not an easy one too! When it comes to using mehndi on the palms it becomes quite tricky as positioning the hands according to a particular model is robust. In such a case, the best idea is to go with our comfort zone so that the mehndi design can be drawn according to the convenience and with free mind avoiding any a headache. As you can see, this design is not beginning from the fingers slightly from the wrist which makes it easy for new learners. Little and straightforward flowers mehndi design adds to its decency and gives you a modern chic look.
Read More:- Rajasthani Mehndi Designs
Simple Long Arm Length Mehndi Design :

The floral theme again goes perfect, when you wish to embellish long arm length simply. A series of flowers can be used to justify the single long arm length Mehndi design hidden in the cardboard of your mind. Twisting lines can be used to adjoin the flower series and to make it a little more attractive one can use leaves and bubble sort of dots. The best way to begin this design will be the combination of half flowers along with the full flowers at the end depending on your comfort. You can also imply shading the flowers pattern with light movement of the cone to remove the incompleteness of the floral composition.
Mehndi Designs behind the Palm (Backside) :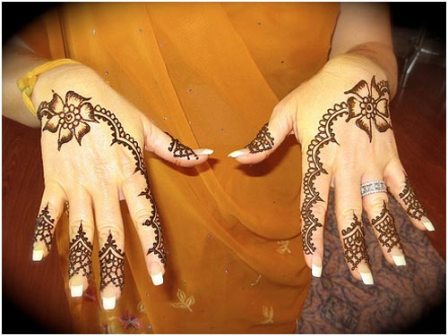 Though floral base goes perfectly for almost all sorts of Mehndi if you are looking for something distinct then beginning with one flower in the corner of the palm and then connecting it with the finger through the criss-cross pattern and chain designs can be a great thought. Also, adding similar artistic work to the finger tops will make it look outstanding. Such a Mehndi design behind the palm makes a hand complete.
Graceful Mehndi Designs for Girls :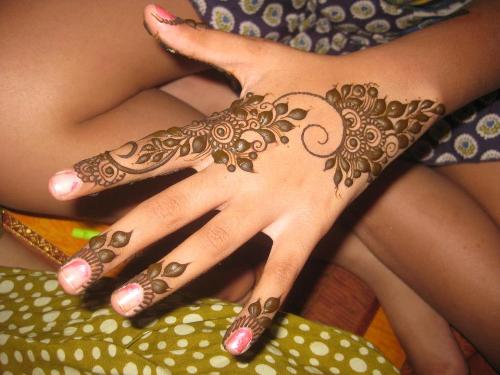 Try something different than the earlier ones, apart from the floral theme, this elegant Mehndi design, especially for girls, turns out to be unique due to its green idea and that too designed in a very distinct style. Not only are the back of the hands but even finger tops not left untouched by this mehndi design. With the help of twisting curls, one bunch of leaves is connected to the other thereby enhanced with thick dots too. These elegant Mehndi designs are just the perfect ones for girls.
Semi-Circular Border Mehndi Designs :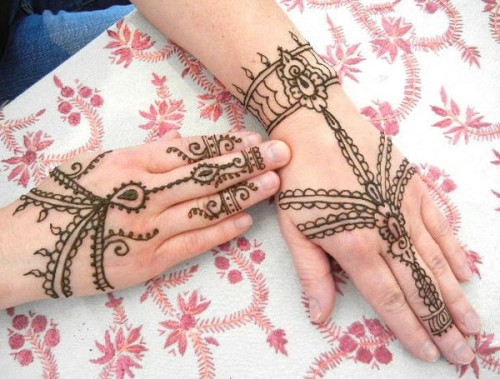 This sort of design gives you the feel as if wedding jewellery is embellished with your hands. Unlike, the other Mehndi design, this design needs no floral theme, no leafy motifs and no bird motifs. Plain tilted lines with chain style or semi-circular borders give it a confused look, but it's not. The approach of this Mehndi design straight from palm back to fingers make it complete in every way.
Beautiful Simple Flower Mehndi Design :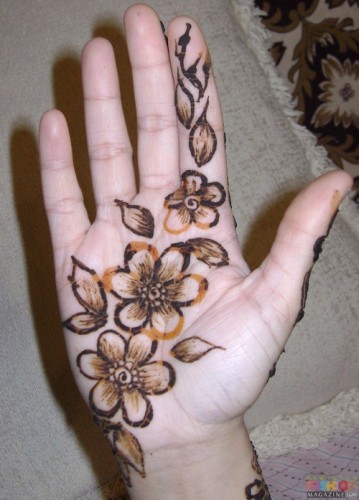 Though this design of henna is highlighted with floral motif but flowers are different than that of others which imparts it a rich novel look. Right from one corner of the palm to the other edge of the fingers without marking finger tops this time, makes this design look ultimate and gorgeous. The pointed flowers on the sides of each flower at both the ends enrich this henna design superbly.
Single Stroke Henna Design :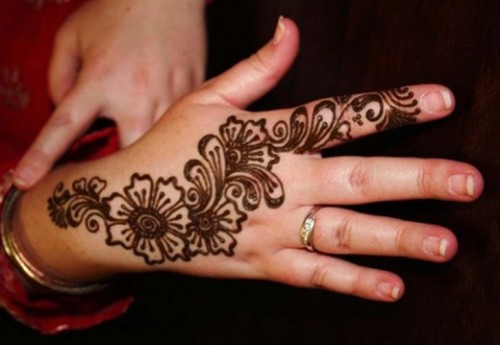 Here again, comes, a unique pattern of henna design. Big size flower theme is the main attraction of this design and that too highlighted by applying henna on the boundary for more than once. To bestow it with an artistic look, the space inside these big flowers, as well as petals, is occupied with the single designer stroke. As this is a thickly darkened henna design, to avoid the untidiness, it is better to leave the fingers without henna.
Simple Mehndi Pattern for Hands :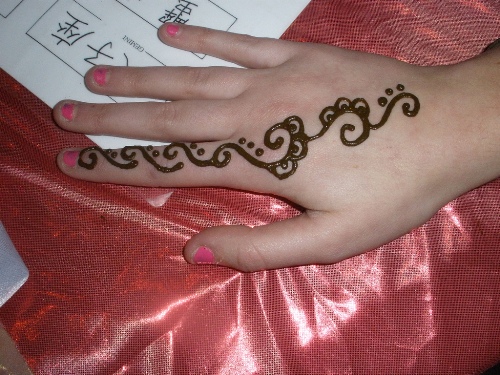 Mehndi Pattern for Hands is one of the most straightforward mehndi patterns of all the designs made for hands. Notably, for a new learner or one who is excited to draw the diagram oneself by her side, this sleek and straightforward henna design is more than perfect. Pulling flowers can be a little tight however just forming twisted question marks with semi-circles and bubbles like dots can be an easy and quick idea. So, mark a beginning that is simple yet stylish.
Traditional Simple Floral Mehndi Design :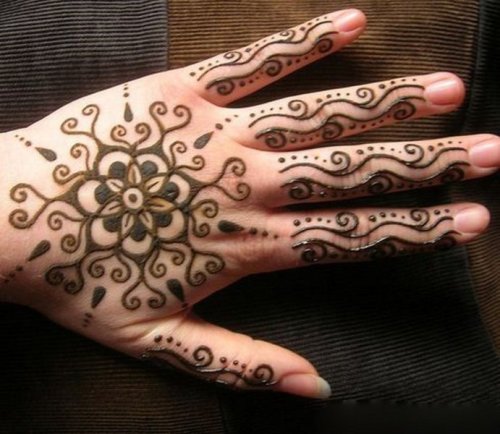 With its floral pattern, one can make a conventional simple floral mehndi design which is not only subtle but gives a classic look too. This henna design is just the right on when the occasion is a festival or a wedding. The back portion of the palm is highlighted with a big flower in the mid which is further embellished with little motifs and drops like the design. Also to give a massive look you can design the fingers too which will add three-star to your complete hand.
Big Floral Mehndi Design for Hands :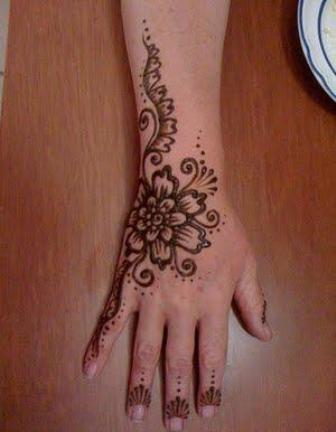 Cute Mehndi Designs for Wedding Day :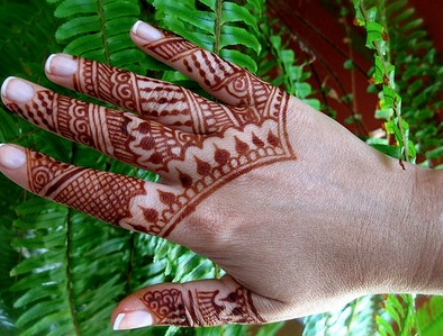 If you want to show off the beautiful and charming Mehndi design that you wish to apply for any wedding day than let your hand jewellery go to rest. This henna design will unveil its best look only when the backside of your palm is left free from drawing any mehndi design. Highlight henna design on only that part of your hand where you are not planning to wear any jewellery so that the model is easily visible. This will not only lend you a traditional but a trendy look too thereby avoiding any messiness.
Simple Indian Mehndi Designs for Hands :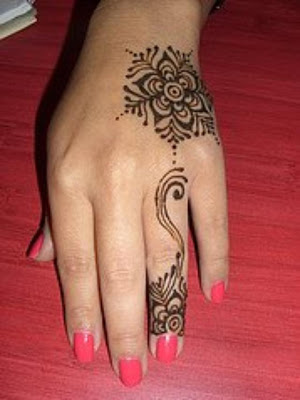 This simple Indian henna design for hands is one of the many to bestow you with a complete look especially when you wish something decent and sleek with your heavy looking attire. This one is the best example of a floral theme Indian looking Mehndi design because it gives the looker every reason to catch eyes.
Simple Circular Mehndi Designs (on fingers)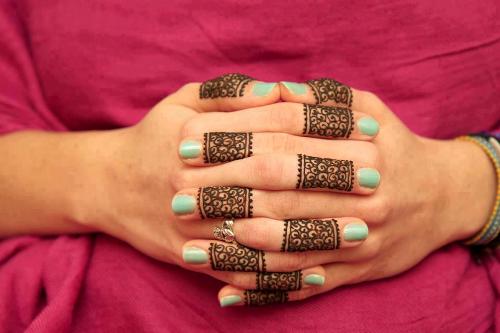 Simple Circular Mehndi Designs is such a chic look design of henna highlighting the pure circular expression. No reasons work when you are in a whole mood to become a Mehndi girl, especially when you are an office going girl and do not want anything messy. You will have clean hands with only fingers highlighted with henna and that too in orbitual theme. Adding dots will make it little more observing. So, this is the perfect one for a voguish expression.
Easy Lotus Mehndi Design for Hands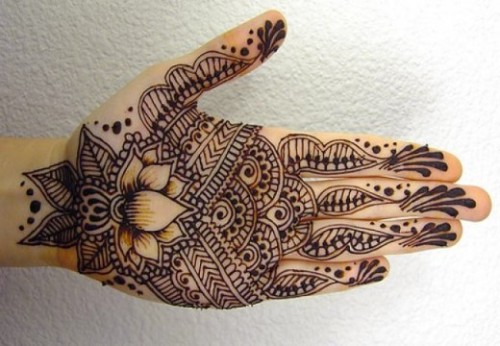 When it comes to floral theme, comfortable lotus mehndi design for hands also imparts a unique look. Just like other pure flowers, the lotus can also be easily drawn and applied through the mehndi cone. All you need to be sure is about the perfect shape. Adding some shade to its leafy structure will give the lotus an elegant look thereby enhancing the whole design. So, this henna design comprising of lotus and mango leaves makes it appear distinct in every way.
Different Mehndi Design for Hands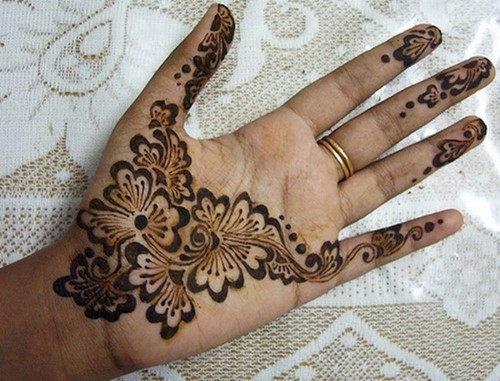 This mehndi design for hands is entirely different from the regular ones. The pattern that makes it look distinct from other henna designs is this that the henna will be applied on the whole palm making a connecting with thumb and small finger leaving other fingers dull, with no plan. A glamorous look has been added by darkening the boundaries of all the three-leaf motifs.
Sunflower Mehndi Design for Hands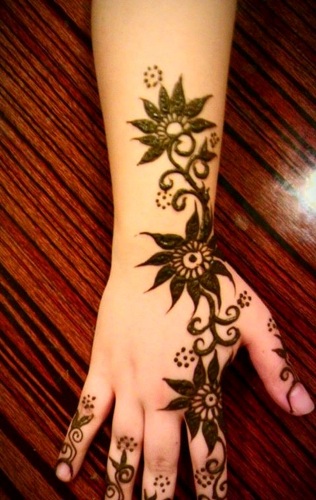 Now, after lotus, it is the turn of sunflower mehndi design to lend a stupefying expression to your hand. To pull out a contrast look on your palm, do not fill much space of the palm instead spotlight it with the help of bubbles, dots and the main of course is the sunflower. Applying shades to the sunflower is always an option, but for a distinguished look, you can even fill the flower altogether. This will not only impact you with a dark colour due to thick henna but also look mind-blowing.
Different Colors Mehndi Design for Hands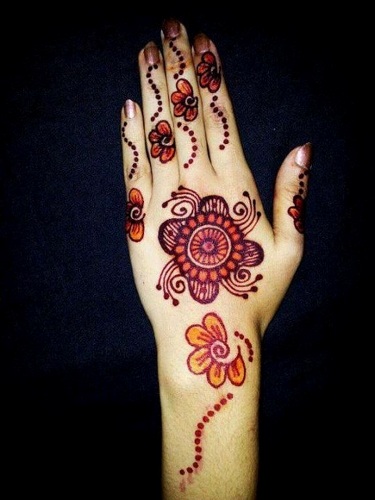 Now, this is something that is entirely trenchant, meaning thereby apart from the regular Mehndi you can also use different colours to add on more grace and style to your expression. Black colour mehndi can be used for a contrast look. In this henna design, dots with S shape are covering the fingertips and nails are painted so well that they are entirely matching the attire.
Simple Glitter Mehndi Design for Hands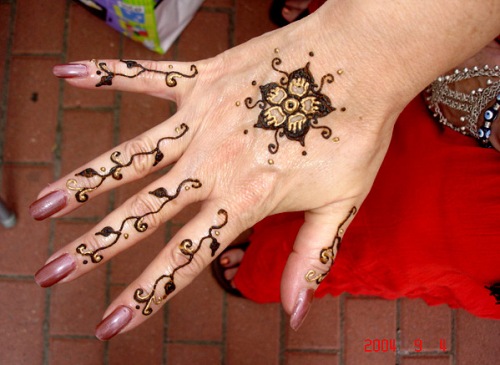 Simple mehndi designs with the use of henna appear to be boring and dull at times, especially when the occasion is grand. In such case, when you are willing to stand out of the crowd thereby attracting everyone's eyes over you, simple henna designs highlighted with the use of glitter will just be the best one for you. Applying temporary glitter glue to your plan at only a few places where it is required will lend it an appealing look. Make sure not to overusing the glitter glue as it will make it over glossy and showy.
Cool Zigzag Mehndi Patterns for Hands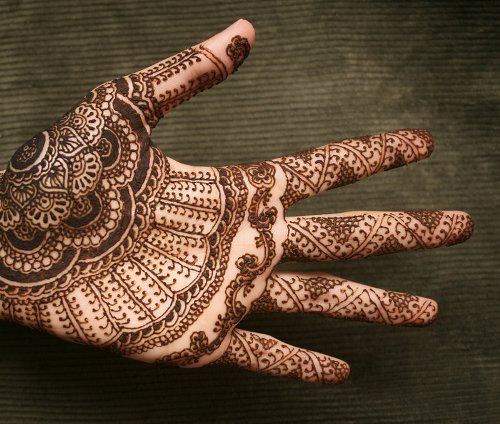 After the glittering pattern, here comes a new style statement. This henna design is utterly distinct to that of floral theme-based and perfect one for those who are not good at making leaves and flowers. A chain like a gist is created by joining circles with each other, and new zigzag style mehndi pattern is applied on the fingers to give it a beautiful expression. The usage of betel nuts at the end of the design will be genuinely a compliment earning for you.
Simple Arabic Mehndi Pattern for Hands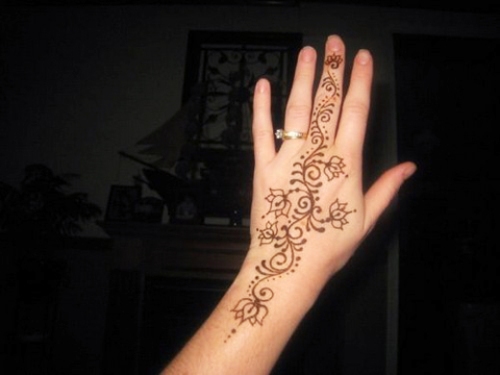 This simple Arabic Mehndi pattern is the perfect guide for the girls who do love elegant design but is not sure of how and in what way to correctly apply on hands. It will serve as a real help to you. Tiny lotus type flowers are designed complimenting each other in the opposite direction. By not making your hand look messy, thereby giving it a neat look, this Arabic henna design imparts a dignified and sombre look.
Beautiful Mehndi Design for Occasions
This beautiful Mehndi design highlights various sizes of flowers drawn by the Mehndi cone on your palm. Simple yet following current social fashions is the most appropriate remark for this design. A perfect combo of flowers and petals with little of shading in them marks it remarkable. Half floral motifs with some of the criss-cross pattern will work brilliantly on fingers. When we add small bubbles to the border, it will give a neat look that's why it is added to the drawing. Best for occasions!
Mehndi Design on Hands for Office Parties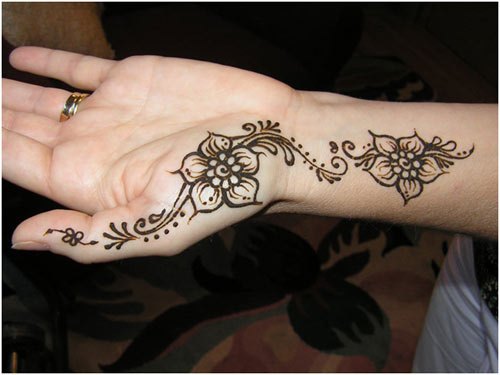 This time in spite of trying something from your own, you can do the same with the picture given above featuring Mehndi design on hands for office parties. Follow the similar kind of theme in your henna design in which the only portion of fingers are used instead of the complete ones, and even the palm is kept clean and bright. Not grand occasions, but events like formal office parties where you do not want anything casual this henna design can play the role of an accessory too. Don't skip to add small detailing like bubbles else it won't give a satisfactory look. Also, make sure that you are extra cautious while shading or filling the motifs as they need to be very clear.
Simple Islamic Mehndi Pattern for Hands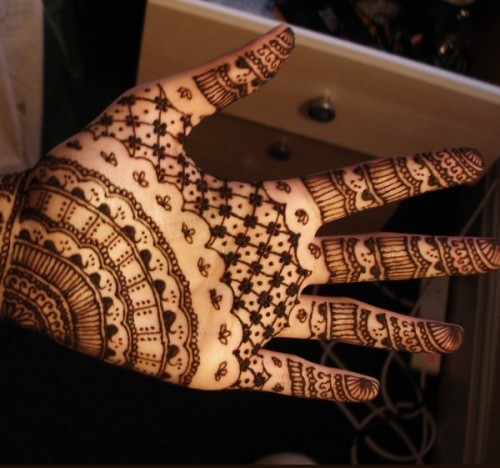 Don't just give up by looking at this henna design because it is not at all as tight as your thinking. It seems like it a bit tough, but it is not if you go through some minor points. This design is the mixture of many themes like some criss-cross, dots, and half circled motifs and straight lines. All of these are covering the whole palm with smart connectivity and not messy at all. With your thoughts, either you can add strokes or shade the half circles and dots to give it a fabulous look. This design is a complete expression of its own, and the appropriate example of simple Islamic mehndi pattern just made for your hands.
Petals of Lotus Mehndi Design for Hands
The addition of beautiful flower-like lotus and its leaves with shades within is the best idea for a beautiful mehndi designed hand. As visible in the above picture, we can imply lotus and its petals right in the middle of the palm area thereby making it complete in its way. Moreover, there is no need for designing the top of the fingers even.
Flowers with Shading Mehndi Designs for Hands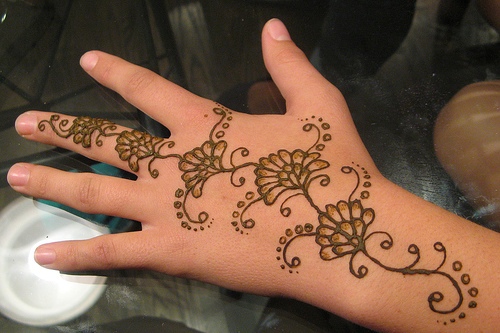 Why not try something different this time! Let's mark the beginning with a new door, meaning thereby usually we start making the henna design from the index finger, but this time you can try it with the middle finger so that the pattern gets a new look. You can even go for the ring finger, as it entirely depends on your choice. In this design, same flower motifs but with different sizes are used. When the model begins with the tip of the middle finger, the flowers are small, and as the design moves forward, they gradually get increased and increased till it reaches its destination that is the wrist. Adding shades to all the flowers and highlighting some dots and bubbles make it complete in every way.
Cute Finger Mehndi Design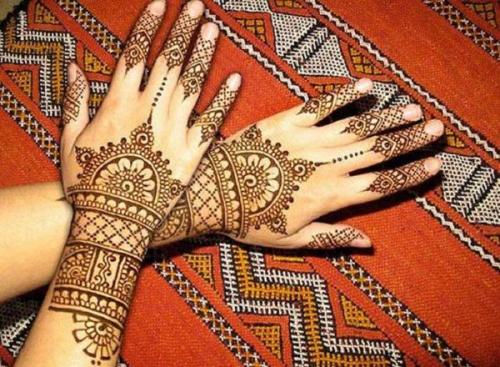 If you wish to go entirely with your attire, then this mehndi design is just made for you as you can even apply Mehndi as per the designing of your attire. The above given justify the look of attire with the design of the henna. With a view, to connect the mehndi design from your palm to your cute fingers, dots have superbly served the purpose.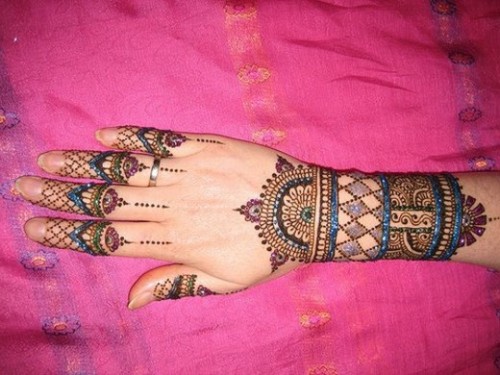 To add a sparkling look, you can also embellish your cute finger Mehndi design with scintillating and colourful stones. These stones can be round or pear shape. All you need to keep in mind is the colour of your attire and these stones entirely go along with each other. This will also help you to get an ornamented look even if you do not wish to go for bangles or bracelets.
Heavy Mehndi Design Strokes for Hands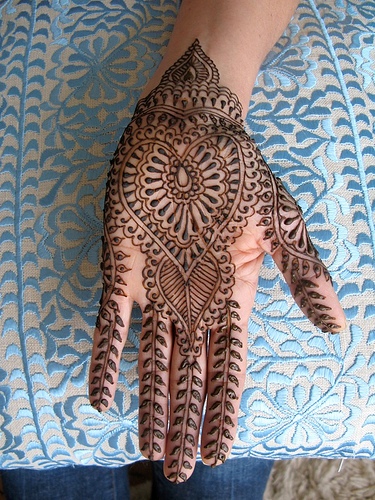 You need to be very clean and bright with the heavy Mehndi design strokes for hands and then only you will be able to apply this to perfection. This henna design seems to be easy, but it is not when you sit to use. To pull out extremely thin strokes, the hole of the Mehndi cone should be very narrow else a little mistake with the incision can make your design look messy. In this picture given at the top, leaves and photographs simultaneously complement each other because the small leafy plan is the right one for fingers and flowers for the palm or the back of the hand. Double outlines have been implied to lend a clear picture to your mehndi design. The more the strokes of Mehndi are thinner, the more grace it will add.
Simple Bridal Mehndi Designs for Hands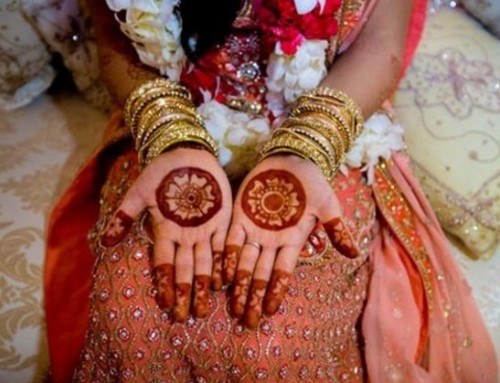 Are you all set for your special day? When the occasion is none other but your wedding and a moment when you will be the beautiful bride, you will urge for a look that not only adds on five-star reviews to your beauty with tradition but also make you earn endless compliments too thereby making a lifetime memorable event. For this, you can go for this given simple bridal mehndi design for hands featuring large circular motifs. This will also give your henna design a complete traditional look. Let the fingers be designed half with henna involving small flowers accumulated in a group.
Read More:- Bridal Mehndi Designs