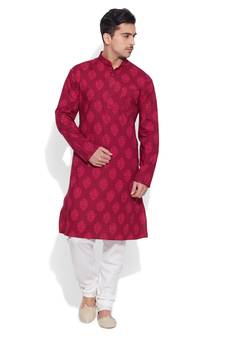 "India is the land of diversities"- diversities in people, food, culture, and costumes. Talking about the attires of guys, one thing which didn't change with the evolution of time is the kurtas. What is a kurta? A kurta is a kind of long top which is generally of knee length; it can be paired with any type of bottom wear, be it jeans, Salwar or Churidar. You can get an exclusive collection of kurta pajama of this wonderful Indian wear online. Get yourself a perfect fusion look in this hot summer season with a full range of pastel colour kurtas.
Style and varieties of kurta
It doesn't matter to which age group you belong; a kurta suits all types of personalities. You can choose from varied choices in kurtas for all occasions. If you are a working man and you are looking to have a makeover of your entire wardrobe, then what can be a better option than pairing all your lowers with the brand new range of formal kurtas which gives you an official look.
The fabrics used in making different varieties of kurtas seem to be countless. From silk to cotton and Chanderi, one can easily find a kurta made out of different fabrics. You can also get the advantage of picking a kurta of any material under the same roof. They have prepared unique designs in order to meet up with the expectations of their male customers.
Kurtas are something which suits all the occasions. You can pick a short kurta which you can pair with blue denim in order to get a classy look. With this look, you are ready to attend a seminar or even a conference. In the latest collection of kurtas online, You'll find printed kurtas which you can opt to wear in any family function. In all, you can wear a kurta irrespective of the fact whether you are going to be a part of a formal or an informal function.
Changes with the trend
Amongst all the Indian wears a kurta is something which has undergone immense transition with the innovation in technology and upgradation in the fashion industry. Designers prefer carving out their creative skills on kurtas as they know that experiments with this outfit are loved globally. This Indian outfit is gaining immense popularity in the global scenario; even in foreign countries, people have developed a huge craze of this Indian attire.
For some of the styling tips click here.
A lot of advantages over any other attire
You simply need not overthink before buying a kurta, because it is something which suits every guy irrespective of their personality, looks or weight.
It is suitable for all seasons, for summer season you can buy cotton kurtas in light colours and some dark shade kurtas for winters.
To meet your demand, brands keep updating their fashion couture so that you can get all the different designs of kurtas in your wardrobe.
If you still feel that the kurtas are something very old fashioned, then browse online and I'm sure that it will surely help you to change your perspective regarding this amazing outfit.