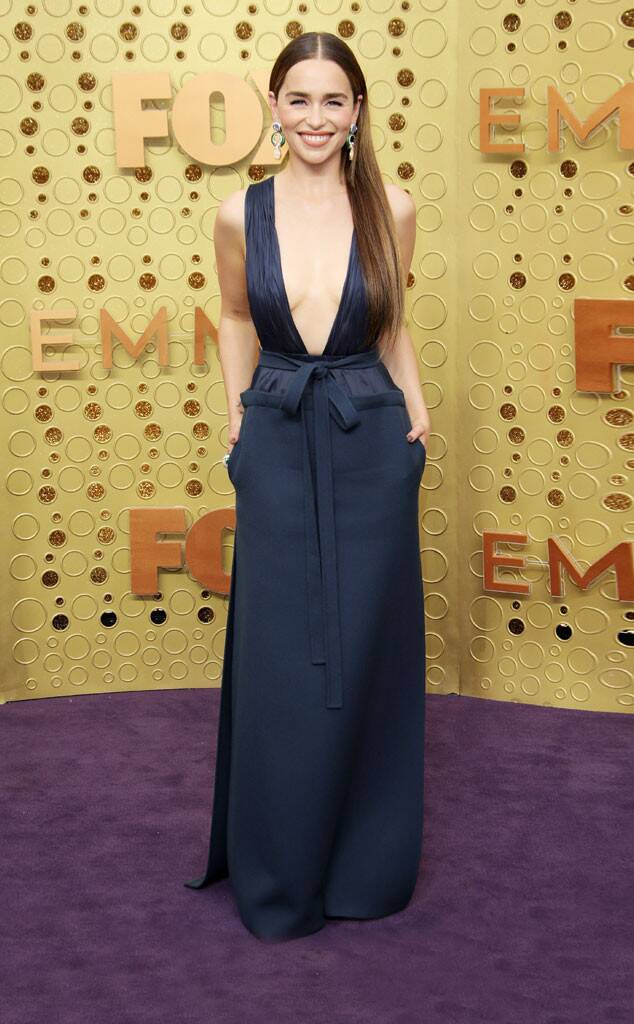 Emilia Clarke, the star of Game of Throne, wowed the crowd in her fascinating plunging Valentino dress which led her to the best-dressed list of Emmy.  Emillia Clarke at Emmys 2019 looked amazing in her floor length gown. As everyone knows, this entire week was all about the Jungle Dress of Jennifer Lopez, which she wore at Spring 2020 runway collection of Versace. Dress of Emilia Clarke was inspired by the Versace look of JLO, and she paid homage to Lopez in that deep-V gown.
Emilia Clarke whose popular series Game of Thrones was the winner of Outstanding Drama Series 2019 heated things up on the red carpet of Emmy. She arrived at the show in a deep-V navy blue gown, and she completed her looks with David Webb colorful earrings and Jimmy Choo heels. In order to complete the look she put her hair down in a center part and it made her look more stunning.
For her portrayal of Daenerys Targaryen in Game of Thrones, Clarke was nominated for Lead Actress in the category of Drama. In this category, it was her first nomination as in the previous years she was nominated for Best Supporting Actress. Emilia Clarke at Emmys 2019 was also slated to present an award at the show. She heated things up in her hot dress on the red carpet.
Back to her stunning dress: Emillia Clarke at Emmys 2019 wore deep V-neck gown and showing that much skin requires a lot of confidence to carry it impeccably. Nevertheless, Clarke managed to carry the fierce look with remarkable confidence, which added grace to her look. Regarding her look, Clarke informed Entertainment Tonight that her look for the evening was inspired by JLO, and she planned on channeling Lopez all night long.