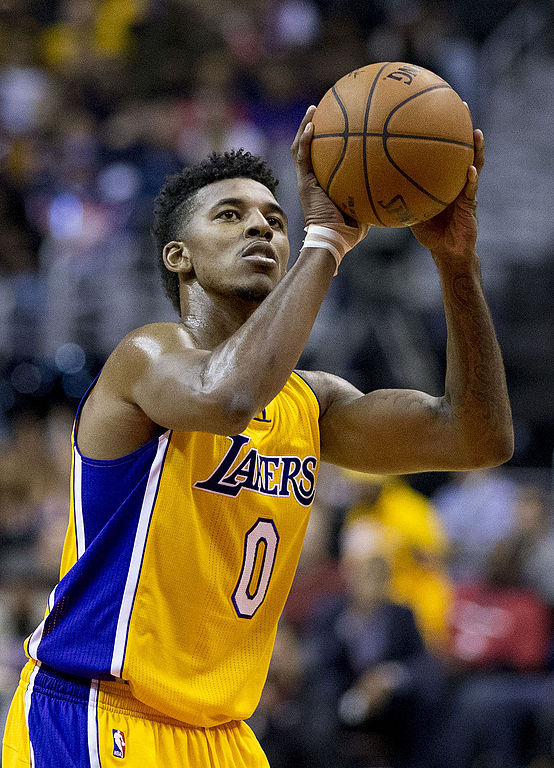 Nick Young Net Worth – $25 Million
Gender – Male
Date Of Birth – June 1, 1985
Profession- Basketball player
Nationality- United States Of America
Nick Young is an American professional basketball player with a net worth of $25 Million. He is a popular NBA player who has played for multiple teams, including the Golden State Warriors and LA Lakers. He gained tremendous fame and popularity as a former fiancee of Iggy Azalea.
Early Life Of Nick Young
Nick Young was born in 1985 in Los Angeles, California, to parents Mae Young and Charles Young. He started playing basketball at a young age and would play for Cleveland High School in his formative years. When he went to college, he began playing for the USC Trojans.
Read More-Ways to Create a Successful Social Media Sports Business?
College Career
Nick Young played for the Trojan from 2004 to 2007. He would be a part of the All-Pac-10 First Team from 2005-2007. Over the course of the 2007 NCAA Tournament, Nick Young helped to lead the fifth-seeded Trojans into the Sweet Sixteen when they lost to one-seeded North Carolina.
This was a memorable game by Young and led the Trojans to score 22 points and win with 87-68 points. As his college career was about to finish, Nick took this opportunity to play for the Washington Wizards NBA Team.
NBA Career
Nick Young had an exciting career in the NBA and played for many topflight teams like the LA Lakers, LA Clippers, the Philadelphia 76ers, and the Golden State Warriors during the 2018 championship season.
Nick Young was a top recruit in high school days and also when in college. This two-time All-Pac-10 first-teamer was a part of Sweet Sixteen one time with Trojans before he went to play professionally after completing Junior Year.
The Washington Wizards picked him 16th overall in the 2007 NBA Draft, and he started playing games later that same year. He has been part of a controversy involving teammate Gilbert Arenas bringing guns into the locker room. Nick Young was seen making guns using fingers and pointing at teammates. He was forced to pay a fine of ten thousand dollars.
In the year 2012, Nick Young was traded to Los Angeles Clippers, and following that season, he was signed for one year contract with the Philadelphia 76ers. Nick signed with Lakes in 2013.
Swaggy P, Nick's nickname, followed him the entire time in his NBA career. For the Lakers, Young played under a $21.5 million contract. During training camp, Nick suffered a major injury-collateral ligament tear which affected his right thumb. Young had to miss eight weeks, meaning the first ten games but later made his debut on November 18 against the Atlanta Hawks. In this game, Young made 17 points owing to the victory of Layer by 114-109 points.
The injury continued to affect Young's game. On November 30, 2016, Nick was ruled out for 2-4 weeks due to calf muscle training. However, it did not stop him from making his return again. On December 17, 2016, Nick made 8 three pointers in a game and scored 32 points. The same year from December to January, Nick hir a hot streak with a 3-point line and connected long-range 36 occasions in merely eight games, which created a history of 3-pointers ever made in an eight-game stretch by the Lakers.
Despite his great games, Nick was benched by the Lakers in April 2017 for the remaining five games. After this, Nick decided to remain an unrestricted free agent. In 2017, Nick signed with topflight Golden State Warriors as a role player. Nick hit 6-3 pointers in close games in his debut games for Dubs, resulting in a 122-121 loss to Houston Rockets.
Nick Young continued to play for the team through the rest of the season and defeated Cleveland Cavaliers in 4 game sweep NBA Finals 2018.
Read More- All About Justin Bieber; Age, Height, Birthday, Net Worth, Girlfriend, Wife, & More
Personal Life Of Nick Young
Nick Young was featured in a documentary "Second Chance Season," where his success, exploits, and shortcomings were analyzed. Young continued to get popular by his nickname "Swaggy P." which earned him a reputation as a dynamic player on the court and in social dealings.
He used to date Iggy Azalea, although they got engaged and later separated. Nick was also in a relationship with Koenna Green, an entrepreneur, and the two have children together- son Nick Jr. and daughter Navi.
Nick Young continued to stay active in various humanitarian causes along with basketball. He founded Nick Young Foundation to fight gang violence and provide support to people who have been victims through psychiatric services. Young also offered expertise as a basketball coach to unprivileged children.
Nick Young Net Worth
Nick Young net worth is estimated to be around $25 Million as of 2021. His amazing professional basketball career earned him a huge amount of wealth and fame. Young also signed4 a year contract worth $21.5 Million on July 21, 2014, with Los Angeles Lakers.