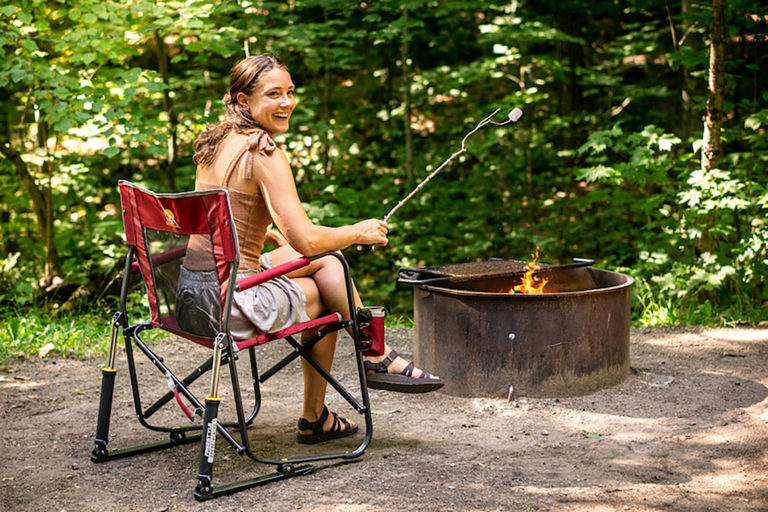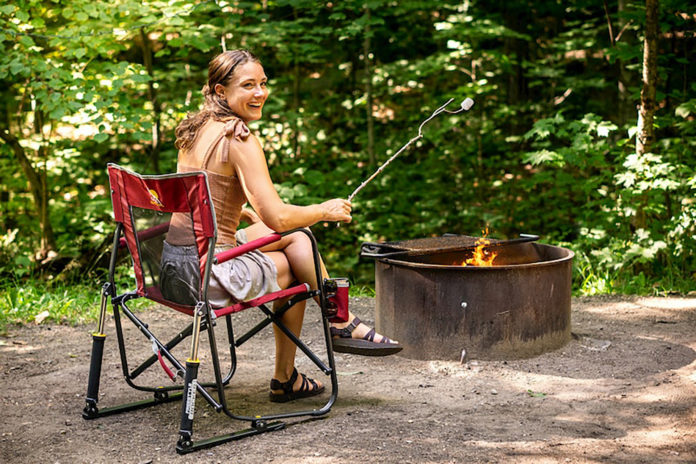 Finding the best rocking camping chair is a difficult task and an arduous process as there are many different types of camping chairs available on the market. Don't worry we are here for you. We have covered some of the best chairs for you to match your lifestyle. While going camping, packing a backpack and keeping a rocking chair with you are very important. And though there are varieties of rocking chairs available on the market, choosing the right chair is very important.
If you like any of the following activities then this article is going to be the most exciting article for you:
Car camping
Van camping
Backyard camping
Backpacking
Before buying any camping chair, make sure that the chair is portable, durable, comfortable, and less expensive. For your ease, we have listed a few of the best rocking chairs available in the market below.
Best rocking camping chairs
GCI outdoor pod rocker collapsible rocking chair
This comes from one of the best-known brands for making the best reckoning camp chair. They make the chairs lightweight, and ultra-portable. This amazing chair is coated with steel powder which makes it more durable.
Its sling shape looks very amazing and makes the chair extremely comfortable. In addition, it has a beverage holder and a phone pocket. Unlike all traditional chairs, this chair sits flat on the ground. Its spring technology is responsible for its rocking, ensuring that the people sitting on the chair get smooth rocks every time.
Pros:
Includes carry bag
Have spring-action technology
Can carry 250lbs weight
Amazing rockabilly
Portable
Cons:
Isn't 100% flat
Do not have solid armest
Mediocre ventilation
Our Verdict:
This GCI Outdoor chair is for the people who want a chair that is easy to store, as these chairs are easily foldable making them perfect for small storage areas.
Folding rocking chair
What can be better than having a folding rocking chair at the campsite? This amazing chair comes in seven different colors so that the customer can buy the chair as per their preferences. In addition, this is one of the most lightweight and effortless chairs.
Moreover, the fabric is connected to the frame with removable elastic cords. This amazing feature makes the chair more comfortable for the person sitting on the chair.
Pros:
Lightweight
Durable
Weather-resistant
Portable
Cons:
Doesn't rock back
Small in size
ALPS mountaineering rocking chair
ALPS Mountaineering rocking chair is a pro-tech, powder-coated steel chair. By its material, it is the most lightweight and durable chair available on the market. Other than this, it is made up of 600D Polyester fabric that makes this chair highly comfortable and easy to clean. Furthermore, it gets folded easily. This chair also has a phone charging point in it.
Pros:
Light in weight
600D Polyester
Relive the back pain
Gives high support to the back
Cons:
Manual instructions are not included
Timber Ridge Smooth Glide Padded Rocking Chair
The best feature of this chair is that it is easy to assemble and quick to fold up and store for car camping trips. Its light material gives relief to the back pain. The padding of this chair is made up of 100% polyurethane foam which makes it more comfortable and durable.
It supports more than 300 pounds and is ideal for people who love to rest on camping without worrying about it breaking.
Pros:
Easy to wash
Durable material
Have a side bag for holding snacks
High back for more comfort and support
Cons:
Very large
Doesn't fold completely
Expensive
Best Choice Products Foldable Zero Gravity Recliner Chair
This chair is one of the best picks for the one who wants maximum comfort on camping or road trip. The fabric of this rocking chair is water-proof and has a pillow feature. The main component of this foldable recliner chair is that it gives rock without high effort. It is designed to feel weightless, hence it is zero gravity.
Pros:
Easy to fold
Less expensive
Comes in different colors
Cons:
The pillow doesn't stay in the place
Lack of padding
Helinox Chair Two Rocker
Backpacking is all about saving space and reducing weight. So, for this purpose, this chair is best. This amazing chair is very easy to use and set up. In addition, it has rocker legs that are removable, this feature makes the chair more comfortable. However, this chair doesn't provide a rocking motion.
Moreover, the helinox chair is very lightweight, which makes it quite perfect for carrying on long travels.
Pros:
Comes with easy packaging
Have a high and wide back portion
Convertible
Rocker legs removable
Cons:
Very expensive
Doesn't have rock motion
Not sustainable for heavy load
GCI Outdoor RoadTrip Rocker Outdoor Rocking Chair:
CGI outdoor is one of the best outdoor brands out there. Its chairs are very comfortable and made in unique designs for full-sized rockers. It is famous for many reasons like it is made up of an aluminum and steel hybrid frame, its armest is very durable and other than these things this chair can easily hold up to 250lbs.
So, whether you're going for a trip or camping, this chair is one of the best choices. It also has a built-in carry bag with shoulder straps, this feature makes it portable and easy to use. Its spring action technology makes it more smooth and gives a rocking experience.
Pros:
Durable
Lightweight
Includes carry bag
Spring action technology
Includes a beverage holder
Arrives assembled
Cons:
Some parts might get lost
Flimsy cup holder
Conclusion:
In current times, quality is more preferred over design everywhere. So, why compromise when it comes to choosing the best rocking camping chair for you. While looking for the best rocking camp chair, it is required that you take into consideration some basic things like comfortability, durability, softback portation, etc.
Keeping all these things in mind we have mentioned some of the best rocking chairs for you. So that you can enjoy your trip with full enthusiasm and energy.
So, if you liked the article hit the like button and mention your next trip location in the comment section below.