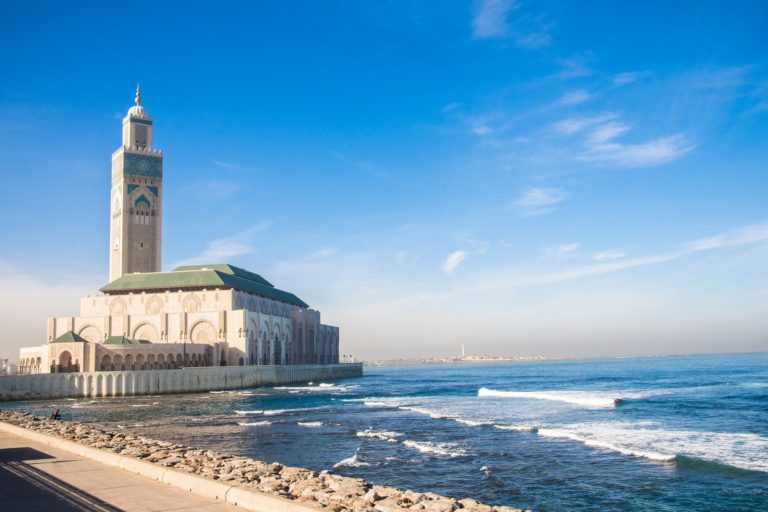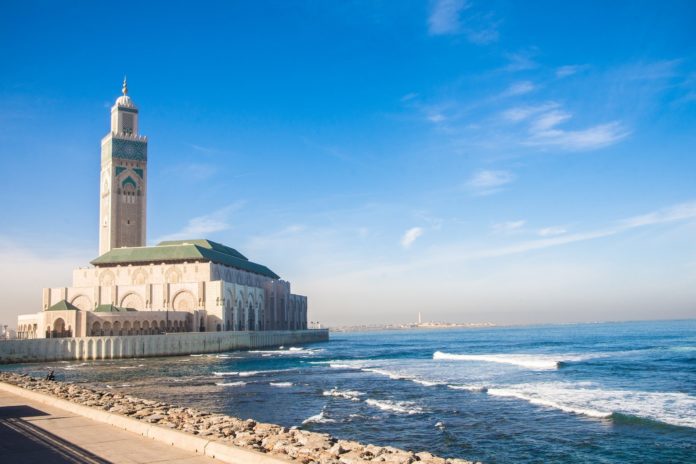 Visiting Morocco will be one of the most memorable and incredible trips in your lifetime. However, finding all the best things to do may not be so easy. When it comes to figuring out what places to visit, or where to eat, filling up your itinerary doesn't have to be difficult.
So whether you're planning an exotic honeymoon, a family vacation, or simply have Casablanca on your travel bucket list, we are here to help. Here are some of the top-rated attractions and things to do in Casablanca for every kind of holiday!
Top Attractions
There are lots of historical, cultural, and unique places to visit in Casablanca. If you're looking for top attractions, here are a few that we have put together just for you.
Hassan II Mosque
The second largest functional mosque in all of Africa, and the second tallest minaret in the world, the Hassan II Mosque is one of the most beautiful buildings in Morocco. Expertly built by Moroccan artists, this stunning mosque seems to exist in unison with the Atlantic Ocean.
Worshipers can actually pray over the ocean if they want! This top attraction is hard to miss because of the fascinating structure and the tall minaret. So whether you're flying from Dubai to Casablanca, or flying in from Europe, you can't miss it.
There are lots of all day city tours that can take you through Hassan II Mosque, or you can schedule a private tour through the mosque itself. However, please remember to be respectful of the rules of the mosque during your tour.
Tamaris Aquaparc
If you're traveling with your family, then one of the best attractions to see will be the Tamaris Aquaparc. Not only does this huge waterpark offer amazing fun for the whole family, but it is incredibly affordable.
Here are just some of the cool things you can do at Tamaris Aquaparc:
Several amazing waterslides
Wading pool
Kiddie pool areas and fun
Amazonia lazy river
Bowling
Food and Beverages
You and your loved ones will have a blast at Tamaris Aquaparc. Call ahead for discounts and tickets as part of a great family vacation in Casablanca!
Museum of Moroccan Judaism
As the only museum dedicated to Judaism in the Arab world, the Museum of Moroccan Judaism is a must see. It is not only devoted to the history of Jews in Morocco, but it is a great symbol of togetherness and building peace. It truly is a wonderful dedication to the culture and history of Judaism in the Arab world.
Located in the beautiful Oasis neighborhood, this stunning villa-esque museum was once used as a Jewish orphanage. The most fascinating part will be seeing the synagogue that was originally from the town of Larache and reconstructed and transplanted in Casablanca.
Church of the Sacred Heart
This former Roman Catholic church in Casablanca is one of the most beautiful structures in the whole city. The church ceased being a place for religious services after the independence of Morocco in 1956. It now serves the community as a cultural center.
The Art Deco style is quite stunning, and there are tons of events to see and experience here. From art shows to concerts, be certain to check the events schedule before your holiday in Casablanca to see what fun event you can participate in while you're here.
Things to Do
There are lots of historical places and beautiful parks, but when it comes to things to do, Casablanca's highest rated activities are incredibly fun.
Shop the Marche Central and Quartier Haboos
If you're looking to experience an amazing Moroccan market, the Marche Central (Central Market) and the Souq Haboos are the places to shop till you drop. Marche Central is located on the Rue Allal Ben Abdallah and is where you will find tourists and locals alike shopping for everything under the sun.
In the city's center you can find groceries, household goods, and amazing restaurants filled with delicious Moroccan dishes. The Souq Haboos in the Quartier Habous is a little more south from the city center and is where you will find more souvenirs and Moroccan crafts. You can shop for everything from handmade rugs, to art and ceramic tiles.
Walk Along the Corniche
If you're looking for a little more romance in your destination, then look no further than a seaside walk down the Casablanca Corniche road. Here you can see the dramatic architecture of the Hassan II Mosque against the Atlantic Ocean, the El Hank Lighthouse, and stroll along the beautiful beaches.
You can experience the luxury of the city's Ain Diab district here as well. Here you will find luxury hotels and restaurants for a romantic beachfront meal, or take a few hours to enjoy the private beaches and club swimming pools. Just be sure to make a reservation ahead of time as this is a very popular area.
Picnic in the Arab League Park
In the Arab League Park, just SouthEast of the Church of the Sacred Heart, and West of Hassan II Boulevard, you will find 30 acres of stunning natural beauty. Palm trees, beautiful shrubberies, playgrounds, art galleries and fun events can all be found here. Not to mention a pond with water lilies and exotic plants.
This is a great place for a quiet picnic, a long walk, meditation, or taking part in one of the many events that are held here throughout the year. Be certain to check the events schedule before your visit.
Things to See and Do In Casablanca Just for You
No matter the type of holiday you're planning, there is so much to see and do in the remarkable city of Casablanca. So whether you want to tour the Hassan II Mosque and enjoy the stunning artwork and architecture, spend a day in the sun at Tamaris Aquaparc, or have a romantic promenade along the Corniche, there is something for everyone.
The highest rated attractions and things to do in Casablanca will not only be memorable, but affordable and fun as well. Find what you want for your holiday on this list and have the most incredible time in Morocco!