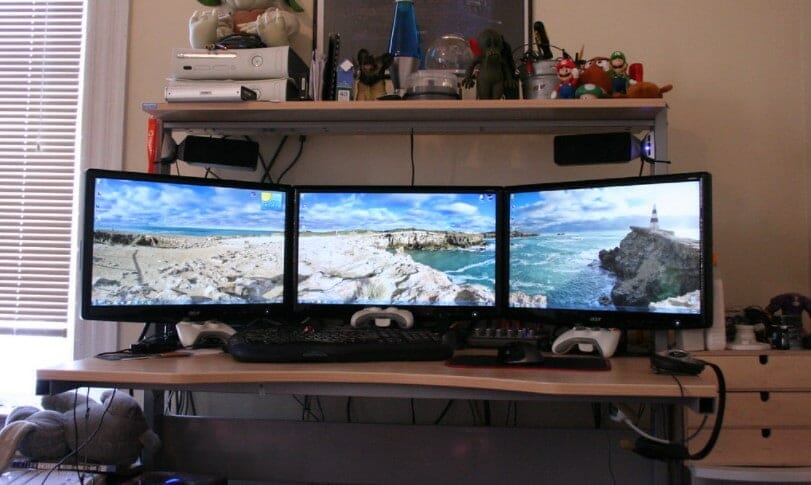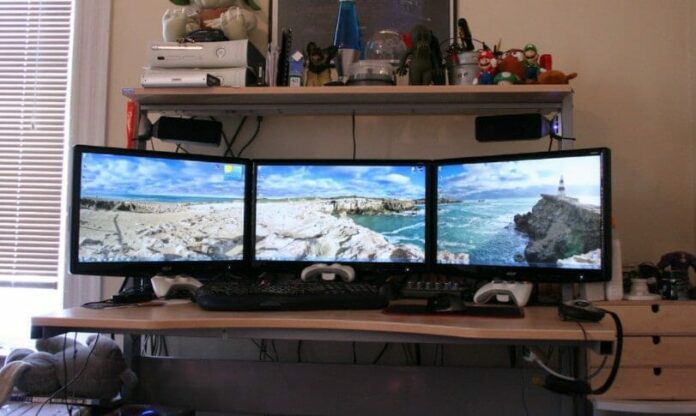 Triple Monitor Setup – Most people might get confused with the concept of a Triple Monitor setup and misconclude it as 3 monitors showing the exact time.
Triple Monitor setup, on the other hand, means extending your desktop across 3 different monitors and being able to move the pointer from one monitor to another.
But not all computers support triple monitors, especially the ones that are old and cheap. But how to find out if my computer supports Triple Monitor Setup?
So to find out if your computer supports Triple monitors, you will be required to look at video ports similar to the ones below.
But how is a triple monitor set up? Got no idea?
Worry not, readers; this article will cover all the questions regarding the Triple Monitor Setup. Stay tuned.
Read More- PS5 Restock Date: Where To Find It From?
How many monitors does my computer support?
Not all computers support triple monitors, especially the ones that are old and cheap. But how to find out if my computer supports Triple Monitor Setup?
You must check your video ports to check how many monitors your computer supports.
Check how many monitors your desktop supports.
If you use a desktop computer, your video ports will be located at the back of your computer. Count the number of them and look at their type.
Next, you will have to determine if the ports present on your computer can be used simultaneously. There can be two situations in this context…
You probably should not use integrated graphics AND a graphics card simultaneously.
Many computers feature a motherboard with video ports known as integrated graphics and a graphics card featuring video ports. If your computer has this, you will see two types of video ports.
Although you can run monitors with your integrated graphics and graphics card, you probably should not, as things would get pretty laggy this way, especially when you switch between desktops.
In place of this, if you have a dedicated graphic card, the. It would be best if you prefer using it instead of the integrated graphics. 
A graphics card will always give better output with higher resolution, responsiveness, and quality.
Suppose you are okay with the lagging and want to use your graphics card and integrated graphics simultaneously. In that case, you have to go into your PC's BIOS and permanently enable your integrated graphics card. (Do this by going to Configuration > Video > Integrated graphics device > Always enable.)
Read More- Alien Ware Area51 Threadripper Edition
On some graphics cards, you can't use all ports simultaneously.
A few graphic cards have more parts that can be used at once; for instance, yours might have 3 ports, but you will be able to use only 2 simultaneously.
To find how many ports can be used simultaneously on your computer, you will have to look at your graphics card documentation or even Google it by searching for the model and brand of your video card, along with the number of monitors you wish to run.
The same goes for motherboards. If you don't have a dedicated graphics card and there are 3 ports on your motherboard, then you may be only able to use 2 of them simultaneously. To find this, you'll need to check the documentation on the motherboard to see what it supports, either by looking at the documents or by googling it.
This was about a Triple monitor setup. Let us know how you liked the article in the comments below. 
Read More- How To Correct Dell Laptop Not Charging