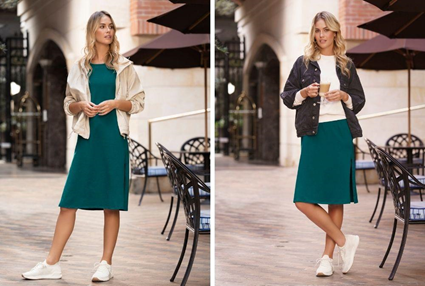 With the winter season comes a change in the weather, which also necessitates a change in the contents of your closet. While you probably can't wait to wear your favorite sweater, over-the-knee boots and winter accessories for casual occasions all winter long, you might also be excited for nicer winter occasions like holiday parties, New Year's Eve celebrations and maybe even a winter wedding. Though these events are highly anticipated throughout the entire year and enjoyed by so many, you might find it difficult to style nice outfits or certain pieces in times of winter weather, with dresses being the most difficult most of the time.
While it's true that dresses can be more difficult to style during the winter, there are ways to use the other items in your wardrobe (and your underwear drawer!) to your advantage to get chic and stylish winter dress looks you'll love. Here are five ways to style dresses during the winter.
1. Start Off Strong: A great outfit starts with the appropriate underwear. Depending on the occasion or the style of dress you choose, make sure you're wearing underwear that will remain undetectable and refrain from showing any bumps or ridges through your dress. Whether you're wearing a flowy maxi dress or a skin-tight cocktail number, do yourself a favor and eliminate potential wardrobe malfunctions with a pair of seamless panties. These will remain invisible throughout wear and help you avoid any bulky materials while still giving you a bit of coverage underneath your dress. Once you have a reliable pair of invisible underwear to wear beneath your dress, you can spend more time concentrating on having fun and accessorizing your winter look.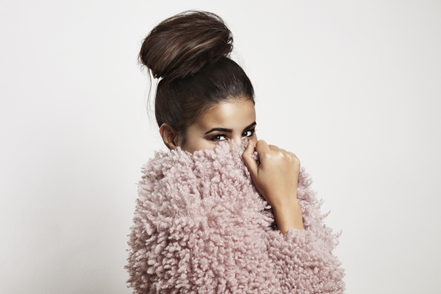 Source: Beauty Stock/Shutterstock.com
2. (Faux) Fur Sure: Friendly furs have been all over the place this season in just about every color, style and form of clothing. Adding a bit of faux fur is a great way to spice up a winter dress, add texture and, most importantly, keep you warm! For sleeveless dresses, you might think about wearing a faux fur wrap or cropped evening jacket to winterize the look. While black is classic and versatile, you can also add faux fur in a statement color like a deep blue or eye-catching holiday red. Don't forget to winterize your accessories with fur either! Faux fur shearling bags are a hot winter accessory this year and will help make your dress look perfectly winter chic.
3. Shape Up: As previously mentioned, choosing the right underwear is vital to styling dresses during the winter so that panty lines and visible seams do not take away from your cold-weather look. In addition to panties, a little help from a piece of shapewear for women can really take your winter dress to the next level. For instance, a body shaper can instantly help to define your shape under winter-friendly turtleneck dresses, sweater dresses or any dress made from thick materials or knits. While these types of dresses will certainly keep you warm, your shapewear can help to smooth your waistline, make you look slimmer underneath thicker fabrics and even give you an extra booty lift. Plus, it acts as an extra layer to keep you warm. What's not to love?
4. Play with Texture and Finish: It's so important to switch things up and keep your winter looks interesting by adding a little variation when it comes to textures and materials. This is especially true when it comes to winter dresses to avoid creating an outfit that looks like one giant wool sweater. Don't forget that other materials can keep you warm, too. Elevate your look with a pebbled leather jacket or a soft suede coat over your dress. You can match your outerwear style to that of your shoes or throw in something different like patent leather, satin or fringe. Wear dress-approved shapewear underneath it all to smooth and contour the look and keep all the attention on your fabulous look!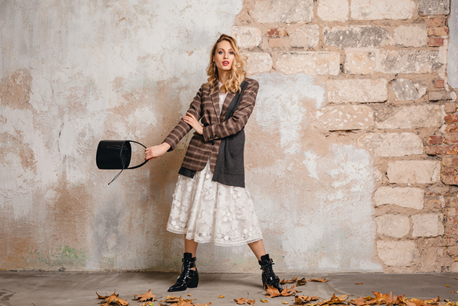 Source: Maria Markevich/Shutterstock.com
5. Bring on the Boots: If a sundress and sandals is your summer uniform, then make a sweater dress and boots your go-to for winter. This combination is super classic and can be styled so many different ways. For work and weekday occasions, you might opt for a cute crew neck sweater dress that falls just above the knee with a belt at your natural waist and paired with mid-calf or knee-high boots with a low heel. If you're headed to a cocktail party, go for your favorite little black dress, high heel boots, sheer tights and a cropped jacket. Turn the volume all the way up for formal or black-tie occasions with a silk or velvet gown, stiletto ankle boots and a matching clutch. However you choose to style your dresses this winter, keep these ideas in mind for a little inspiration when you need it.