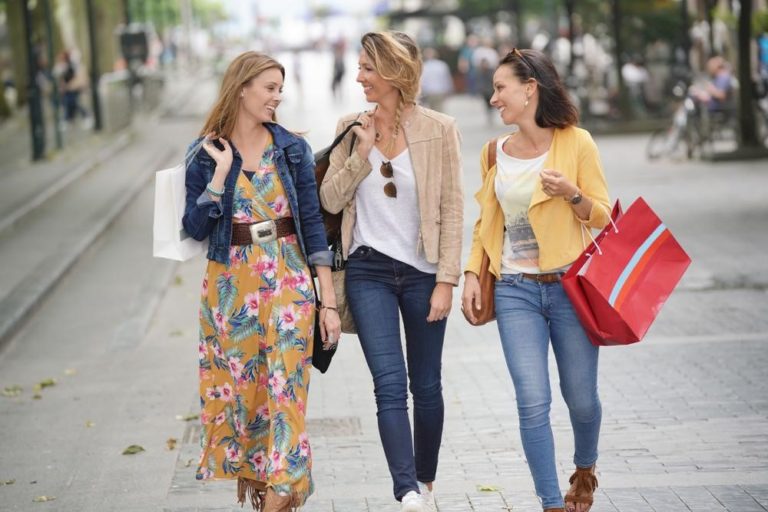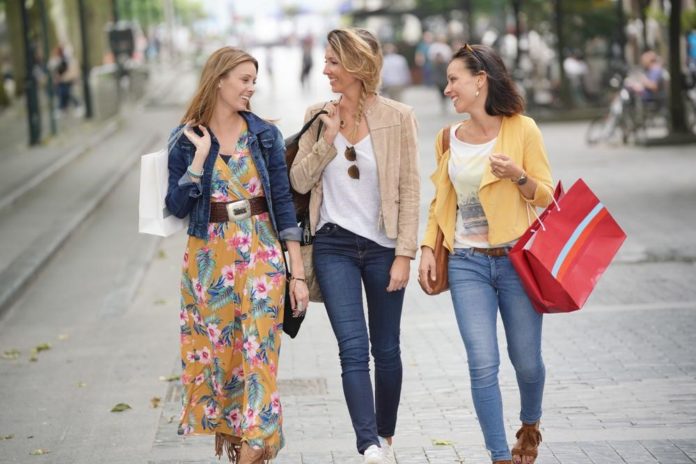 Ever have one of those annoying clothes shopping missions where, no matter how many pieces you try on and how many different cuts and sizes you choose, nothing seems to fit as well as you thought it would? Like if it's not too long at the waist, it's too tight in the shoulders or–and we've been there–it simply makes you look like a balloon animal wearing a trendy sweater? If any of this sounds familiar, then chances are good you've been shopping for the wrong body type all along. And yes, body type really is a thing and once you learn what yours is, finding clothes that fit your body will become a whole lot easier.
We know it might sound antiquated and kind of like words of wisdom passed down by your mom during one of her heart-to-hearts, but the truth is that nothing helps you find a more universal perfect fit for your wardrobe than finally figuring out what category of fruit or shape your beautiful body falls into and then learning how to dress it. Read on for our complete guide to dressing for your body type and set yourself up for success during your next shopping spree.
Discovering Your Shape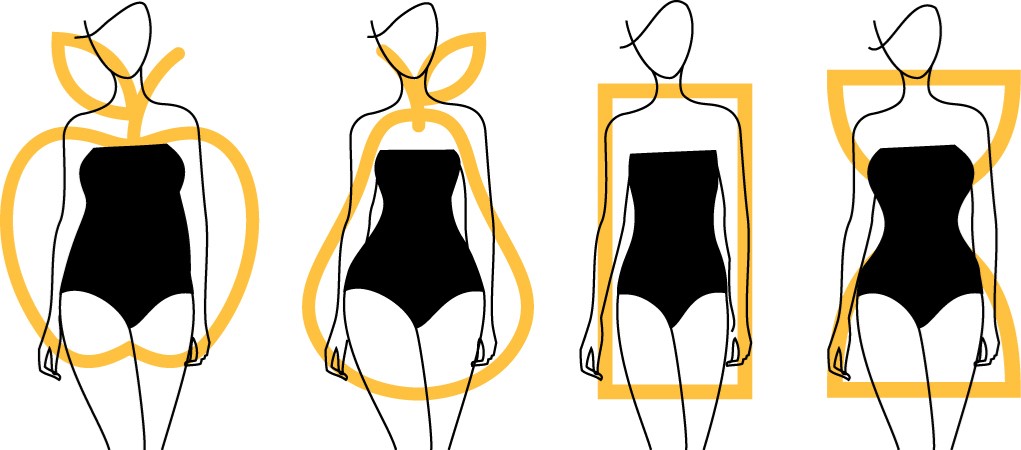 One of the great things about determining your body type is that oftentimes you don't even need a tape measure. All you really need to determine what body shape you are is a semi-full length mirror that allows you to clearly see yourself to about mid-thigh or lower. Then, stand up straight with your chest held high, shoulders relaxed and tummy at a natural resting place (in other words, don't suck it in).
Take a look at yourself from your shoulders to past your hips. If your hips seem wider than your shoulders and waistline, then you would be considered a clear cut PEAR.
If you're more top heavy with a tiny waist and an undefined mid-section, then you would be an APPLE.
Women described by HOURGLASS figures tend to be equally wide in the shoulders/bust and hips with a clearly defined (and smaller) waist.
Then there's the RECTANGLE body type–aka ATHLETIC SHAPE–that appears to be more straight up-and-down with all three measurements coming in at roughly the same width.
Of course, taking your clothing measurements with a fabric measuring tape is another way to determine your body shape. The same proportions apply as if you were making a visual determination. Just make sure you aren't pulling the tape too tight or holding it too loose around your body or your measurements won't be accurate.
Convert Your Thinking
Discovering your body type can open up a world of fashion possibilities you never thought possible. Clothing you may have thought was off-limits because of your size–like mid-rise skinny jeans or flowy tunic blouses–may actually be the styles that look best on your frame. Essentially, you'll have to start shopping differently, paying just as much attention to style and cut as you would to size and length. When it comes down to it, body type is more about dressing to flatter your curves and body proportions regardless of size. And once you learn how to do that, you'll start wearing pieces that accentuate your best features (and maybe even camouflage the ones you're less thrilled about, too).
Pear Shapes
The most important tip we can give you about dressing a pear-shaped body is to avoid cutting yourself off at the middle. As a pear shape, you want to avoid drawing attention to your waist, as it would highlight your larger bottom half. Instead, aim for creating straight lines with your clothing and balancing out your proportions. Think straight-legged pants that taper out from the thigh instead of hugging your legs, making your bottom half appear slimmer. Add a longer blouse or sweater that falls past your waist (mid-thigh should do it) to continue that long and lean look. Pears will also want to focus on wearing tops that help create some shape on top. Opt for more form-flattering options like flowy tunics and V-neck sweaters over tight, form-fitting shirts. A more relaxed cut will help balance you out and the detailed neckline will make your bust line appear fuller and more in proportion with the rest of your frame. Who doesn't love that?!
Apple Shapes
For ladies with a rounder middle, you'll want to steer clear of clothing that closes at the middle, like tie-front cardigans or fitted blazers with buttons or any shirts that hug tightly around your belly and stop at the waist. Like a pear shape, you'll want to stick with longer tops that fall past your hips to–you guessed it–help create the illusion of a longer physique. Layering works great for apple-shaped figures. Try wearing something with stylish detail or a unique cut on top like a long, cascading open faced sweater with a flowery blouse or shift dress underneath. V-neck or scoop necklines are a great look for apple shapes who may want to accentuate a curvy bust. As for what to wear on the bottom if you're an apple? Go for wider pants with high waists (never low rise) to help keep that straight-line style in check.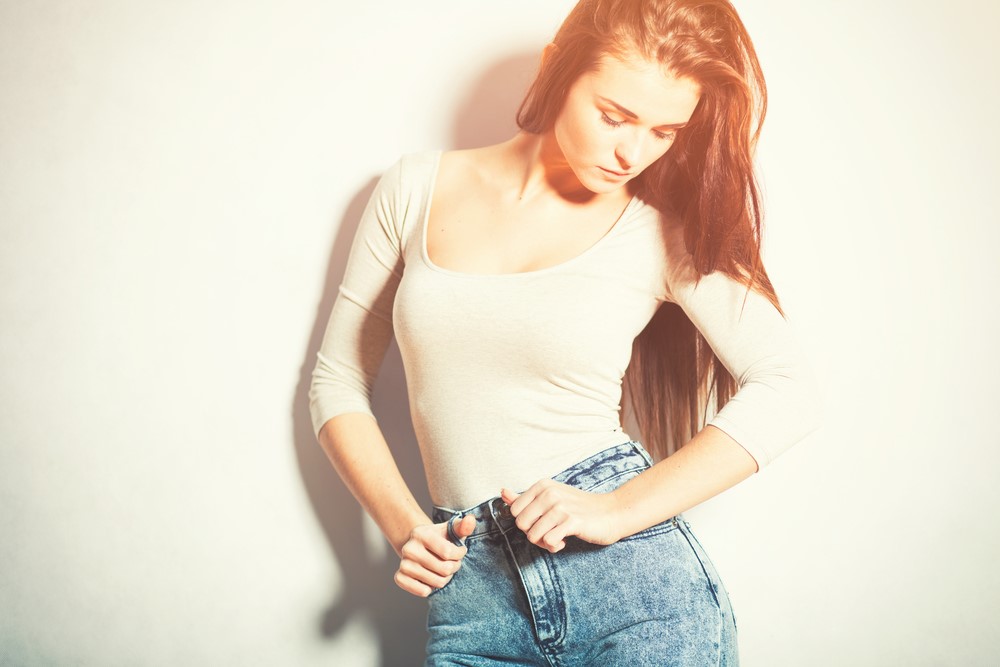 Hourglass Shape
Fortunately for you, the need to "create shape" isn't really your problem. Instead, an hourglass figure looking to highlight those natural curves would benefit from dressing in clothing that is fitted but never tight. After all, the last thing you want is to chance a wardrobe malfunction in the middle of a big meeting or spend your whole day tugging at your neckline because you're paranoid one might occur. Avoid any deep V-neck tops and instead look for subtle Vs and rounded scoops. Avoiding boxy square necklines is probably a good idea as they could make your shoulders seem broad. While we're at it, pants that hug your legs too tightly could actually make your hips seem even wider. If you choose to wear those elusive skinny jeans, then pairing it with a long, flowy blouse is probably a good call. And don't forget that one of the easiest ways to showcase your curves as an hourglass figure is to highlight that defined waistline. Try wearing tops that call attention to your waist, like tie-front blouses or belted dresses or cardigans for a gorgeous look everyone will notice.
Rectangle/Athletic Shapes
Creating shape is the name of the dressing game if you happen to be sporting a rectangular form. Look for ways to add definition to your waistline, like styling a button down with a messy front tuck into a pair of high-waisted pants or adding a thin belt slightly above the waist to a fun and flirty midi dress. As a rectangle, shirts with added detail like ruffles or a peplum will go a long way in helping to create shape and dimension up top. And playing towards your height is never a bad idea. Show off your legs with shorts or enjoy wearing high (or low) waisted jeans with a pair of sexy high heels to give off that whole "legs for days" vibe.
Aim for Balance
No, we're not suggesting you work on your tree pose (but then again, who doesn't love a stronger core?!). Learning how to balance your proportions is a huge part of successfully dressing your particular body type. In other words, if you wear something fitted on top, opt for something more relaxed on bottom. Or if you're really keen on strutting your stuff in a pair of sexy skinny jeans, pair it with a flirty, flowy tunic blouse instead of a fitted sweater. Often your goal is to create a straight-lined, flattering silhouette and wearing clothes that are too tight and hug your frame will do the opposite. Similarly, if you want to wear a bold print or bright color, then go for it. Just make sure the rest of your pieces are more neutral and subdued to balance out the look. It may take some practice, but utilizing little tricks like this will go a long way in helping you achieve that stunning-straight-off-the-runway look you've been striving for.  Learn how to dress your