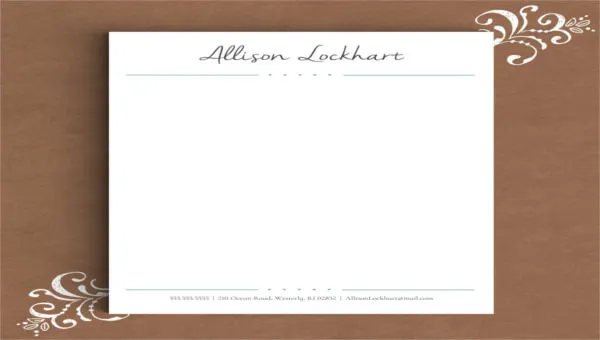 Have you ever received a letter from a friend or colleague written in their own personal stationery complete with their initials or names in a styled logo as part of the border of a letterhead or as a debossed or embossed stamping on a card?
Personal stationery has started to pick up again, partly thanks to social media and the re-emergence of etiquette practices in daily tasks. Some will say it's part of "adulting" – a term coined to refer to the activities and responsibilities of becoming a grown-up. And what could be more adulting than taking the time to personalize communication materials like a letterhead template.
In this article, you'll find tips on how to design a letterhead that fits your brand and your personality, and why it's important that you have one. You'll also find some helpful resources to get you started.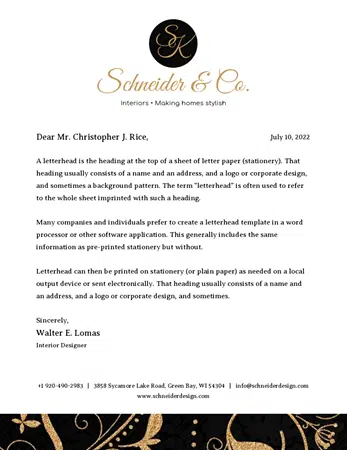 Venngage
Why Have a Personal Letter Head?
When it comes to adulting essentials, having your own personal letterhead stationery is key!
A personal letterhead is a great way to establish your branding and add a touch of professionalism to all your written communications. It's a great way to make a good impression when you need to write a formal letter, and can also be a fun way to show off your personality and style.
When you use your own letterhead, people will know immediately who the communication is from, which can help with building trust and credibility.
Plus, it's just plain classy! There's something about receiving a handwritten letter on beautiful stationery that makes it feel more special than an email or text.
How to Create Your Own Letterhead Template
There are lots of ways to create your own personal letterhead template. You can start with a blank template and add your own graphics, logos, and text. Or, you can use an online service to create a custom design.
If you're not a designer, don't worry! There are plenty of resources that can help you create a professional-looking letterhead without any design experience. You can visit Venngage for pre-designed templates you can readily use, or customize one so it perfectly fits your personality and style.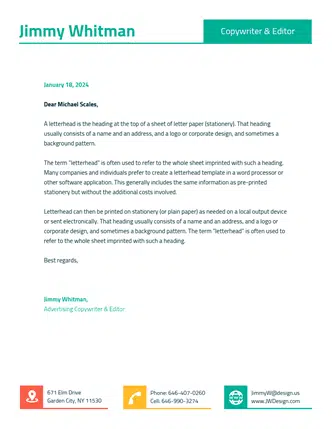 Venngage
Tips for Personal Letterhead Design
There are a few things to keep in mind when creating your letterhead.
1. Design should represent you.
There are all sorts of options when it comes to choosing your personal letterhead design. You'll want to choose a style that represents you and your brand. Whether you go for something classic or trendy, be sure that the fonts and colors complement each other. You can go with a simple monogram or name, or get creative with a more intricate logo or graphic. The sky's the limit!
2. Match the design to your stationery
If you have other stationery items like business cards or envelopes, be sure to match the design of your letterhead so everything looks cohesive. This will help to establish your brand and make a good impression with anyone who receives one of your communications.
3. Keep it Simple
Your letterhead should be easy to read and understand at a glance. Stick to a clean, simple design that includes your name, contact information, and logo (if you have one). You can also include a tagline or brief message if you want.
4. Use a professional font
While you may want to use a fun or creative font for your header, the rest of the text on your letterhead should be easy to read. Stick to a simple, professional font like Arial or Times New Roman.
5. Make it Memorable
Your letterhead should be memorable and recognizable so that people will think of you when they see it. There are all sorts of ways to make your letterhead unique. You can use special printing techniques like debossing or embossing, or choose a unique paper stock. You can also add fun elements like gold foil or die-cuts. Use colors, shapes, and fonts that reflect your brand personality. If you're not sure where to start, try looking for inspiration from other businesses or designers whose style you admire.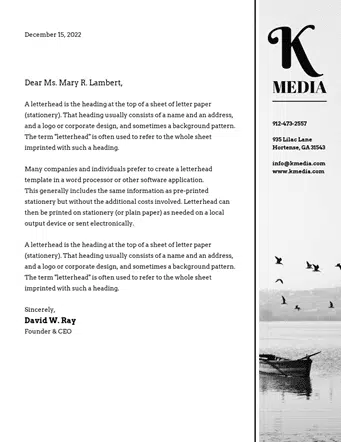 Venngage
6. Use High-Quality Paper
When you're using your own letterhead, it's important to use high-quality paper. This will give your letters and cards a more polished look and feel. You'll want something that looks good and feels nice to the touch. Matte or glossy paper can both work well, depending on your preference. You can find a variety of paper types at most office supply stores, or online.
7. Be Consistent
It's important to be consistent with your letterhead design. Use the same fonts, colors, and layout on all of your communications so that people will immediately know they're from you.
8. Have Fun!
This is your chance to show off your personality and style! Add some fun graphics or choose a playful font for your contact information. Just make sure everything still looks professional.
In Conclusion,
Creating your own personal letterhead template is a great way to show off your style and personality. There are lots of resources available to help you create a design that's perfect for you. Be sure to use high-quality paper and be consistent with your layout so that everyone who sees it will know it's from you. Have fun with it and let your creativity overflow!