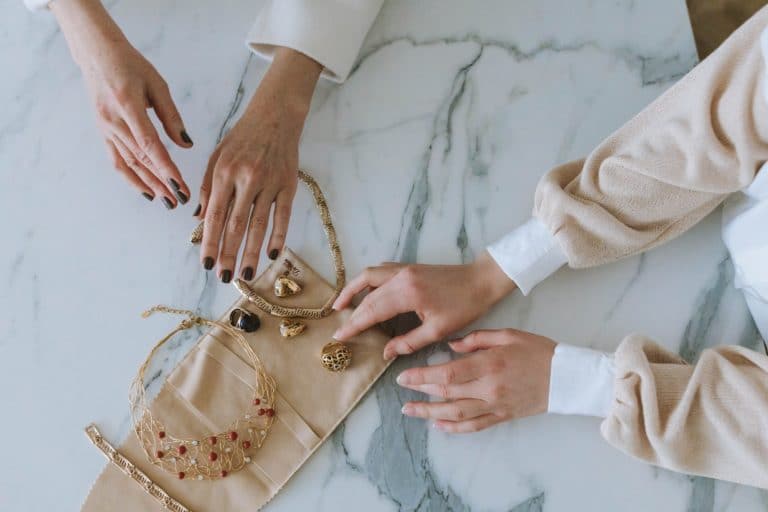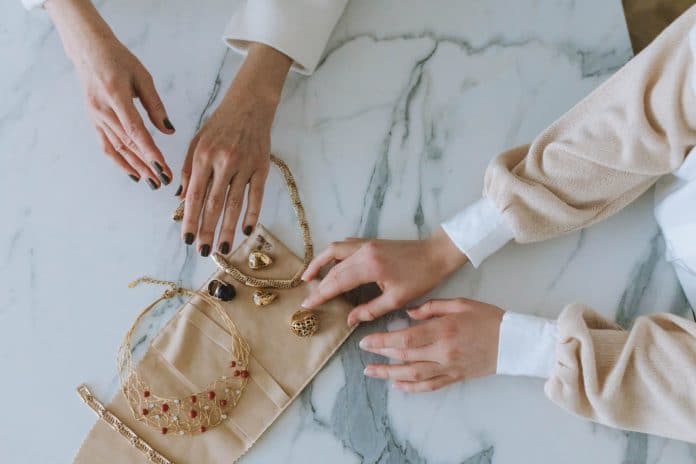 Did you see a bridal jewellery set online and you would like to explore the similar style for your wedding but don't know what it is called? We get it there having so many different varieties of jewellery set available for marriage knowing the details of all is not possible. Which is why we have listed the most common and popular types of jewellery sets worn by Indian brides all over the world.
There are more than a dozen different necklace styles available in the market to look for if you are getting married in the coming season. Having basic knowledge of jewellery always helps when shopping.
There are 9 best necklace styles that brides love these days and even celebrities like Sonam Kapoor and Deepika Padukone have styled them on their big day.
Once you are done reading this article you will have names of all types of jewellery set on the tip of your fingers.
Read More- Best Labels To Buy Wedding Sarees For Bride
Choker
Choker has been gaining high popularity among gold bridal jewellery sets for the last 2 years. It is a must to include in your Indian bridal trousseau to go with your big day outfits.
Styling Tips
You can pair a nice choker set with a strapless blouse or V necklines.
Choker jewellery set with drop detailings or when layered with another necklace looks amazing on lehengas and even Indo-western outfits.
You can never go wrong with a pearl or kundan choker to go with your Indian Mehndi function outfits.
Rani Haar
Raani Haar is a long necklace that comes with Multi-strings. Their length makes them look regal. Raani Haar became a popular Gold bridal jewellery set for marriage and is mostly layered with another necklace like chokers.
Styling Tips
You can pair a Rani Haar on a v-neck blouse because they miss the lengths of the necklace.
You can layer it with a necklace or any short necklace
If you have a yoke or palin blouse you can only wear a Rani Haar to make a statement piece and stand out against the plain backdrop.
Read More- 2021 Makeup Trends For Brides-To-Be
Satlada
Stalada can also be called a Raani Haar, however it is more unique than any other Indian bridal jewellery set. This pattern became very popular after Sabyasachi started dressing his models for shoots.
Satlada has seven layers of chain all embellished with pearls and gemstones woven or attached. You can also get a smaller Panchalada with 5 layers and even Teenlada with 3 layers.
Styling Tips
Sweetheart necklines of low scoops look best with Satlada.
As we all know square necklines look quite boring. You can amp up your outfit with a Satlada necklace.
A plain blouse is best paired with satlada to make the entire outfit stand out
Navratan
Navratan Haar became popular after Mira Rajput wore it at her wedding. ThenMasaba Gupta jumped on the bandwagon to style it on her sangeet and ever since then you can spot them everywhere.
This colourful necklace features nine precious and semi-precious stones and makes an excellent piece of gold bridal jewellery set.
Styling Tips
Since the jewellery has 9 different colour stones, it looks amazing with a monotone outfit.
Some light colour outfits that look best with beige, grey, peach and light purple. If you wish to go with bright colors choose orange or pink.
Read More- Why Do You Need the Best Makeup Artist for the Bride?
Gulbandh
A basic necklace style. Gulbandhan hits right below the collarbone and flatters all lengths. This necklace is also known as the Princess necklace.
Styling Tips
Sweetheart and round necklines look best with a Pearl and Polki necklace as they complement each other and move focus towards the neck.
You can style this piece with a close neck blouse, especially if it has detailing of precious stones.
Bib Necklace
Bib necklace jewellery is shaped similar to a baby bib. This necklace style is in the shape of a bib and has a large size.
If you are in the mood to make a statement with your Jewellery set you should definitely check out a bib necklace.
Bib necklaces featuring crescent hangings are the most demanding jewellery design this wedding season.
Styling Tips
If you are someone with a short neck you should stay away from bib necklaces and pick something that falls low on the chest.
Avoid wearing big chunky earrings with a bib necklace.
Aadh Necklace
This necklace starts with a choker pattern and ends with triangle strings. Adhd is a traditional Rajasthani jewellery set that will cover your entire neckline. However, now brides all over India in different states are rocking the Aadh necklace.
Styling Tips:
Aadh necklace when paired with square necklines looks best. It may look too cluttered if worn with high necklines.
As it is a traditional jewellery set you need to keep other accessories traditional too.
Collar Necklaces
Another popular bridal jewellery set pick is Collar Bridal Necklace that looks similar to chokers. However these end on the collarbone looking like an actual collar.
Styling Tips:
Round or sweetheart necklines look best with Collar necklaces.
Keep your blouse neckline low to leave some space between the blouse and necklace. This will make your jewellery stand out.
Read more- List Of Things to avoid one week before the wedding For The Bride-To-Be
Guttapusalu
With both Sonam Kapoor and Deepika Padukone starting the trend for Guttapusalu necklace, this South Indian jewellery piece is gaining popularity again.
Styled like a Raani Haar, this long necklace is made of gold, rubies, and emerald to complete the jewellery set.
Styling Tips:
Style it with a V-neck or U-neck, round or high neck blouse design.
You can also pair them with a collar or choker necklace, however it looks good alone as well.
So which gold bridal jewellery set are you going to try on your wedding? Let us know in the comments below.