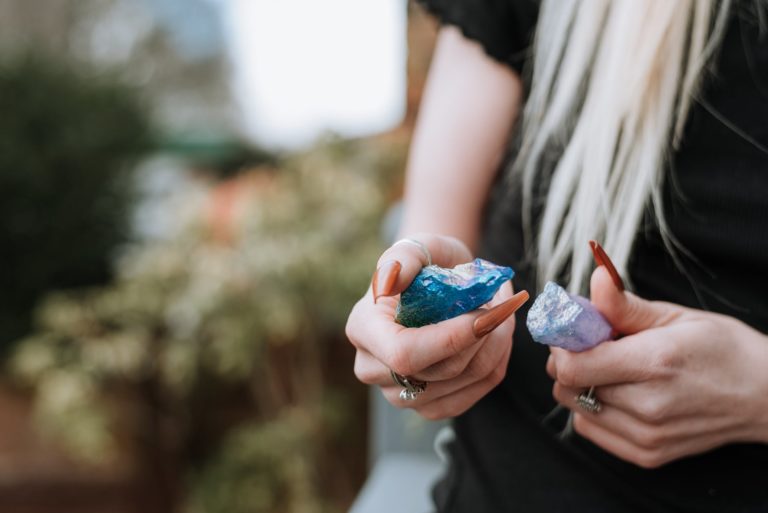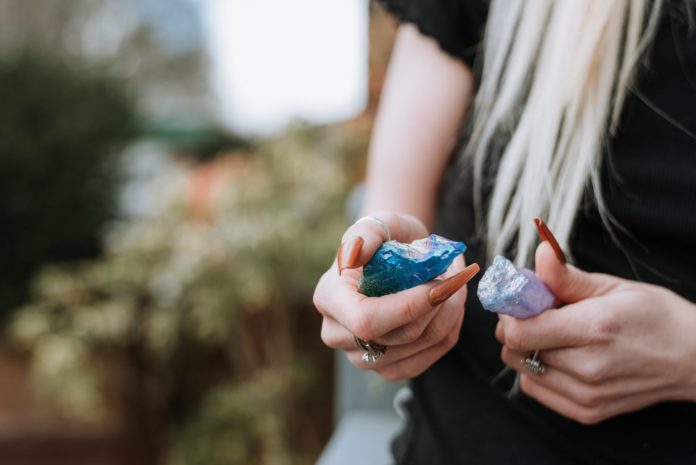 Do you wish to get a stiletto nail design? If yes, you are at the right place. These nail designs look funky and feminine at the same time. If you are one of those many women who like long nails, then you will definitely enjoy our list of stiletto nail designs.
What Are Stiletto Nails?
Stiletto nails are sharp and pointy and have a specifically designed shape that looks flashy yet defined. If you are in the mood for something dramatic and attention-seeking then you must go for stiletto acrylic nails
Top 30 Stiletto Nail Ideas
White Stiletto Nails
White is classic and timeless of all stiletto nail designs. It is easy to mix and match and carry with all outfits and occasions. The white stiletto nail can never go out of style. Whether you go for french ombre nail designs or simple white lacquer, it is always associated with new beginnings. The bright white color of the pointy nails draws attention and makes them stand out.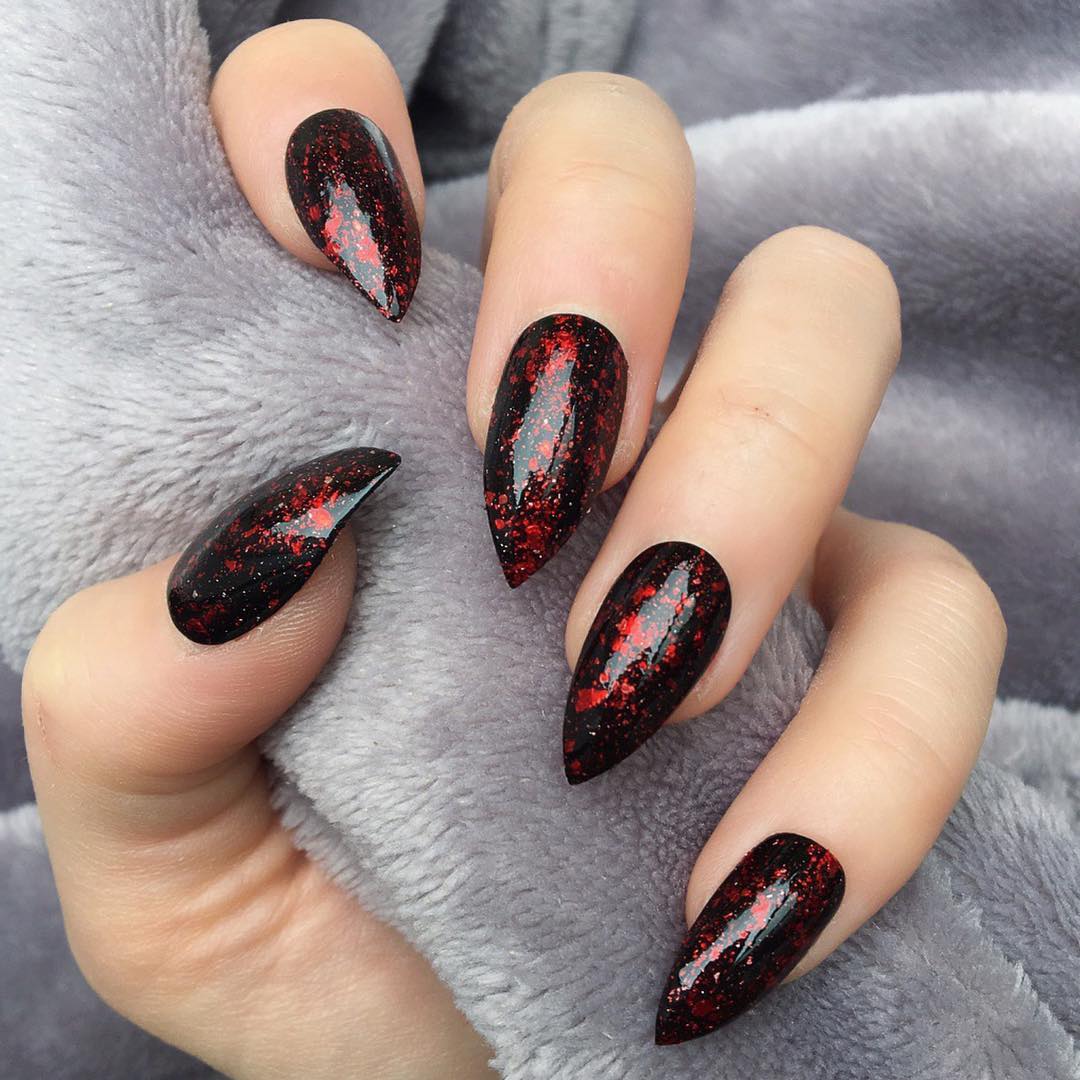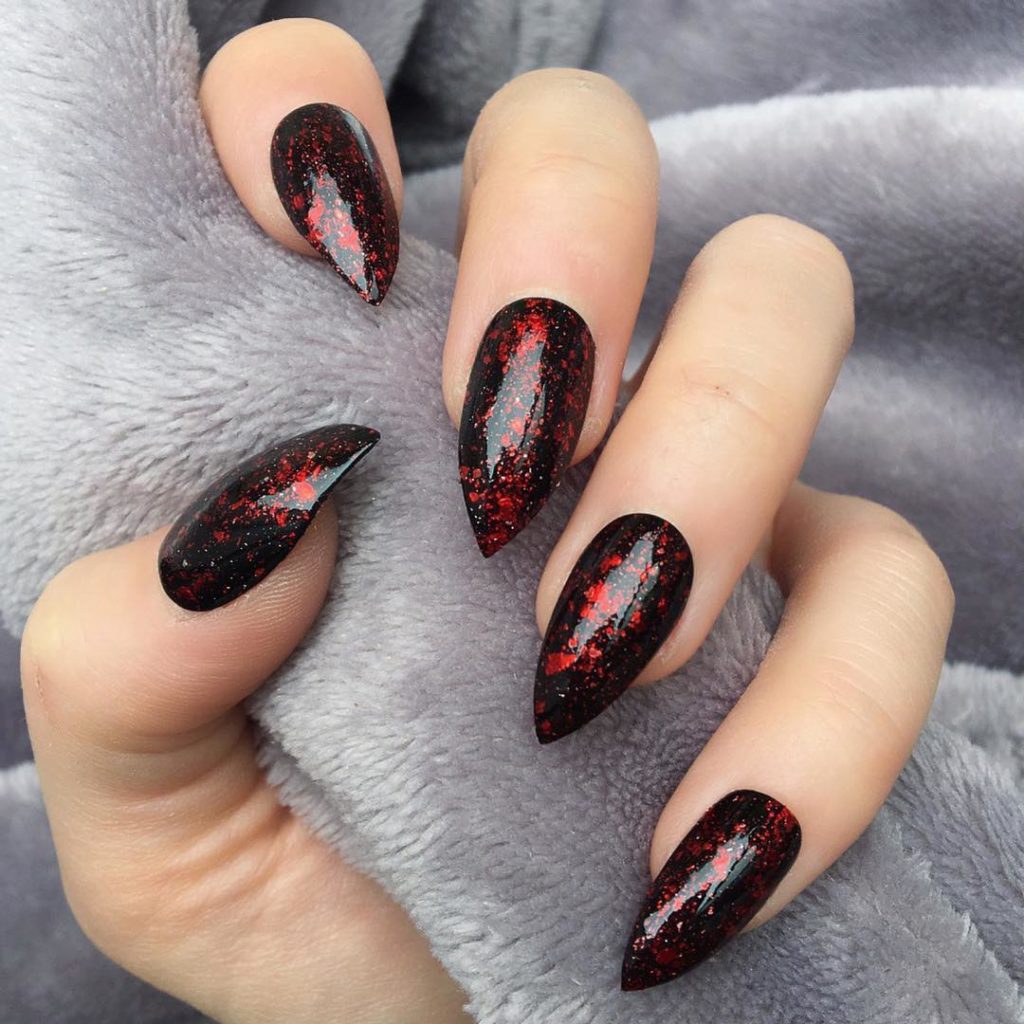 Black and Red Stiletto Nails
What is there not to like about the red and black polish stiletto look? These stiletto nail designs are perfect for people looking to draw attention. The color red is associated with passion and love, whereas black nails look sophisticated and chic.
Pink And White Stiletto Nails
White and pink stiletto nails are a classic and timeless choice. This feminine pairing goes well with nails of all lengths and shapes. Pink nails look versatile and super appealing and can be worn on any occasion, especially pink muted colors.
You can choose between pink glitter, matte or glossy finish and get creative with designs like going for polka dots or floral.
Spring Stiletto Nails
Spring is the best time to experiment with stiletto nail design in bright, muted, or solid colors. Spring stiletto nail designs are full of pastel colors and floral details, which can be feminine and beautiful.
You can play around with different shapes and patterns or get tiny flowers on nude stiletto nail polish. Going for muted colors is more work-appropriate and also works for all formal occasions.
Almond Stiletto Nails
A stiletto nail shape with razor-sharp points can be done in various shapes and are typically pointy and long. If you are not as daring, then you can go for almond nails that look attractive and more practical. You can get almond shapes for your nail design and get them decorated with any color or pattern.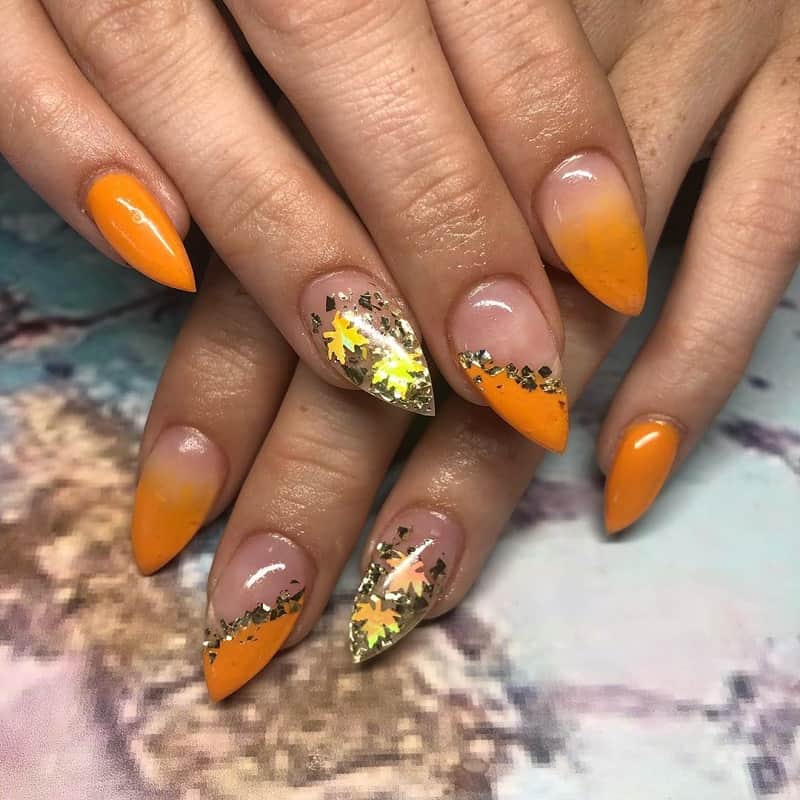 Fall Stiletto Nails
Stiletto nails are known for the pointy tips with a versatile look that looks best with almost all nail art designs. With long nails, you get more design options for fall-inspired looks like a pumpkin latte, hot chocolate, fall leaves, all in orange, red, and yellow hues.
Fall is a great season to experiment with different checkered prints, squiggles, and line art.
Black And White Stiletto Nails
Black and white tip stiletto nails make s striking monochromatic combination. There are so many different ways to wear these colors together. You can get a matte black base and white polka dots or swirls on top. French black tips on white nails also make a subtle and glamourous look.
Long White Stiletto Nails
The beauty of stiletto nails is they help to elongate fingers and make them look slim. Also, stiletto nails designs offer a lot of freedom to get creative with your design or simply go solid.
White stiletto nails are classic and can be mixed with a hue of any color. You can pair it with white or pink for a feminine finish, whereas with a bright color for a striking look.
Baby Blue Stiletto Nails
Baby blue nail polish color looks soft and is easy to carry. The blue color is associated with tranquility and calmness and will make you feel at peace.
Baby blue color suits all skin tones and can be worn on any nail shape and length. This also works as a gorgeous base coat, whihc gives you a lot of freedom for creativity. You can add colors like white or pink to make it more dreamy.
You can try matte or glossy finish or embellishments like rhinestones or diamonds.
Unique Stiletto Nails
Getting unique pointy nails is a personal choice. It can be bold or subtle with unique elements. You can get abstract designs or unusual combinations of prints and colors for a unique manicure.
You can pick your preferred base coat and decorate it with rhinestones or smileys, hearts, or any vivid pattern to draw attention.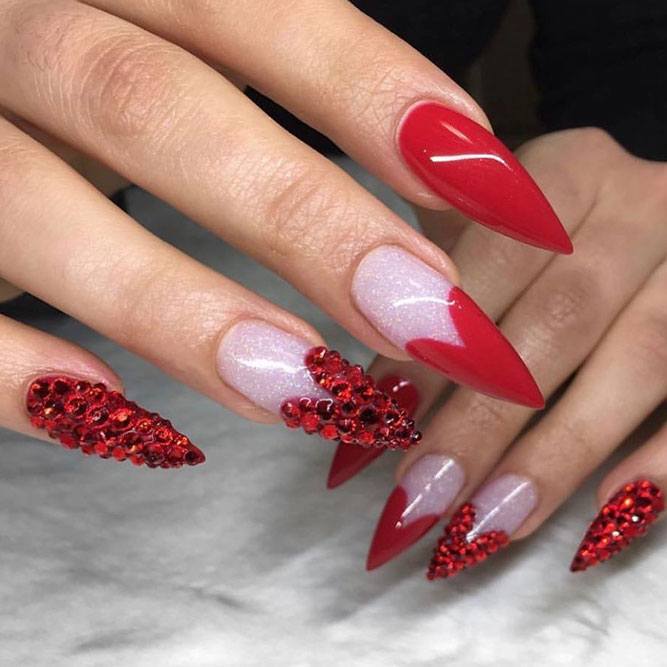 Stiletto Valentines Nails
Valentine's day offers a perfect opportunity to celebrate love and express it in your nail designs with heart-inspired manicures. There are endless options with whites, pinks, and reds incorporating different designs. You can also keep your design simple with tiny hearts in a lacquer of your choice.
Black and Gold Stiletto Nails
Balck and gold stiletto nails make a drop-dead gorgeous combination. These colors pair very well together as the dark base makes gold pop even more.
You can pair these hues in many different ways by adding gold flakes, abstract detailing, or lines and stickers. Creating stiletto nail shape with nail art offers endless opportunities.
Blue Stiletto Nails
Blue stiletto nails design is the perfect choice for women who prefer elegant and luxurious designs. You can choose from varied shades of blue; however, the richer the color is, the more impact it leaves.
It's time to give a fun nail makeover adorned with beautiful blue butterflies, flowers, or hearts on nude nails or get solid blue nails to make them pop.
Gothic Stiletto Nails
Gothic stiletto nails are best suited for people who want a manicure with a unique style. You can express your personality by getting dark-colored nails with interesting details.
However, if you have to attend corporate events, stay away from black color as it demands attention. You can get nude gothic nails with studs, lace, or chain detailing in a unique finish.
Going for texture is also an interesting choice but kind of rebellious. You can pair it with your favorite dark lipstick like deep red or black to complement your manicure for a gothic and chic look.
Green Stiletto Nails
If you are searching for a fun color nail design with sharp tips, then your next manicure must include green color. Green color symbolizes growth and renewal, and you can pick from different shades (light or dark) to suit your skin tone.
Whether you want to keep solid green or like an ombre effect, you can wear green stiletto nails at any length as per your comfort.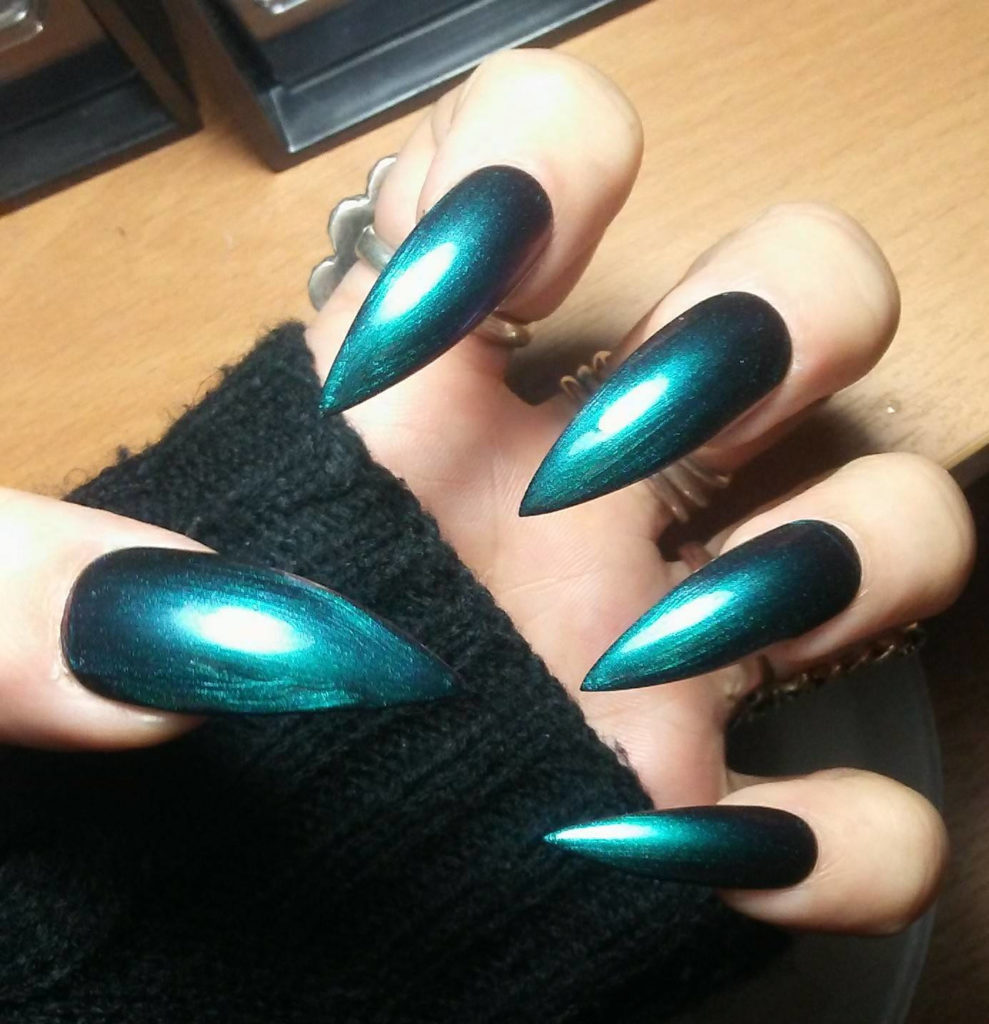 Siren Chrome
Inspired by dark mermaid style, siren chrome stiletto nail designs Will get you endless attention from people all around you. As these have a powder dip finish, make sure to book the best nail salon in your neighborhood. These look best with long and short stiletto nails alike.
Black Ombre Stiletto Nails
Stiletto nails derive their name for their thin and pointy shoe heel appearance. The shape of pointy nails looks best when kept long for a feminine appearance. One of the best nail art to try on such pointy nails is black ombre stiletto nails.
The combination of light color with black in ombre effect makes the manicure look chic and gorgeous. You can also get them in gel nails if you are not fond of acrylic nails. You can pick any lighter color like white, nude, cream, baby blue, or pink.
Orange Stiletto Nails
Certain colors are easy to wear and carry, like the subtle and nude nails, then there are bold and bright hues that cannot go unnoticed. Orange falls into the second category and is a fun shade to rock on nails.
The saturated hues are sure to bring a smile to your face ad the color is connected to sunshine, positivity, creativity. It looks exceptionally flattering on people who have neutral undertones and can be incorporated into your manicure in several ways. You can get orange french nail tips, or orange base coat, or any other design choice.
Burgundy Stiletto Nails
Deep and bold colors like Burgundy stiletto nails are perfect for the winter and autumn months. This color is versatile and goes very well with formal attires and events.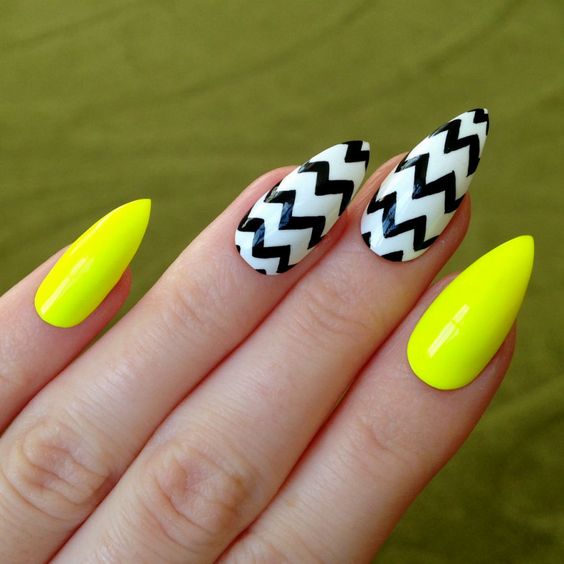 If you are bored of classic reds and white, then burgundy stiletto nails are perfect for you. Think of romance and power mixed together yet simple and effective. You can pile your favorite rings to draw more attention in gold or silver color.
Neon Stiletto Nails
If you wish to stand out from the basic crown, then adding a neon poppy nail manicure is the way to do it. Neon stiletto nails look vibrant, bold and are a great way of expressing your fun personality.
You can get the same neon color throughout or a different color on each nail with negative space, or maybe try some ombre effect. You can pair this eye-catching neon nail art with neutral clothing to make a statement.
Unicorn Horns with Rhinestone-lined Cuticles
Many women do not prefer matte stiletto nails; if you are one of them but would still like to add a little drama, you can go for Unicorn horns. Let your imaginative self go crazy and add various assortment like pearls, swirly, or glittery designs.
Naturally, these Unicorn stiletto nails come in bubblegum pink and baby blue. These look so beautiful and magnificent.
Short Stiletto Nails
If you are not up for the discomfort that comes with long stiletto nails, Go for short high shine stiletto nails instead. These are practical and offer a lot more freedom to do things in your daily routine. Enjoy your new claws with comfort.
Black Stiletto Nails
Black matte stiletto nails look fierce and suit best on arms covered with tattoos. Black stiletto nails look like a real statement piece to add to your personality, so don't be afraid of going a little out of your comfort zone by adding glitter or nail art to your black stiletto nails.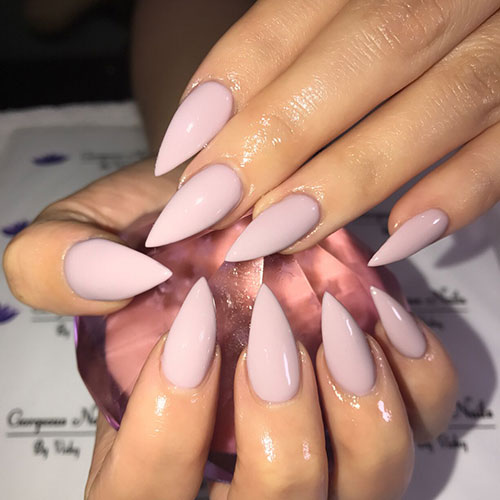 Stiletto Acrylic Nails
Acrylic is a method of getting nails done with a combination of powder polymer and liquid monomer applied on nails. This helps create a hard protective layer on your natural nails and false nails to hold them together.
You can add shellac, nail polish on top to get them colored; otherwise, you can also decorate them with nail art.
Long Stiletto Nails
If you love long nails, then long stiletto nails will be adored by you. However, if you aren't used to long stiletto nails, then you might have trouble doing day-to-day things like texts.
Do not worry once you get the hang of it; you will enjoy your long stiletto nail designs.
Red Stiletto Nails
Red stiletto nails are perfectly suited for bold girls. If you can pull off red nails, then this is the right color option for you. You will not get unnoticed with clean-looking red stiletto nails.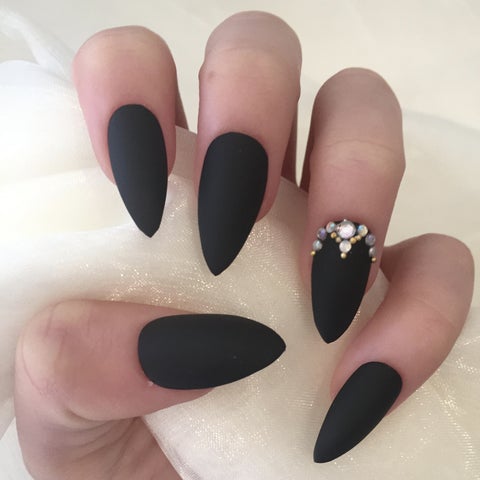 Matte Stiletto Nails
Matte nail design is a killer nail option whihc instantly makes you look fierce. Matte is becoming a trend lately, and only stylish people opt for this look. It's time for you to try it too.
Pink Stiletto Nails
Whether you like baby pink or hot pink, these bright color pink stiletto nails remind us of barbie dolls. These are perfect pampering nails after a hectic working month.
Matte Black Stiletto Nails
Matte black stiletto nails look super cool and chic, and you can take them up a notch by adding some design. Adding matte black stiletto to your nails is a great way to brighten up your hands.
Cute Stiletto Nails
Creating cute stiletto nail designs is so much fun. Instead of wasting time in searching for the perfect color and design, go to a nail salon and ask them for cute stiletto nails. With designing skills, your nail technician will make the perfect cute stiletto nails.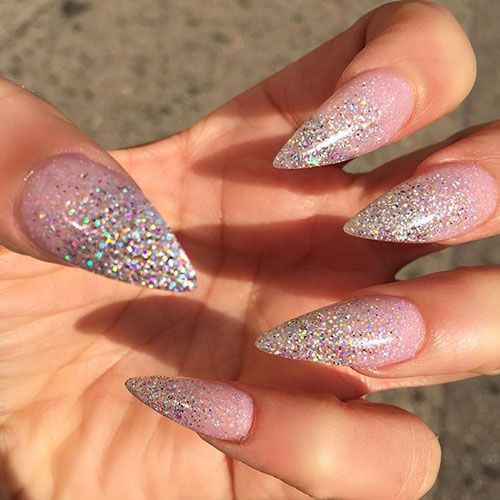 Glitter Stiletto Nails
Glitter stiletto nails look eye-catching and extremely girly, which suits all holiday and formal occasions like debutants, weddings, or even birthday parties in gold, rose gold, or silver color. These are best suited for full glam occasions.
French Tip Stiletto Nails
French Tips look classy and elegant, and when done on stiletto nails, it looks even more perfect. You can modernize a classic french tip stiletto nail by adding a cute pattern like a heart. Choose red french tips for valentines day, paired with a red dress and lips.
Glue on Stiletto Nails
Glue-on stiletto nails are a better pick than stick-on nails if you want them to stay on for longer. You need to carefully apply glue on your natural nail so it doesn't spill around the edges but is enough to hold the nail in place.
Purple Stiletto Nails
Purple stiletto nail designs can be done in lilac or deep purple shades. They arent the go-to colors for many girls and look a little brighter in comparison to blacks and nudes. Purple nails also make great summer stiletto nail designs.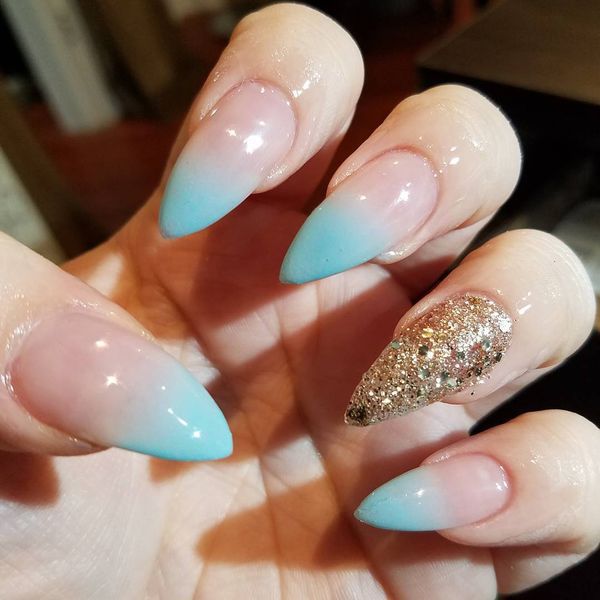 Ombre Stiletto Nails
Ombre nail designs are becoming quite popular recently. These can be done in any two colors and look attractive, although most popular color pics are white, nude, pink, or purple.
Gold Stiletto Nails
Much like silver nails, gold stiletto nails are suitable for all formal occasions, parties, weddings and add a touch of elegance. Depending on the occasion, you can choose something sparkly for your gold stiletto nail with gold glitter or matte stiletto nail.
Christmas Stiletto Nails
What fun is the holiday season without Christmas stiletto nails? There are so many stiletto nails ideas for Christmas to choose from blue, gold, silver, red, and green. You can go crazy and create a new festive nail look.
Summer Stiletto Nails
When picking summer stiletto nails, you should go for bright colors like orange and yellow or anything that speaks summer to you. You can choose sunset or sunrise and mix two-three colors in the sky or create an ombre by mixing different colors.