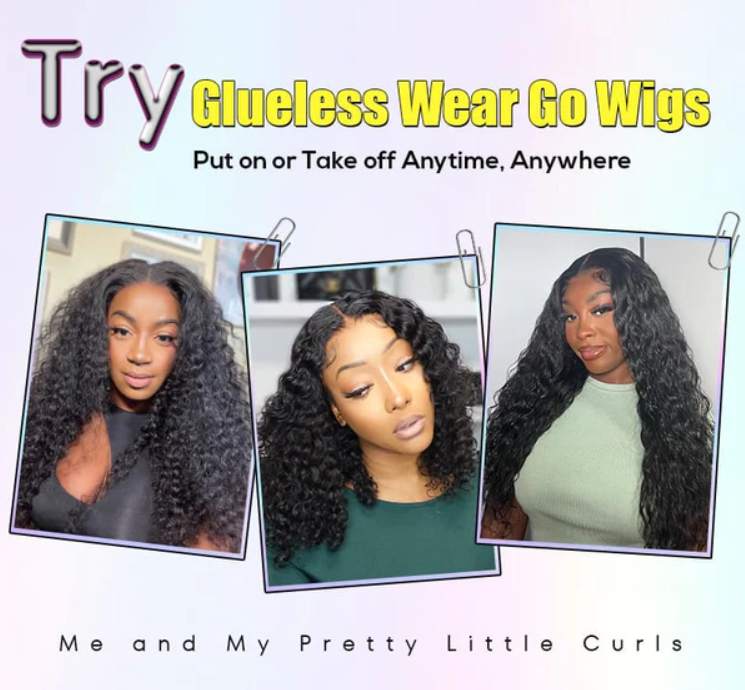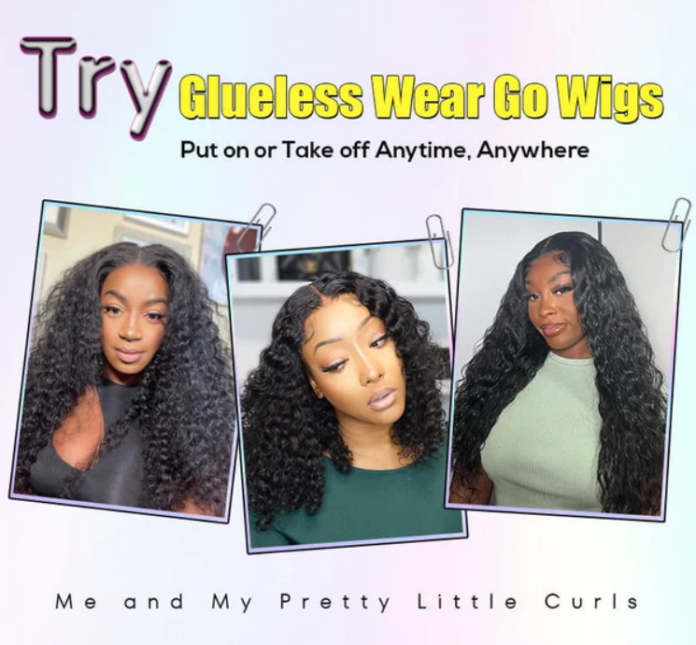 Glueless lace wigs has become a game-changer once it come out. As the first designer of innovation wear go glueless lace wigs, Curlyme hair glueless wig has set off a frenzy on wig industry. Curlyme glueless wigs come with no annoying pins or combs, well overlocked pre-cut lace, hd melted-in lace, pre-plucked human hair glueless wigs, well catered to all the needs of wig wearers. 
Why choose CurlyMe Glueless Lace Wigs
Hd lace
CurlyMe gluless wig apply HD lace melt for all skin tones. The lace lay perfectly upon your skin, melted-in seamlessly. Hd lace is thinner and more flawless than transparent lace, if you want get realitic hair look, definitely should choose hd lace.
Pre-cut lace, pre-plucked hairline
Curlyme glueless wig comes in Pre-cut lace and pre plucked hairline. Very friendly for beginner, if you have the worry of ruining your wig when installing, you should definitely choose our pre-cut lace glueless wig, and it will save much time for wig wearer. The extra lace are well-cut, and well overlocked, it will not easy to be ripped out and can be reused for long time.
Dome cap to secure
Comes with no annoying pins or combs. Special dome cap and elastic band to secure the wig tight. If you are considering getting a wig, Curlyme glueless wig will be a good option.
100% human hair
Curlyme glueless wigs are 100% virgin human hair wigs. High quality human hair for most natural touch, shiny and silky hair look. Can be freely styled to any hairstyle you like. We have human hair glueless straight wigs, body wave wigs, deep wave wigs, curly wigs; glueless human hair black and color wigs for women to try various hairstyles. 
Our wear go glueless wig is a good everyday wig. It is easier to put on and remove. You can take it off every night when you sleep. With proper maintenance, this wig can last more than one year.
How to Install CurlyMe Glueless Wig
With glueless wig, you do not want to do much extra work. Just put your cap on, put some makeup on your cap, and throw the wig on. There are wide elastic band in the back, little adjustment strap to make the wig tighter or looser.
Are CurlyMe Glueless Wig Secure
Yes, it is very secure. Curlyme glueless wig apply dome cap which using the natural gripping abilities of silicone, can reduce drag and provide a secure, comfortable fit, it ensures wig have a secure fit without the need for glue. And the wide elastic band and straps can add more secure on the wig.