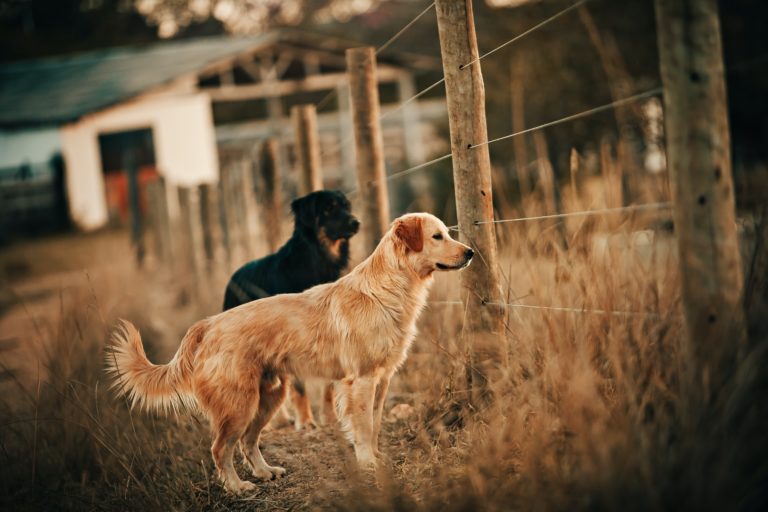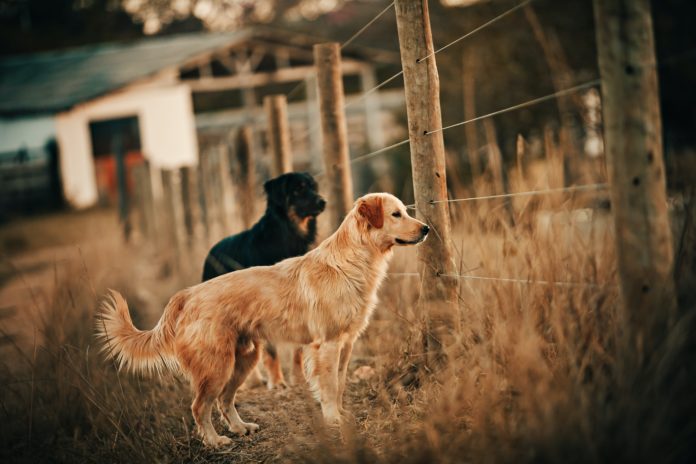 If you are lucky to have your own backyard where your dog can run around and play, you also need to consider the security factors of your puppy. Finding the right solution is not easy, which is why we have come up with dog fence ideas to keep pets safe.
When you are thinking about building fences, you need to focus on creating a balance between freedom and security. If you are not willing to spend on an electric dog fence, you still have plenty of options to try at your disposal.
Before we jump on the list of best dog fence ideas for the backyard, let's first understand why you should have a dog fence.
Why Use A Dog Fence?
Not only do you have to keep your dog safe, but you also make sure the neighbors do not get disturbed by the dog wandering loose. This becomes even more important if you live in urban areas with lots of pedestrians and heavy traffic.
Having a large backyard can make it difficult to keep the dog secure and may seem restrictive. Here we have nine cost-effective alternatives for you, but why should you consider getting a dog run fence ideas for your backyard
Fences prevent the dog from running away.
As dogs love to run around, fences can act as an ideal barrier to prevent them from going out. Whether your dog smells a scent and runs down to track it or simply craves some adventure, installing a fence can put them to stop.
Fences keep your dog away from other people and other dogs.
Dogs do not always mix well with other humans or animals. If your pup is not on a leash, you should try to keep them away from humans and canines alike. Even if you have a docile dog, he could become volatile and yappy when alone outside. We don't want this to happen.
Fences keep your dog safe from predators.
From neighborhood people to coyotes, dog thieves are always willing to steal pure breeds. This is why you need to keep your hound safe from all kinds of predators. Installing DIY dog fence ideas will be able to keep your pup protected without spending a fortune.
Fences prevent unwanted mating.
The desire to mate is deeply ingrained in every dog's nature. If your pup has not been spayed or neutered, letting them roam loose is not right. You could end up with unwanted mating and a whole group of cute expensive puppies.
Best Ideas For DIY Dog Fence Ideas For Backyard
Moveable, Reusable Dog Fence
An innovative and temporary fencing option from Pethelpful will work really well in case you are camping or traveling. You can check out Amazon pages for accurate cost estimation, links, and detailed instructions, so you get all your supplies in place without wasting any time.
This one is the easiest to install despite all the dog fence ideas we have on this list. All you will require is a flexible material like zip ties. You can erect this temporary fence within a few minutes and lay it flat even when not inclined.
Sadly, if your dog is an avid chewer, this fence may not be the right option. However, this is a great dog fence for well-behaved pups.
Pallet Dog Fence
There is a great DIY pallet fence idea from SawsHub that requires a little more practical skills. You can use salvaged pallets, or you can get new ones depending on your budget. Using pellets will save you a lot of trouble and time required in cutting and sidestepping measuring.
Most of your work will involve the assembly of fences. Pouring the concrete base might be a little challenging. You can use some stain or maybe a little paint to add your personal touches by putting the fence in place.
Mesh Fence
Using wire mesh is another great temporary and cheap dog fence idea to let your pet roam around unchained. You can also customize the fence plans to incorporate a gate or anything else that you will feel the benefit from. You can also add in the concrete foundation for a more secure base.
You have to start by organizing the fence perimeter and spreading the posts. Then unroll the wire mesh to make it a suitable barrier around the backyard. If you are afraid of attaching the wire and concrete pouring, then you do not need to panic. You can find plenty of instructions and videos to guide you every step of the way.
DIY Dog Fence
If you have a small dog breed that does not require too much exercise, you can check out the DIY easy-to-make dog fence ideas on Dogsholic.com by John Walton. This guide will help you create an enclosure that will extend your own house, like a conservatory for your puppy.
You have to weld the metal frame covered by diamond wire to your house and then embellish the enclosure with gates and other design features. This is not easy unless you are a skilled DIY practitioner; however, you will get a super-safe enclosure for your dog.
DIY Wood Privacy Fence
A DIY wood fence from Lowe's will give you the necessary support. From cutting 2 x 4's to pouring concrete for the post, Lowe will guide you through all the fence building aspects.
Using their plan, you can make a shadowbox fence that is elegant and robust with closely arranged pickets rendering a neat finish. The only issue with this plan is that it is not designed specifically for dogs.
You will have to puppy-proof the fence by making some tweaks in the heights of the distance between pickets.
DIY Dog Fence Kit
You can find the DIY DOGfence kit at Pet playgrounds, and they will deliver it to your doorstep, so you do not have to go through the hassles. They also provide a how-to video along with crisp instructions through the process from measuring to installation.
The fence is available in 3 varieties.
You can also connect this fence to a house or simply a tree or any post. However, the installation process is not very simple, but you will be glad to put in the extra effort.
Read More- All About Dog Grooming Process and Daily Dog Grooming Routine Owner Should Know
DIY Chicken Wire Dog Fence
You can get your hands on amazing chicken wire dog fence ideas from pet Lover Guy. You can combine the rigidity of wooden posts with chicken wire transparency to get a solid fence that can stop your pooch from wandering outside.
First, you will have to install posts with a strong concrete base to achieve an overall framework for the fence. Unroll the chicken wire and attach it to the post using staples and nails. Finish off by popping some wooden boards over for security benefit.
Optional add-on on dog fences like gates along with paint of your choice can also be added. This is not unlike cheap temporary dog fence ideas; instead, it is durable and easy to install.
DIY Dog Fence
If you are looking for a long-lasting and sturdy picket fence, then go to DOITYOURSEFL.COM to keep your canine contained. You will be guided from buying to picking the right materials, measuring, pouring concrete, and digging holes.
These fence plans come with handy extra hints to cut wood, attach pickets and do spacing. These are designed especially for dogs, and all details have been carefully taken into account, so you are not required to customize the fences at all.
DIY Invisible Fence
If you do not like the idea of using a wooden fence or a wire spoiling the lines of a yard, then check out DoItYourself.com to come up with trumps using this DIY invisible fence.
Initially, you will be required to purchase an invisible fence kit that somewhat stretches the whole idea of DIYing. Using an invisible fence kit would mean that you will have to mark the utilities with spray paint as the perimeter. You can dig a trench and bury the wire out of sight.
After setting the receiver in a well-sheltered and dry place, you can connect everything up and then train your dog. You will be required to use positive reinforcement and a lot of patience, so your pup is respectful of boundaries.
Read More- How To Hire The Right Dog Walker For Your Pup
Types Of DIY Dog Fences
There are two main types of Dog fences options:
Physical fence
Invisible fence
A physical fence is available in a range of materials, from wood to wire. You have a visible barrier that will prevent your dog from going outside. Invisible fences, on the other hand, create a boundary buried underground. Whenever the dog tries to jump across, a slight current is emitted, which shocks him gently.
Below we have discussed the benefits and drawbacks of both types of lenses, along with the cost of using each.
Read More- What To Do When Another Dog Bites Your Dog
Pros Of A Physical Fence
Easily Adjustable fence perimeter, which suits the configuration of the backyard.
Choose a material to suit budget, sensibilities and dog.
You can use almost any kind of material to make a physical fence.
It is easy to fix physical fences in case they ever get damaged.
Cons Of A Physical Fence
Repairs can be a little costly, even if it is easy to carry out.
Some dogs tend to dig under the fence to go out or can even chew and jump over it.
Read More- 4 Fun Ways to Work Out with Your Dog
Cost Of A Physical Fence
The cost of building a physical fence varies according to the area size and material used. You may also be required to factor in the cost of the tool depending on which plan you choose.
On average, you can expect to pay anywhere between a few hundred to thousands for getting a physical fence made.
Benefits Of An Invisible Fence
Having wires running below the ground, there is no chance of a dog digging under the fence or jumping over it.
Invisible fences do not break any regulations, so you can install them anywhere.
Drawbacks Of An Invisible Fence
You may encounter technical errors at times when using these fences.
There is no protection from intruders breaching your house boundaries.
High-energy dogs can disregard such boundaries.
You will have to train your dog to respect the boundaries offered.
Cost Of An Invisible Fence
The cost of invisible fences normally tends to fall between a couple of hundred dollars. Sometimes it could be less as well if you are on a strict budget. Installing an invisible fence can save you a great deal of cash.
Read More- Best Dog Cooling Vest To Beat Summer Heat
Where Can You Source Supplies For DIY Dog Fences?
When it comes to finding all the supplies to create a DIY dog fence depends on the plan you choose and the overall budget.
You can head to a nearby local hardware store and grab the required supplies. You can also look at a specialty fence website like EasypetFence.com.
Some of these supplies might already be at your home, so you should take a quick look at your inventory before going to the store.
Conclusion
We hope now you have an overview of the different dog-run fence ideas for your backyard to give them enough freedom while keeping them safe.
In-ground and wireless fences are effective in keeping the dog contained but can be a little expensive and difficult to train your dog.
With these DIY solutions, you can secure your dog without any problems while letting him enjoy equal freedom. The best thing is you do not have to spend a lot of money to build these fences.