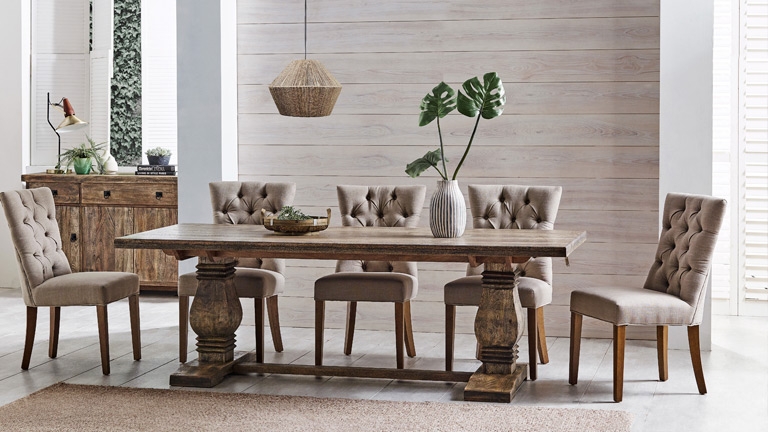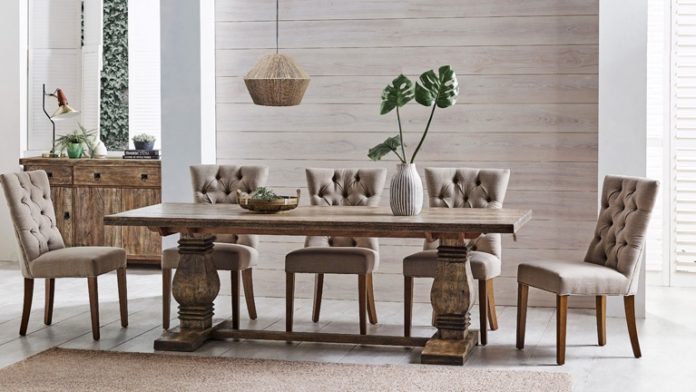 Choosing furniture for the house is exciting, as well as confusing work at the same time. Selecting the right dining chairs for the dining room is not an easy task. Before buying dining chairs, always keep in mind that you want the chair to be comfortable and stylish at the same time. 
Whether you host dinner parties or eat with the members of your family every night, comfortable dining chairs are a must. Comfortable dining chairs are essential because the dining table is a crucial part of the house. It is the place where people sit, work, eat, and have conversations.
On the other hand, stylish dining chairs are essential because you want them to add style to the interior of your house. 
Buying dining chairs sounds an easy task for home improvement, but with so many options with different armrests, shapes, styles, and more, choosing the right dining chairs is a confusing task. Below mentioned are some factors and tips that you should consider before buying dining chairs.
Size
People often neglect the size of the dining chairs as they do not consider an essential part of the procedure of buying furniture. Nevertheless, it should not be ignored; it is essential to determine the size of the dining room so that you do not end up buying the wrong size chairs. 
You should also figure out the place where you will keep the extra chairs in case your table is not completely extended. Measure the size of the room and the dining table so that you can calculate the number of chairs you can keep in the dining room. 
Before picking the dining chairs, also calculate the space between the chairs and the additional space you would require to pull away from the chair from the table. 
Style
Either you buy a dining room set or dining table and chair separately, decide the style that you want. First of all, decide whether you want the style of the dining chairs to be formal or informal. 
There are chairs with solid backs, and there are open back chairs, and both the types are available in acrylic, wood, or metal. Choose the style and determine which one would be best for your dining room. Here are some fantastic styles of dining chairs suitable for different types of decor styles. 
Upholstered Dining Chairs
Whether you prefer a casual dining room setting or a formal one, upholstered dining chairs are the perfect one. They have seats made of some cushioning material and back covered with some sort of fabric in order to provide you with comfortable seating.
This type of chair allows you to relax properly because when you sit on these chairs, your back lay on the soft material. 
When it comes to choosing an ideal chair for comfortable sitting, parsons chairs are the best. These chairs have straight and tall backs. They have sturdy wood legs and a square sitting area, which provides you with maximum comfort. Parson chairs are available in a wide range of fabric colors and designs, which allows you to create a different mix and match styles.
Modern Metal Dining Chairs
Modern dining furniture is all about creating unique styles using traditional materials and using them in a different and stylish way in your furniture in different home settings. For instance, metal dining chairs are not the first choice that comes to your mind, but you can find various metal dining chairs that are better than the traditional chairs. 
If you are a fan of contemporary furnishing styles, metal chairs are the best choice. Metal dining chairs are the best to modernize your dining area, and it also provides you the flexibility to shift them to the porch or any other area of the house. 
Vintage Wood Dining Chairs
Vintage wood dining chairs are timeless, and the best way to them is charming and quaint. These chairs are manufactured with the help of designs that go back centuries. Vintage dining chairs are the best to create a vintage and royal style dining room. 
Vintage dining chairs have a look like they are hand made and were manufactured in some old-fashioned furniture mill. They are best for the dining rooms with cottage decor. They are usually found in dark natural wood color, but you can paint them colorful shades in accordance to your choice.
Bonded Leather Dining Chairs
In order to add a touch of class to your dining room, opt for bonded leather dining chairs. Upholstered chairs with smooth leather are soft as well as luxuriously comfortable. These chairs are perfect for adding a sophisticated look to your dining room. Moreover, these chairs look best with darker wood tables. 
Casual Dining Chairs
Casual dining chairs are not fancy or fussy, and it is entirely ok because these are basic chairs that allow you to sit comfortably and enjoy your meal. These dining chairs are used for varied purposes other than dining. These chairs are also suitable for a wide range of decorative room settings. 
Faux Leather Dining Chairs
Faux leather dining chairs are the best alternative for the chairs that are made of leather. These chairs have faux leather combined with metal or wood accents. These chairs are amazing fits for the modern style contemporary dining tables.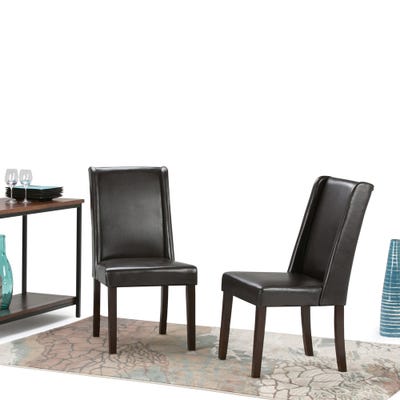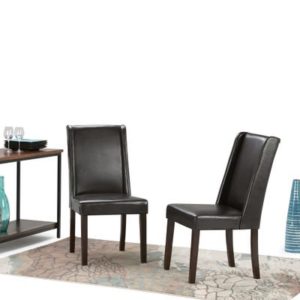 Comfort
It is quite difficult to determine what will make you comfortable or which type of dining table will be comfortable for you as we all have different dining priorities. 
While buying dining chairs, sit on the chairs, and check how it feels. Check whether seats are wide and comfortable enough? Is the seat too low or high? How does your back feels when you sit on the chair? 
In short, you need to make sure that the chair is comfortable for sitting, especially in the case when your dining room also works as your home office. 
Material
The material of the dining chair plays a crucial role in determining the look as well as comfort. Below mentioned are different dining chairs to choose from.
Metal – Metal can be substantial and mate. You can pair metal chairs with a distressed surface wood table.

Wood – You can a wide range of options in the wooden chair to choose from.

Acrylic – Acrylic dining chairs are best for small and modern spaces. 

Wicker – Wicker chairs are best for style as well as texture.

Upholstered – These chairs are perfect for adding a richer effect to your dining room as they are available in a wide range of patterns and colors. 
Quality
Before burning dining chairs, make sure that the quality is best. It is essential to judge the quality in order to avoid buying uncomfortable and poor quality dining chairs.
Check whether the chair is structurally good by moving it gently. The legs, arms, and back of the chairs should not move

Check the surface of the chair by running your hand. It should not have snags and should feel comfortable and smooth to touch

Check the seats, whether they are comfortable. If you are checking a wood seat, it should not be made of different pieces

If you are planning to purchase an antique chair, make sure it is strong enough