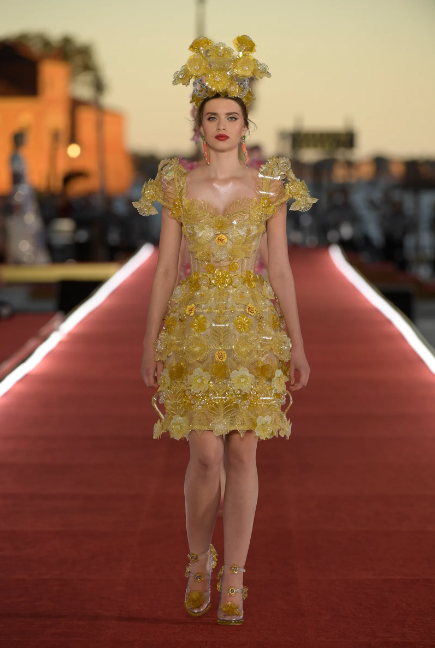 Critics argued it was too expensive, and that no one would buy one-of-a-kind garments and jewelry that were more works of art than clothing. Ten years later, Dolce & Gabbana has proved critics wrong with Alta Moda, Italian for haute couture, now as popular among the elite as ever.
From its inception 10 years ago, Alta Moda, meant to showcase the tradition and expertise of Italian craftspeople, has been held mainly in Italy, and only the richest have attended, along with a few fashion journalists and celebrities. Alta Moda remains one of the most famous fashion shows in modern history. Here are some of the more spectacular years.
Alta Moda 2012
Dolce & Gabbana launched the Alta Moda project in July 2012 in the Sicilian town of Taormina, not far from the active volcano of Etna. The designers have always been inspired by Sicily's breathtaking views. That first year, they launched their Alta Moda line for women along with the Alta Sartoria clothing for young men who love an understated style. Along with Alta Gioellia, D&G's jewelry line, the garments represent the best and most creative of D&G's designs. Later shows became annual events, often inspired by classic works.
Alta Moda 2015
In 2015, the designers gained inspiration from Shakespeare with their Midsummer Night's Dream collection. The event was held in Portofino in the northwestern part of Italy. It was staged by moonlight and was close to the sea. Some models wore colorful faux fur coats along with crowns bearing peacock feathers. Others wore ballgowns sparkling with gold and silver or ornate embroidery.
Alta Moda 2016
Inspired by Sophia Loren and many of her films, Dolce & Gabbana held Alta Moda 2016 in Naples, near the Church of San Gregorio Armeno. Models wore velvet and embroidered gowns along with the famous headdresses the designers are known for. Jewels and florals decorated many of the gowns.
Alta Moda 2018
While most of the events take place in Italy, this Alta Moda was held in New York. Clients came from Russia and South America as well as the Middle East and China. Sarah Jessica Parker modeled jewelry that was later auctioned off. Model Karlie Kloss opened Alta Moda wearing a feathered dress and headpiece that made her resemble a plumed bird. Naomi Campbell finished up the event wearing a ball gown with a satin bustier.
Alta Moda 2019
Held in Milan, Alta Moda 2019 was spectacular as the designers celebrated the marvels of Ancient Rome and dressed their models in gowns of gold with gold threading. The show also featured Vestal Virgins and models dressed as cupids.
Alta Moda 2021
This spectacular event was held in Venice, with celebrities as well as celebrity offspring modeling Dolce & Gabbana creations while being brought in by gondolas. A number of ultra-rich clients attended. The show opened with Jennifer Hudson singing "Nessum Dorma" with models following wearing both daring and artistic creations.
With each passing year, Dolce & Gabbana's Alta Moda increases in popularity. The next 10 years will likely be even more spectacular.