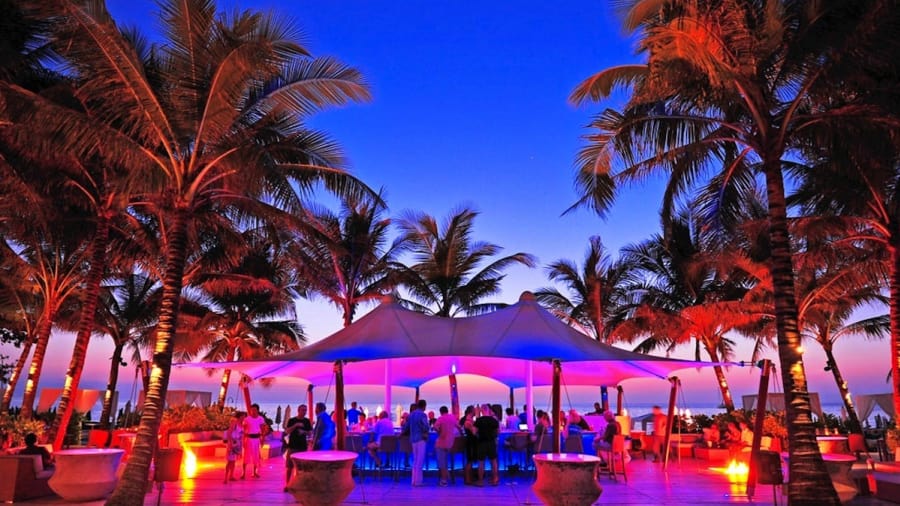 A cool, delicious cocktail is just the thing after spending all day in the sun and surf. But going from beach bum to bar babe takes a little strategy, a little forethought, and a ton of flare.

Check out these 7 multifunctional looks that will take you from the beach to the bar!


#1 Crop Top and Midi-Skirt
A light and flowy midi skirt epitomizes an easy-breezy summer look. Bonus? It works beautifully as a beach coverup! Simply pair with a bikini for fun in the sun. Don't forget to throw a cute crop top in your beach bag—then you'll be ready to show off your newly tanned midriff all night!
Beach-to-Bar Tip: A crop top outfit is ideal for women who want a little extra ooomph in their chest area. The style naturally creates an hourglass silhouette, emphasizing the hips and chest. So even if you're someone who shops for some of the smallest bra sizes, a crop top midi-skirt combo will suit you perfectly. 
#2 Strappy Maxi Dress
Wear a maxi dress to the ocean and you'll feel like a gorgeous beachy goddess. Perfect for bikini-coverage and late night hangs, a maxi dress with spaghetti straps can be dressed up or down.


Dress down your maxi dress for an all-day beach hang with…


Flip flops
A classic beach hat
Vintage sunglasses
And of course, sunscreen
Dress up your maxi dress with…


A fitted black leather jacket
A statement necklace
A bracelet
Simple earrings
A deep satiny lipstick
#3 White Linen Button-Up and Denim Shorts
The quintessential summer fabric, linen provides timeless style whether you're lounging in the sun or basking under the stars.  A button-up linen shirt goes perfectly with your swimsuit, a floppy hat, and a pair of denim shorts. After sunset, shake off the sand, swap your hat for a stylish headband, and head inland for a night of fun.

Looking for a little DIY denim short makeover? These ideas will transform any standard summer shorts into fashion statements:
The Daisy Duke – Distress your jean shorts with items you can find right in your home!=. Use steel wool, sandpaper, cheese grater, a pumice stone, or foot file to create a hazardously hot pair of shorts.


The Punk Rock Summer Star – Sew metallic fabric over your back pockets for a rocker-chic look that accentuates your (ahem) bass.


The Lace Look – Edge the hem of your shorts with chunky crocheted lace. You can crochet your own or hit the nearest fabric supply store to find your lace look!
Beach-to-Bar Tip: Worried about feeling underdressed at a post-beach cocktail bar? The secret to polishing any casual beach look is at your fingertips… or should we say, toe tips? A pair of heeled sandals will help elevate your casual outfit.


#4 Shirt Dress
Is it a shirt? Is it a dress? One thing's for sure, it's super cute! A shirt dress can be worn for every summer occasion. Look for floral patterns, white, or light blues to embrace the season. For an extra sexy flare, you can switch your bikini top with a floral lace halter bra. From barbecues to beach bonfires to boozy bar crawls, you'll be ready for anything summer throws at you.
Beach-to-Bar Tip: The right jewelry can polish your beach coverup for your nightlife outings. But hold off on the jewelry until after you've rolled up your beach towel. The sun's rays can heat up metal and actually burn you! Tuck your accessories into a safe place (like an empty sunscreen bottle) until sunset.


#5 Floral Sarong
The Swiss Army knife of summer fashion, a sarong may be the perfect multifunctional summer necessity. A sarong can be wrapped, pinned, and tied in infinite sunny styles, including:
Dress
Skirt
Tops
Scarf
Shoulder wrap
Beach blanket
Wear your sarong as a hip-hugging skirt with your bikini to the beach, then re-tie it into a sexy halter dress perfect for a patio bar! The possibilities are endless. 
Beach-to-Bar Tip: Are the nights getting a little chilly? Pack a pair of leggings and wear your sarong as a shawl-style shirt over your bikini top. You'll look like a mermaid out on the town!


#6 White Lace Cover-Up with Jacket
A little sexy, a little sweet, a white lace cover up will turn heads at the beach and at the bar. A bright bikini can add color and a hint of vibrancy to your beach look. A jean or leather jacket can add boho chic to your evening outfit.


Beach-to-Bar Tip: The peek-a-boo effect of lace on your skin is definitely sexy. But if you're worried about being underdressed (or a little too scantily clad) at a fancy bar, throw a white or nude slip in your car or beach bag—you can even use shapewear in a pinch. You'll be covered for any activity, day or night!


#7 Little White Sundress
When in doubt for any summer occasion, always ask—WWTSD? What would Taylor Swift do? TSwift would of course go for the classic LWS—little white sundress! White will accentuate your fresh tan whether you're laying on the beach or flirting at the bar. Just add a classic red lip and some heels and you've got an outfit that will never go out of style.
Summer Style Beneath the Sun and Stars
Whether you're splayed out in the sand or sipping Mai Tai's at the bar, these seven summer looks will help you work it all season long!