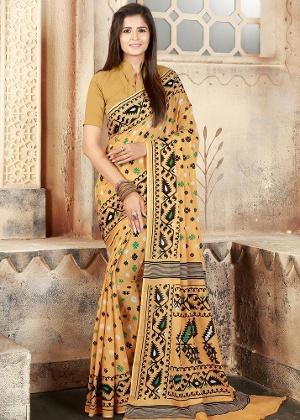 Be it in the Indian subcontinent or anywhere around the globe, the gracefulness that a woman exhibits after wearing a gorgeous saree is quintessential. The poise, the panache, the adornments and the charm that a woman carries herself with whenever she wraps herself in a classic Indian saree is indeed a sight of utmost finesse. While draping and pleating a saree is perceived as a task of great dexterity, an unmatchable amount of diligence goes into converting these six yards of fabrics into splendid sarees that are no less than regal masterpieces. With over 20 broad categories of sarees in India in various fabrics, it is safe to say that sarees do rule the wardrobe of an Indian woman. Though, because of the tropical nature of the climate in the Indian subcontinent, the star of the saree clan still remains the evergreen and super comfortable- Cotton Saree.
Buy Cotton Sarees that make you look chic and traditional both at the same time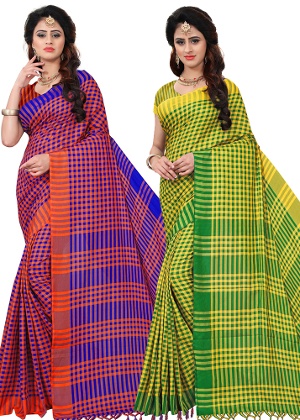 Cotton sarees have an old world's charm that will give them a little traditional classic Indian saree look, but the modern prints and motifs on them will make the whole look a sharp and classy one. Combining the cotton saree with a well-fitted blouse or even a crop top is sure to be a recipe for chicness. At HomeShop18, we have over a thousand unique pieces of cotton sarees to choose from for your purchase. Even inside the broad umbrella of cotton sarees, there are many sub-types of different fabrics that will give each cotton saree a different feel and texture altogether. Here are some of the varied types of cotton sarees available at HomeShop18:
These sarees are an amalgamation of cotton and silk that are weaved together with fine perfection so that the sarees are lightweight and have the coolness of cotton but at the same time are having the sheen and glaze of silk, making them a perfect go-to wear saree for casual outings.
These are sarees where cotton is blended into different materials, and then the threads are woven to make the yarn.
These sarees are made from pure cotton threads yarn and are the most lightweight, cool and comfortable sarees for everyday wear.
These sarees get their rich look from the tussar threads that are woven together with cotton. The golden sheen and designs on these sarees give them a festive look.
These sarees are crisp, lightweight, cool and perfect for formal places. Wearing them with a cut sleeves blouse and minimalistic ornaments will make the whole avatar upmarket and dignified.
These sarees are often richly textured in various patterns like florals and paisleys. The USP of these sarees is that the highly textured patterns are not directly printed on the fabric, rather they are woven into it. It also helps in making the designs look subtly embossed on the saree.
Thus, at HomeShop18 we make sure you get the best quality items at most affordable prices at the tip of your finger. Browse through our wide range of exquisite cotton sarees and rock the look with effortless flair and maximal comfort.