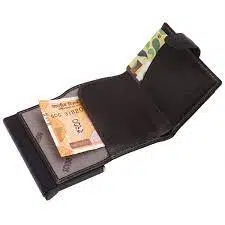 As society moves toward a cashless future where you can pay for anything with your smartphone, just a tiny wallet will suffice. Mate, you do not need a month's worth of crumpled receipts. As a bonus, a quality one will fit snugly in your pocket and give you pleasure every time you pull it out.
Why Use a Slim Wallet?
Rather than carrying a huge traditional wallet, a slim wallet is a better option for stowing away seamlessly in your pocket. A slim wallet that you can tuck into a front or back pocket can help you look more put together. Men who dislike toting around large amounts of cash or coins may prefer one of these slim wallets. However, one may benefit from having one of these wallets by just using it. Instead of carrying a bulky messenger bag, fanny pack, or handbag, you can tuck one of them into a pocket and go hands-free.
Not only are they unsightly, but carrying a large wallet can also cause health problems by throwing your hips out of position while seated. Sitting on a wallet can cause joint and muscle compression, which increases stress on the spine, according to a study conducted by Stuart McGill, a professor of spine biomechanical at the University of Waterloo.
You may want to consider a more extensive, zipped, or envelope-style wallet designed to live in another bag if you carry a large amount of cash, business cards (which can be rather uncomfortable all day), or family photographs.
Are Slim Wallets a Good Choice?
Unless you often transport substantial quantities of cash, the advantages of a high-quality minimalist wallet surpass those of a conventional wallet in almost every aspect. Slimmer minimalist wallets provide enough for many cards and cash in an emergency. These days, many slim wallets also include handy multi-tools, such as wrenches, bottle openers, and pocket knives, making them a convenient alternative to conventional wallets.
If you stick around, I'll go through several important reasons why the majority of us may make the change right now and be left wondering why we waited so long. I'll also recommend some excellent minimalist wallets that won't break the bank.
TOP 5 SLIM WALLETS:
Now you know why Slim Wallet can change the experience of carrying a wallet in your pocket. It's time to talk about the top 5 best wallets, so you don't have to do all the tedious research to find and buy a slim wallet
1.  TRAYVAX ORIGINAL 2.0 TACTICAL WALLET
Wallets like those designed for utility or minimalism are engineered to withstand the challenges of trips while reducing the bulk you carry along. They are also expected to safeguard systems against cybercriminals in the modern day. All three functions are included in the Trayvax Original 2.0. The Trayvax Original is a wallet that can carry three to fourteen cards in its metal sleeve and one to five cash hidden behind its heat-resistant straps. It is made of a single piece of anodized aircraft-grade aluminium.
On the other hand, you can purchase an additional strap if you need to carry many extra items. There's a window on the front for card access. In addition to providing RFID protection, Trayvax includes a bottle opener to easily open drinks on the go and a coin purse to store small valuables safely.
Taken as a whole, these features create a small, multipurpose, and incredibly durable tactical wallet that can be carried in your rear pocket without seeming out of place.
2. FLIPSIDE 4
People who adhere to the past never seem to learn. A reliable wallet is much more than just a piece of leather to store cash and credit cards. Consider it a tool, something you use frequently. An item you invest with some of the most prized possessions. For this reason, some of us find it useful to have a hard-sided wallet, such as the Flipside 4, in our pants pockets.
Flipside 4 is "the outcome of considerable observation and user input." Flipside maintained what made the previous editions successful and removed unnecessary features, resulting in a lightweight but sturdy accessory for daily use.
This includes a composite body that is resistant to being crushed, two RFID card slots reinforced with aircraft-grade aluminium alloy, a flip-over design that combines the best of a traditional wallet and a money clip, a grippy texture, scratch-resistant, and twice as much grip for holding your cards in place as previous Flipside models.
At first appearance, you may mistake it for a Pelican case instead of a wallet. But if you have to keep your identification, credit cards, and cash safe and secure no matter what happens, this wallet is your best bet.
Taken as a whole, these features create a small, multipurpose, and incredibly durable tactical wallet that can be stored in your rear pocket without seeming out of place. All Trayvax wallets are constructed in the United States and come with a lifetime guarantee, making them reliable additions to any person's everyday carry collection.
3. THE DECADENT MINIMALIST WALLET
We've seen many different types of basic wallets, and it seems like every day brings us one that's even more stripped down. But the crown goes to the Decadent Minimalist DM1. It is entirely CNC machined from a single block of metal (aluminium, nickel, or titanium) and has no springs, gears, straps, hinges, screws, or magnets. A simple, unidirectional picture frame.
Your cards will fit snugly and securely after a simple sliding. The DM1 can store four, eight, or twelve cards, making it a breeze to insert and remove them. It will function with a single card if necessary. That's how easy it is. Scratch-resistant Type III anodized Black or Gunmetal finishes and a wide variety of Type II anodized finishes are available for the aluminium variant.
This is the most basic, tough, and minimalist wallet available. The aluminium variant is inexpensive, whereas the titanium one might be pricey. You can call it a safe bet.
4. EKSTER TRACKABLE WALLETS
It's a bummer when you lose your wallet. Losing money is the easiest way to ruin your day, even if you don't do it often and have only done it occasionally, for a month or a whole week. For this reason, ultra-thin trackable wallets like Ekster appeal.
The Parliament is a sleek bi-fold that can hold up to nine cards and a few dollars, making it our top pick. There is (now) mandatory RFID protection to safeguard your personal and financial data.
However, the tracking capability is the primary selling point. In case you lose your Ekster, you can always find it with the help of the solar-powered tracker card embedded in it, which uses TrackR technology. It has a reach of up to 100 feet, connects through Bluetooth 4.0, and works with Android 4.3 and iOS 7.
You may set the tracker to send a notification to your phone whenever your wallet leaves a predetermined area, such as when you leave a restaurant. The two-way buzzer will assist you in pinpointing its whereabouts if you know it is close by but cannot see it. Moreover, if you misplace your wallet and can't seem to find it, the wallet will sound an alarm anytime one of the five million other TrackR users comes within range. It can run for a whole month with just three hours of sunlight every day since it is solar-powered. Simple to use and charge.
There are many fashionable wallets by Ekster to pick from: We've featured the Parliament here, a basic Senate cardholder that can also double as an iPhone cover. Every one of them is offered in standard and TrackR. These might be the perfect minimalist wallet for you if missing your wallet is a chronic problem.
This is the most basic, tough, and minimalist wallet available. The aluminium variant is inexpensive, whereas the titanium one might be pricey. Decadent? In a word, no. Minimalist? I'd say that's a safe bet.
5. BELLROY HIDE AND SEEK
Grab the Bellroy Hide & Seek, a conventional bi-fold with a slender, low profile, if you believe his wallet, which he's probably had for decades, may need an upgrade. Bellroy uses high-quality vegetable-tanned leather to make the Hide and Seek and backs it up with a 3-year guarantee against manufacturing defects.
It's tiny and compact enough to slip into your rear and back pocket. And you can carry anywhere from 5 to 12 cards without any unnecessary bulk thanks to its four quick-access card slots, concealed bill slot to keep cash secure and out of sight, and a protected compartment for cards.
The Hide & Seek may have either black or Java brown, and RFID shielding is an available add-on. It's a great option if you want a slim wallet that doesn't compromise on style.
Conclusion
As we move into a new era of innovation, our lifestyle is getting much easier and more convenient. The slim Wallet era has arrived to make our life smarter. We have discussed why it is time for you to invest in a slim wallet and the top 5 slim wallets you invest in without hesitation.