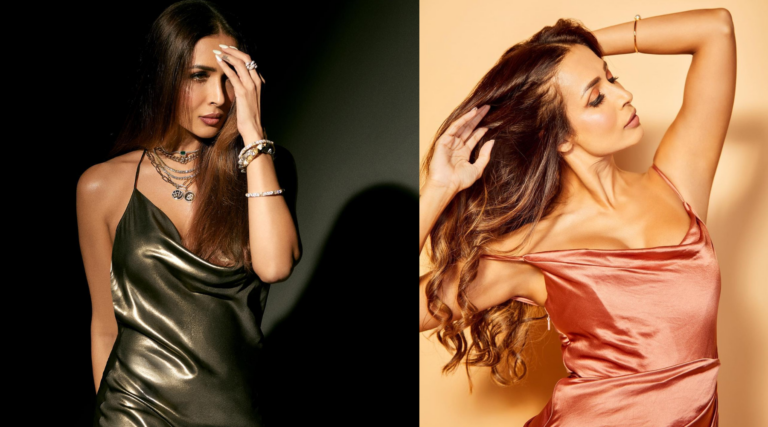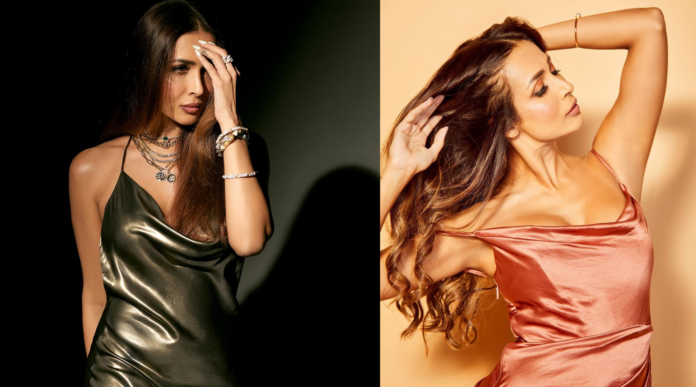 Dressing up for an event can be so much fun and what's even better is turning up in a trendy and timeless outfit. Sparkly dresses both rhinestones and sequins are the perfect switch for your minimalistic dresses. Plus, they can give a full revamp to your going-out wardrobe.
Styling jeweled dresses can seem daunting because of the embellishments and if you've been wondering how to style rhinestone dress in a way that your dress wouldn't compete for attention with your styling pieces, this is your best stop. We've covered some of the practical ways that you can accessorize rhinestone dresses to create a perfect statement look. We also included a store where you can shop affordable women's clothing, especially rhinestone dresses at budget-friendly prices.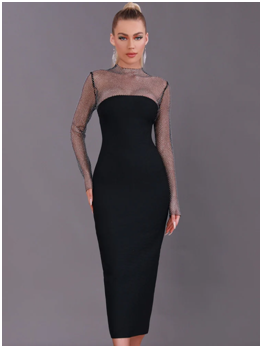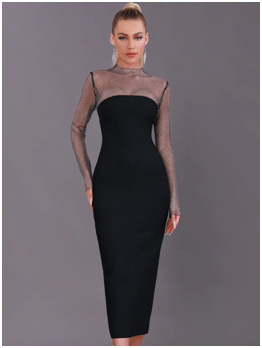 What is a Rhinestone Dress
Rhinestone dresses are outfits fashioned with sparkly rhinestone embellishments. These rhinestones are small artificial stones made of glass or plastic. They are shiny and perfect for making a statement look just like the shimmering sequins. There are several places where you can wear your rhinestone dress including birthdays, anniversaries, weddings, proms, parties, and other extravagant gatherings.
For formal ceremonies and evening weddings, rhinestone dresses with few embellishments can be a great option. At prom parties and date nights, you can steal all the shine you want with a jeweled dress. Then for New Year's Eve parties, galas, and charity events, you can opt for a classic rhinestone dress as they are totally appropriate.
What more? Rhinestone dresses come in different lengths, styles, and designs to cater to various body types and different events you may plan to attend. However, you need to know how to style jeweled dress before choosing one, so you can create the best looks with them.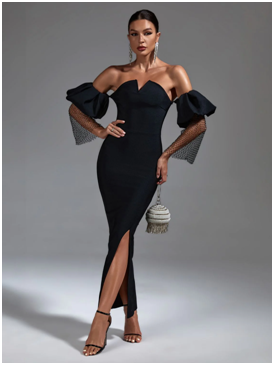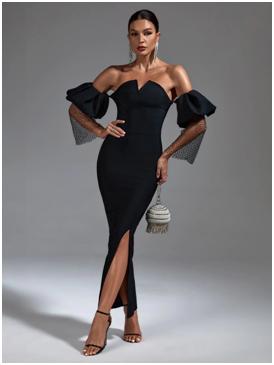 Best Tips to Style Jeweled Dresses
When styling a jeweled dress, maintaining a balanced look is important. When the shiny embellishments are taking the center, you don't want them competing for attention with your hair accessories, purse, or other accessory pieces. When the rhinestones on your dress are few, you should also aim for your dress to compliment each piece you are wearing. Here are some common tips to accessorize jeweled dresses effortlessly: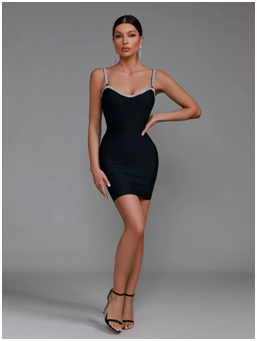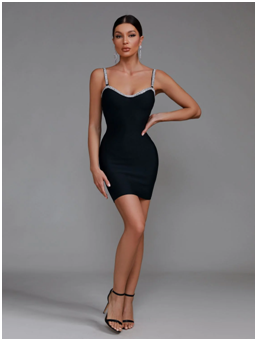 1. Maintain Balance:
Simplicity is key when styling a rhinestone dress, and as long as you're aiming to create a striking and attention-grabbing look, you should opt for simple and elegant accessories. Over-accessorizing or wearing complicated accessories can compete with your dress, which is not ideal for your overall look. You can accessorize rhinestone dresses with silver or black pieces, to tone down your attire without creating a distracting look. To keep your attire subtle yet balanced, consider wearing stud earrings and a delicate necklace. To complete the look, a simple clutch and nude or silver heels work well.
2. Add a Pop of Color: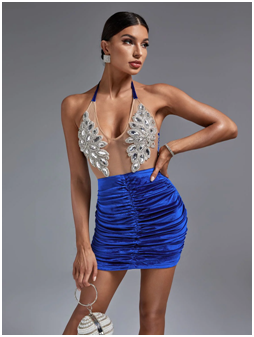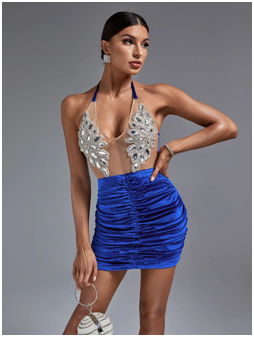 A pop of color can be a great addition to style rhinestone dress. You can incorporate colorful accessories as easily as red-heeled shoes or a shiny blue clutch. Let's say you want to make a bold fashion statement, the colorful pieces you're wearing must enliven your outfit without overshadowing it. Contrasting colors can be great attention-grabbers but when they clash too much, they can be a disaster. If you choose to go subtle with a few colorful hints, consider wearing a striking neckpiece or a pair of statement earrings. That way, you would be making minimal efforts and getting the maximum results.
3. Wear the Appropriate Dress for the Occasion: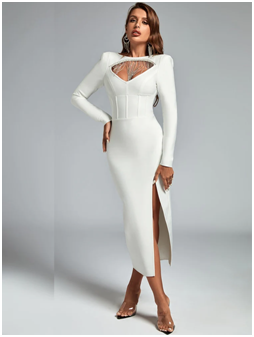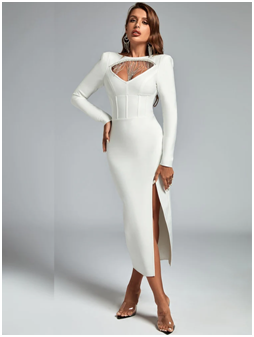 When choosing to accessorize rhinestone dresses, consider the dress code for the event. Formal, semi-formal, and casual occasions call for different kinds of sparkle. The length of the dress can also be influenced by the theme and setting of the event. A classic rhinestone dress at knee-length or floor-length is a perfect option for any formal event. A few sparkles on the dress can be a great idea and it is best to also choose a fitted silhouette. To complete the shine on the dress, opt for some simple accessories and classic pumps. For a night out or eventful party, you should wear a rhinestone cocktail dress with a shorter hemline or featuring a flared silhouette. At weddings, a rhinestone maxi dress would help create a statement look. To amp up the look, pair it with minimal accessories and strappy heels.
4. Match Your Dress to Your Body Shape: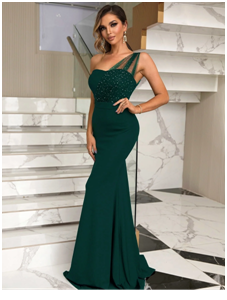 Before you accessorize jeweled dress, your dress selection should match your face and body contours. You should first find out your body shape so you can pair that with your outfit choices. Almost all necklines are appropriate for women with oval face shapes. Scoop necklines, sweetheart necklines, and cowl necklines are ideal for women with triangle or square faces. Round, wide, and plunging necklines are perfect for women with rectangular face shapes.
5. Wear Confidence as a Style: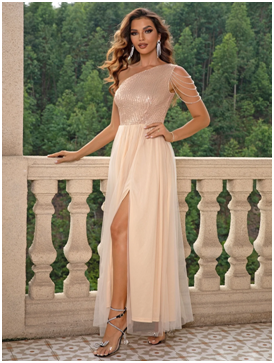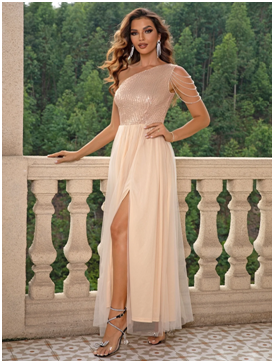 Wearing confidence as a style involves dressing to match your personal style and comfort level. You want to choose a jeweled dress that makes you feel confident and comfortable and also matches the occasion. As long as the dress matches your body shape and is in tune with your style, you should feel confident in what you wear.
Conclusion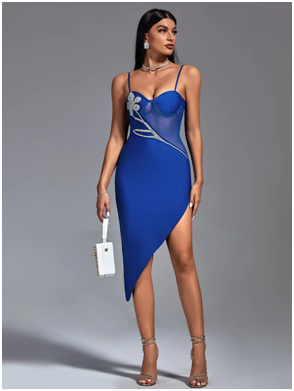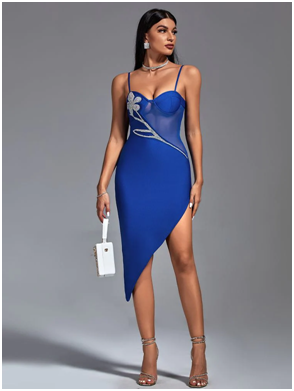 The key to styling a rhinestone dress is to make sure that you wear the right stuff for you and pair it with complimentary pieces. Also, endeavor to wear what makes you feel more confident. An even better way to step up your game to style jeweled dress is to shop for quality pieces. SunsetFashionLA is an online store for women's clothing where you can shop for affordable rhinestone dresses. You can also purchase styling pieces from them at mouth-watering prices.