Are you shopaholic and love to discover new places every time? Then no other place than Dubai can be a better option for you. It is such a cosmopolitan city which will make you fall in love at the first sight. It is the perfect destination of spending enthusiastic holidays. The magical imbue of this city will give you uncountable memories for your lifetime and you will wish to visit it again and again. Right from the little ones to the aged, for all the age groups, locals to tourists, this vibrant city has a lot to bestow. If we talk about the top tourist places of Dubai, The list will too long and all of them stand equally on that list as nothing can be compared to the other. Each place has its own significance and distinct beauty.

As we all know, how tough it is getting day by day to pull out some free time from the hectic life and when we are blessed with such golden opportunity we should never miss even a bit of it. Enrich yourself with every little and large information so that when you plan a trip to Dubai, you leave nothing untouched and enjoy to the fullest. Here is a detailed description of the top Dubai tourist places which demands a must visit and try missing out on none at all.
15 TOURIST PLACES TO VISIT IN DUBA:-
Dubai Fountains: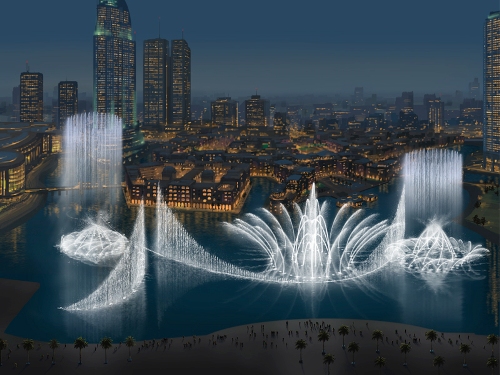 Dubai Fountains is best Place To vist in Dubai and one of the top tourist places to visit for sure is enlightened with beautiful colors of light, captivating music, dancing like twists and curls at high altitude and what else you can ask for, amidst the soft breezy evening walk in the city. Your evenings are sure to turn majestic by viewing these dancing fountains. This is going to such an experience that you will never forget. These fountains touch the height of 500 feet and equalize the same lines to that of Las Vegas Fountains of Bellagio which is unique in its own kind. So, don't miss on the fun to evidence these exclusive Dubai Fountains at Burj Khalifa Lake, and memorize it forever.
Jumeriah Mosque: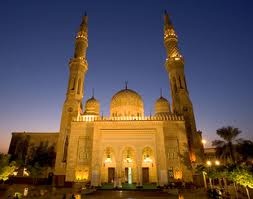 One of the most beautiful mosques of Dubai and of course, the best Place To Visit in Dubai too! Jumeriah Mosque is an enchanting example of the royal Islamic culture and tradition and is said to be the exact Xerox of Al-Azhar Mosque situated at Cairo. The only difference between the two is that the Al-Azhar Mosque is eight times the size of Jumeriah Mosque. So, you can imagine how huge and vast it would be. You can witness delicate and simple particulars in the stone work of this mosque which was constructed in the gothic Fatimid tradition exhibiting two towers. On one side where the natural light of sun adds subtleness to its appearance, on the other side at the time of evening this mosque is elucidated with uncountable lights. With a motive to boost clear understanding of the Muslim religion, a renowned center of Dubai named The Sheikh Mohammed Bin Rashid Center for Cultural Understanding arrange the guided tours of this stupefying mosque. Apart from Friday, these tours are conducted and well managed on the daily basis at sharp ten in the morning.
Dolphin Bay: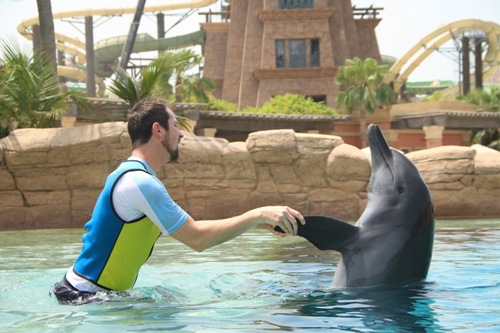 Dolphins are one of the cutest mammals in the world. Their fun filled activities and friendly nature also makes the man go crazy about them. Your excitement will reach its peak when you visit 'Dolphin Bay' in Dubai which is perfect for all age groups. This place has turned up to be one of the most tourist attracting places of the city. Dolphin Bay is the largest home for these intellectually appealing mammals. You will be pleased to see the interaction of these dolphins not only with each other but with you as well. Sound really exciting and wondrous, isn't it? Moreover, if you are a good swimmer then nothing could be better than this because these dolphins will give a warm welcome to you as their guest by playing with you, performing their different activities beneath the shallow water. This is termed as 'Dolphin Adventure with Deep Water Interaction. Once you turn up friendly, they even allow you to kiss them on their nose. Scuba dive is also a fantastic idea to add stars to your fun. You can save all this fun as everlasting memories by clicking photographs with them.
Dubai Dolphinarium: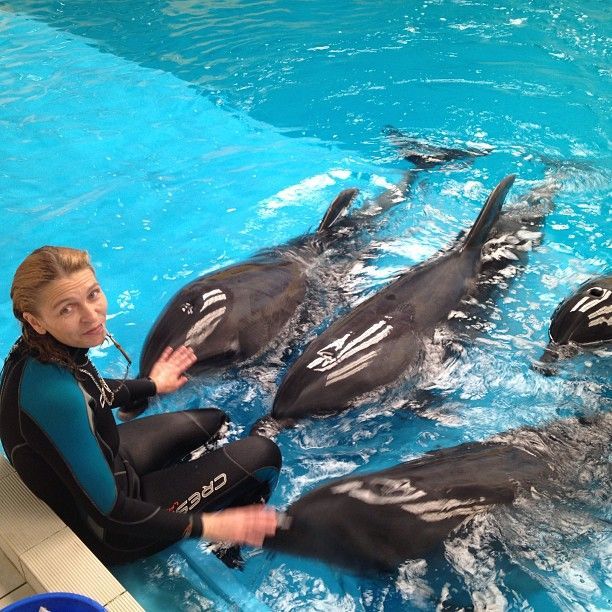 Somewhat like the Dolphin bay, this place is also one of the loveliest places to visit as a tourist; else you will surely miss out the real fun. Dubai Dolphinarium imbibes of a live Dolphin and Seal show that lasts for exact forty five minutes. These 45 minutes show will showcase the high jump of dolphins and furred seals, dancing, juggling with rings and playing basketball. The best part is that you are even given a chance to swim and interact with these cute mammals and also get different poses clicked as you do in Dolphin Bay. So, if you have missed out there, you can take the advantage right here. Seven stars are added to this spectacular show when fancy music and laser lights are a part of it. The excitement and fun does not end here because this place also has a 5D theatre where you can watch the movie in a unique way that you have never ever done before. Exceptional effects like: twinkling of lights, blow of wind, tingling of legs, seat vibration etc can be felt while watching the movie. There is also a small gift shop which sells unique souvenirs, make sure you purchase at least one for yourself as the memory or even more to gift your friends.
SMCCU Sheikh Mohammed Centre for Cultural Understanding: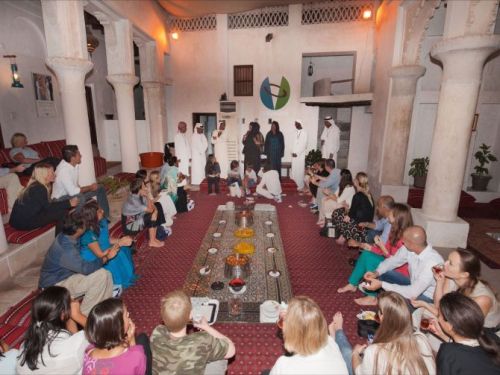 As the name speaks about itself, Sheikh Mohammed Centre for Cultural Understanding where trainings and sessions are conducted to give detailed view on the knowingness about the religion and culture of the rich royal heritage of Dubai and Early Arab. This further initiates a deep knowledge about the tradition among the tourist and locals of Dubai which lays down the base for enhancing the cross-cultural understanding within them. This centre is a fun filled place and is loved by the people of all age groups, right from kids to old. This centre takes you through a journey of cruising the Dubai creek, relishing the yummy Emirati breakfast and meal, traditional houses, heritage tour of ancient mosques and buildings, learning and understanding the Arabic language, the dance form and many more interactional and educative programmes.
The Burj Khalifa: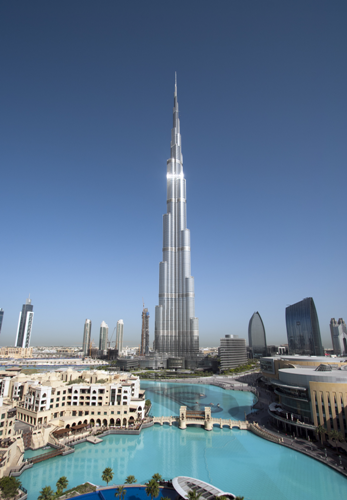 Burj Khalifa… is the latest tourist attraction and best place to Visit in Dubai, which demands a mandatory visit to view something unique and admiring. It is considered to be the landmark edifice of the mesmerizing city, Dubai which has total of one hundred and twenty four floors. It is wrapped by the most creatively designed gardens on the ground enhanced with twisty paseos. This top most floor is known as the observation deck from where tourist can enjoy the view of entire Dubai, right from the desert to skyscrapers and beautiful beaches and sea. This knavishly built observation deck also imbibes of such a multi-media presentation that it takes you through the journey of the entire United Arab Emirates and in and out of Burj Khalifa. The night view from this deck will leave you speechless where the whole of Dubai seems to be dipped in scintillating lights, colorful tall fountains and hue of natural moon and stars in the sky. It is time when photographers are ready with their camera to capture the best of the views. Burj Khalifa has become the tallest building of the world marking a height of 829.8 meters. Huge, isn't it? Now you would be thinking what else makes it so huge and tall? This tallest architecture has numerous branded hotels, entertainment wings, shopping hubs, pubs within it. Words would just not be enough to describe its beauty, so plan a trip to Dubai and make a for sure visit to Burj Khalifa.
Dubai Museum: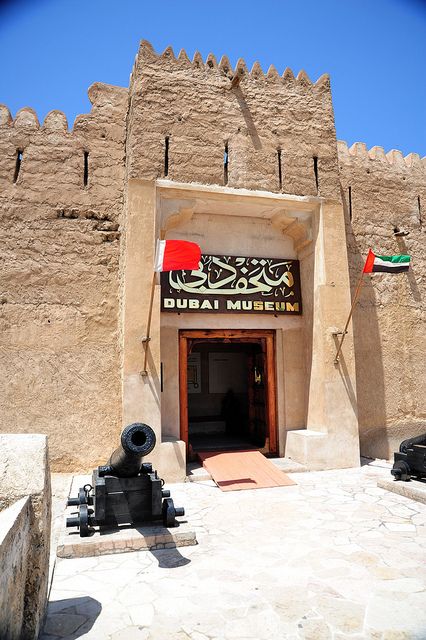 This tourist destination is also worth to visit if you have planned a holiday trip to Dubai. One who has deep love for history and enjoys seeing historical monuments and ancestral attributes then Dubai Museum is the right place for him/her. To bestow it a rich heritage look, this Dubai Museum is domiciliated in royal Al-Fahidi Fort which was constructed in the year 1787 to fight back Dubai Creek. In the golden history, this fort was the abidance of the ruling family along with the fortified military place where soldiers were stationed.
Talking about its exterior and interior, on one hand where the fences of this fort is constructed from the precious coral blocks held unitedly with slaked lime, on the other hand the top floor is affirmed through thick wooden poles which are termed as handles. The roof is built with the use of plaster, clay and palm fronts. Once can easily think how Dubai prospered in a gigantic way from a heating dessert to the city of skyscrapers by looking at the entrance way of this museum which exhibits vintage maps of United Arab Emirates and many royal attributes. Your eyes will remain open when you see oldest weapons in the hall made on the right hand of the entrance and Emirati musical devices on the left hand hall and a lot more to relish. Rejuvenated twice, once in the year 1971 and then in the year 1995, this Museum has turned up to be the prime tourist attraction now. You can imagine how mesmeric it would be to see such a historical place.
DMYC… Dubai Marina Yacht Club is said to be the beloved of the city. It is one of the most esteemed and renowned places of Dubai and of course, a major tourist attracting place too. There are about five hundred of yachts and tourists can make a choice among so many to have fun of the long canal rides which lasts up to 3.5 kilometers. Isn't it lovely? Here in Dubai, all the ones who have their personal yachts can also acquire membership from this club. But this however does not impact you as a tourist because you can go there by all the means and pay a memorable visit for our lifetime. In addition, there is also a waterfront golf course which gives an unforgettable experience to the golf lovers. The designing of this Dubai Creek Golf and Marina Yacht Club is done like that of sails of a conventional Arabic sailing ship which also makes it a photographic tourist destination.
Dubai Desert Conservation Reserve: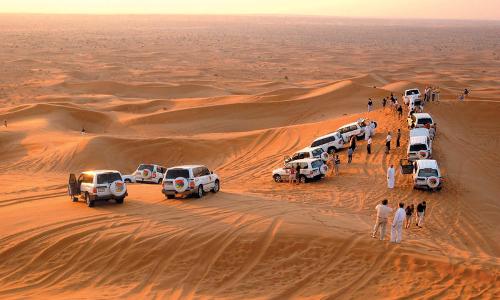 Dubai Desert Conservation Reserve is well managed under the supervision of Dubai Desert Conservation Centre. From exciting Desert Safari to The National Park covering wildlife and many more things, this conservation centre will bestow you with the loveliest experience as a tourist. It is so highly reputed that this place is also a member of the International Union for the Conservation of Nature. Strictly protected under the management of this conservation centre, this place is also acknowledged by The United Nations Environmental Program and thus possesses a natural domestic and effective ecosystem on the lines of this peaceful desert. Various types of plant and animal species, different migratory birds depending upon the climate, reptiles and the well known Arabian Oryx are its major attractions for all the types of visitors.
Al-Sahara Equestrian Centre: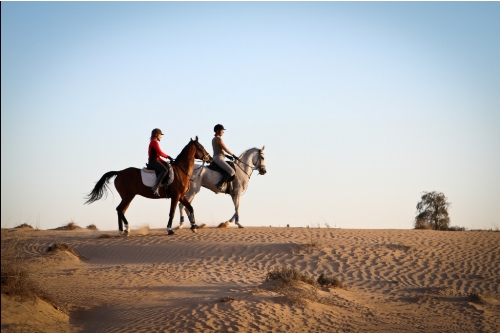 Situated right in the center of an oasis, this Al-Sahara Equestrian Centre is highly consumer centric and very fun filled and friendly. It is exclusively made for the ride lovers. You will feel privileged to enjoy the rides of the best horses in the world, which are definitely one of their kinds. There are trainers who train you on every bit of horse riding. Isn't it super exciting? Another activity that is loved by almost all the locals and the tourists is Camel Encounter Program. You will get to know in deep once you visit this amazing place of Dubai which is also a top tourist place.
Palm Jumeirah: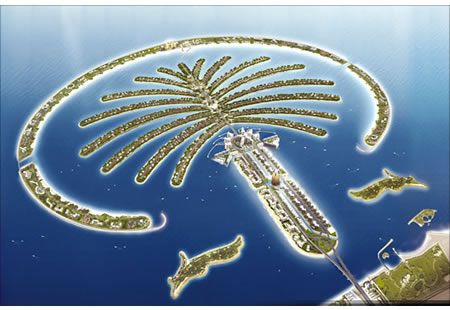 The gift of nature could be anything and there is no surprise to it because after all it is the creation of the Almighty but when there is something similar to the creativity of God made by man, no words can be enough to appreciate such work. The Palm Jumeriah is the live example of a man made archipelago which means there is a group of many-any islands in a huge water body. Sounds so tough to imagine, isn't it? But Dubai has made it possible. Palm Jumeriah is one among the three Palm Islands and is the latest one in the list of Dubai tourist visiting places. There is a six lane highway bridge made with latest techniques and modernization to show the path to this magnificent place. Far from your imagination, this palm island bestows with numerous activities especially for tourist to enjoy. From theme parks, luxury hotels, spas, beaches, exclusive shopping malls, Palm Jumeriah offers one and all. There are even homes of the rich Atlantis in this Palm Jumeriah Island. One can truly feel the world of fantasy converted into real!
Atlantis Palm Jumeriah: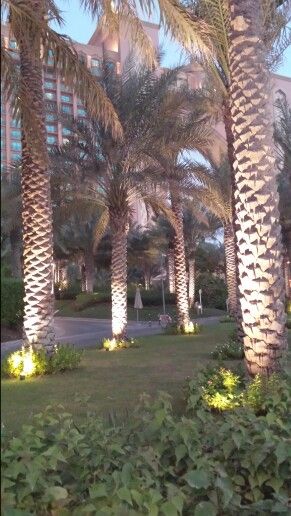 This is much more than a luxury hotel. It is so damn giant and beautiful in its exterior and so one could imagine what interior it would have. Apart from providing highly luxurious hospitality, there are many other things that make it the centre of attraction and a fantastic tourist place to visit for sure. The Aquaventure section of Atlantis Palm Jumeriah also involves Shark Safari, Dolphin Bay as its water slides, Fish and Cownose Ray feeding, and entertainment show in aquatheatre, diving, skornel diving, along with mesmerizing marine adventures and much more. The ones, who are making their holiday stay at this place, can enjoy all these attractions as complimentary.
Dubai Underwater Zoo & Aquarium: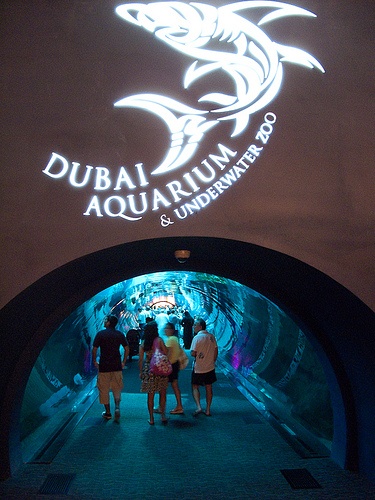 One of the finest places to visit for the locals and the tourists both! Dubai Underwater Zoo and Aquarium not only takes you through the journey of evidencing uncountable varieties of animals, birds, mammals and reptiles but also gifts you a lot more. This place gives you a superb feeling of walking in the water and you thoroughly enjoy the beauty of the nature. The Aquarium gives you the chance to explore the uncountable number of species of fishes which you would have never seen before. To add on, you can go for scuba diving, swim with sharks, interact with dolphins and also choose glass bottom ride as per your wish. Live the way you want to and have lots of fun!
Ski Dubai: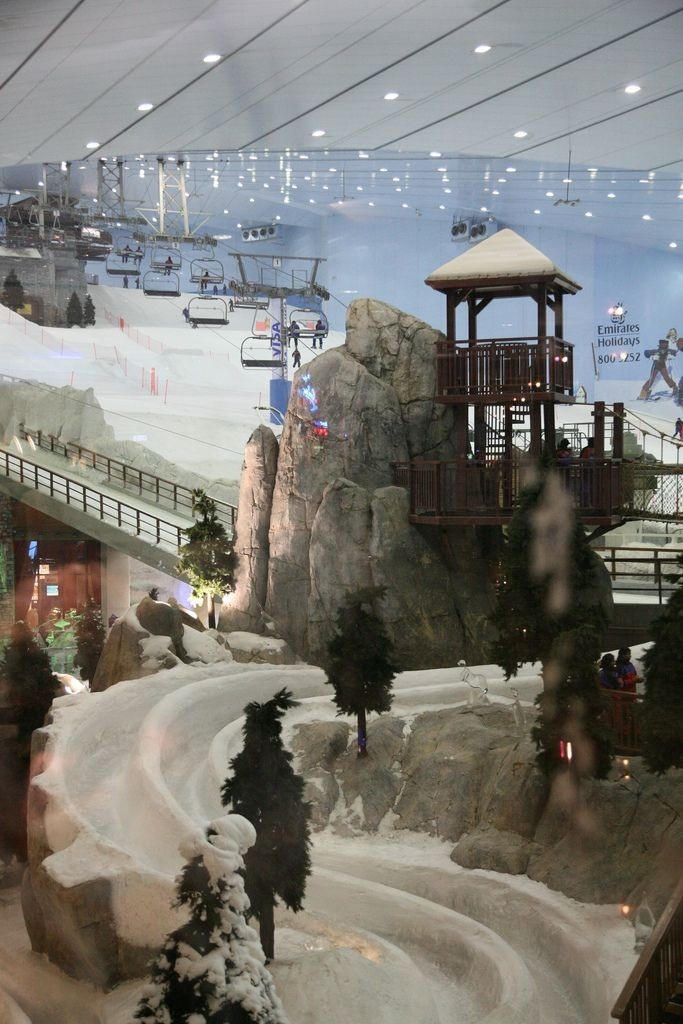 Ski Dubai is one of the best place to visit in dubai and has a record in its name of being the very first indoor ski resort in the whole Middle East. It seems like Dubai has become an expertise in innovating new and modernistic places that one has always seen in dreams. You will be surprised to know that there is about 60,000 tonnes of snow at this place which gives you a complete hill station feel. For those moments you will actually forget if you are on earth. It will seem nothing less than a snow paradise to you. Extra activities like: snowboarding, skating, skiing, tobogganing, making snow-balls and throwing at each other, making snowman and a lot more you can do here. Cute snow penguins are the latest addition to this place… Ski Dubai. One of the best attractions of Dubai again!
Wild Wadi Water Park: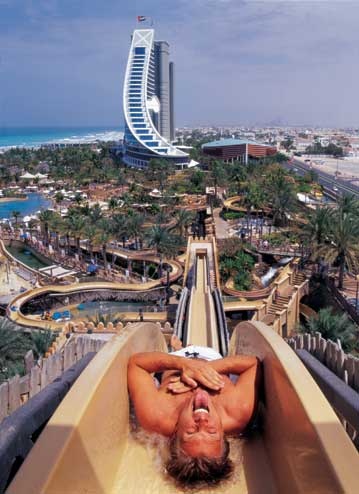 Last but not the least; Wild Wadi Water Park is one of the best place to visit in Dubai, It is a theme based water park around the story of a character named Juha who belonged to Arabian Folklore. This water park is also one of the most enjoyable and attractive tourist places that demand a mandatory visit when you plan a trip to Dubai. About thirty thrilling water rides and breath taking roller coasters are its major attractions. Located amidst the nature, Wild Wadi Water Park fills you up with freshness and relaxes your mind and body. Some of the most recommended water rides that you should not miss on are: Wadi Leap, Falaj Fury, Flying falls and falcon Fury. To add on, there are some activities that are specially made for the kids such as: a big wave pool, racing slides, water guns, water balls and many fun games too.
Undoubtedly, Dubai has excelled in bestowing the world with spellbinding tourism. However, the list of tourist places in dubai does not end here because your holidays might come to an end after few days but the places are lot more to Visit. So, if you have planned for a long holiday tour to Dubai then you can even go for some more places which are worth visiting as the ones given above and will fill your heart with lots of fun. Kids Zania, is also one of the tourist place that kids will surely love. Here the kids get the opportunity to play the role of their best-loved cartoon character. The whole concept is laid down keeping in mind the urge of the kids and the youth.
The next comes is the Burj Al Arab Beach which offers the free entry for public that is without charging anything. Even simply relaxing on a hammock and admiring the beauty of the nature, neat and clean blue water, endless coastline will give you a distinct experience altogether which you will surely love. You can also look at The Tower of Arabs – Burj Al Arab which is the fourth tallest hotel in the whole world. It is marvelous when it comes to designing, architecture and engineering and so is a seven star hotel. Bur Dubai Abra Dock is one of the oldest places of Dubai and famous for boat rides in ancient Arabian boats also called Dhow. The Dhow takes you to, many beautiful sights-seeing and art galleries. Hatta Rock Pools, Al Mamzar Park, Ferrari World, Heritage House, Aquaventure Park are some of the worth visiting tourist place too. So, rush and book the holiday to Dubai and share your experience too!!
Images From: Pinterest images