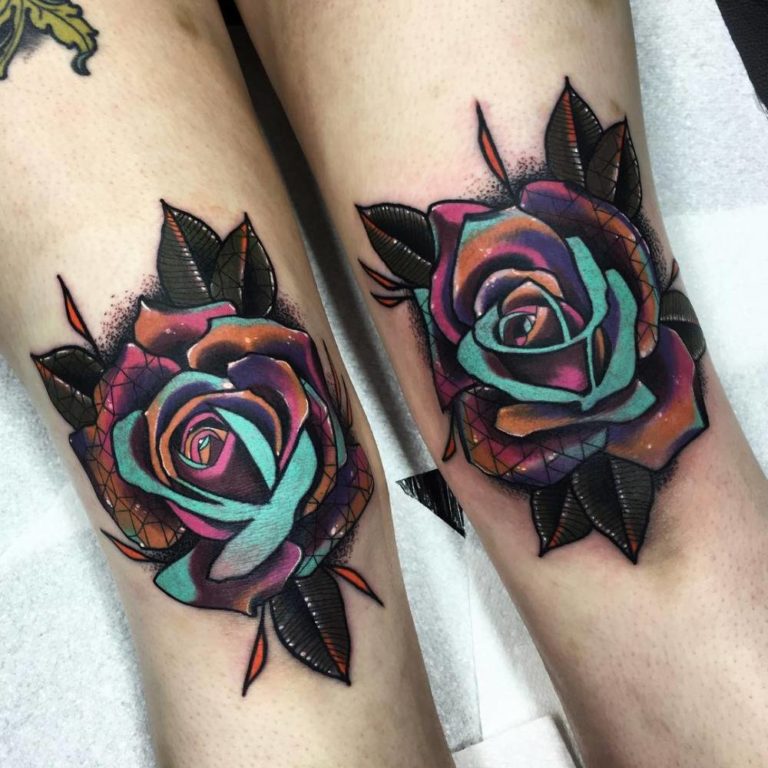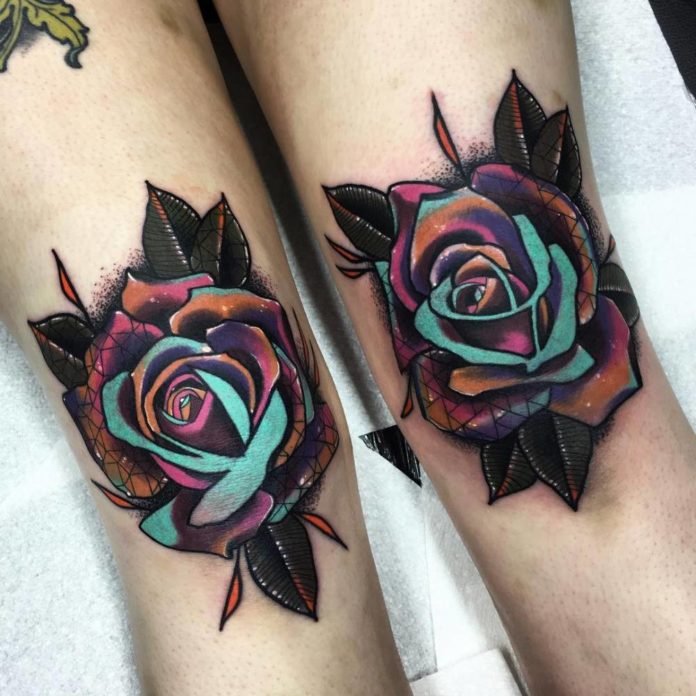 Knee tattoos for men are rare and unique. This part of the body lends itself to intricate and detailed pieces. The round shape of the knee suits some certain types of designs, that can be a stand-alone into a large leg piece. The knee can work well with both small and large tattoos.
No location is better than the knee for an extravagant tattoo, especially for the people who are aspiring to unlock the bravado of circular supremacy via arcane patterns.
Do Knee Tattoos Hurt?
The answer to this question is yes, a lot! Knee tattoos can be one of the most painful tattoo choices that you can make. As the knee does not have muscle mass therefore it will be a few tissues above the bone that helps in protecting them from the puncturing of tattoo machine needles.
Many rappers like MGK, Post Malone, and Lil Nas have stated that they left the artist mid-away while getting the knee tattoo and came back after a few days to get their design completed.
So, if you are planning to have a knee tattoo make sure that you are strong enough to handle the pain.
Knee Tattoos ideas
Following are some of the best Knee tattoos designs for men and women:
Mandala Knee Tattoos:
Nowadays mandala art is very popular in the market, so why not get a mandala tattoo? Due to the round shape of the knee mandala tattoo can be a good choice.
As the mandala forms different shapes and symbols that radiate outwards from the center in a circular motion. A mandala represents balance, and eternity, It is associated with religious buildings and prayer rooms.
American Traditional Tattoos:
This amazing tattoo goes with every type of skin color as they are highly saturated. These designs look simple but make a bold statement, with minimal shading and thick outlines.
For making this tattoo minimal primary colors are required and often look a little less precise than alternatives.
Open Animal Mouth Knee Tattoos:
Open animal mouth knee tattoo designs are very trending at the current time. The face of the animal gives many meanings like the open mouth of a lion represents strength and courage whereas the open mouth of a snake represents cleverness and appearance. So, if you are planning to have an open animal mouth knee tattoo, make sure that you choose the correct animal.
Animal Knee Tattoos:
As we all know, animal tattoos are very common and popular, from big animals to small insects. Although not all the animals always naturally fit the space, they can be placed in and around the kneecap.
Other than this, as it is mentioned that every animal represents different things, symbolizes different cultures, and helps to represent your personality, so, choose the animal tattoo designs accordingly.
Japanese Knee Tattoo:
Japanese tattoos are some of the best and most popular designs. For many years, this tattoo design has featured mythical features like dragons and phoenixes. These Japanese knee tattoos are recommended for people who have large full leg pieces covering the knee.
The most popular Japanese tattoo design is the oni mask because its design suits the whole area of the knee along with the leg and it represents the good and evil forces that are around us and protect us from them.
Cartoon Knee Tattoo:
Cartoons look very bright and funny and create nostalgia for childhood. To relive your childhood and for refreshing, your childhood memories get a cool-looking knee tattoo today. Yes, the knee tattoo hurts but on the same side looks very amazing and cool. So, getting a cartoonish tattoo on the knee is a great option for you.
tattoo Aftercare:
Following are some of the points you should keep in mind after getting a knee tattoo:
Dos:
Cover your tattoo with a sterile absorbent pad and bandage after getting inked
Wash the tattoo with a mild antibacterial soap or foam
Dry the tattoo with a soft towel
Apply an anti-inflammatory balm on the tattoo for reducing the swelling
Use the topical anesthetic spray on the tattoo to reduce excessive pain
Keep the tattoo exposed
Wear oversized clothes after getting inked for a few days
Don'ts:
Don't remove the bandage soon
Try not to use hot water to clean the tattoo
Don't put your tattoo directly under running water
Don't re-cover your tattoo
Try not to pick scabs
Stay away from direct sunlight or protect your knee tattoo from sunlight
FAQs:
Q.1 Which celebrities have knee tattoos?
Ans.
Anne Marie
Ariana Grande
Brooke Candy
Grimes
Maggie Lindemann
Chantel Jeffries
Angie
Zoey Death
Kreayshawn
Sierra Kusterbeck
MO
Q.2 How Much Knee Tattoos Hurt?
Ans.
Yes, knee tattoos hurt the most. However, the pain depends upon the tolerance of a person. So, it is not measurable. The vibrations caused by the needle can also cause sharp pain and uncomfortable sensation.
Following are some tricks that can help you in reducing the knee tattoo pain:
Take regular breaks
Get the tattoo from good artist
Reduce the consumption of alcohol
Eat good food
Get good sleep
Follow aftercare instructions
Q.3 Knee tattoos are for men only?
Ans. no! Anyone can have a knee tattoo. There is not any specific theory regarding this.
Final Words:
Above mentioned are some of the best Knee tattoos for men but remember that knee tattoos hurt and at the same time look cool. So, if you are strong enough for handling any type of pain then you should try these amazing tattoo designs.
Do not forget to hit the like button and mention a thumbs up in the comment box below.