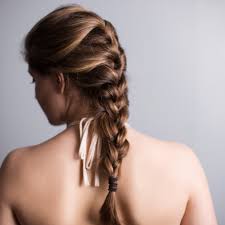 The classic and timeless French braid looks utterly romantic if done right. Perfect for date night, wedding events, and even a beach day. French braids can be worn in many ways like a bun, side braid, etc.  French braids are great for days when you are having a bad hair day our you have unruly curly hair. You might know how to french braid on others but French braiding your own hair may seem intimidating. Trust me it is not difficult. Just a little bit of practice and you will become the master of French braided hairstyle. Learning how to french braid on your own will open a whole new world and you will be able to try different braiding patterns and hairstyles, like the Dutch braid. Here is a step by step guide to teach you how to french braid on your own or on others perfectly. Follow these steps you will master the effortless and classic French braid in no time.
Things you will need
Steps to follow
Brush your Hair-Before starting the braiding, make sure to brush your hair nicely to smooth out tangles and knots. To make a single French braid running down the back of your head brush your hair away from the forehead and downwards. If you want to make more than one braid part your hair in sections for as many braids you want to make. For instance, you want two French braids running down your head, dive the hair into two sections by making a middle parting.
Start by sectioning your hair-Gather a big chunk of hair (3-4 inches) from the top of the head starting at the hairline. All the hair should come from the same hair row. If you have small bags at the front, you either leave them loose or add them to the sections. Take small sections of hair the braid will grow thicker because you will keep adding hair.
Divide into three sections-Divide the hair into three equal sections. No one piece should be bigger than the other. Hold the right section in the right hand, the left section in the left hand and the middle section with the thumb.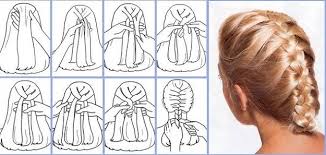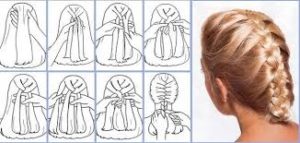 Begin by doing a traditional braid-Start by doing a traditional braid. Cross the right section over the center strand and then cross the left section over to the center strand. Repeat this process until you make a few rows of traditional braids
Adding new sections- start adding new small sections of hair. When you cross the side section over the center add a small chunk of hair from that side and include it in the cross over. Every time you have to cross over a section of hair keep adding new chunks of hair from the side of your head and make sure to work in small and equal pieces. The smaller the size of the section the more intricate will be the braid.
Bring all the hair into the braid- As you will keep repeating this process until you reach the very end of your head, you will run out of hair to grab. When you reach the nape of your neck incorporate all your hair into the braid.
Finishing the braid- finish the braid by making a traditional braid till the end. Keep continuing until you reach the very end. Secure the braid with an elastic hairband. Take a small strand and tie it around the rubber band to hide the band. This will make it look more elegant and will add a finishing touch.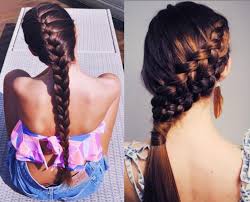 Why you should French braid your hair more often?
No doubt French braids look great but they are amazing so many more reasons.
When you have to go to the gym for a good workout session you wouldn't want to get distracted by your hair. This is when French braids come to the rescue. If you will tie your hair in a French braid you will be completely focused on your workout.
Having trouble with oily and dirty hair? Don't worry if you can't wash your hair today and need to go out for important event just spray some dry shampoo and French braid your hair. Leave little flicks in the front to give it a soft romantic look.
We all have bad hair days. No matter how much effort we put in nothing seems to work out. Make French braid hairstyle and try some different braid looks like a bun, or pigtails maybe.

Image source

Planning a road trip with your friends means dry brittle hair at the end of the trip. No one would want to damage the hair. The hot and harsh air can make your hair frizzy rough and brittle. Tie your hair in a French braid and put a dead scarf close to the hairline to protect your hair from getting damaged.
Do you want to try those Kim Kardashian like natural waves? Here is a simple trick to achieve that wash your hair and create tight French braids while the hair is wet. Make sure you dab excess water out of the hair. And sleep through the night with the braids on. The next morning open the braids and you will get those amazing natural waves.