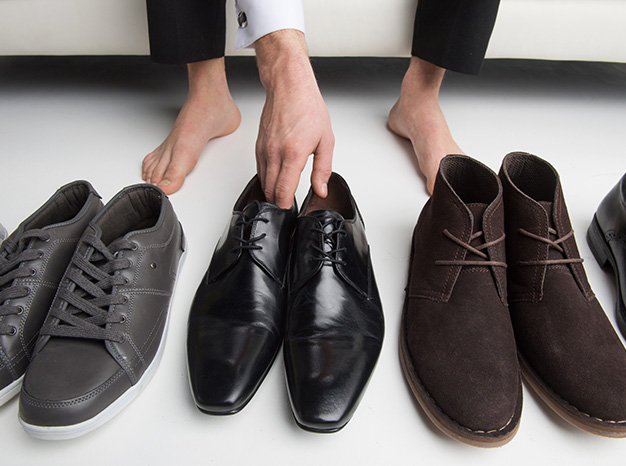 Shoes are an essential part of the wardrobe. No outfit is complete without the right pair of shoes. There is the right kind of shoe for every event, whether you are going out with friends, on a date, clubbing, or any formal occasion and meetings. Shoes project your personality and style. Here is a small men's shoe guide to help you look your best on every occasion. In this men's shoe guide we have included 5 different types of shoes and boots that are a must-have in every men's wardrobe.
Oxford shoes- Oxford is a classic and must-have shoe in every men's closet. The shoes have stitching at the bottoms and closed lacing. The shoes are low heeled shoes, which makes them perfect for any formal occasions. These shoes are perfect for a polished look to attend any formal event.
Chukka boots
Chukka boots are short ankle height boots. They have minimal lacing and feature an effortless and elegant appearance. Chukka boots are the right pick for both semi-formal and casual looks. These types of shoes are commonly made of suede, but sometimes shoes are also designed in traditional leather. The shoes give an appearance of a relaxed yet stylish look.
Monk strap
This shoe design is unique and stylish. The shoe features a strap and buckles across the top part of the shoe. The shoe design is classy and fashion-forward. The shoes are perfect for a night out, date look, or a formal meeting or event. Choose a shoe with shiny leather and coordinate the metal of buckle with other accessories you will be wearing to look more polished and sharp.
Chelsea Boots 
Chelsea boots are a round toe, Ankle height boots, and have elasticized panels without laces, which makes them super comfortable. These boots are perfect for any casual day outing, dates, social parties, formal events, cocktails, basically everywhere. These look super sleek and stylish if paired with the right outfits.
Loafers
Loafers are moccasin styled laceless shoes. These are super comfortable slip-on shoes. These shoes add a little bit of casual touch to formal looks. Loafers pair great with almost everything. These shoes are very essential in every men's wardrobe.
SOURCE:Shoe Guide
Check out the list of Must-Have Shoes For Women