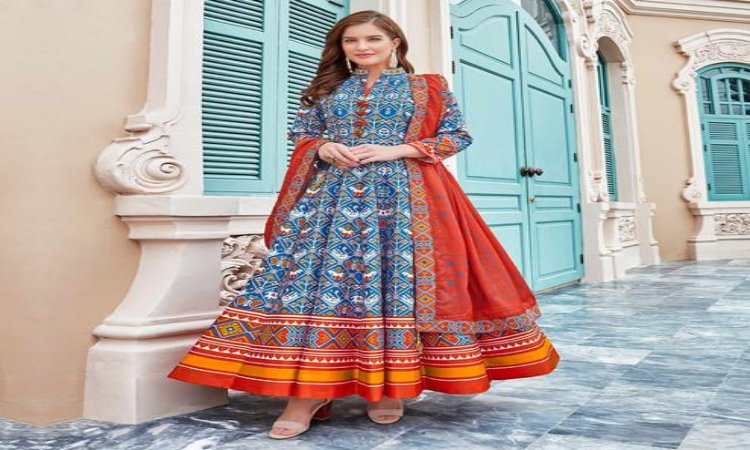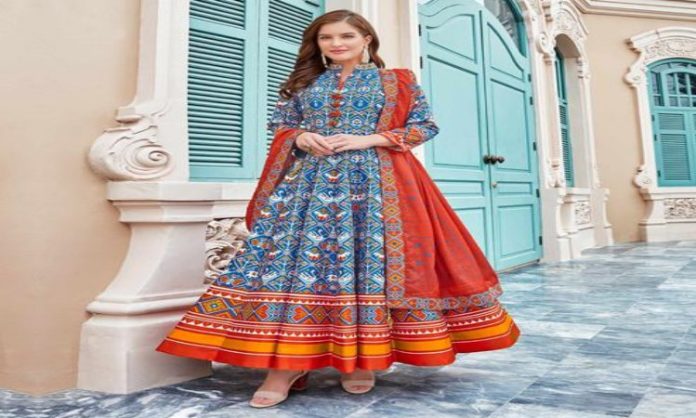 Once upon a time, Anarkali suits were the costumes of dancers and performers of the utmost grace. But the case is not the same now. Fast forward to today, Anarkali suits are a prominent and go-to festive wear for every woman, with churidar pants and dupattas being the combination to complete the suit set.
Floor-length Anarkali suits in present days are usually paired with leggings seeing the comfort they provide. The knee-length Anarkali kurtas look equally good with palazzo or salwar pants as well. Nowadays, there are Anarkali lehengas also available where the Anarkali kurtas are paired with heavy skirts. Undoubtedly, it will be a glamorous version of traditional lehengas.
Moreover, embellishments such as zari work, applique, dori embroidery, screen printing, along with trendy designs and striking colours enhance the beauty of Anarkali suits. Since black is endowed with meaning and is adorned for various occasions, it is considered as a prospective colour for Anarkali suits as well.
Black Anarkali suits for women beautifully reflect the sophistication and elegance of black colour. Black anarkalis are the fashion statement these days. From traditional weddings to luxurious parties, one can find black Anarkali suits everywhere. This never-ending charm of black Anarkali suits is enhanced with the right accessories.
A Black Anarkali Suit Is Deal for Every Skin Tone
Black is a colour that looks stunning on everyone, from fair skin tone to dusky Indian complexion. This suitability of black colour to every skin tone is something that makes it most preferred. This colour is more or less the most graceful one.
A Black Anarkali Suit Is Well-Suited for Any Occasion
Black colour dominates the fashion world with its eternal charm. From parties to weddings to festivals, Anarkali suits in black colour are quite suitable for any occasion. The enchantment of this colour is always ready to make one stand out everywhere with its sophisticated looks.
Black Anarkali Suits Are Comfortable Yet Best to Embellish
Flowy Anarkali suits are one of the most comfortable dresses. In addition to that, intricate embellishments on black Anarkali suits are something incomparable. One can go for heavy embellishments of zaris, stones, sequins, kundan, resham works, etc.
Easy to Combine With Any Shade
Though all-black Anarkali suits maintain a different place in fashion trends, yet, it is effortless to mix and match Anarkali kameez's design with various colours such as pink, green, beige, blue, gold, silver, maroon, white, off white, red for the captivating charm. These suits also look gorgeous with contrasting borders of shimmer, raw silk, brocade, or velvet.
Available In Almost Every Fabric
The ubiquity and versatility of black colour spread glamour and class in all fabrics. They are available in fine silk, georgette, flowy chiffon, sheer net, velvet, satin, lace, etc. All these fabrics add much-needed elegance to the black colour with its innate charm. Chanderi Anarkali suits with zari Curtis; Anarkali dresses in net with gathers in front etc. are some of the trending styles these days in Anarkali suits. These fabrics are the most comfortable ones.
Overall, black Anarkali suits can also be styled in numerous ways. You can pair them with churidars for a classic style look or pair them with leggings or salwars to create a diversified look.
Conclusion
Therefore, a black Anarkali suit is by far the most necessary silhouette in every Indian woman's wardrobe. One can find these magnificent suits at leading online clothing stores such as AMPM. AMPM presents a wide range of designer Anarkali suit sets to invite elegance to every occasion-wear wardrobe. They mindfully create these silhouettes which are inspired by art forms from India and the world. You can visit the AMPM site, search for the most-aspired luxurious Anarkali suits, and add them to their wardrobe.