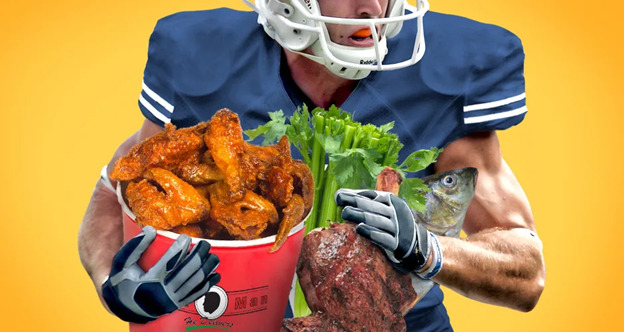 To play at an elite level, you need an elite level of fitness, which means you need proper nutrition.
Top players in the NFL are some of the most elite athletes in the world. Many are recruited from track and field in college and hold world-class 40-yard dash times. Others have superior hand-eye coordination, like QBs. Many more are sheer physical specimens with a mind that can quickly analyze schemes and formations to be in the right place at the right time.
Patrick Mahomes | QB | Kansas City Chiefs
Patrick Mahomes II is perhaps the most famous NFL player at the moment. He led the Kansas City Chiefs to their first Super Bowl victory since Super Bowl IV, back in 1969. He's back at it this year, playing better than ever in his fourth season in the league. So far this year – through Week 11– Mahomes has tossed the pigskin for 3,35 yards, thrown 27 touchdown passes against just two interceptions (that's an amazing stat), all on a 67.9 percent completion rate. In addition to all of this, he's also racked up 187 rushing yards and punched in two touchdowns on his feet.
At the moment, the Chiefs are the favorite pick to win the Super Bowl in 2021. They've only lost one game this season –it was to their division rivals, the Las Vegas Raiders. Mahomes works on mobility to stay at this level of play, especially in his joints, hip flexors, and legs. He also does a lot of shoulder-strength workouts. His trainers have him put his shoulder and arms in awkward workout positions to prepare him for throwing from strange angles on the field during games.
Food-wise, Patrick Mahomes eats four or five meals per day. He'll eat breakfast and lunch on a typical day, them two or three dinners spread out through the evening. He mentions in a Men's Journal article that nutrition has become a focal point. He wasn't as concerned about it before, but now that he's an elite player in the NFL, it's something needed to stay in the best shape possible.
JJ WATT | DE | Houston Texans
Mahomes is 6'3 and 229 pounds. JJ Watt is 6'5 and 290 pounds. Although they are both bog guys, JJ Watt is considerably bigger, and his focus is different. Instead of looking to have fantastic mobility and arm and shoulder strength for down-field accuracy, he needs to have super-human strength to blast through, 300+pound offensive lineman so that he can put pressure on QBs like Patrick Mahomes II or stop running backs in the backfield.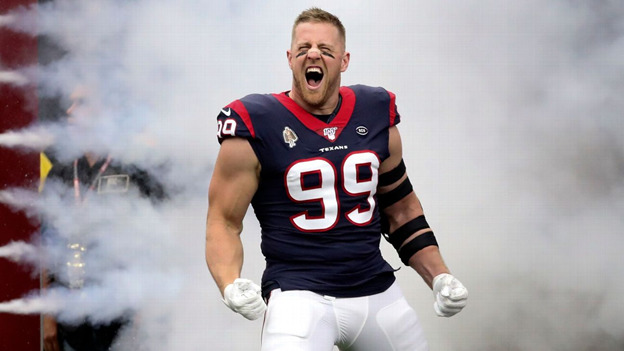 JJ Watt eats between 8000 and 9000 calories per day –even though calories or kind of a ridiculous way of measuring food, it's what most of us are familiar with. At 9000 calories per day, he eats around three to three-and-a-half times more than the average adult male. JJ Watt needs to stack on the food to power all of that lean muscle mass. So, eats six meals per day split conveniently up into two breakfasts, two lunches, and two dinners. He says that although his meal plan is basically a 9000 calorie per day deal, he doesn't count calories; he just listens to what his body tells him. And most of his nutritional intake is grilled meats and vegetables.
JJ Watt Meal Examples According to Business Insider:[1]
Breakfast #1
Oatmeal with blueberries and strawberries
Six eggs
Banana and apple
Breakfast #2
Four eggs
Two slices of wheat toast with peanut butter and banana and honey
Two slices of wheat toast with jelly
Lunch #1
Three chicken breasts with whole wheat pasta and Italian dressing
Side of broccoli
Lunch #2
Even more chicken breasts with mashed sweet potatoes
Steamed carrots
Dinner #1
Lamb chops with whole wheat pasta
Grilled asparagus
Dinner #2
Filet with whole wheat pasta
Steamed broccoli
What we learned from this is there si no consistant NFL meal plan. Players have to eat for their body type and to meet the nutritional requirements that their position demands. A 5'10", 180-pound defensive back will likely eat differently than both of the two-hundred-plus pounders.
---
diet includes a carton of eggs, 3 …." 28 Jun. 2016, https://www.businessinsider.com/jj-watt-has-an-insane-diet-2016-6. Accessed 24 Nov. 2020.