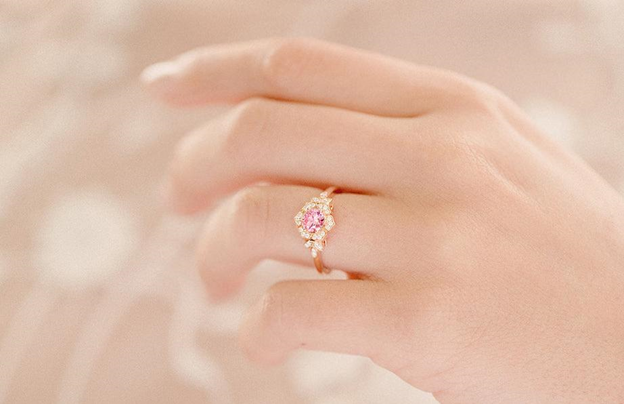 When your relationship is ready to move to the subsequent step, marriage is on your mind. If you follow traditional rules, your significant other will have to mark the boundaries by getting an engagement ring before proceeding to a marriage ring later in life.
Sometimes, it might not be about engagement but rather perusing the market in search of a custom-made ring that's unique, special, and personalized. Whatever the case is, finding one of a kind ring that will suit your demands is not just a walk in the park.
Why is it so difficult to find the perfect ring? You see, like shoes, clothes, and handbags, engagement ring trends come and go depending on various influences ranging from celebrities to royal engagements. This guide will discuss the latest designs of engagement ring trends that will keep you up to date and leave you captivated.
The wedding band is popular among couples.
What's The Market Shift For Diamond Engagement Rings In Recent Years?
According to multiple reports, most couples, especially millennials, consider lab-created or rather man-made diamond engagement rings over those made with natural diamonds. In 2021, the sales of lab-grown engagement rings increased by 63%, while natural diamond ring sales declined by almost 25%.
With such statistics, one question stands out in most people's minds—why have lab-grown engagement rings gone mainstream? Well, here are just a few of the reasons.
Cost: The first obvious reason the market has shifted to man-made diamonds is their relatively cheaper asking price. According to statistics, lab-created diamonds cost about 30% less than natural diamonds.
This is because lab-grown diamonds using the CVD method (chemical vapor deposition) for example, are mass-produced by machines in the lab within a short time, while natural diamond takes over a billion years to be formed naturally.
Nearly Identical: According to giant jewelry companies such as Pandora (PANDY) and Signet (SIG), most people are switching from natural diamonds to personalized synthetic diamonds due to their huge similarity.
In fact, some argue that a lab-created diamond made out of carbon hair or ashes is a real diamond, only that it's formed in the lab within a few weeks. This type of artificial diamond has similar optical, chemical, thermal, and physical characteristics to natural diamond.
Search for Uniqueness: According to companies that sell bridal jewelry, most millennials search for unique, stand-out engagement rings for the bride or bride-to-be. Since most of these couples are keen on emerging trends, most will prefer man-made diamonds due to their low cost when you turn hair into a diamond.
So, suppose your preferences include an engagement ring with a large 1 to 3-carat diamond stone with an oval, pear, or emerald shape and a yellow gold fancy center. In that case, a lab-grown diamond will suit the bill over a natural diamond.
Ethical Concerns: As people get informed about what's happening outside, most of them, especially millennials and Gen Z, are developing an eco-conscious mindset about natural diamond sourcing. Natural diamond has long faced a controversial history that includes child labor, illegal trades, and conflicts among countries that mine it.
So, as a way of intervention, most millennials prefer to take the shorter route of choosing a lab-created diamond engagement ring made out of hair.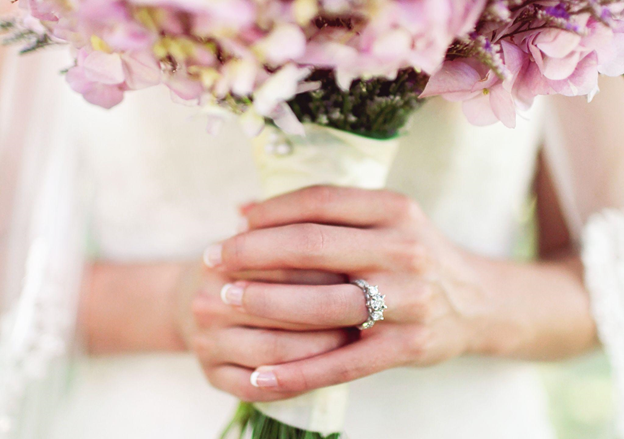 Every bride needs a perfect diamond ring she likes best.
7 Popular Diamond Engagement Rings
Tiffany True Engagement Ring
The Tiffany True Engagement ring is a custom-made ring specifically designed for the bride or the bride-to-be. This ring has a T-shaped detail that reveals Tiffany's authenticity. You'll be welcomed at the center of the ring with a large square or circular diamond stone that leaves the ring discreet yet beautiful. To attract plenty of compliments, Tiffany has added platinum, 18k gold, or white setting on the bands.
Blue Nile Classic Six-Prong Solitaire Engagement Ring
If you're looking for a customized engagement ring with a simple, elegant yet timeless appearance, the Classic 6-Prong Solitaire Ring from the Blue Nile is the way to go. This custom-made ring has six tiny platinum prongs that secure the 1-carat diamond stone.
The frame of the ring is slender and made of polished platinum. The frame can comprise yellow gold or 14K/18K white gold, depending on your aesthetic needs.
Sunny Eden™️ Glamour Halo Engagement Ring with V-shaped Pavé Shank
Sunny Eden™ is an engagement ring that has an age-defying charm. The vintage-inspired design of this customized ring makes it a perfect choice for millennials searching for a one-of-a-kind diamond ring. The ring has a large customized center diamond from your front hair.
It's then enhanced with a single V-shaped halo that encompasses tiny rounded diamonds. The best thing about this diamond engagement ring is that it is fully customizable. The diamonds can be cut to any shape of your choice. You can also choose any color ranging from Sunny Yellow, Eden Green, Rose Pink, and Sky Blue to Clear Colorless.
The Sunny Eden™ is also set in different inspiring colors that include platinum and various shades of gold, such as 18k White, 18k Yellow, and 18k Rose.
Vrai The Signature Bezel
The Signature Bezel by Vrai is another diamond ring with a stunning and unique appearance. Made out of hair, this type of ring has become a popular trend due to its inspiring T-design.
The Signature Bezel has a 2-carat diamond stone that stands vertically. The stone is supported by a white 18k razor-thin gold to allow the colorless diamond stone to shine in all directions. This diamond engagement ring is available in plain and paves bands.
Petite Twisted Vine Diamond Engagement Ring
The twisted double-shank silhouette of this engagement ring is reminiscent of the undulating curves of the female physique. The twists consist of a plain band and another strand of pave diamonds twisting from the bottom to the top of the 2-carat round-shaped diamond.
De Beers Caress round brilliant diamond ring
The Caress Round Brilliant Diamond Ring has a unique contemporary twist representing the interwoven love you both share with your partner. Made out of hair, this engagement ring has a rounded diamond stone encircled by two twisted rows of micro pave diamonds.
The band is 1.8mm wide and is crafted from 18k Rose Gold to make it stunning and truly unique.
BAUNAT 1.50 carat diamond Toi et Moi ring in yellow gold
The Baunat 1.50 Carat Diamond Ring is a Toi et Moi type of ring that brings a fresh approach to the modern-day engagement ring. This man-made ring has two 1.50 carat diamond stones parted by a thin curved ribbon made of 18k yellow gold. This ring has a classic conventional style that states the beauty of commitment.
6 Engagement Ring Trends You'll See Everywhere in 2022
Toi et Moi or Multi-Stone Engagement Rings
Toi et Moi is a French phrase meaning you and me. Whether it's rebuilding your love bonds, celebrating a colorful relationship, or marking the boundaries with a unique vintage-style engagement ring, the Toi et Moi diamond ring is a ring that's specifically lab-made and customized to suit sentimental couples.
The style of this ring is characterized by two diamonds or gemstones that are set alongside each other and surrounded by a thin coil silhouette. This type of engagement ring is one of the best-selling in 2022 and has taken over Instagram thanks to notable celebrities such as Ariana Grande, Megan Fox, and Emily Ratajkowski.
Colored Diamonds Engagement Rings
Although diamond is a girl's best friend, wearing white all the time is not a preference to some. For that reason, some couples have opted to add a little bit of sophistication to their lab-grown diamond rings to make them unique and personalized.
One of the popular alternatives to white diamonds is unique gemstones such as rubies, emeralds, and sapphires. With these colorful man-made stones, you can easily create a custom-made engagement ring that will incorporate your partner's favorite color.
Colored Diamonds Engagement Rings are more popular.
Non-diamonds engagement rings
While man-made diamonds are some of the best-selling in 2022, some brides or brides-to-be are considering a more affordable option in the name of non-diamond gemstones. This type of gemstone resembles a real lab-created diamond, and it's one of the top picks in recent times.
To those that love colored engagement rings, gemstones such as rubies, gems, sapphire, and jade are emerging as a popular trend due to their beautiful and appealing color choices.
Lab-grown diamonds from hair
The desire to buy lab-grown or ethical engagement rings has been on the rise since the beginning of 2021. With an eco-conscious mindset being on the rise among most couples, millennials, and Gen Z, most people prefer man-made diamonds from the hair over natural diamonds with environmental and humanitarian abuse.
As one of the global leaders in sourcing and creating tailor-made diamonds, Sunny Eden™ has been fully aware of the social and environmental controversy surrounding natural diamonds. They've pledged to create a unique and customized dazzling diamond out of hair.
According to their statement, their lab-grown diamond is affordable, unique, and meticulously custom-made to suit the needs and demands of their customers.
Bezel Settings
Also known as "rubover," a bezel setting is a modern and durable set consisting of a thin metal casing surrounding the diamond stone. Unlike the prong setting where the diamond stone is exposed, this setting helps to keep the stone secure without sacrificing the ring's beauty aspect. This setting is unique, memorable, and best-selling amongst busy professionals such as athletes, doctors, nurses, and engineers.
Vintage and Antique Engagement Rings
Finally, yet importantly, we have Vintage and Antique Engagement Rings. Now, when you hear of vintage, what comes to mind is your old grandmother's cocktail ring right? Well, that's not the case in 2022.
When we speak of vintage and antique engagement rings, we're referring to a ring with minimal details in its craftsmanship. This design minimizes waste and gives a ring a classic personalized look that makes it stand out. This type of ring has been a top trend among most celebrities such as Olivia Wilde and Kate Middleton.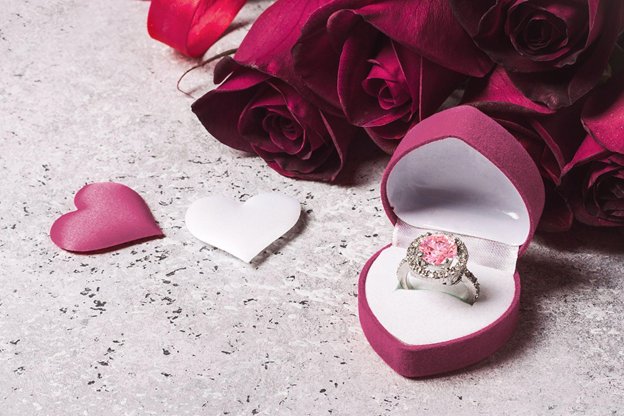 A ring with minimal details in its craftsmanship.
So, there you have it. Whether you're in a full shopping mode or searching for a customized diamond ring for your bride-to-be, this guide has kept you posted with some of the 2022 most popular engagement ring trends.
As a recap of what we've discussed, we've listed the 7 most popular diamond engagement ring designs that are best-selling in 2022.
These are classic rings that can stand the test of time. Other than the rings, we've discussed 6 engagement ring trends that are top trending in 2022. So, whether you like vintage, simple, colorful, or sophisticated, this list has got you covered with creative styles that will never disappoint you.