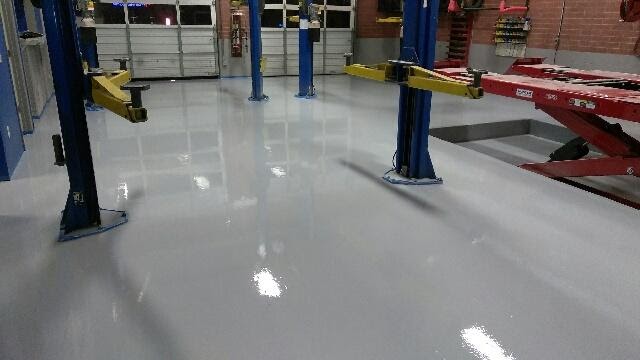 What type of garage floor coating do you want to have? Having some type of coating is helpful and will keep the garage floor in good shape, so you don't want to have a bare concrete floor, but it can sometimes be difficult to know what you should choose. Some might be happy with some simple paint on the floor to provide a little visual interest and protection. Others might want to have something more durable and that has the potential to last for a long time, such as an epoxy floor. It turns out that epoxy floors can provide some great benefits.
Long-Lasting and Durable
When you choose a garage floor, you want to be sure that it will not need to be replaced in a couple of years. You will find that with proper care and minimal maintenance, an epoxy garage floor can last for up to ten years with no trouble. Some may even continue to look great for longer.
The floors are resilient and can stand up well to foot traffic, as well as to vehicles and machinery. Epoxy floors are resistant to stains, cracking, and impacts. Those who are using tools in their garage and who may drop them occasionally should not have to worry about damaging the floor.
The floors also happen to be resistant to moisture. Those who have garages that might be subject to spills, whether it is water, oil, antifreeze, or other chemicals, will be pleased with the resistance that an epoxy floor can provide.
Plenty of Variety
You will also enjoy that there are so many options available when it comes to things such as the color and style of the epoxy flooring. It doesn't have to be just a boring and bland coating. Instead, you can find options that will better match your company or your personal aesthetic style. There are even some options that will allow for additives that can provide texture, which could help to reduce the risk of slipping and falling.
The Installation is Fast
Another one of the key benefits with epoxy flooring is the relative speed at which the floor coating can be installed. When you choose a professional to take care of the installation, they can have it done in short order in most cases. Of course, the amount of time the coating will take to apply, including the prep time for the surface, can vary based on location, the size of the property, and similar factors.
Works Well for Commercial and Residential Garages
Whether you have a commercial garage that has cars coming in and out constantly, or you have a residential garage where the car is rarely parked, an epoxy floor can be a good fit. The benefits it offers are ideal for any type of garage whether it is used for parking, working on cars, or even for an additional living space for a home.
Find a Quality Company for Installation
Always take the time to look at the various options when it comes to concreate coating companies. Look at the types of services the company offers to be sure they can work with your type and size of garage. Be sure they offer prep services, check their license and insurance, and look at previous projects they have completed.
When you are looking for a quality company that can provide you with an epoxy floor coating, choose the best. In Austin, be sure to get in touch with Allstar Concrete Coatings.