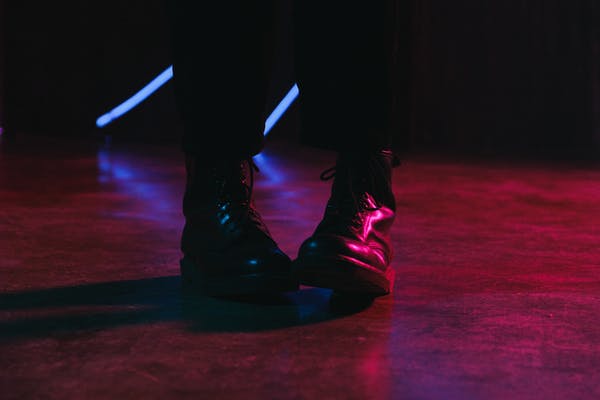 Reflective shoes are a must, especially for winter when even days turn dark early. Being visible to others while running or walking is important to ensure your safety.
Most reflective shoes are made with a 300+ Lumen reflective cloth that makes your shoes reflect while you run or even stand.
Incorporating reflective apparel into your activewear can significantly reduce the risk of accidents and will allow motorists and bikers to see you from a distance.
Read More- What To Wear For Running?
Top 10 Reflective Shoes
Adidas Terrex Speed Ultra
One of the most versatile running shoes, the Adidas Terrex speed ultra is an excellent running shoe, whether reflective.
It weighs exactly under 9 ounces and does not compromise the slightest with its performance. A foam core provides the best cushioning for running and does not even stiffen in cold weather.
This pair of reflective shoes is ideal for fast running, and the upper is designed to balance the protection.
But the best part about the Terrex speed ultra is its additional reflectivity provided by its three-stripes logo and reflective laces.
Gel-Nimbus 23 Lite-Show
With an average to good reflectivity, Asics gel nimbus 23 isn't that bad, and its Lite snow version provides enough light under low visibility conditions.
Almost all the lite show model versions have reflection around the midfoot, and both the outer and inner logos are reflective. And since these cover almost 3/4th part of the shoe's side profile, these shoes also provide unidirectional reflectivity.
Although the laces of the Asics gel nimbus 23 aren't reflective, we wish they were.
Like all the other shoes from Asics, this one also provides the same plush ride and makes distance running very comfy.
Gel-Kayano 28 AWL
Best for winters, the Asics Gel-Kayano is a tough competition to Nike reflective shoes and Adidas. This version of Kayano 28 is the winter version of the earlier model. Unlike the lite show model, this one focuses not only on reflection but is waterproof and suitable for any cold weather.
The mesh of these reflective shoes is moisture and wind-blocking properties. The toe bumper is designed carefully to prevent water from entering the shoe.
Apart from all this, the reflection of the shoes is very good and is suitable for low visibility conditions.
Gel-Kayano 28 Lite-Show
Asics Gel-Kayano Lite-Show is a reflective shoe with an old-fashioned medial post, and even Nike reflective shoes do not match their design. This one is a traditional shoe with high reflectivity, which will protect you from accidents.
While most shoes from Asics have now made their cushioning more appropriate, Kanyo 28 is not an exception. This pair of shoes has a soft cushioning inside; although it is not as plush as Nimbus 23, it is agreeably softer than the v27 and v26 versions.
Asics gel Kayano 28 lite show is a supportive shoe with an 11-ounce weight that feels heavier to some people while running.
The composition of the upper is the same as other Kayano shoes, with a plush lining and quilted foam pockets that make running very comfortable. It's extremely luminous upper makes it shine in low visibility conditions and can be spotted from a good distance.
Gel-Cumulus 22 Lite-Show
The Cumulus 23 was launched a few months ago, and its high-visibility version is about to be out. While the Cumulus 23 is an excellent pair of reflective shoes, the cumulus 22 version is also a good one. Its cushioning is very soft and gives a comfortable running experience.
The upper lacks an inner sleeve, but the insides are smooth and fit perfectly.
Adding to the glory of these reflective shoes is that it is safe for running pair as long as you aren't exceeding the speed limit.
The reflection is concentrated around the midfoot area, and the Asics logos are reflective too.
GT-2000 9 Lite-Show
The Asics GT-2000 9 is an extremely durable stability trainer and is one of the most popular lite show versions. Also, it is less expensive than the Kayano 28 version.
The shoe comes with a good amount of visibility, and the exterior of the show has several lights reflecting trims. And the best part about the pair is that the laces are reflective, too, along with brilliant cuts on the heel.
Running experience is almost the same as standard GT- 2000 9, and the midsole comes with a supportive forefoot and a softer heel.
Read More- The Best Sites for Running a Background Check on Your Date
Glideride 2 Lite-Show
This one is an excellent pair of reflective shoes with a high level of running comfort and quick transitions. The foam density is average, and the midsole is super supportive and soft.
The thick Flytefoam used in the Gliderite 2 lite show has a cushioned foundation, giving a comfortable running ex[perience. A nylon plate has been attached inside the dual-density midsole that rolls forward during the final stage of the gait cycle. Hence Gliride is the apt name for this excellent pair of reflective shoes. 
The shoe is very reflective with its laces, logos, and trims reflecting in low visibility conditions.
Asics Nimbus Lite 2
While many people think of this pair as a model from the lite show series of Asics, it is the lighter version of Asics Nimbus 23. Nimbus lite 2 has a surprisingly high level of reflectivity and comfort.
Almost all the reflectivity is around the heel area, which can be seen from a good distance.
Besides the reflection, the Nimbus lite 2 has a very soft cushioning and provides a very good running experience. It is suitable even for long runs.
Brooks Ghost 14 Run Visible
Brooks is coming up with an idea of making its reflective shoe collection even more, better and competing with the Nike reflective and Asics.
The brooks ghost 14 abd brooks glycerin 189 are the best pairs of the brand with high visibility in low visibility conditions.
Brooks Ghost 14 is a one-piece midsole with the right balance of cushioning and a smooth running experience. This makes this pair o reflective shoes very versatile and can be used for effective running.
The smooth and soft upper of these shoes from brooks has many reflective trims, shiny logos, midfoot, and a reflective heel. The lace to has high viz specks.
These qualities make the ghost 14 run visible a very good pair of running shoes and can be used to run long distances without any doubt.
Saucony Ride 14 Vizipro
The Ride 14 Vizipro from Saucony uses bright colors in addition to reflective to make the reflectivity even higher. This improves the shoe's performance in comparatively low visibility conditions, making it stand out.
The mesh is soft and true to size, and everything about the upper is great. The midsole comes with a firm and supportive cushioning that makes this pair of reflective shoes an excellent everyday trainer.
It also comes with a removable insole that makes it even more comfortable.
We hope you liked the article and are all set to buy a good pair of reflective shoes. Test the shoes before you start using them, as they can lead to accidents if they cannot be spotted from a distance and do not reflect well. Tell us which is your favorite brand for reflective shoes in the comments below.
Until then
Happy Running!
Read More- How To Treat Heel Pain After Running?