When flying, comfort plays a prominent role in making your travel experience as pleasurable as possible. The last thing you want is to start your holidays being more tired than when you left. Thinking about what to wear while traveling. Here are some best travel outfits you can try on!
Fashionistas know that it is essential to rely on a perfect and best travel outfit ideas, even when leaving for a long-haul flight. The key is to choose a few pieces that are wrinkle-resistant, will not slow you down when you are waiting at the security checks, and that will not make you twitch uncomfortably in your cabin seat.
Accessories like watches are essential so that you will never be late and your outfit will look polished and complete. Before you book your next flight, take a look at our tips to rock the perfect look and travel fashionably (and comfortably). You will find out how easy it is to enjoy your time on your flight, without renouncing all the comfort you need, especially when covering long distances. Here are some traveling clothes for women
Copyright: Pexels I License: CC0 Public Domain
Traveling Clothes for Women
Putting together your perfect outfit may not be an easy task. You can't always achieve a perfect female mannequin doll-like look you aspire for, as you have to take into account several factors, such as the cabin temperature and your destination's climate. Moreover, you must plan strategically: you can never know when and if it is going to be any delay with your flight. In other words, you should always have quick access to your most useful clothes and accessories, so that you can always keep yourself warm or dry.
Jackets
With the right coat, you can keep yourself warm while looking chic. Besides, you can wear your long coat strategically to conceal your casual outfit underneath. Depending on your destination's weather, choose a lightweight, rain-proof trench coat, or go for cozier wool fabrics.
Scarves
You cannot leave for your holidays without bringing your scarf or pashmina with you. This accessory will protect you from the chill, especially if the air con is on at the airport or on your flight. Most importantly, this will make you look gorgeous.
Cardigans
If you don't want to rely on your coat, bringing a cardigan with you on your flight can be a good idea. This will make you feel warm and cozy, even if the temperature in the cabin drops, and it is more comfortable to wear than your coat. Picking a cardigan with a few pockets is always a tactical and practical choice.
Socks
They keep your feet and legs warm. Still, go the extra mile, and opt for legwear with graduated compression technology when flying. People who travel long distances or whose journey involves more than four hours can be at risk for deep vein thrombosis (DVT), per the Centers for Disease Control and Prevention. Wearing compression stockings may help reduce the risk of DVT and prevent leg swelling. Take your pick from this fashionable collection of compression socks.
Avoid Skirts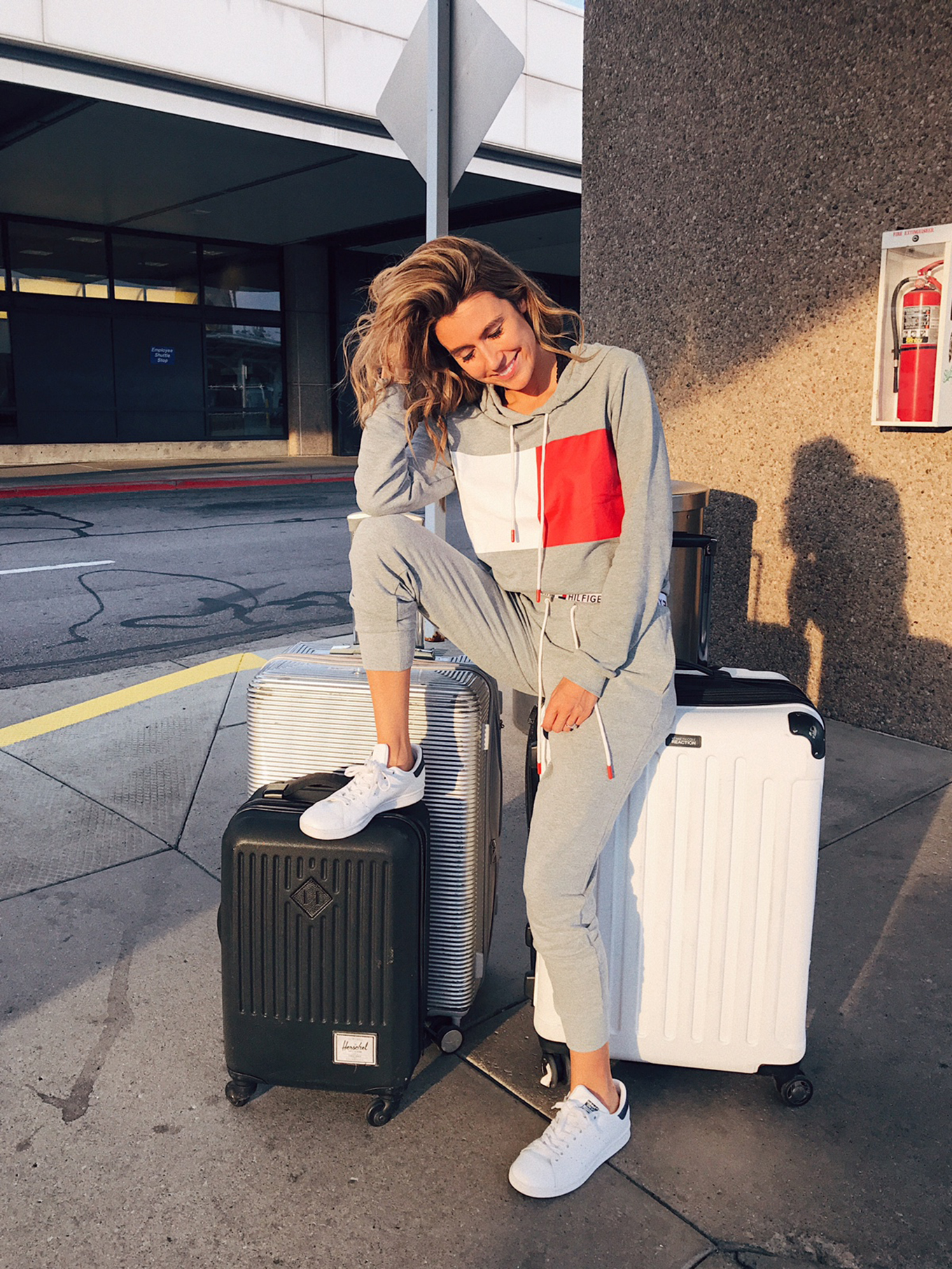 Skirts are chic and feminine, but wearing trousers can make your flight more comfortable. Besides, they ensure that your bare legs and your skin avoid making any contact with germs on your plane seat. Make sure you choose trousers that stretch and are comfortable enough to be worn for several hours, such as palazzo pants or leggings.
See these are some of the best travel outfits ideas for women that they can easily flaunt their beauty in.
Copyright: Pexels I License: CC0 Public Domain
Here are some traveling clothes for men that you have been searching for and are eager to wear.
Travel Clothes for Men
Whether you are a businessman or you are traveling to join your friends on a beach in Ibiza, comfort and practicality are both imperative when flying. The key is to layer different pieces to avoid looking sloppy and to be ready for any situation, including flight delays or sudden rains. We are sure you want to plan everything so you can be prepared for any kind of situation.
Comfortable Trousers
Even if you are traveling for business purposes, it is vital to choose trousers that can be comfortable and functional. Jeans and khakis are usually the right choices, that will allow you to move freely and can still be used to put a more formal outfit together.
Socks
If you cover long distances or if you fly frequently, you may be more prone to deep vein thrombosis. To make your life easier and to avoid unpleasant situations, you should invest your money in a valid pair of socks. Otherwise, sooner or later, your legs will most likely become red, swollen, and you will spend your time on a flight being in pain.
Doctors suggest compression socks, even if they are not really the fanciest accessory for your everyday style. However, these socks stimulate blood circulation, are odor-resistant and, most importantly, are comfortable to wear. They are usually unisex and will join you for many flights.
Slip-on Footwear
Trainers and boots are cool, but you will most likely end up hating them where you will have to bend down at airport security, tugging your laces as fast as possible to not lose your flight. For this reason, you should choose footwear that is easy to slip on and off. Loafers will make your life easier, and will also make your time on the plane more comfortable. They can be styled either with a business suit or with a more casual look.
So these are some best travel outfits ideas for men that they can wear and can flaunt as a gentleman does.
 There are so many best travel outfits ideas you can try on to make your journey beautiful as well as pretty. This article includes both, traveling clothes for women and travelling clothes for men