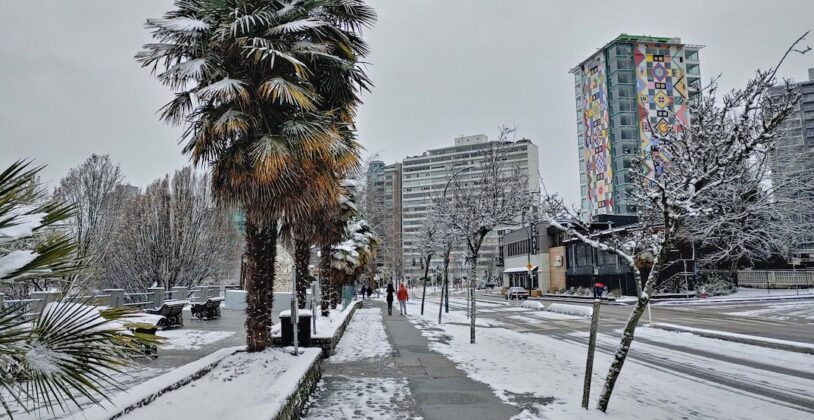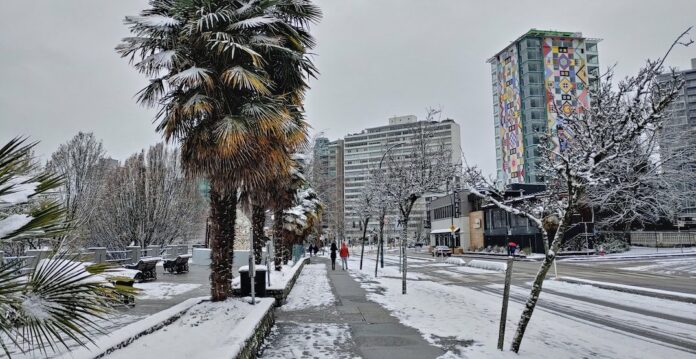 Canada is widely regarded as a frigid and snowy nation. However, this is not the case because the temperature varies per city. Some cities, such as Vancouver, get months of sunshine throughout the year. But, even in a sunny location, there are still cloudy days. So, does Vancouver snow?
It does snow in Vancouver. However, in comparison to the rest of Canada, the amount of snow here is little. The city's average annual snowfall is about 24 cm, although rain occurs more frequently. Snowstorms are uncommon in Vancouver, yet even a little snowfall may inflict substantial damage.
Despite the city's minimal snowfall, Vancouver receives significant rainfall each year. It is one of Canada's wettest regions, with much winter rain. We look at how chilly Vancouver gets in this article.
How often does Vancouver snow?
It is often assumed that snow does not fall in Vancouver. However, this is not the case. Snow falls here, however, not as frequently or heavily as in other countries. Between 2010 and 2019, the area received an average of 9.3 inches (24 centimeters) of snow each year.
The snowiest month is generally February, while seasons such as December and January may also see considerable snowfall. Because of its low yearly snowfall, Environment Canada ranks it third among Canadian cities with the least snowfall between 1981 and 2010. It only had 8.7 days with a snowfall of more than 0.2 cm.
Snowfall occurred in January, February, March, November, and December between 2010 and 2019. Other months that had snowfall between 1981 and 2010 were May and October. It indicates that the average snowfall has likewise reduced over time. Between 1981 and 2010, the yearly rainfall was 17.5 inches or 45 centimeters.
Snowfall in Vancouver typically occurs in December. However, it can occur as early as October on occasion. Winter lasts through February. However, there are situations when snow falls into March, and people may encounter unexpected snowfall in April. Residents should not expect any snow between May and September.
Read more- A Brief Introduction To Life In Edmonton and -Calgary
Do Snowstorms Occur in Vancouver?
Winters in Vancouver are moderate, so you're unusual to receive more than 2 inches (5 cm) of snow on any day. There are, however, a few special days when Vancouver receives up to 10 cm of snowfall in a single day. Unfortunately, this only happens approximately twice a year.
Blizzards with snowfall totals up to 25 cm are extremely unusual in the city. It doesn't happen yearly, but if it does, you can count on it in December. Even in the winter, snow does not build much on the ground due to the constant rains. Snow remains are frequently washed away by rain within a few days.
As a result, heavy snow is most likely to fall in Vancouver between the end of December and the beginning of January.
The Weather in Vancouver
The city's climate is responsible for the lack of snow. According to the Köppen climate classification, Vancouver has an oceanic climate. This climate explains why there is so little snow in the winter. The climate is not exclusive to Vancouver but the broader metropolitan region. Winter temperatures in Vancouver are not usually below zero, even though it is part of the West Coast.
Temperature
Temperatures in Vancouver are normally temperate, and summers are not too scorching. July and August are the warmest months, with temperatures reaching 22 °C (72 °F). The average temperature throughout the year is a pleasant 10.4°C. January and December are the coldest months, with temperatures as low as one degree Celsius or even zero degrees Celsius. However, the temperature is rarely negative.
Rain
Despite the lack of snow, Vancouver is quite rainy. It is one of the wettest cities in the country, with an average of 161 days of rain every year. In 2021, the city saw 169 days of rain, with total precipitation of 44.9 inches (1140 mm). Winters are the wettest months here, although summers are rather dry. In the summer, the city receives little rain, making Vancouver among the driest cities in Canada.
July is the driest month, with rain totaling less than 5 mm on many occasions. In July 2013, there was no rain in Vancouver; this was the first time this had happened.
What to Expect in Vancouver When It Snows?
Because of Vancouver's normally low snow level, there is little infrastructure and preparedness for when it snows. As a result, even little snowfalls might disrupt municipal activity, resulting in school cancellations and traffic jams.
Winter in Vancouver can be rather wet, with snow, freezing temperatures, and rain. This could make the roads slick, making driving more difficult than usual.
Blizzards, fortunately, are quite unusual in our area. However, large snowfalls may still occur, resulting in significant losses. For example, in 1996, a big blizzard dumped around 24 inches (60 cm) of snow on Vancouver, inflicting millions of dollars in damage.
Read More- All You Need To Know About Life In Toronto
Sum Up
As a result, there is still some room for the unexpected when it comes to snowfall in Vancouver.
Concerning cold, Vancouver differs from every other major Canadian metropolis. It is the only one where, even in the winter, the temperature never drops below zero. Even if it snows here, the amount is less than in other regions of the country. It's no surprise that it's the country's hottest urban region. So, while it snows in Vancouver, the amount is much lower.