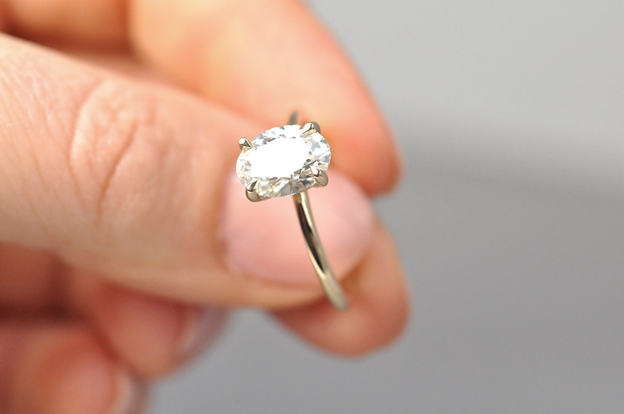 With so many stock engagement rings available in malls, stores, and ecommerce websites, it can feel challenging to find the perfect one, especially when none of them are perfect for your partner. For example, an engagement ring may have the right diamond cut and shape, but it may not have the clarity, design and gold colour that are right for your loved one.
Rather than spending months painstakingly browsing through countless retailers, why not buy a custom engagement ring from a local jeweller that offers outstanding customer service and treats you like family?
Your Custom Engagement Ring Will Be Unique
Chances are that an exact copy of the mass-produced engagement ring you see at a retailer is worn by countless people worldwide. On the other hand, your custom engagement will be a one-of-a-kind piece of jewellery that's as exceptional and unique as your partner.
When shopping for your one-of-a-kind jewellery, look for engagement rings from a locally renowned, family-owned and operated jeweller that provides excellent customer service. Work with a jeweller that answers all your questions, shares in-depth answers, and helps you realize your vision by crafting a ring with experience, skill, love, and respect.
You Don't Have to Break the Bank
Wedding and engagement parties can be steep, even in the age of physical distancing. As a couple, you may want to plan your budget, even if it's not the most romantic part of the experience. It's challenging to stay within your price range with stock engagement rings, especially if you finally find a nice one that has frills you don't want or need.
On the other hand, you can adjust the materials, size of the diamond, and more, of a custom engagement ring to meet your requirements. In other words, you don't have to break the bank to have a gorgeous engagement ring.
It's Time Better Spent
When you're looking for the perfect stock engagement ring that fits your budget and looks good, you can spend months browsing retailers for the right one. Ultimately, you may have to make painful compromises if you plan on buying from a conventional retailer.
However, with a custom made engagement ring, you can sit back and relax as the custom jeweller crafts your jewellery. For the best results, think about your ring before the customization process begins in the context of your tastes and budget.
In addition, don't hesitate to share your feedback with the jeweller during the design process. The right jeweller should also show you a 3D image of the ring for any last-minute adjustments.
Your Partner Will Love It
What better way to show your devotion to your partner than with a unique engagement ring? It will make your partner much happier than mass-produced off-the-shelf jewellery. If you wish to keep the ring a secret until the last second, then have their sibling or best friend join in on the quest as your partner-in-crime.
With a custom engagement ring for your partner, not only will you save energy, time, and resources, but you'll have a beautiful and unique item that the two of you will treasure forever.