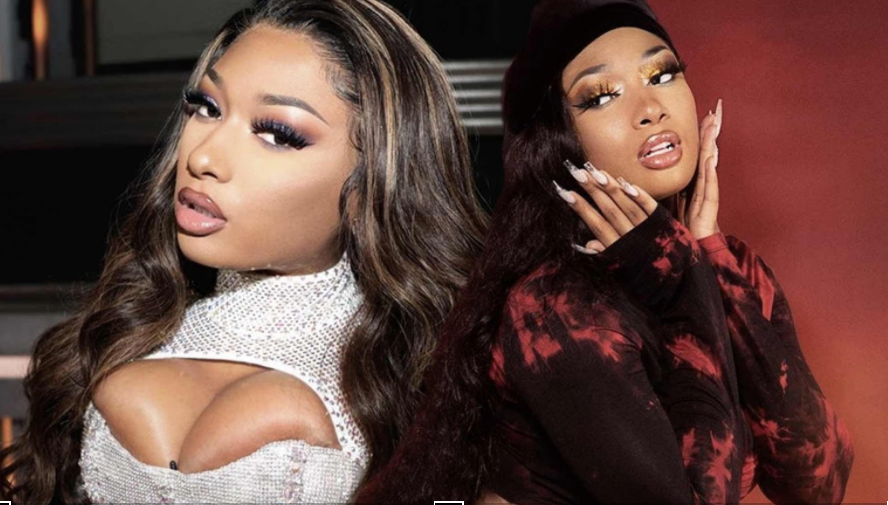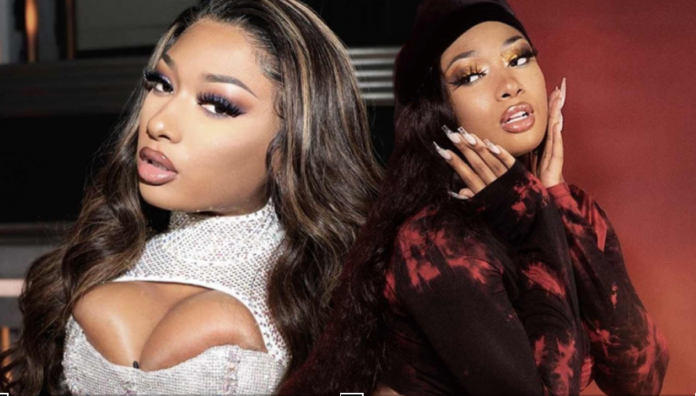 For too long, tall women have been forced to wear too-short, ill-fitting jeans that simply don't work for their body type. Houston rapstress Megan Thee Stallion is here to change all that. She's about to turn the fashion world upside down with her Fashion Nova collaboration, and tall women everywhere are ready to embrace a whole new world of denim. 
Historically, options for women with curvy, tall, or large body types have been limited. The traditional cuts were unflattering, and they weren't tailored to emphasize womens' curves or height. The 25-year-old "Hot Girl Summer" rapper, fresh off her collaboration with Queen Bey herself on the "Savage" remix, announced via Instagram that the world of tall girl fashion is about to change forever. Megan's new line of Fashion Nova jeans is made with stallions in mind, and we couldn't be happier. 
Celebrity Jeans for All
This isn't the first celebrity jean collaboration. When it comes to specific body types, rapper Nelly cornered that market way back in 2003 with his "Apple Bottoms" brand, featuring jeans that were made with curvy women in mind. 
The H-Town Hottie herself modeled some ice-blue jeans from the forthcoming line on Instagram in late April, prompting fans to lose their minds in the comments. "Please make pants in a 36 or 37 inseam," one fan wrote. "Yeeeeeeees.!!! For tall girls…" wrote another. Some fans had some construction criticism ready. "They need to go up to [a] 38 inseam," wrote one commenter. "Would really appreciate it… We tall girls out here struggling and suffering."
Megan Makes a Difference
It's not about the hype for Megan. The woman who started the "Hot Girl Summer" revolution hasn't always had an easy time with fashion. The confident singer and rapper has been height-shamed on social media before, responding with grace and shutting down the haters with a single tweet. Make no mistake, though: For Megan, the tall girl struggle is real. Hot Girl Megan, at 5'10", has been described by fans and press as "statuesque," cutting an iconic figure on stage and on social media. 
Why Do Tall Girls Always Get Left Out?
If it seems like people are reacting strongly it's because the topic of height is actually far touchier than you'd imagine, especially if you're someone who happens to fall below 5′ 6". For tall girls like Megan Thee Stallion, a 34-inch inseam, which is often the longest option on offer, doesn't even cover the ankle. Sick of getting high-watered by companies that were unwilling to make clothes for diverse body types, the Stallion decided to take matters into her own hands by pairing with Fashion Nova for the soon-to-launch collab. As the patron saint of "Hot Girls" of all genders, Megan has been bringing the heat all summer. The "Suga" rapper defined "Hot Girl Summer" as being a state of mind for women and men being "unapologetic" about who they are and never conforming or fading into the background. Never one to stay silent on the issues, Megan has remained a role model for outspoken women of height everywhere, despite constant internet bullying and rude comments from trolls about the singer's height. 
Since the news of Megan's Fashion Nova collab was leaked a few weeks ago, "Stallions" have continued to respond, via Twitter and Instagram with enthusiasm. Many fans have expressed how excited they are to wear jeans that actually fit. But Megan had better hurry up with that backstock. Once the Fashion Nova line sells out (and oh, it will) Nelly's Apple Bottom Jeans comeback could roll in and snatch up some of the clientele if they're not ready with those backups. 
When Can We Get Out Hands on the Line?
So when is the line launching? We only have this clue from the Stallion herself: "When the world goes back to normal, I'm working with [Fashion Nova] to make longer jeans for us tall girls," Megan announced on Instagram. Now, being a stallion comes with even more perks. The only question is, when is the world going back to normal? We now have one more reason to hope that day comes sooner rather than later. With the promise of a Fashion Nova-themed #TallGirlSummer lingering in the distance, Megan Thee Stallion just might be incentivizing good COVID-19 behavior without even knowing it. 
What's Next for Fashion Nova and Megan Thee Stallion?
Hot Girl Meg's Fashion Nova collab is only the start of great things to come from the world of rap-inspired fashion. Megan Thee Stallion took the rap world by storm a few years ago with the release of her "Tina Snow" EP. Since then, she's empowered tall girls everywhere with hits like "Savage," featuring a newly-released remix by Beyonce that won't stop climbing the charts, and "Hot Girl Summer" with Nicki Minaj and Ty Dolla Sign. As one of the quickest-rising stars of rap, alongside fellow newcomers Doja Cat and City Girls, Megan has dominated the airwaves for several summers now, giving hot girls everywhere the empowering summer anthems they crave. Fans might have to wait a bit for the Fashion Nova release, but once those jeans hit the shelves, all bets are off. With her recent "Savage" success on Instagram, the singer continues to top the charts and remain an inspiration to tall women everywhere.