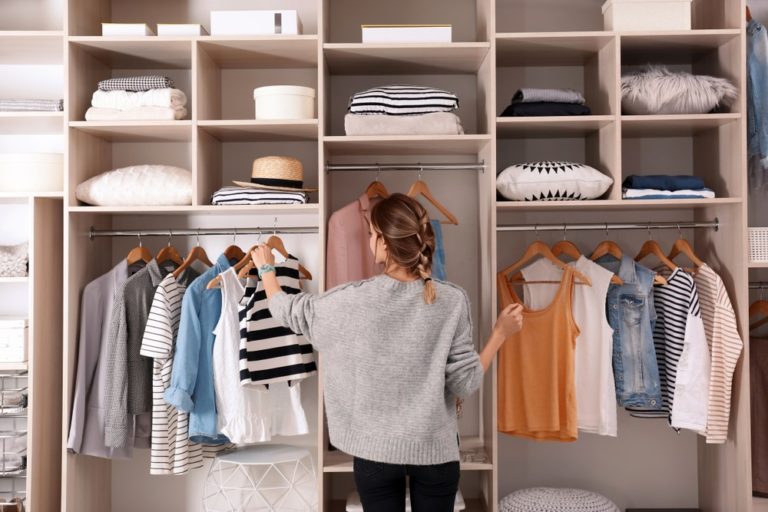 New year, new wardrobe. If you're anything like us, you're probably taking the brand-new decade as a chance at a brand-new aesthetic, and what better place to start than your closet? Giving your clothes an annual upgrade is a great way to boost your self-confidence—studies show that what we wear can raise our self-esteem and make us feel more confident—so it probably plays into your broader resolutions, like strengthening your self-care regimen or building up your happiness.
But going out and spending a bunch of money on a ton of new clothes probably isn't the best or most responsible way to improve your life. Not only can it have serious financial consequences, but it can also contribute to needless waste and make you feel guilty and overindulgent. Thankfully, there are some awesome ways to refresh your wardrobe on a budget so you soak up all the amazing benefits of a new look without the side effects of overconsumption.
Purge Your Closet—Step one: purge. Before you bring anything new into the mix, make sure your wardrobe is free of anything you haven't worn in a while. Cleaning out your closet will help you understand what you need to replace and what you tend to buy too much of. As you weed out the old, make a list of pieces to replace and collect all gently used items to donate or sell.
Set a Budget—The cost of new clothes adds up fast! Unfortunately, most of us don't have the luxury of spending thousands on a brand-new wardrobe on a whim, but being that they're a necessity, clothes need to be factored into the budget somewhere. Determine how much you can comfortably spend on new clothes or how much you need to save each month to replace anything old and worn out.
Hit the Thrift Store—Your local thrift store is probably a serious treasure trove full of fun and cheap pieces that can liven up your wardrobe for next to nothing.  We like the idea of hitting the thrift for a few key items rather than shopping for everything there, as this can just get overwhelming. Jeans, jackets, basic T-shirts and unique vintage finds are always a safe bet at the secondhand shop.
Invest in One or Two New Tops—You won't be able to buy a whole new wardrobe secondhand, nor would you want to. Pick out a couple of new cute tops or jackets to add a fresh appeal to your closet. Aim for stylish but versatile pieces, thinking about cost per wear as you go. A nice, cashmere sweater or solid-colored silk blouse may cost a ton upfront, but if it's high-quality and versatile enough, it shakes out to pennies per wear over time, and that's well worth it in the end.
Host a Clothing Swap—Clothing swaps are get-togethers where you and a group of friends or members of your community exchange gently used clothing items, often in a fun setting like a salon or bar. This is truly one of the most underrated ways to refresh your wardrobe because not only does it help you spiff up your own personal style, it also helps you get rid of the stuff you're not wearing.
Focus on Accessories—Rather than trading up your bigger, more expensive wardrobe items, consider swapping out your old stuff for some cute accessories. A pair of fresh, new sunglasses or a trendy belt may be all you need to transform your look from old and stale to trendy and youthful. One of the best accessories to focus on is your handbag or backpack. If you're like most ladies, it goes with you everywhere you go, so a new one can add another layer of polish to your daily look.
Shop Between–Season Sales—As retailers are setting their sights on spring, they're also slashing and dashing prices on their winter inventory, and that often means great deals on year-round staples like jeans, leggings and tennis shoes. Make sure to keep an eye on sales at your favorite boutiques and online shops as winter fades into spring and spring fades into summer.
Invest in a New Pair of Shoes—A pair of comfortable, cute shoes is worth its weight in plutonium, and often comes with a very low cost per wear. On top of that, the right pair of kicks—whether it be some classic, white sneakers or a pair of dazzling booties—adds a layer of polish and style to your look like nothing else can. Who cares if your jeans and tops are many seasons old when your shoes are fresh?
Aim for Classic, Not Trendy—Still, it's important to invest in core pieces that won't ever go out of style. A few good pairs of high-quality jeans, basic tops and sweaters can lay the foundation for a classic, budget-conscious wardrobe that'll last many years. If you tend to gravitate towards a trendier style, you can pepper in stylish pieces with your accessories, such as some fun sunglasses or jewelry.
Repair, Refresh and Clean Your Old Clothes—Try to find some new in the old. In other words, if you've got some jeans you love that happen to have a little damage or a dress that's a size too large, give it a little love by sending it to the dry cleaners or seamstress for a little fix-up. You'll be surprised to find what all your local seamstress can do for just a few bucks–from darning old socks to repairing zippers to making the wrong size right. Oh, and don't forget your local shoe repair shop! They can do wonders with your old, beat-up shoes.
New Wardrobe, Who Dis?
Don't write off fashion as being solely superficial or shallow. The truth is that what we wear deeply affects how we feel, not only by helping us build up our self-confidence but also by making us literally more comfortable throughout the day. A well-curated, well-considered wardrobe helps you go through life feeling more confident and more focused on the most important things, and that's a good resolution to keep!