Tribal Braids, one of the most trending hairstyles rooted in Africa, have many different hairstyles; the Medium tribal braid hairstyle is one of them. Originally, the tribal braid was a way to show age, relationship, social status, and a way to communicate.
However, today tribal braid is all about showing off personality and style.
In this article, you will clear certain doubts like:
All about tribal braid
What type of hair is used in Tribal Braids?
How long do they last?
Different hairstyles in the tribal braid
Let us see them one by one:
What is Tribal Braid?
African black women basically wear Tribal Braid to show their personality, status, religion, rank, and style. It is regarded as their contemporary and protective hairdo (African black women). However, these days, it is a trend among fashion freaks. We will discuss several hairstyles in Tribal Braids like medium tribal braid hairstyle, in the latter part of the article. Stay connected until the end of the page.
What type of hair is used in Tribal Braids?
Tribal Braids can go in any hair length, either small or long if you have hair without extension. Medium tribal braid hairstyle can be done in medium hair length.
You must have 5-6 packs of hair to get a perfect braid.
How long do they last?
Generally, they last up to 4-6 weeks, and the rest is on the hairstyle. Like, giant braid lasts four weeks, whereas the Medium braid lasts 4-6 weeks. It also depends on how much you take care of your hair. Now let us check different hairstyles. How to do a Medium tribal braid hairstyle? How to style a Medium Tribal Braid hairstyle?
Classy Tribal Braid Hairstyle
We have discussed earlier that the braided hairstyle was traditionally popular to denote wealth, position, religion, and authority. However, these days, it is a popular hairstyle among girls. Like, cornrows were popular in the 1960s and fox braids in the 1990s, Tribal Braids will never go out of the trend among girls.
Now, it's time to look at different hairstyles of tribal braid and mainly the middle tribal braid hairstyle:
Middle part Tribal Braid hairstyle: TRENDING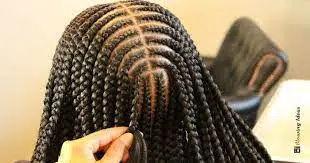 It is a hairstyle that suits an oval and round-shaped face. Parting the hairs into two parts and the long layer of the hair seems to slim the face, which makes your face longer. The Middle tribal braid hairstyle looks mysterious with an edgy vibe.
Fulani Braid: MOST POPULAR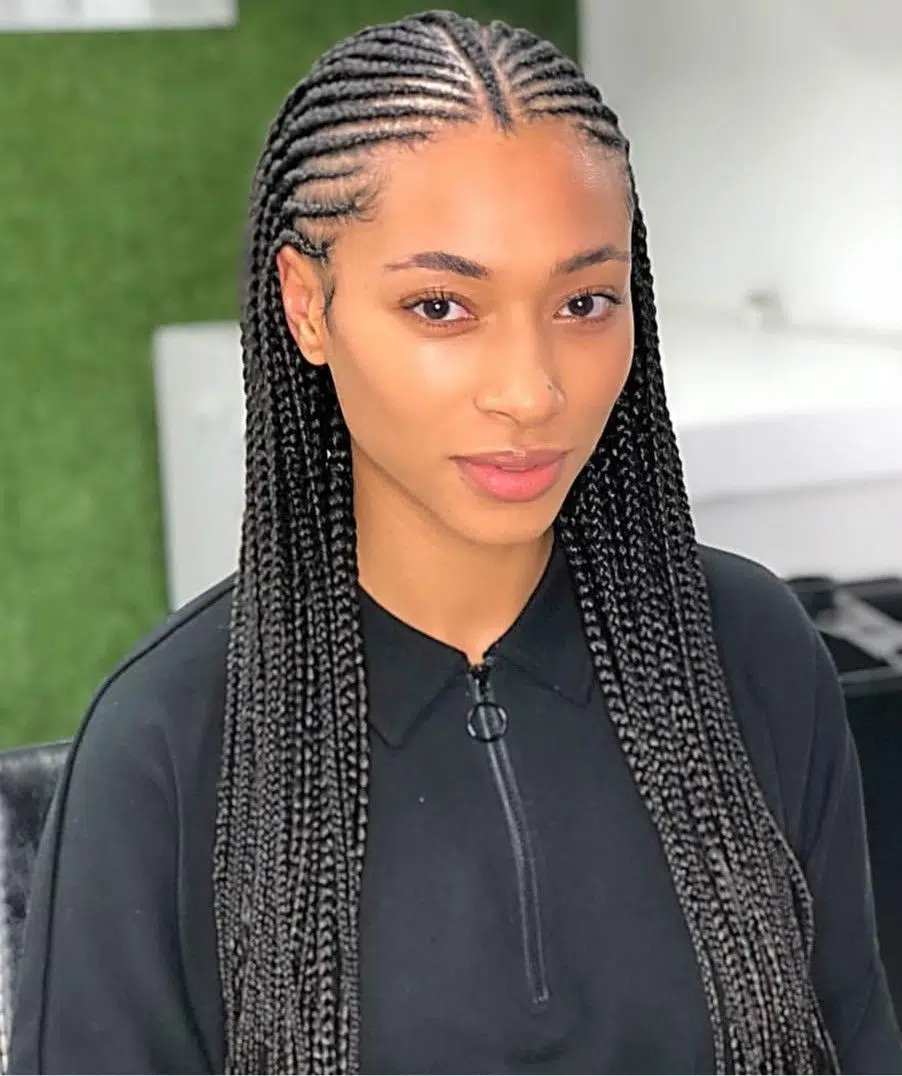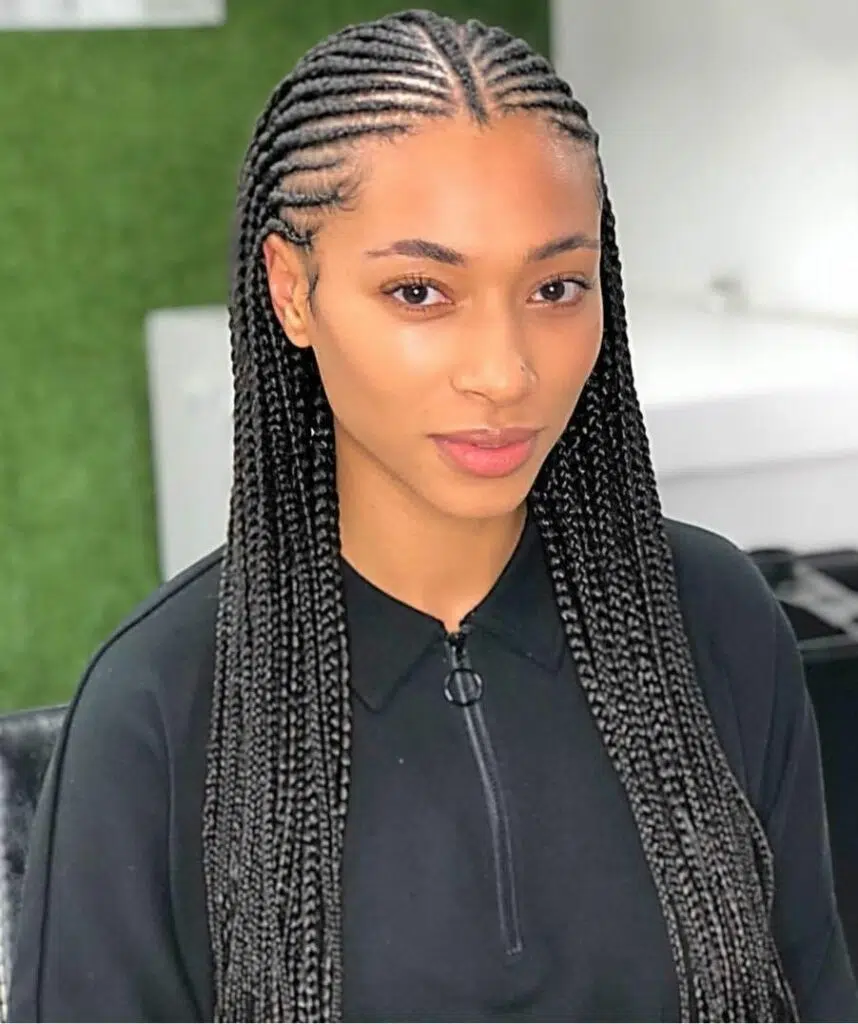 Fulani braid is the most popular hairstyle from the Fula tribe of Africa. In this hairstyle, the central braid is crowned above the head. Traditionally, it was decorated with beads and rings. This vibrant and versatile hairstyle is in trend among girls.
Side part Tribal Braid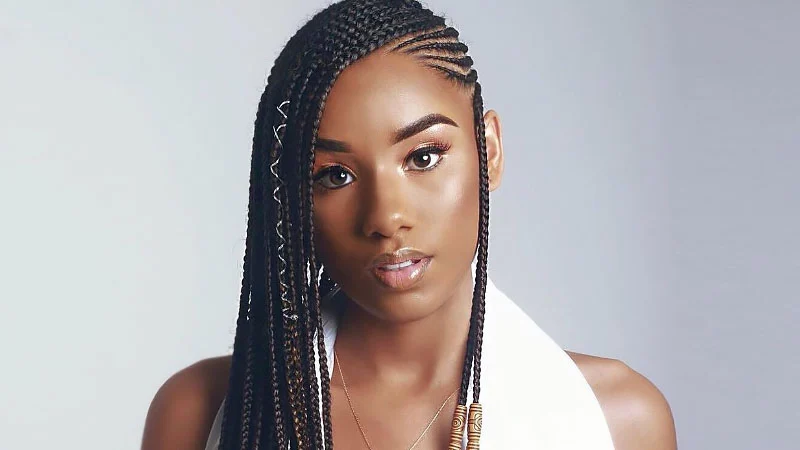 This type of tribal braid suits a square and diamond-faced structure. As the name suggests, the braids are side parted, which gives a feminine and soft look. When the braid is side parted, the long length of the braid draws attention to your jawline, cheekbones, and eyes.
Jumbo Tribal Braid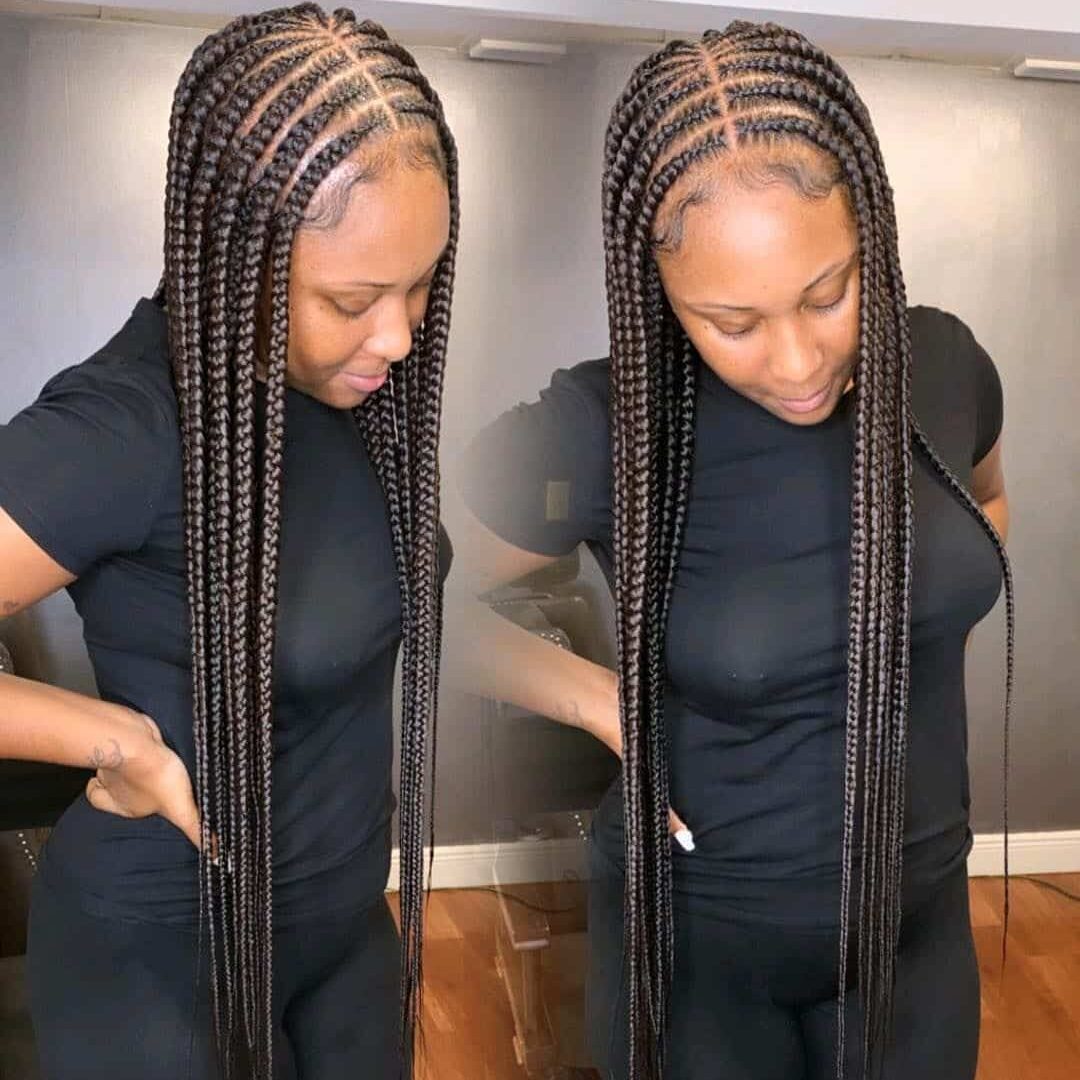 It is a box braid that requires extra hair extension to get the oversized effect of this hairstyle. Different patterns are created in this style to give an attractive look, and beads, hair cuffs, and rings are added to give a unique tribal look.
Two-layer Tribal Braid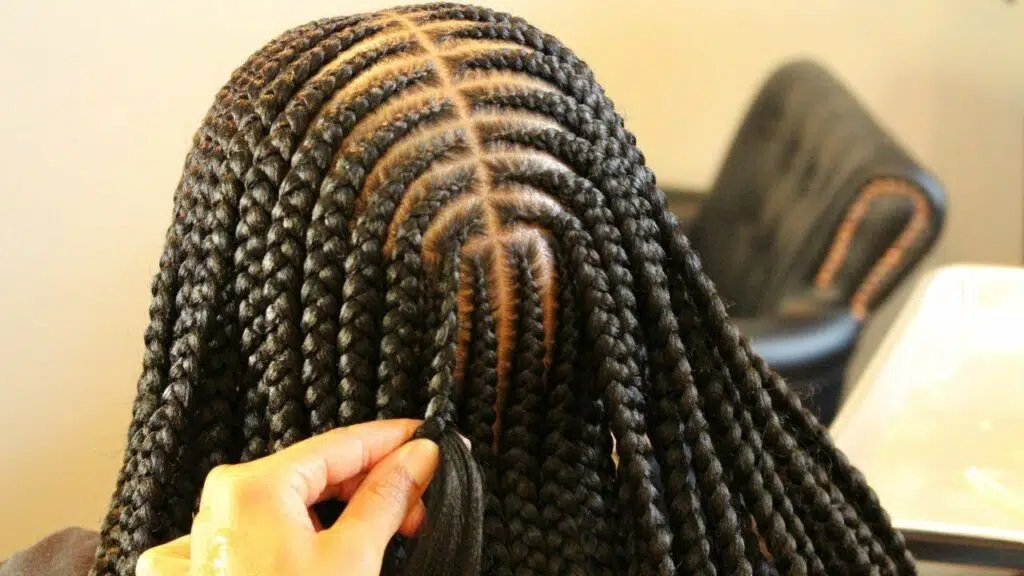 To get this hairstyle, hair is first divided into horizontal sections; after that, cornrow each section and, in each section, braid the hair in different patterns. Each row is fed with extension when the row is braided finely. You get a voluminous look and a unique finishing.
Ghana Braid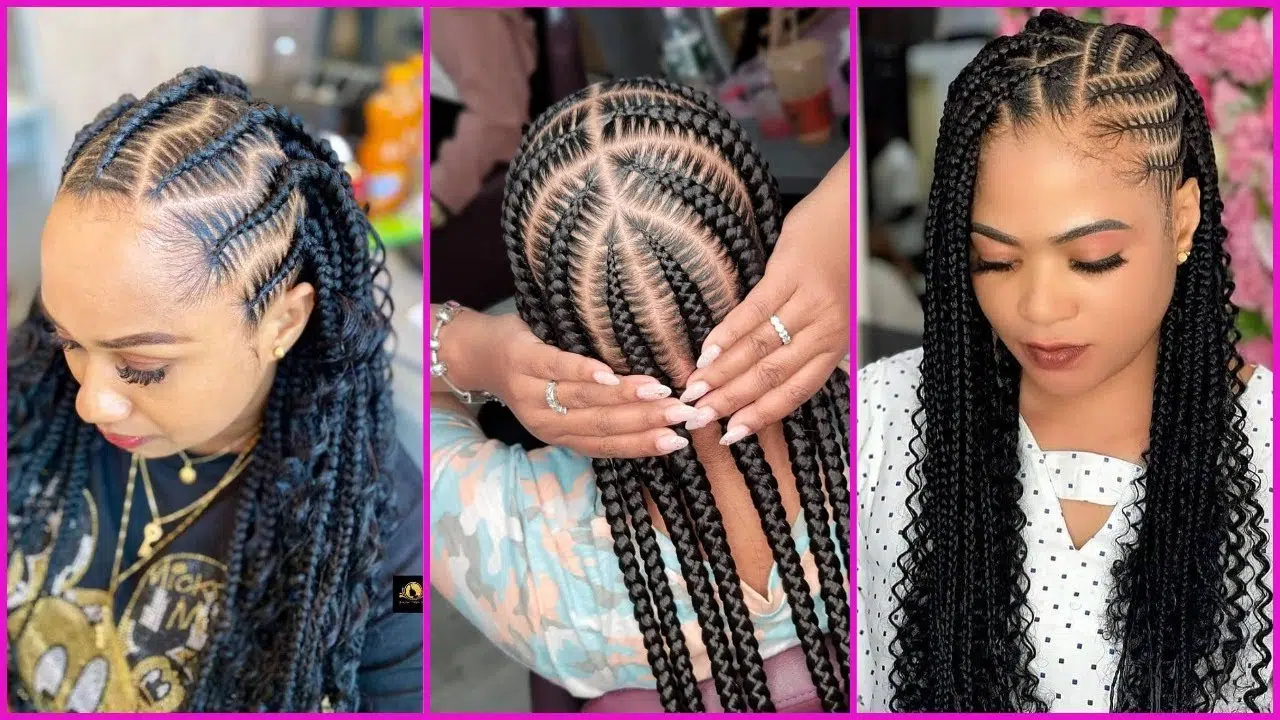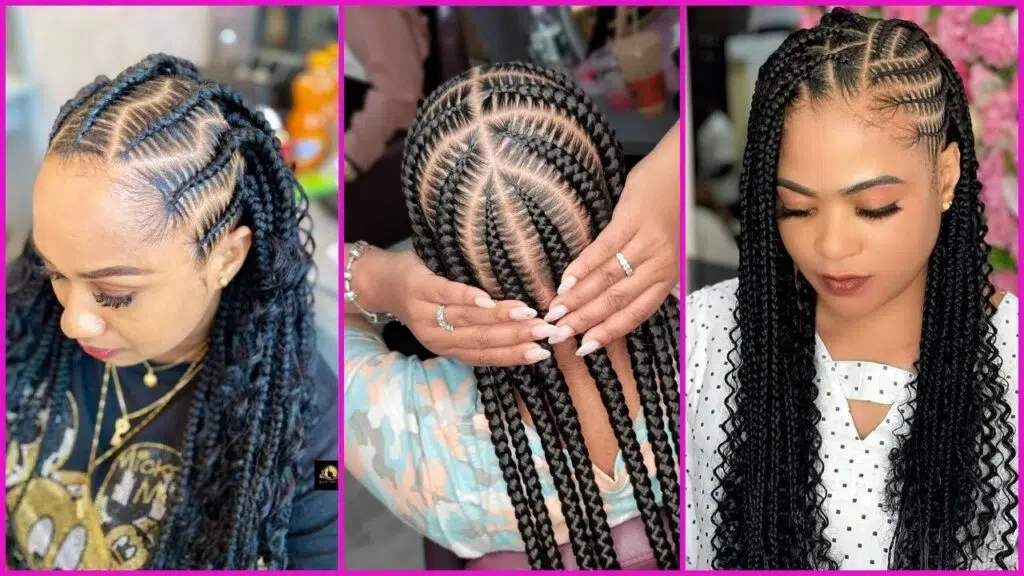 Ghana Braid is a popular tribal braid hairstyle of Ghana. It is braided in many different patterns to give a unique tapered effect.
Long Tribal Braid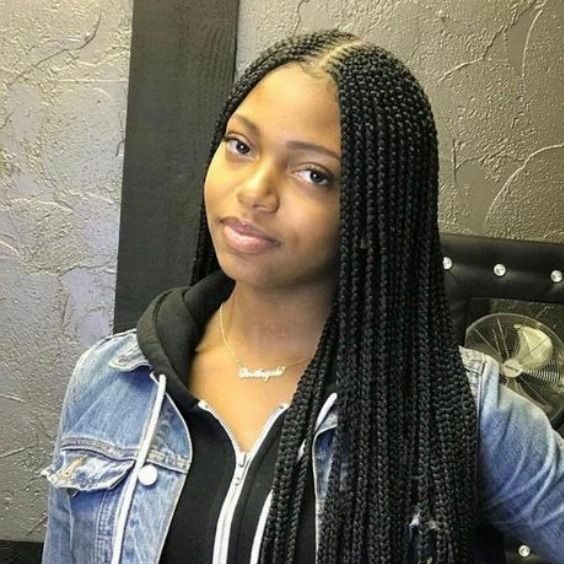 This hairstyle is perfect for those women who have naturally long hair. Traditionally, women used to add the shells at the end of the braid. Cowry shells were popular among African women to show womanhood, protection, and wealth.
Short Tribal Braid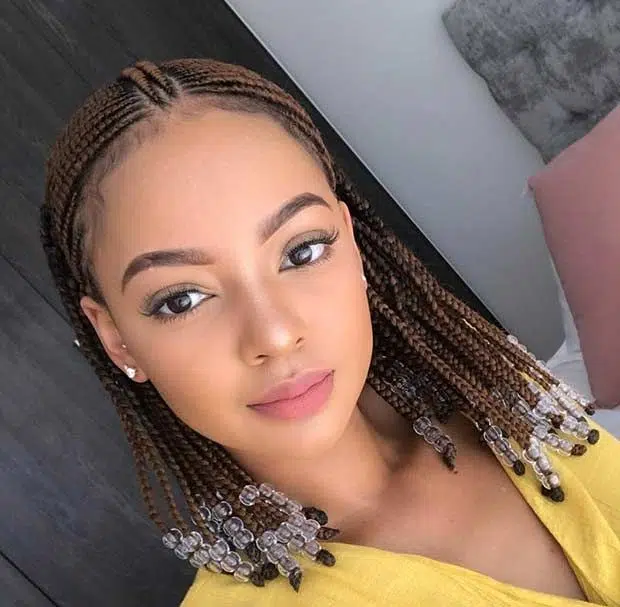 There are several hairstyles for long hair, but if you want to give a stunning look to your short hair, you can go for this tribal braid hairstyle. If you try a side parted or central braid style, this hairstyle will give an original and unique look. You can add beads and rings to the braid for a subtle look.
Tribal Braid with beads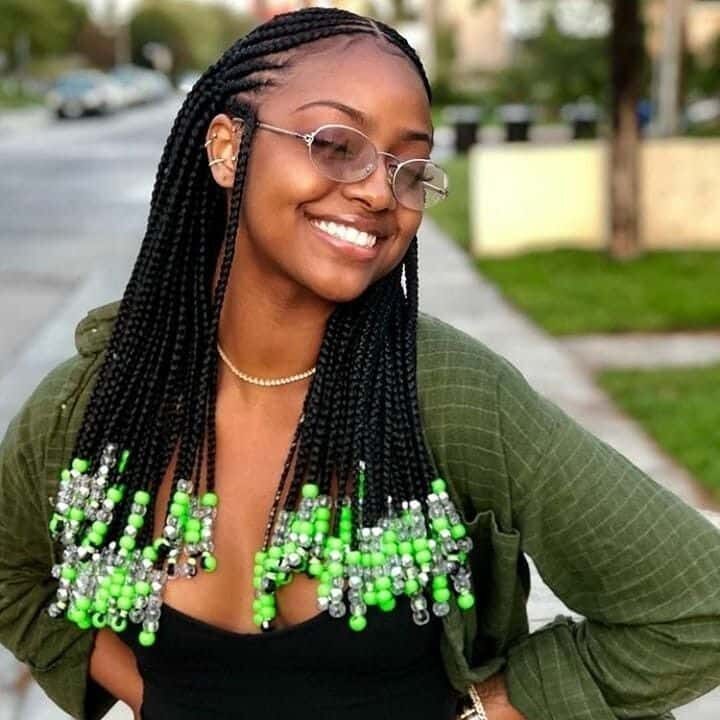 The tribal braid hairstyle is a part of several African cultures. Traditionally, it was a way to show the social standard. Still, it is a way of reflecting your style and a tribute to the tribal heritage of Africa. Several types of beads can be added to braids like metal, wooden, glass, colorful, and many more.
Tribal Braid Ponytail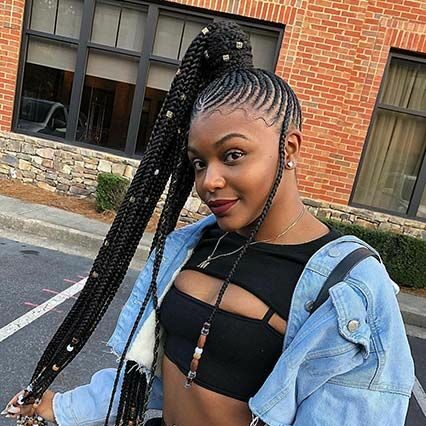 Tribal Braid ponytail is a famous chic twist for any occasion. It is an easy and quick hairstyle. To create a ponytail:
Collect your braided hair up to your crown.
Don't pull the braids too tight as it can cause tension in your scalp.
Wrap two or three braids around the base of the ponytail.
You will get a stunning ponytail and need not have an elastic.
Tribal Braids Bun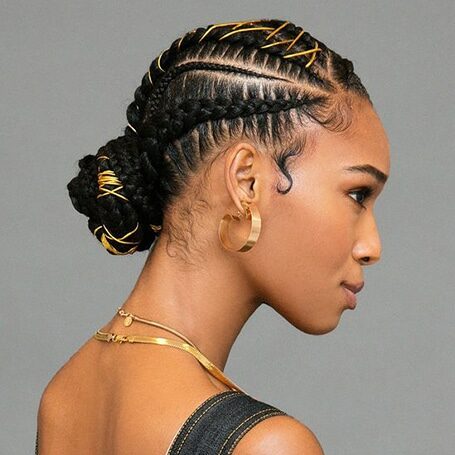 Suppose you want a stunning and classy look for any special occasion like a wedding, engagement, or other. In that case, you can go for this hairstyle. You can have this in different patterns, designs, sizes, and thickness. Additionally, to have a guiled touch, you can add Gold wire in braids.
Feed-in Tribal Braids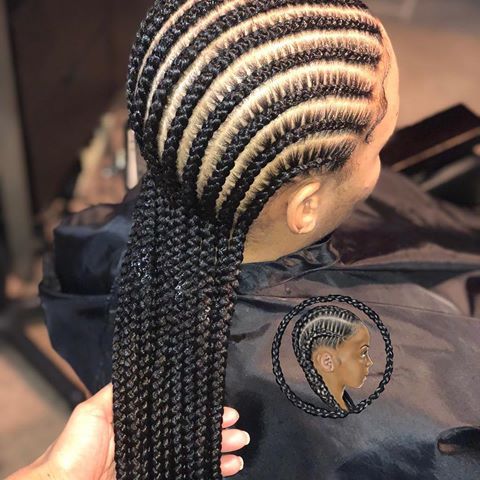 In this hairstyle of tribal braid, small pieces of hair extension are added multiple times to your natural hair to give it a natural look and smooth hairline. You can use this hairstyle to create a beautiful and thick tribal braid if you have fine or short hair.
Color Tribal Braid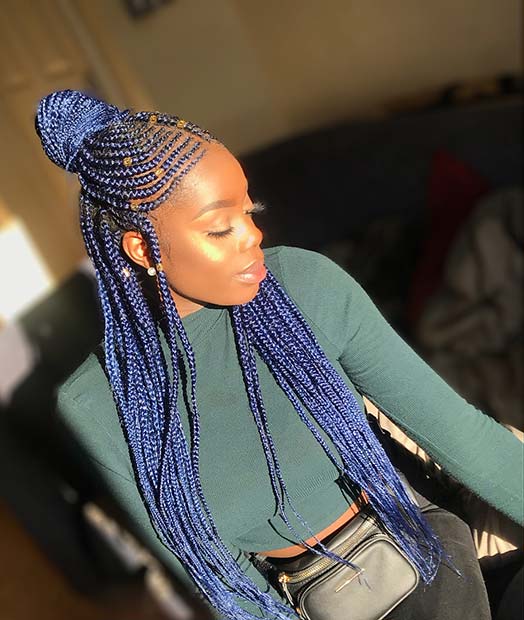 You can add some color to the tribal braid to give it a distinctive look. The best way to apply color so that your natural hair remains real, untouched, and unbleached is to braid it in dyed extension.
Goddess Tribal Braid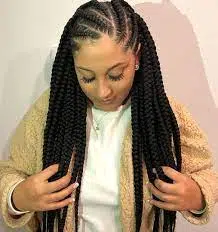 This braid is originally popular among African women, who have been using it for centuries, and is still popular. The underhand technique is used to braid this hairstyle like the cornrows. It's up to your choice that you leave them loose or create a ponytail. Both ways give a stunning look that can stand you out from the crowd.
However, goddess braids are not long-lasting as they last only two weeks. Don't let the braid get wet; avoid it as much as possible.
Tribal Box Braid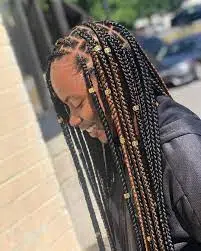 This style of tribal braid is thought to originate from the Nile valley and some tribes of Namibia. Later in the 90s, it was made famous by Janet Jackson. The square section of hair forms each section of the braid; that is why it is named tribal box braid.
Bohemian Tribal Braid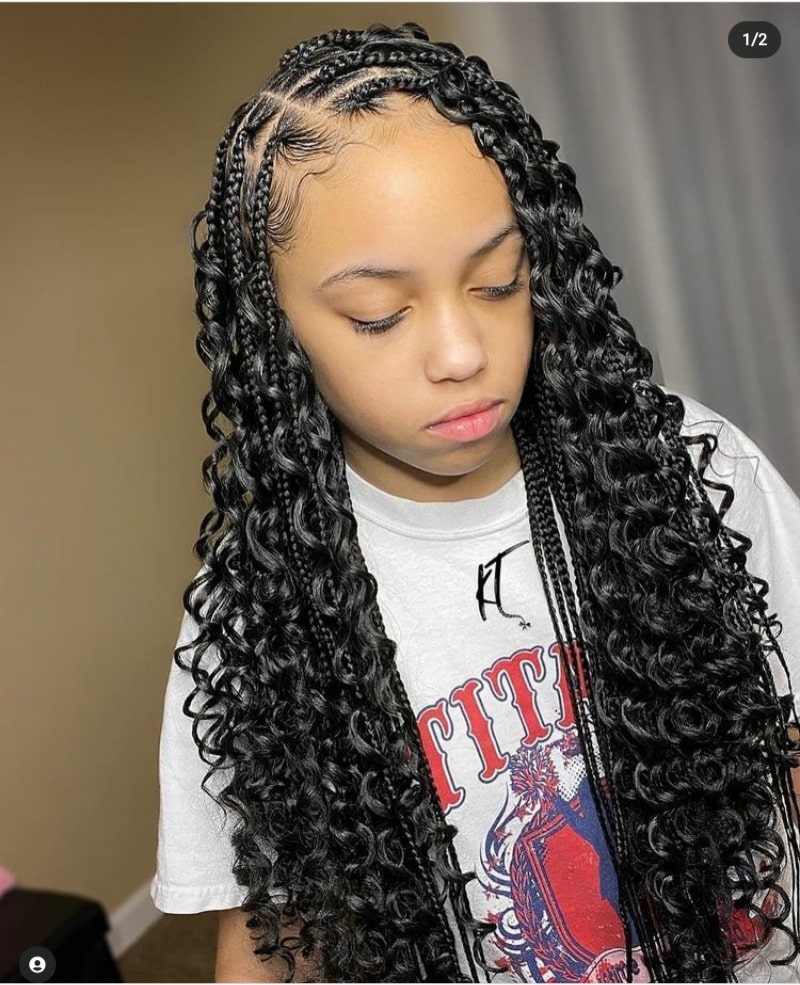 As the name suggests, bohemian means free-spirited. It gives a creative and attractive look to free-spirited women. It is a mixture of twisted braids and loose hair that results in a feminine and wild look.
Cute Tribal Braid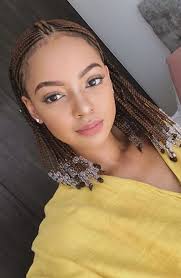 If you want a cute and youthful look, you can go for a cute Tribal Bride hairstyle. It suits any face structure. This versatile tribal braid combines thin-braid, mid-length, and the Fulani pattern. To give a classic look, you can tuck the strands behind the ears and add some glass beads at the end of the braid.
Lemonade Tribal Braid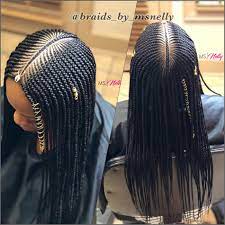 It was made popular by Beyonce and worn on the Lemonade album cover. Lemonade tribal braid goes from left to right rather than other styles from front to back. Apart your braid from left to right so that more scalp is visible. For a more stunning look, you can add beads and rings at the end of the braid.
Tribal Braid with the curly end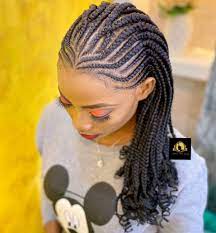 Like box braids, it is also one of the attractive hairstyles. As the name suggests, it combines loose and braided hair with curly ends. For a good result, the stylist pair curly ends with thin long plaits. It takes less time than to have a fully braided look.
Triangle Part Tribal Braid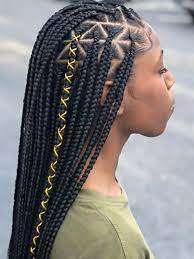 This hairstyle is believed to have originated in southern Africa. As the name suggests, hair sections have the shape of a triangle. It is a classy style that looks amazing among all the hairstyles. You can add a gold plate in braids to give an attractive look.
Top knot with Box Braid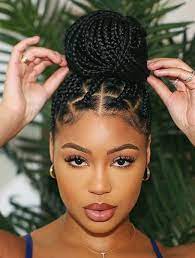 As we have discussed the box braid, the top knot of the combined box -braid also gives an awesome look.
Top-knot always gives an intimate look. It not only lengthens the face but also adds height. It is the best combination for short girls with any length of hair.
Half Top-Bun Tribal Braid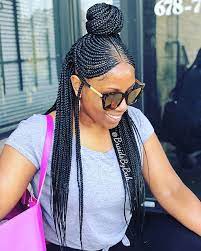 Women with round-face prefer this hairstyle. Like the top knot with box braid, it has the half bun instead. It is neither too tight nor too loose. The half-top bun is an organic, soft hairstyle with a laidback vibe. Plus, you can leave some loose curls to create a feminine look.
Senegalese Tribal Braid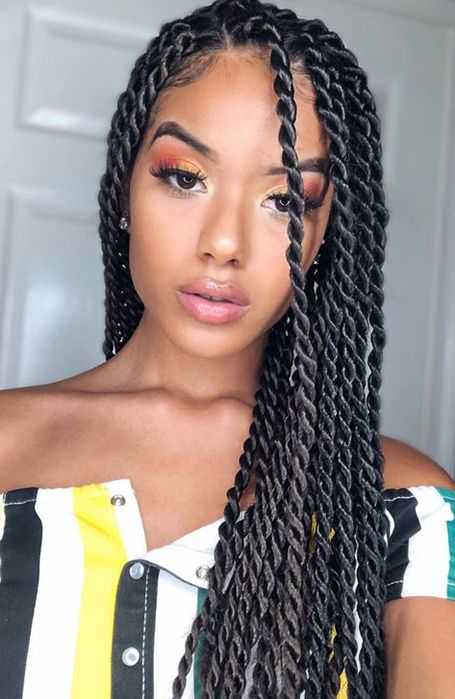 It became popular in early 2000 in Senegal, a Western African nation. It gives a glamorous look with rope-like braids. Traditionally, synthetic hair was used to create a smooth and glossy look.
Cord Feed in Tribal Braid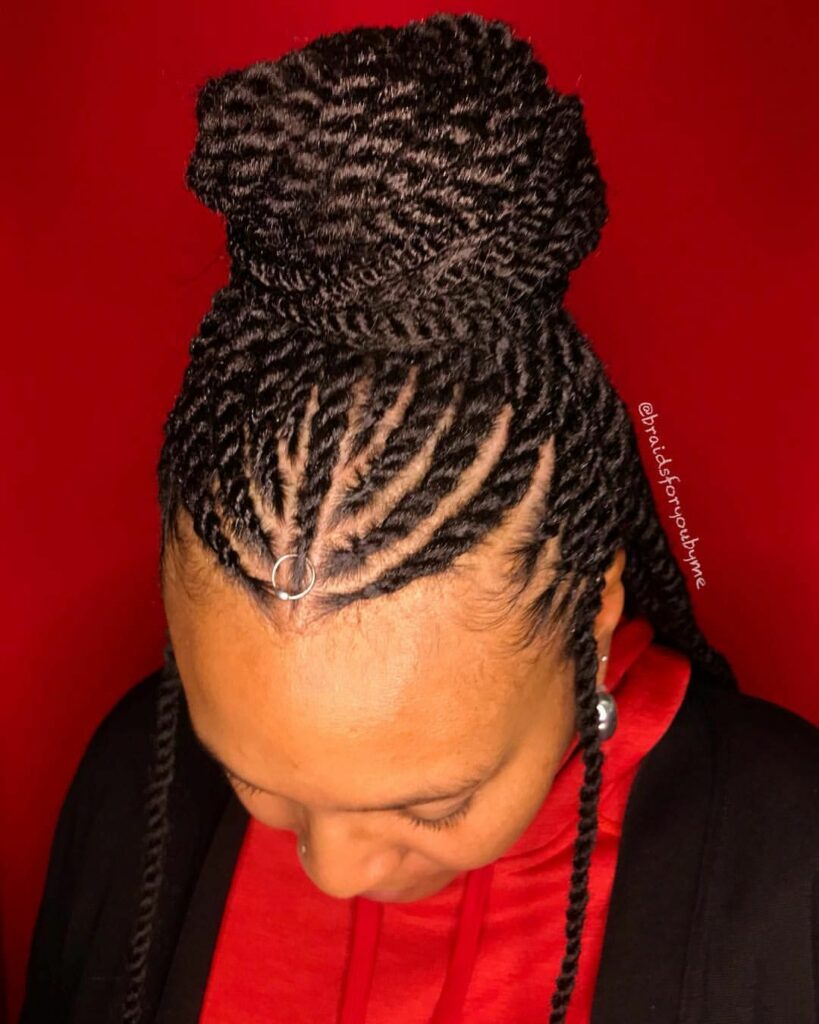 As we have discussed the feed tribal braid earlier, the hair is gradually extended by the stylist in this hairstyle, which results in a natural and real hair finish. For further decoration, cords are made which can be wrapped around the braid for a more stunning look.
Some Frequently Asked Questions(FAQs)
How much does tribal braid cost?
The cost of Tribal Braids depends on factors like the length of your hair, the braiding pattern, the thickness of the braid, and the stylist's expertise. Generally, the price starts from $200-$250.
How many packs of hair do you need to make a Tribal Bride?
For a good tribal braid, at least 5-6 packs of hair are needed. Like, medium tribal braid hairstyle need 4-5 packs of hair.
How much time does it take to do?
Generally, it takes 2-8 hours to create a trial braid. It also depends on the pattern and the complexity that you want.
How long does it last?
It all depends on the thickness of your braid. Generally, it lasts for 3-4 weeks. It is also determined by the care you take of the braid. Don't let the braid wet, it can last for more time.
The Takeaway
We have discussed the patterns and styles of Tribal Braids, especially the Medium tribe braids hairstyle. We have tried our best to clear all your doubts in this article. Hope you like the article. If you have any doubts regarding this post, you can mention them in the comment box.