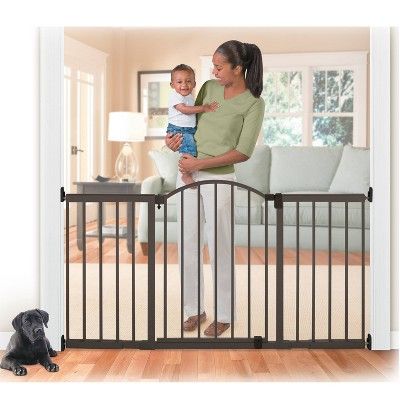 As when the baby starts crawling, there is always a danger that it might not get hurt by something if you are not present there. To keep your baby safe and secure, it is important that you must install gates strategically that make your life easier and no worry about your baby's safety. Installing gates for baby's safety keep it away from crawling to stairs and from the pet as well as. 
These baby safety gates are used for babies aged 6 months to 2-year-old. As the child learns to climb over the gate or learn to open it, there is no such use of these gates. 
In this guide, we will discuss the gates that prevent your child from any outside danger and that are only open and closed by their parents or adults. We will show you the different types and designs of safety gates for your baby. 
General Type of Baby Safety Gates
There are two basic varieties of baby safety gates. These are: 
Pressure Mounted Baby Safety Gate: These are pressed on the opposing walls so that your baby can explore the room by crawling but do not go to the stairs and also keep your pets away. These gates are usually installed in the place where there is no chance of your baby falling. Using these gates to secure your baby from the top of stairs is not good for baby safety, so do not use these gates for top stairs. 
Hardware Mounted Baby Safety Gates: These types of gates are bolted inside walls. These types of gates are considered appropriate where there is a chance that a baby can fall from the height, like from the top of the stairway. 
If you decide to buy any one type of safety gate for your baby, make sure you buy one that is certified under the JPMA or Juveline Products Manufacturers Association, this shows that the manufacturing meets the international standards for safety and security for baby's gate. These standards laid several safety, performance, and security issues that the manufacturer had to follow, which include material to use, size of the opening to prevent toe and finger from entrapment, and latch integrity. These guidelines also consist of that the height of the gate is not less than the 22 inches, and area from the floor to the bottom of the gate is not more than 3 inches so that babies do not crawl down from that opening as well as their neck or head do not get stuck in that opening. 
Related : Baby safety check for new Baby
Our Recommendations For Choosing Best Safety Gate For Your Baby
If you are looking for what features you have to look for before buying any specific gate for your baby is to choose a gate that has little space between the latches, straight smooth edges, smooth mesh screen, strong material, and vertical slats. If you have chosen the gate with mesh panels made to buy with fine weave as the wider holes can provide support to climb the gate with a foothold or may trap the baby's fingers. To install the gates properly, you need to read the manual carefully provided by the manufacturer. However, installing the gates for baby's safety and security is enough or any substitute; it is much better not to leave your child alone and keep your personal supervision on your baby. 
Baby's Safety When You Are Travelling or Going Out
When there is a time to meet your relatives or travel with your baby, pressure mounted gates are optimal for that time as they are portable. Portable gates can easily be used when you are staying in a hotel room or relatives to make sure your child is safer there and does not cause any damage to itself. If you are leaving your baby inside the house, make sure to cease all the areas that may be dangerous for the child, like stairways, kitchen, or any other place where it may go by crawling. Close the doors of rooms that might be unsafe for your baby, like close the doors of the bathroom, cease stairways from the bottom, not from the top, look at all the drawers, cabinets, and anything that your baby can get hurt. 
Types Of Baby Safety Gates
Choosing the right type of gate for your baby safety is crucial for parents to make sure your baby does not get any injuries. For indoor and outdoor, and for top stairs, you should install hardware-mounted gates. Whereas for rooms and to cease the bottom of the stairs, pressure-mounted gates are appropriate. 
Hardware-Mounted Safety Gates
Hardware mounted gates are one of the highest security gates for your baby safety. However, no gate promises the childproof, but this is the most secure baby safety gate. This type of gate is made from aluminum, wood, or enamel coat steel. These are installed by screwing the gate into the framing of the wall or room's door. But this type of gate is not screwed into plaster and even in the drywall. 
Where To Install This Type of Gate
These gates are appropriate to secure your baby from falling through the height, like the top of the stairways. For more safety, install the gate in such a way it opens towards the floor, not over the stairs. 
Pressure Mounted Safety Gates
This door is safe for keeping your baby away from climbing the stairs and going to the other room. The gate is installed and does not drill any holes on the walls, you just need to create a pressure against the walls or door frame. With this type of door, you can eliminate the holes like hardware gates, and keep your baby safe from injuries. 
There are varieties of sizes available for the pressure-mounted gate, but choose one that is appropriate for your child safety by examining its size. 
Where To Install This Type Of Gate
A pressure mounted baby safety gate is appropriate for ceasing the stairs from the bottom and keeping the baby away from crawling into the room to another. 
Features Of Good Baby Safety Gates
There are so many features that you have to look at before buying a safety Gate for your baby like its construction should be solid, do not cause any harm to the baby, and good quality material. Below we are going to discuss the features of good safety Gates for your baby's security. 
Height of the Baby's Safety Gate
To ensure that your child may not climb from the gate, you should buy a safety gate that must be more than three-quarters of your baby's height. Experts recommend buying a gate of height at least 22 inches. If your baby is tall according to his age, then you can buy a taller gate. The maximum size of baby safety gates is available for 39 inches. However, if your child is taller than 36 inches and weighs 30 lbs or of age 2, then you cannot rely on these safety gates for your child's security. 
Solid Construction Of The Baby Safety Gate
Whenever you are going to buy a baby safety gate of any type, look for the one whose construction is solid and sturdy. If you are looking for Wooden gate, make sure its surface is smooth, 
Look for sturdy construction and an even finish. Wood surfaces should be smooth, splinter-free, and rounded rather than squared edges. Metal might be more durable than wood. Some gates have a support bar that crosses the floor beneath the gate, which could cause tripping when the gate is open. Also, look for a label from the Juvenile Products Manufacturers Association, which certifies that the gate meets certain safety standards. Also, make sure to check and verify the name and address of the seller, manufacturer, or distributor, whether it is permanent or not, so that you can go to that place to meet the product. Also, check there should also label a warning statement on the product. 
Spacing Between The Slats or Bars
Make sure that the slats or bars of the gate have less than 3 inches space so that the head of your baby cannot be entrapped. But there should be enough space between the slats and bars that the baby can get a foothold on the gate's horizontal bottom for the attempt to climb over the gate or swing on the door. But supervise your baby while doing this so that it does not get any injury. Make to avoid baby swings on the gate because this damages the working of the gate. 
Safety Gate Latches
Many manufacturers offer dual-action latches, which means that it has to be pushed down when you have to release it. You can do this easily with one hand. When you are looking for the safety gate for your baby, try to check the different types of latches in the store available for doors so that you can find one that is easy for you to release but not the same for your baby. A gate that is with the squeezing mechanism in which you have to compress the parts of the gate to open it. This type of safety gate is difficult for you to use, make sure first to test the gate in the store. The best latches are with the pressure release latch that can open with your one hand. 
Safety Gate With Latch Indicator
Most of the gates have signals that show that the gate has been latched. But there are some gates with the color latched indicators that show if anyone latches the gate. There are also some gates with the alarm that sound when the gate remains open. A latched alarm or another type of indicator can be a good indicator if the gate is latched, but it is also always better to check by yourself, nothing is much better than that. 
Flexible Installation Of The Safety Gate
Many parents incorrectly mounted the gate to odd places like angles banisters, drywall, and stair banisters. There is no wood framing to hold it correctly. If you have no option other than installing safety gates at these areas, then you have also to buy the installation kit to fix the safety gate at that place. There are some types of safety gates available for babies that can be fitted at the irregular frame areas or at where there are wide areas. 
Baby Safety Gates Shopping Tips
First Decide The Place Where You Want To Fix It
Always decide where to fix the safety gate and of what type. If you want to fix downstairs or rooms, then pressure-mounted gates are good, but if you want to create safety for your baby to prevent falling hazards from the top then hardware-mounted gates are perfect. You should choose different gate types for different types of places in your home to keep the baby safe and secure. 
A hardware-mounted gate is harder to dislodge than a pressure-mounted one. That's why it's the only safe choice anywhere there's a falling hazard, such as the top of a stairway. For less-dangerous areas, such as between rooms, a portable pressure-mounted gate might do the trick.
Size Of The Slats or Bars
Make sure to buy that gate that has a gap between slats as well as bars of less than 3 inches so that it does not entrap the head of your baby while playing. 
Construction Of Safety Gates Should Be Solid
Buy the safety gate that has a solid construction and smooth finishing. It should not have any sharp edges, and if it is made from wood, then the surface needs to be splinter-free, smooth, and curved edges instead of squared. 
What Type Of Baby Safety Gates Not To Buy 
Never buy a gate that does not have horizontal bars at the top, especially the accordion-style safety gates. Never buy a gate for baby safety that has diamond-shaped slats space as well as with a V-shape door opening at the top, that has invited so many hazards against your baby's safety.